Planning your Stand Count in advance prior to heading to the field is a crucial part of successful operations and collecting data efficiently and effectively throughout the season.
Note: Stand Count missions should be conducted with flight plans that only require a single battery at a time. If you're flying a very large area, look at breaking your flights down into sections instead of flying everything at once using multiple batteries.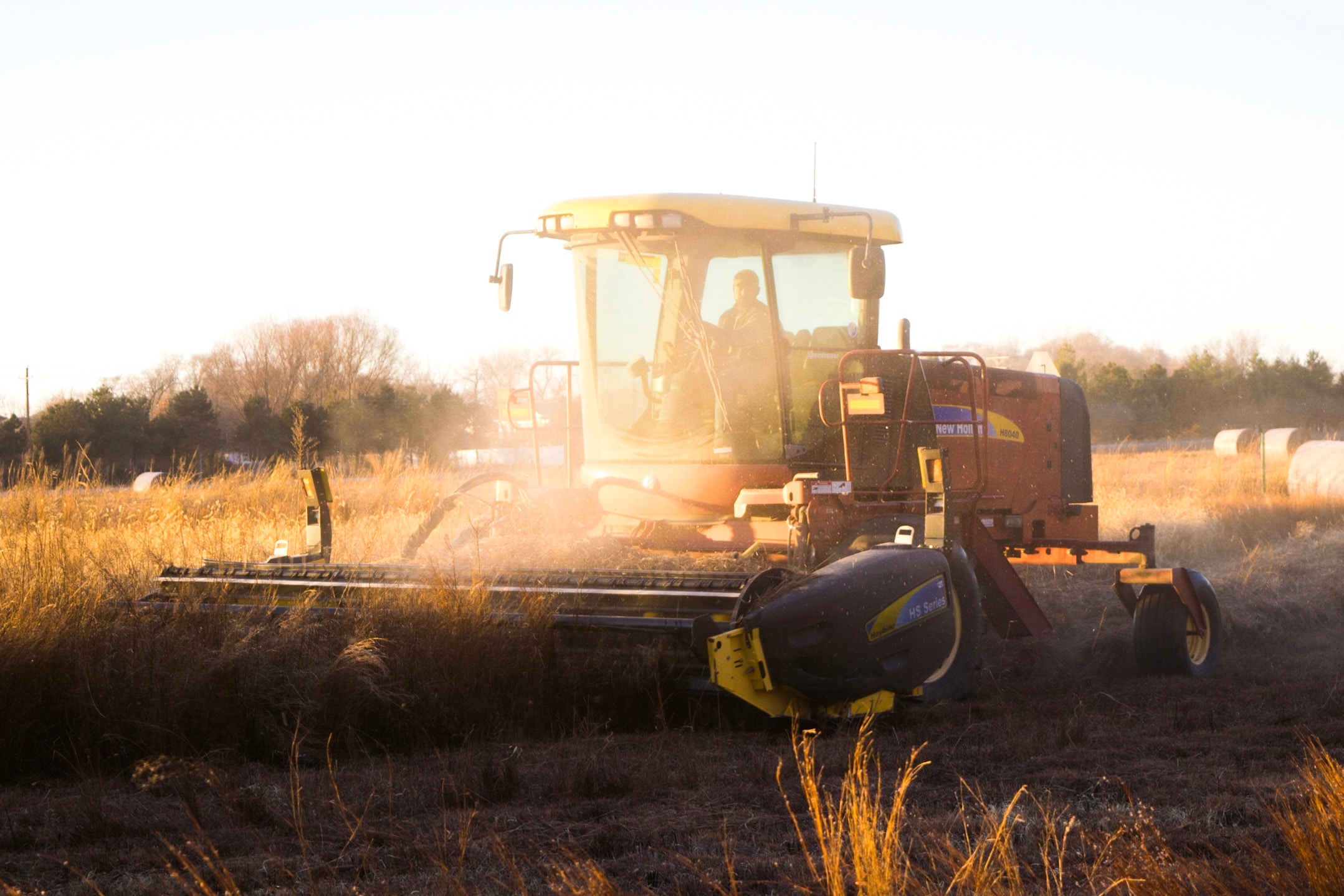 Where do I start?
Having a good idea of how many acres/hectares you will be flying and capturing is important for planning ahead and estimating how you will structure single-battery flights. Ask your client ahead of time to define the area in which you will be capturing data and identify any hazards or concerns.
Once you have determined your location and have a general idea of the size and desired data your customer needs, you can now go into planning flights and preparing to fly in this area.
FLIGHT PLANNING
Performing an accurate stand assessment starts with great data collection via a flight plan from DroneDeploy. For supported accounts, you will find an autonomous flight mode named "Stand Count" within your Project on the Fly tab. Select this to continue.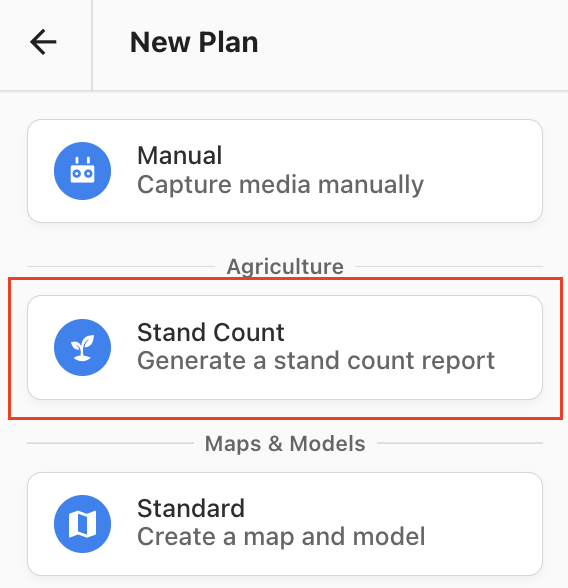 Don't see this option?
Ensure your Industry is set to 'Agriculture' in your DroneDeploy
preferences
.
Once you've created a Stand Count flight plan you will see several options to tune your flight prior to takeoff. You may do this from the web or from the mobile app. Your flight plan will sync between your supported devices.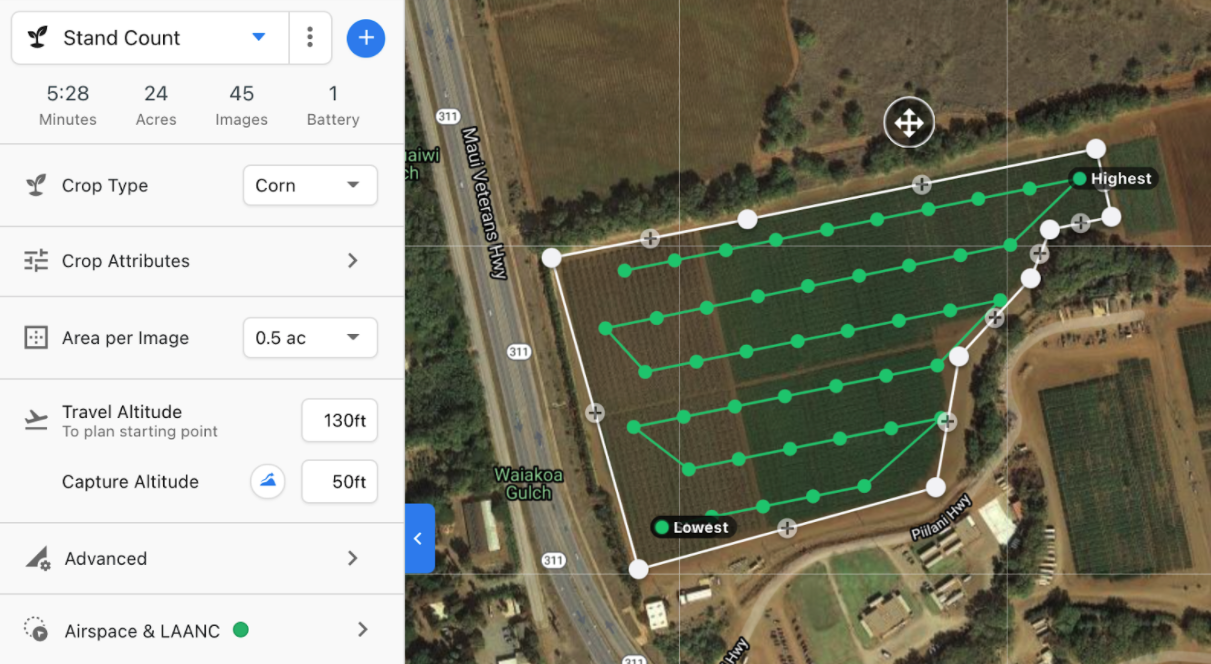 Defining Flight Geometry:
By dragging the white lines and tapping on the "+" symbols you may outline the field you would like to capture

Each green dot reflects where an image will be taken. You may also modify green dot positions by using the 'Area per Image' control in the sidebar.
Noteworthy Options Include:
Crop Type - Select Corn or Soy
Crop Attributes:

Gap Threshold: Majority of the time 12in will work. Populations <26K and >40K will need to
be modified. Measure the distance between three plants to get an estimate of the setting for
these fields. (move the slider or type in the box)
Row Spacing: Set row spacing of the field (move the slider or type in the box)
Row Ratio Analysis (M/F): Enter ratio as needed to discount any male plants in the Stand
Count

Area per Image - Select how frequently an image should be taken, which determines how densely you'll sample your field
Travel Altitude - Select a higher altitude used to commute to the start of the capture area before reducing altitude
Capture Altitude - The altitude at the time of image capture. The blue icon controls Terrain Awareness functionality that contours the terrain for a steady above ground level (AGL) throughout the flight. We recommend reviewing the terrain data before every flight. See chart for more information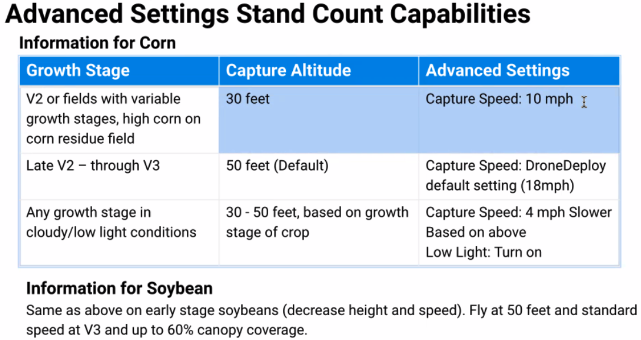 Airspace & LAANC - A built-in way to secure LAANC approvals if needed. For more information, check out this article.
Crop Attributes:
Gap Threshold - The maximum allowed spacing between plants before a gap is flagged.
Row Spacing - The expected distance between rows.
Row Ratio Analysis - The pattern for Male / Female rows if using Stand Assessment on a seed production field.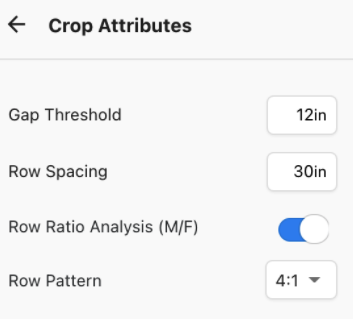 Offline Flight:
If you know you need to fly offline, go to Advanced settings and select "Make Available Offline" to download the map tiles for offline use
Once you are happy with your flight plan you are ready to fly.
After capturing offline, connect to the internet to upload the offline data. Do not sign out between capture and upload, or you may lose data.
General Notes & Best Practices
Capturing around 50 photos or less is ideal. DJI limits us to 99 waypoints (photos) per flight.
Online flight is required for Terrain Awareness to be enabled.
The green dot indicates where an image will be taken
The flight boundary area doesn't have to be the same as the field boundary in order to avoid capturing images in headland areas
The green line is the drone path, which may be outside the white flight boundary you create
Click the back arrow on the bottom right of the screen to undo the last boundary edit
Make sure all other apps are closed when using DroneDeploy

Circular fields are not supported for Stand Count as the crops have to be planted in straight rows.