Third-party analytical tool for providing greater insights from DroneDeploy maps.
During the first few weeks after sowing seeds, growers typically conduct a manual stand count on a small portion of their field to know how many of the sown seeds roughly emerged into a healthy plant. This is very useful information to decide if they should reseed or get an estimate of the yield (based on the number of plants).
Now, we have partnered with third-party companies such as Agremo Plant Count & Health to bring computer vision based stand count analysis to your DroneDeploy maps.
DroneDeploy App Market
Users can integrate DroneDeploy their everyday farm software programs and customize our platform with over 70 Apps in our [App Market](https://www.dronedeploy.com/app-market.html).
We found a great video from AgPhD about the importance of Stand Counts.
Row Crop Plant Counter by Agremo Plant Count & Health
Agremo Plant Count & Health app generates a range of analyses and reports using your DroneDeploy Plant Heath map.
Agremo Report Examples
Click on the following hyperlinks to check Agremo's [Stand Count Analysis](https://agremo.com/products/stand-count-analysis/) and the [Plant Population Analysis](https://agremo.com/products/plant-population-analysis/). Visit www.agremo.com for more information and examples.
Requesting Agremo Reports
Step 1 - Install the Agremo app to your DroneDeploy account
Click here to install the Agremo app to your DroneDeploy account.
Or, when logged into your DroneDeploy account, visit the App Market by navigating to the 'Apps' section of your dashboard... You can then search for the Agremo app and install it from there.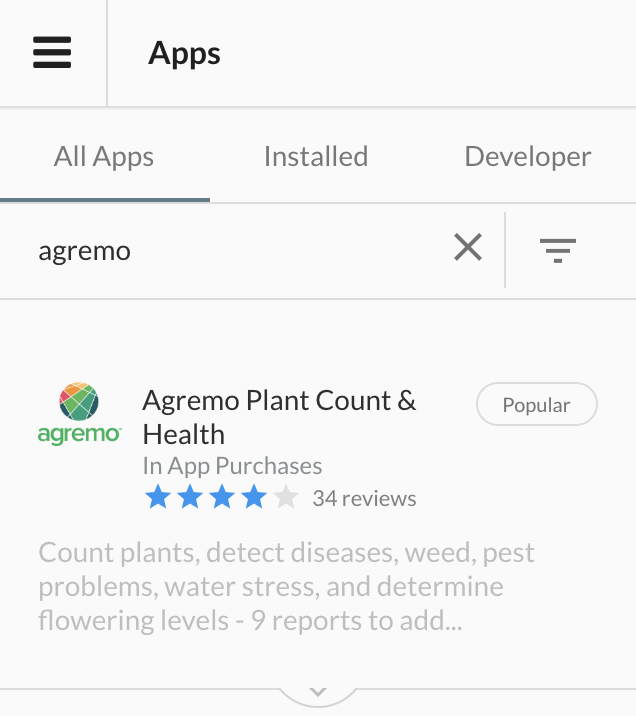 Step 2 - Locate the Agremo app on your DroneDeploy data page
Click on a completed map to open it and view the data page. The Agremo app will be located in the left control panel in the "Annotations & Measurement" section: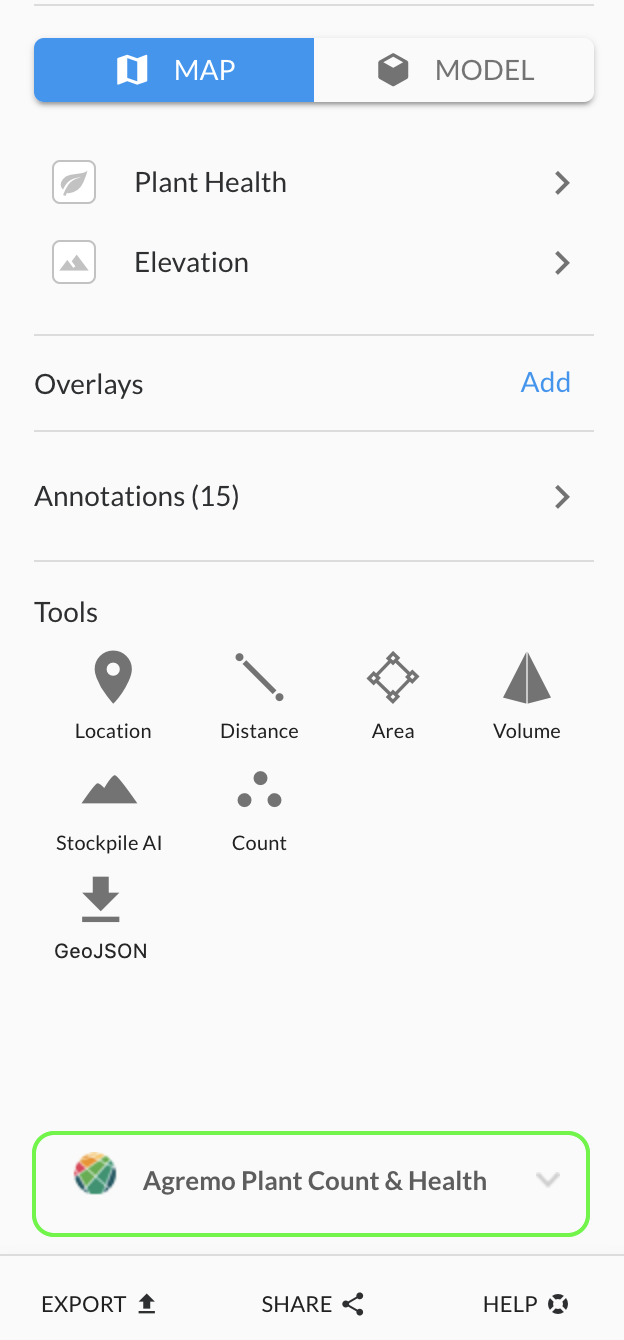 Step 3 - Sign up for a new Agremo account (or log in to your existing Agremo account)
Click the arrow on the Agremo app to expand it. Then, either sign in to your existing Agremo account or register for a new Agremo account.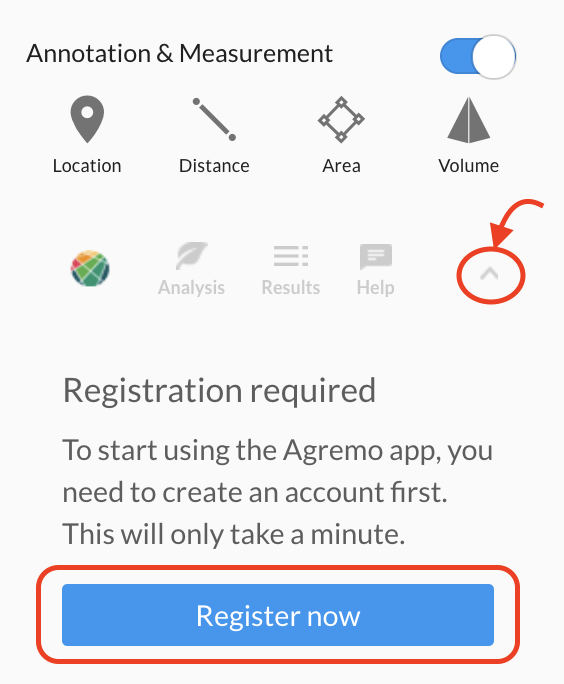 Step 4 - Sign in to your Agremo account inside of DroneDeploy
Enter your username and password in the Agremo app inside of DroneDeploy to log in. These are your Agremo credentials, not your DroneDeploy credentials.
Step 5 - Creating your first Stand Count or Plant Population Report
In the Agremo app, click the "Select Analysis" dropdown menu and select either "Plant Population Report" or "Stand Count Report".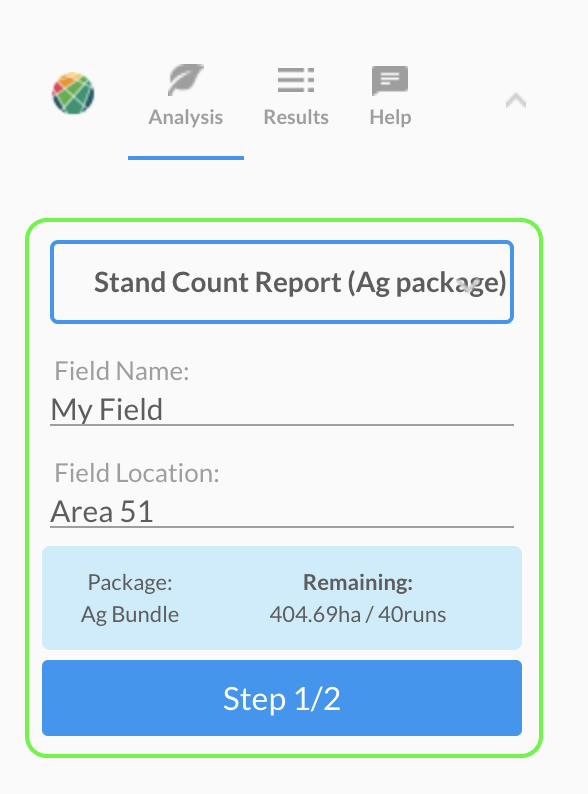 Then, enter the Field Name, Field Location, Crop Type, Plants per Acre, and Growing Stage.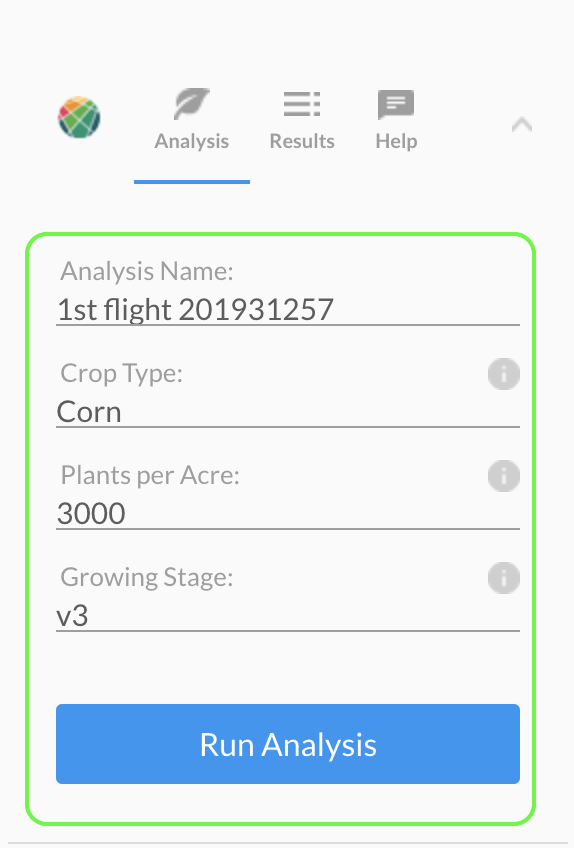 Next, you'll need to use the Area tool to select the area in your DroneDeploy map that you wish to analyze. The Area tool is located in the Annotation & Measurement area of your DroneDeploy side panel.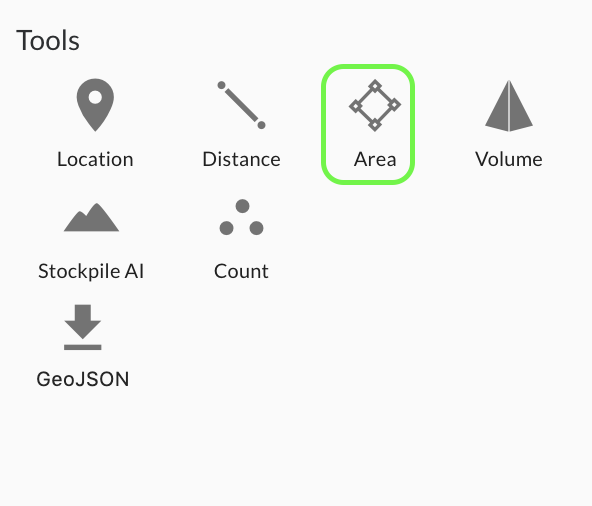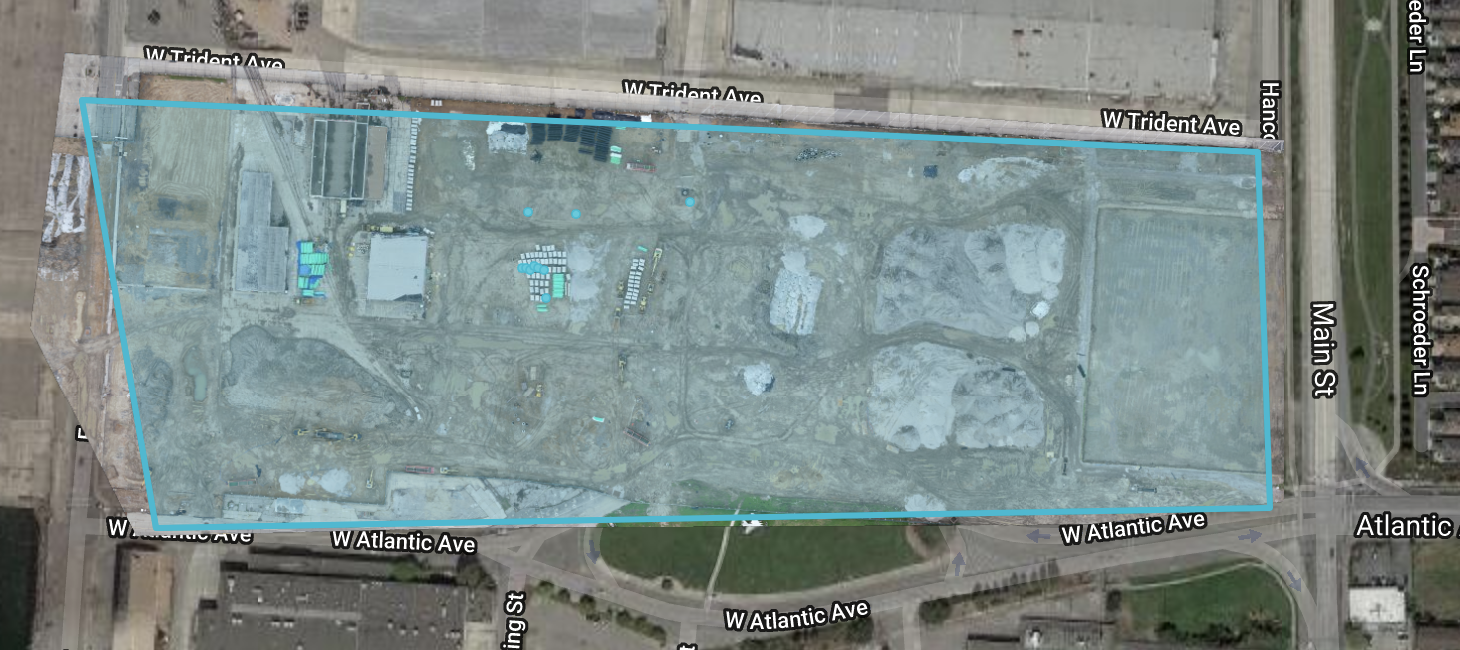 Click points on the map to outline the crop area. Then click "Run Analysis" to submit your data to Agremo to be analyzed.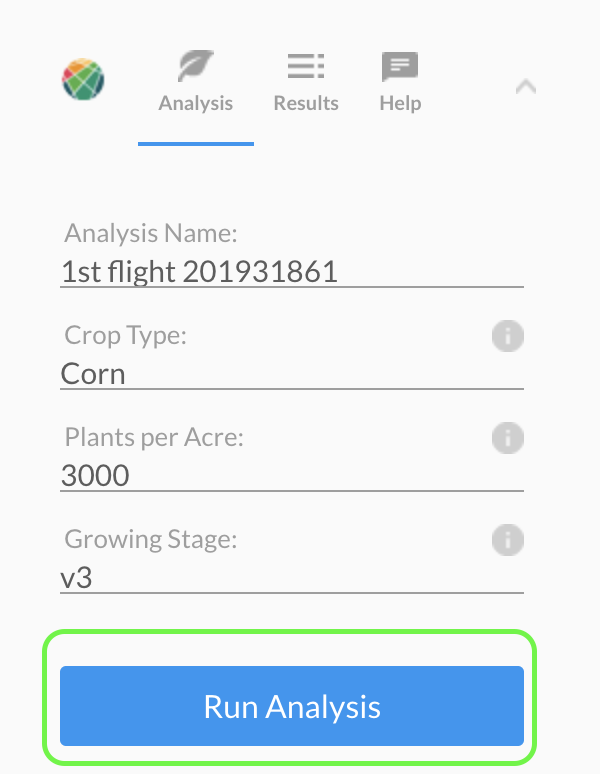 Once your data is analyzed, you will receive an email containing links to view and download your final report within 2-business days. You'll also be able to view your past reports in the "Results" tab of the Agremo app inside of DroneDeploy.
Additional FAQs
What are the Stand Count and Plant Population reports?
Stand Count: Count individual, seasonal crops and vegetables to determine accurate stand establishment. Use this information to evaluate sowing quality and potential yield loss
Plant Population: Get accurate plant counts for your drone map. Count plants in any kind of rows including different orientation and angled rows.
Where can I find Agremo support & resources?
If you need extra help, check out the "Help" tab in the Agremo app or contact Agremo support at support@agremo.com