Cloud processing that scales with your business.
DroneDeploy's Map Engine is here to scale your productivity by offloading the processing, analysis, and sharing of your imagery. This gives you the ability to easily make use of the power, speed, and simplicity of DroneDeploy, regardless of what type of drone or camera you're using.
Once your data is processed, you will be able to make use of all the additional DroneDeploy functionality such as exporting your data, sharing maps, annotations, and analysis.
Browser Requirements
Google Chrome
is supported for uploading images. Internet Explorer may not allow you to upload images, and Safari may lead to degraded performance.
Please upload one dataset at a time.
Uploading multiple datasets from multiple tabs on the same computer may cause errors in our system.
Data Requirements
In order to use Map Engine, your data must meet the following requirements:
All images should be in JPG format
All images must have latitude, longitude, and altitude in the GPS EXIF data
All images should be facing the area of interest
All images should have significant overlap (more than 70% side and front overlap, 80% for agricultural or homogeneous imagery)
At least 30 images for reliable map processing.
As with all maps, input images directly affect map quality. Please read our spotlight on improving map quality here.
Considerations and Suggestions
Large datasets: Image Name Duplication
DJI automatically restarts image names after 1,000 images. This means larger flights will be named as DJI_001 from DJI_999, and then back to DJI_001. Images with the same name will be considered duplicates. In order to avoid this, please rename your images prior to combining them into one folder for upload. Some suggested workflows to do so are here: Windows and Mac.
Datasets from Different Dates
We do not recommend uploading data from two different dates due to lighting and environmental factors.
eBee RTK data
SenseFly eBee imagery with embedded RTK is also compatible with DroneDeploy on all Individual, and Enterprise plans. Read more about our compatibility with eBee RTK here.
Post-Processing of Images
Unless you know your editing software will not affect the metadata of your images, use the images directly from your SD card when uploading to DroneDeploy. Mac Users: importing images to iPhoto creates two copies. The image set in "Pictures" has the embedded GPS data, but the images in iPhoto do NOT have GPS information in the EXIF data. Be sure to upload from Pictures in order to meet the data requirements.
Overview
How Does it Work?
Using Map Engine is as easy as 1, 2, 3.
Fly to capture imagery
Upload imagery
Explore maps and models
We do all the hard work of processing and uploading the results. In this guide, we've assumed that you have done #1, will dig deeper into #2, and provide links to #3.
Getting Started
Uploading images if you have flown with the DroneDeploy app:
After you have successfully flown a mission with the DroneDeploy app, the status of the flight template will be updated with a blue Upload icon to the left of the name of the template. Click on this icon to proceed with the upload process. Take a look at the Steps for Upload section below for a full workaround.

If you are have created a Project, go to the Upload section at the top of your screen to find the Pending uploads: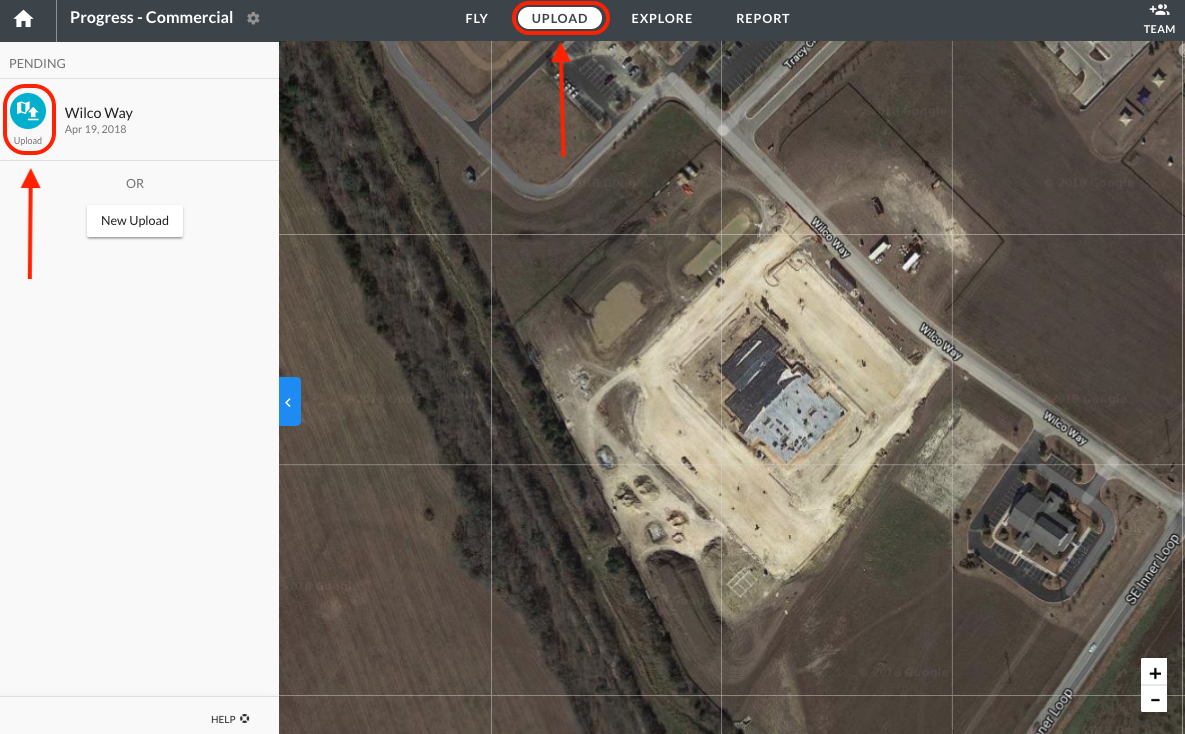 Flying Offline
For customers who fly offline, we recommend restarting the mobile app while connected to the Internet in order to facilitate syncing to your DroneDeploy.com dashboard.
What if my flight won't sync?
If your DroneDeploy mission is not showing the Upload button, please proceed to the next step.
Uploading Images to a New Map:
For datasets not captured with the DroneDeploy mobile app, click on the New Upload icon located in the Upload section within your Project.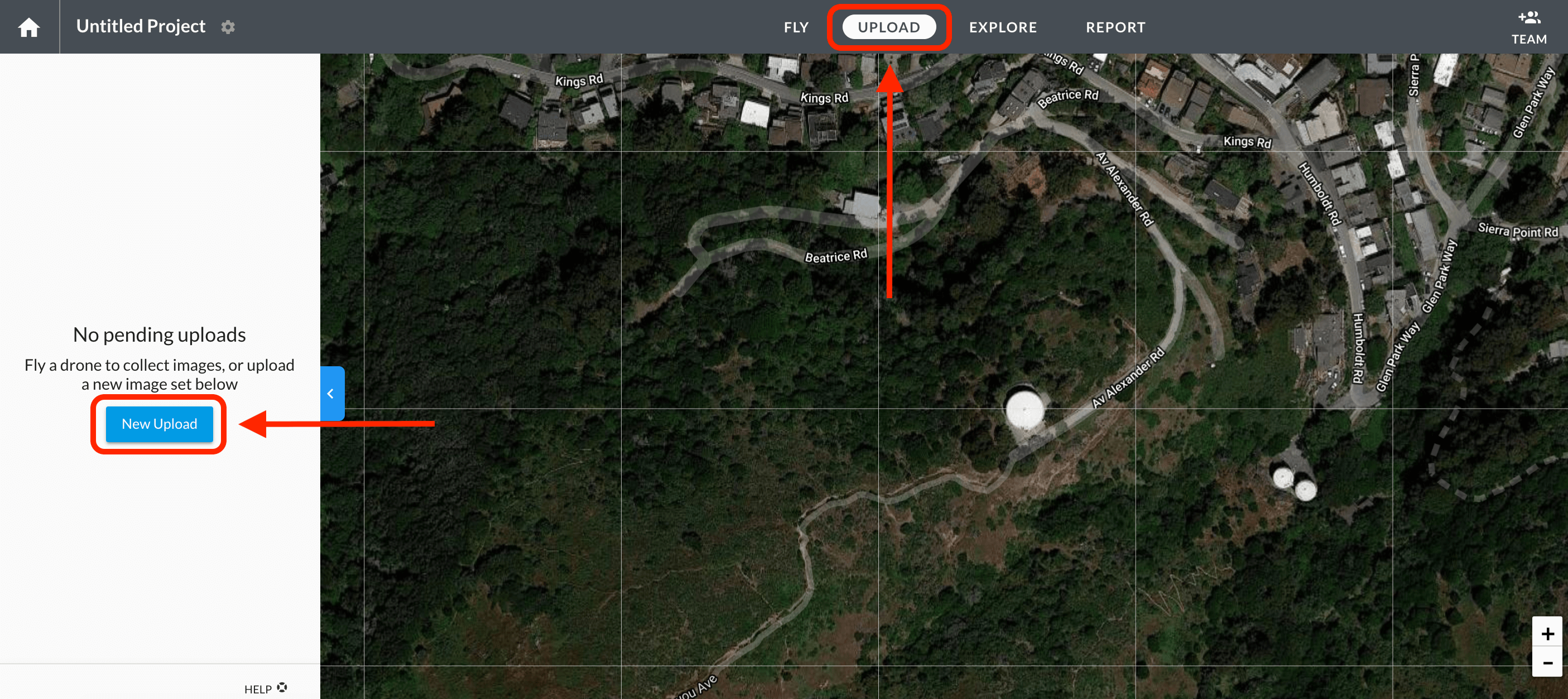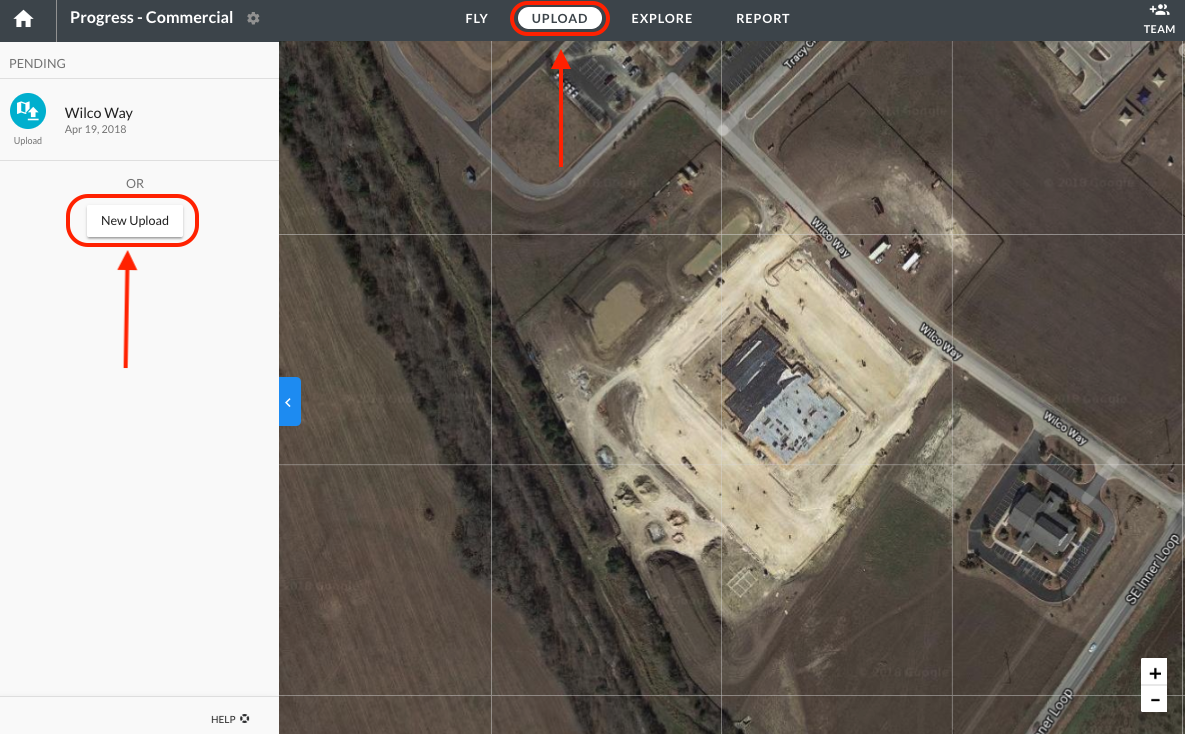 Note: Images captured with DroneDeploy app can also be uploaded using this button.
Steps for Uploading
Selecting either of the two Upload buttons above will open a dialog explaining more about Map Engine.
Example Dataset
If you do not have a dataset available, we recommend that you
download the example dataset
of a massive rock near the beautiful Goat Rock Beach in Sonoma, CA.
Step 1. Select Media Type
For this example, we assume you will be uploading imagery to create a 2D map and 3D Model so we will select Create a Map or Model: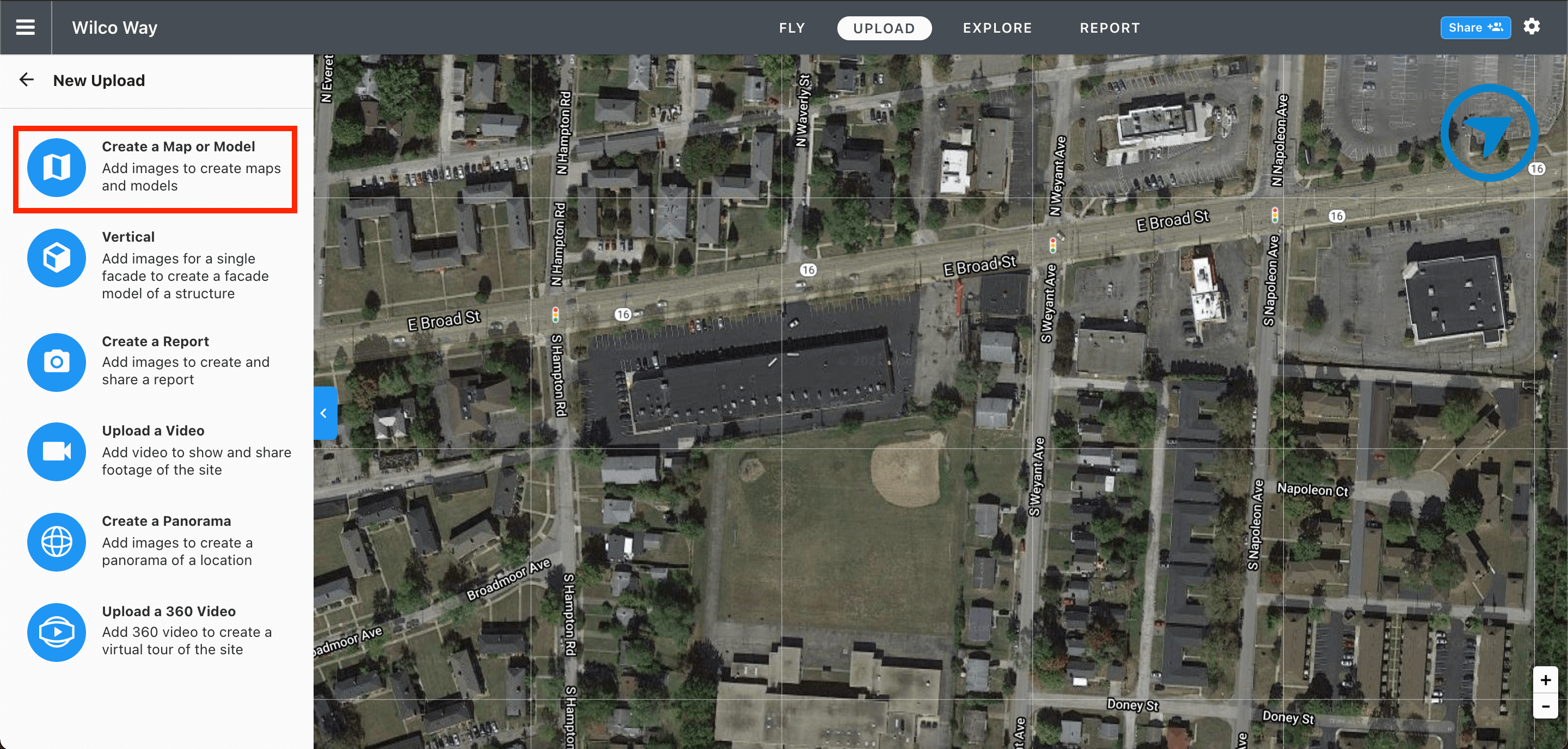 Step 2. Select Photos
Click the Select Photos button and select all the images you would like to be processed: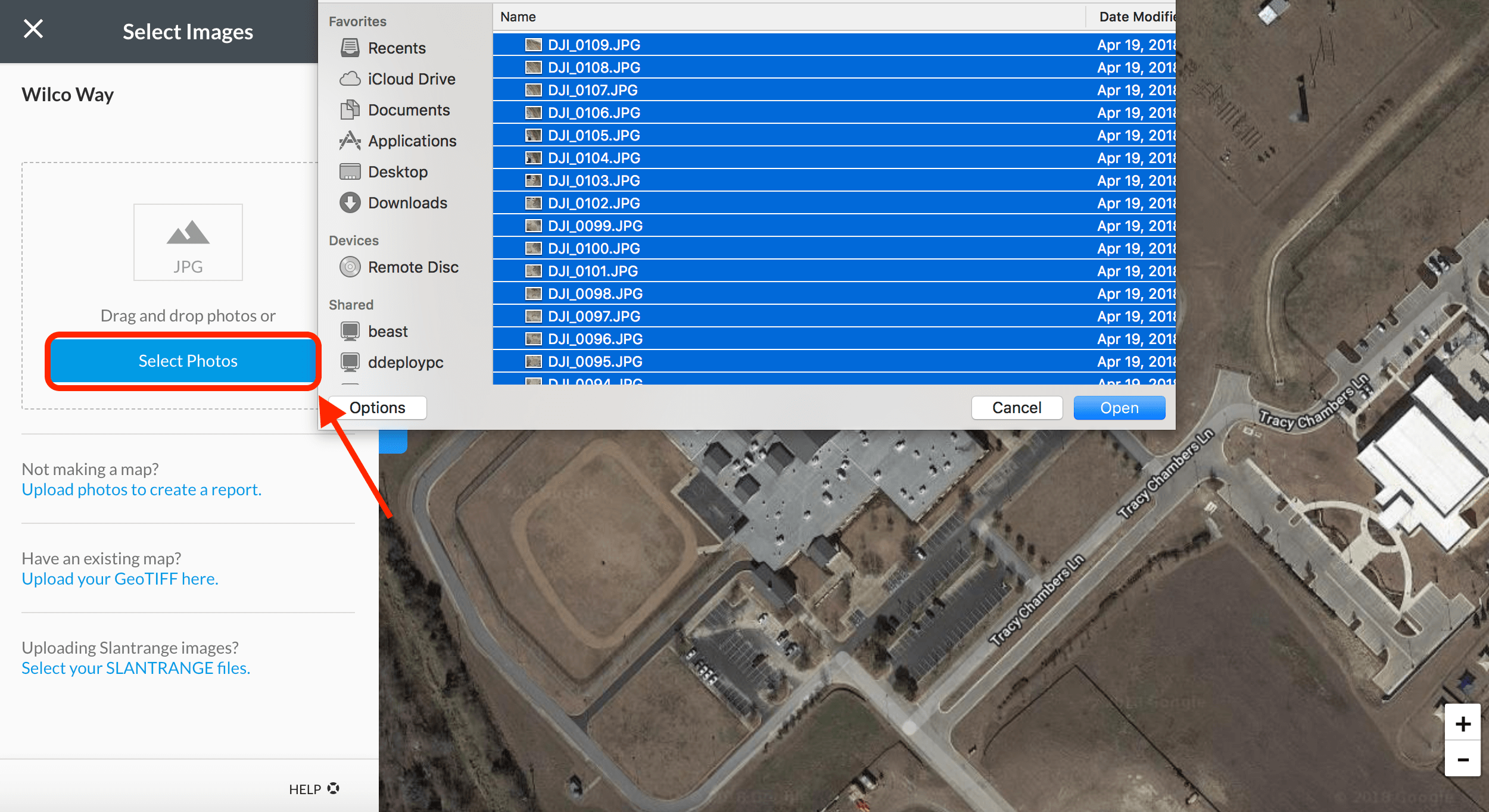 Have Progress Report photos, a GeoTIFF or preprocessed Slantrange images?
Choose one of the blue links below the 'Upload' button to add your images!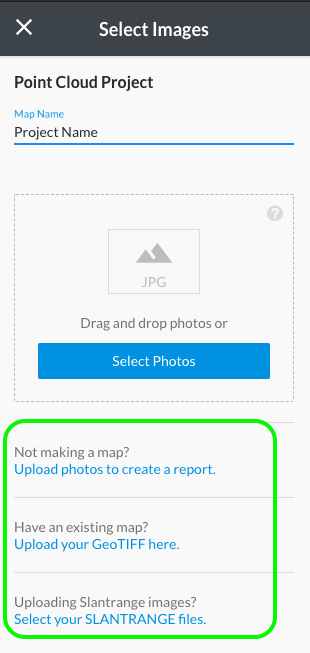 Step 3. Image Review and Desection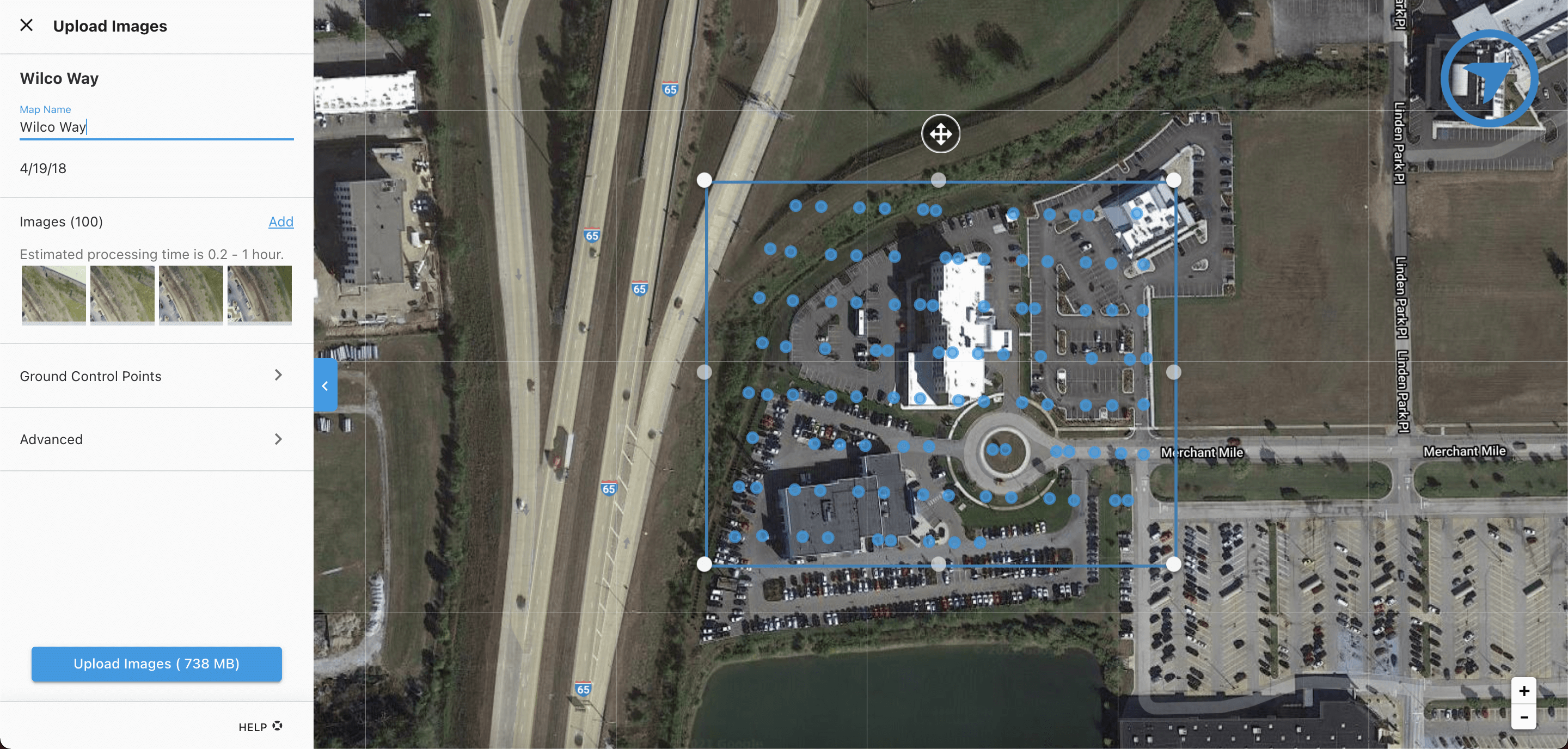 You will now see where your camera locations are (blue dots), and the current boundary we have selected for you based on the camera locations (the blue outline). Adjusting the area (blue outline) may be necessary in some cases.
Ensure a Valid Upload Boundary (ROI)
You'll want to ensure the upload boundary(blue outline) is valid prior to uploading your images. An invalid ROI is one where any of the following are true: 1. The area of the processing ROI is larger than the area of the reconstructed geometry. 2. The area of the processing ROI is really small. 3. The area of the intersection of the processing ROI and the reconstructed area is not really small.
You can click on the camera roll to open the Image Review window.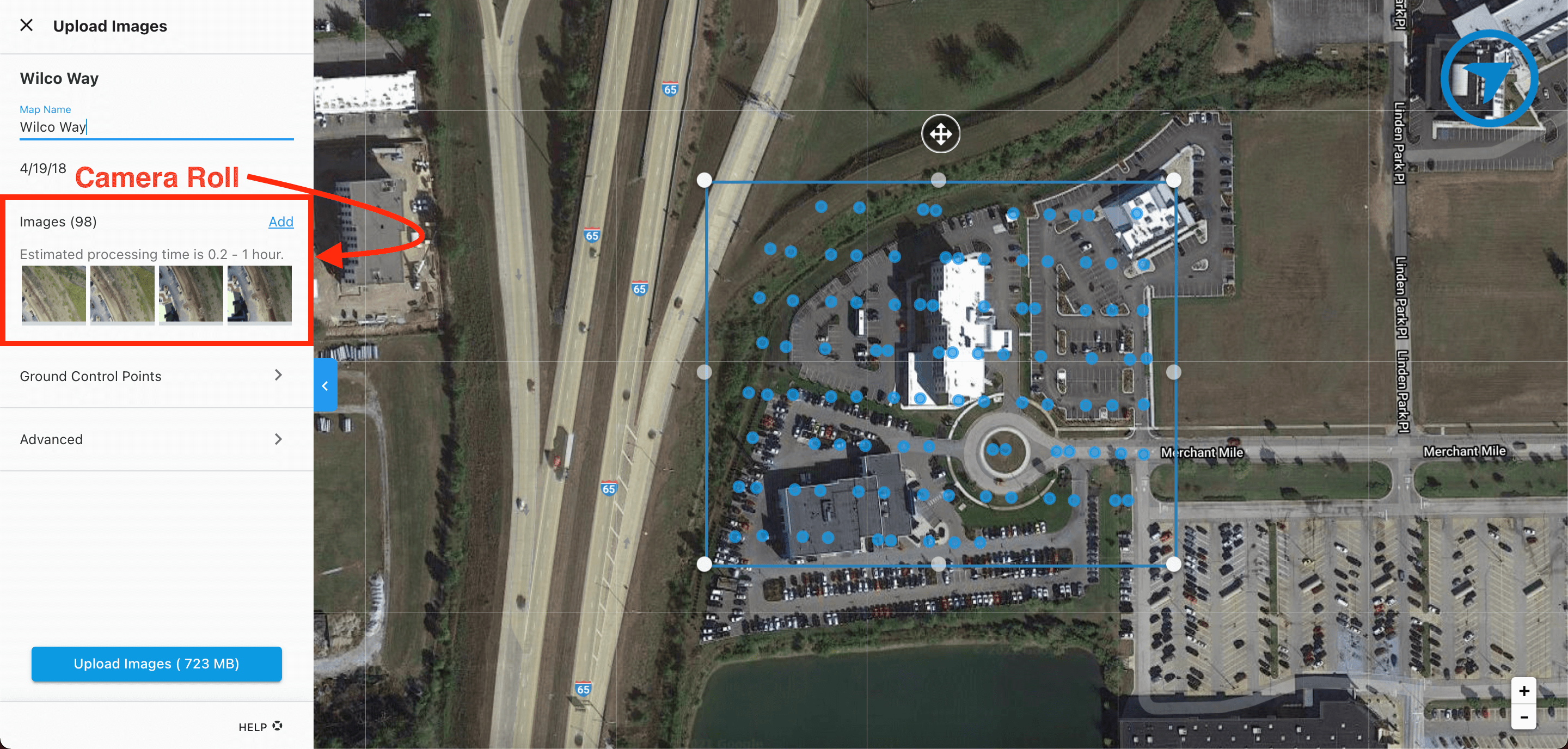 From here, you can view and deselect images that you may want to exclude from processing, such as blurry, overexposed, or underexposed images.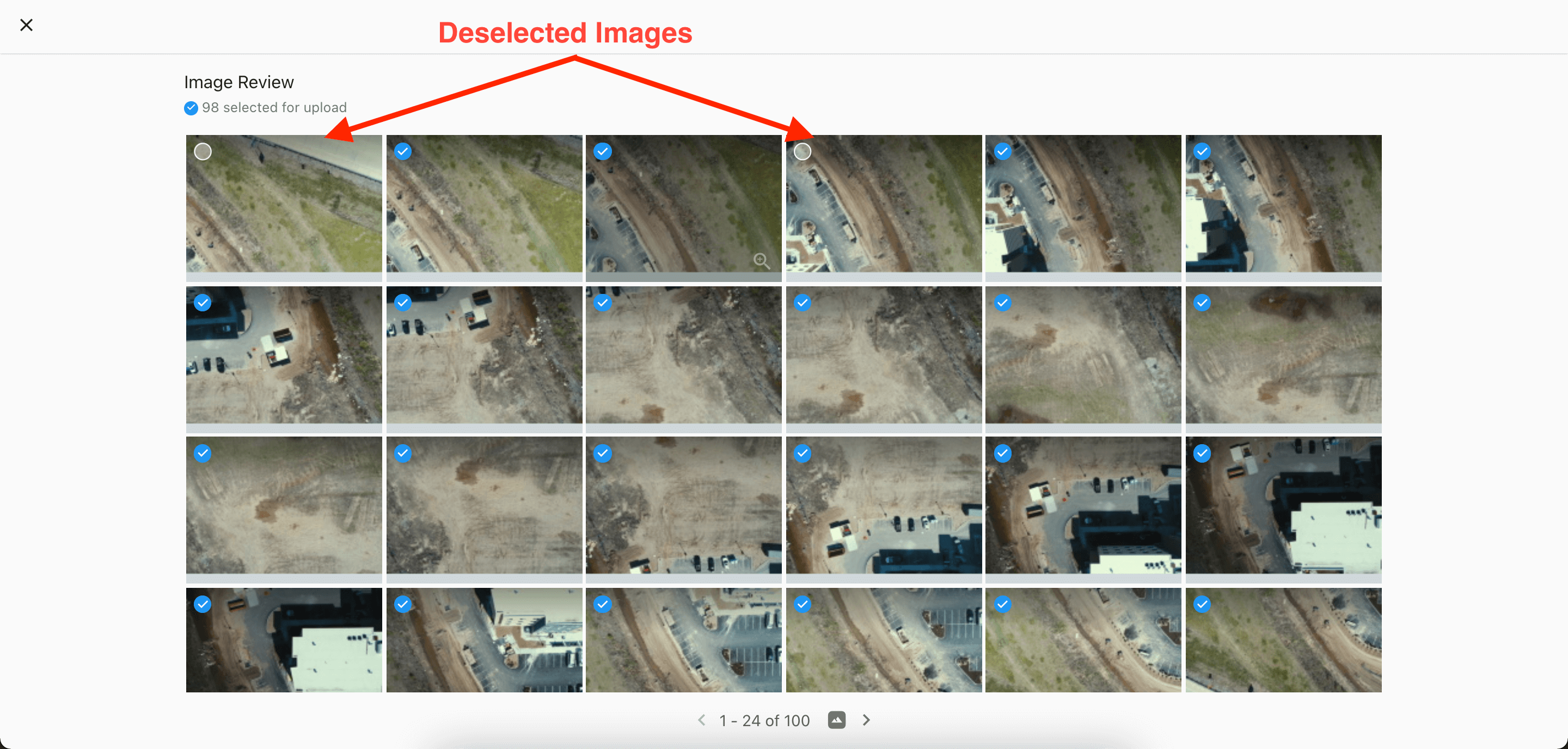 Optional Step 4. Consider selecting Turbo Upload.
You can select the Advanced drop-down to customize your upload settings.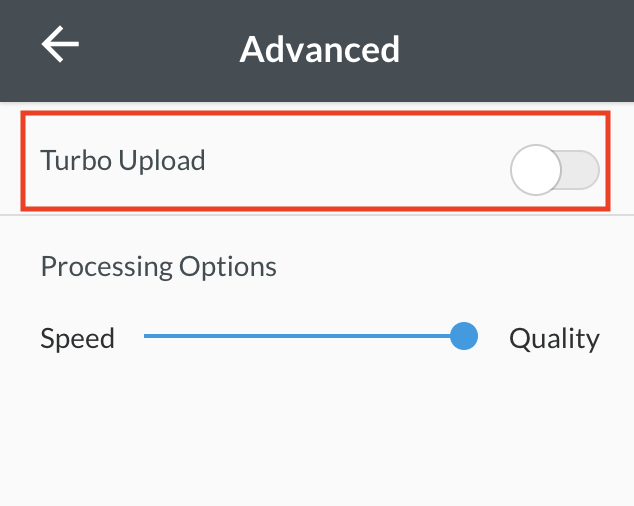 Turbo Upload
Intended for customers who have limited internet, Turbo Upload compresses the files within your dataset for optimized uploading.
Enabling Turbo upload means
: Your upload will be up to 10x faster but your map will be about half the resolution compared to standard upload.
Notice that in the side panel, you have more information about the map, including the area, estimated time to process, and data size.
The processing time estimates will show the minimum expected time range, and the maximum expected time range, based on historical data. The variance in the times is because the time it takes to stitch a map really does depend on the subject matter (how easy it is to find unique features across all images).
Step 5. Confirm upload.
Once you are happy with your settings, click the Upload Images button in the center bottom to start the upload process.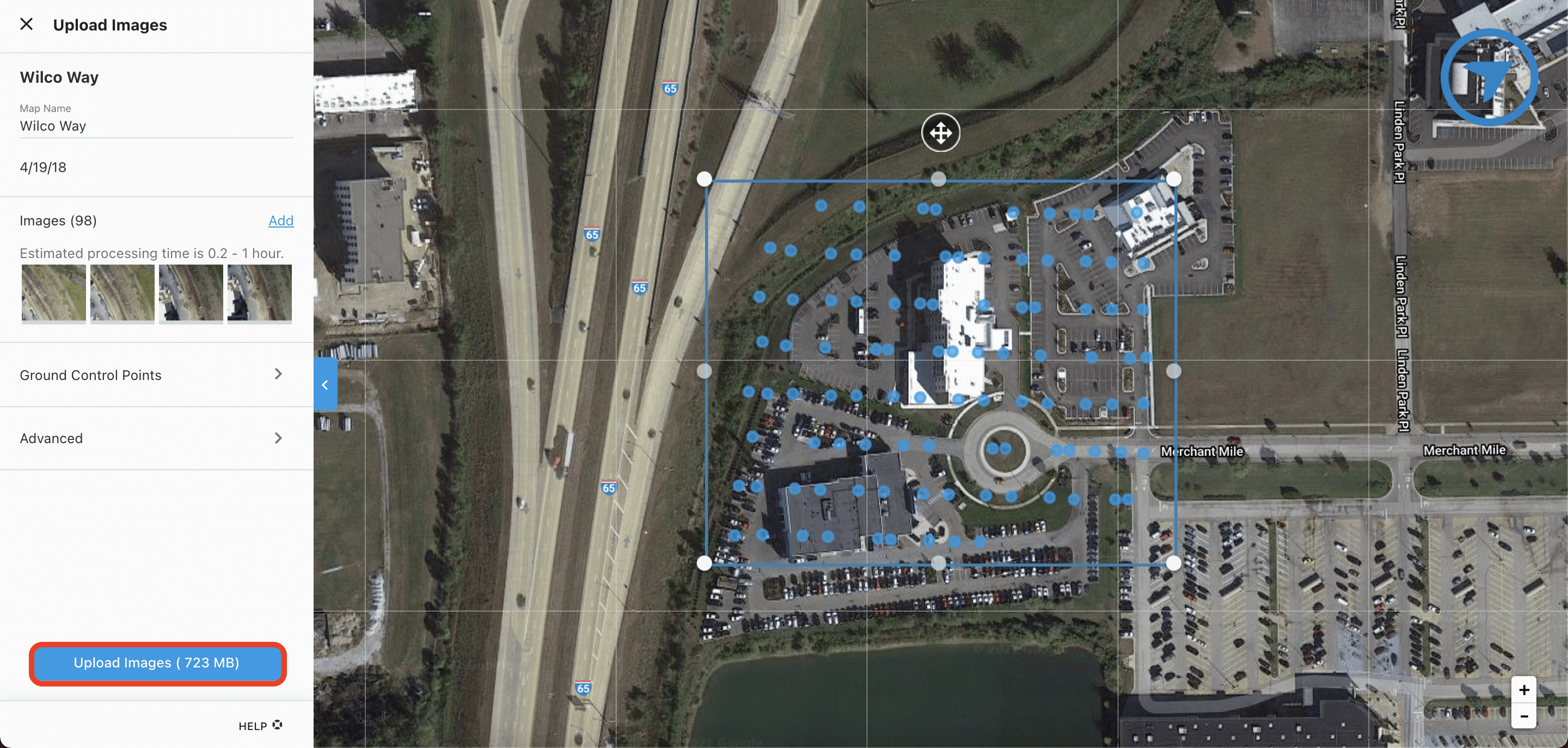 Your images will be uploaded and you will see the uploading progress status.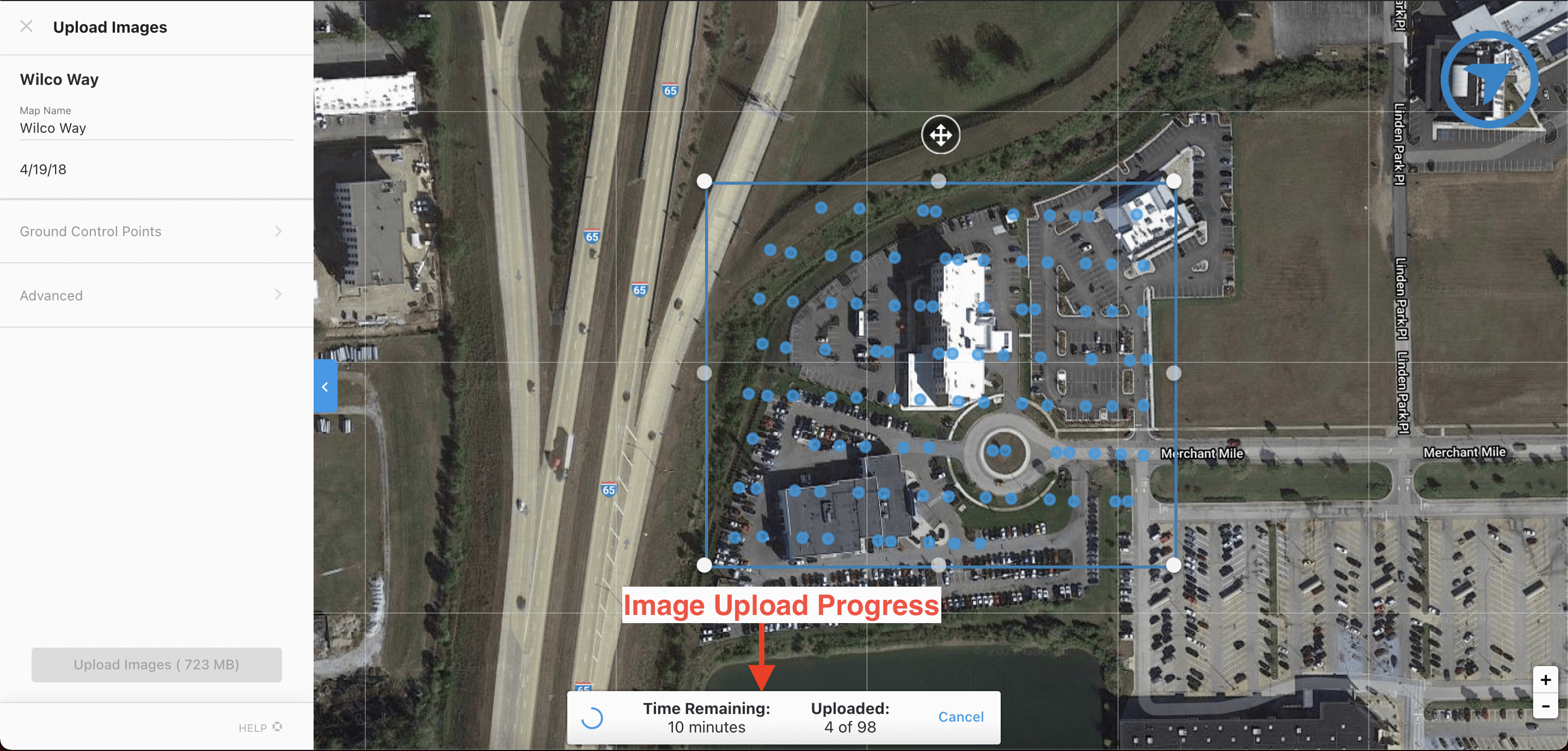 When the upload has successfully completed, the data processing will start automatically and you'll see the following dialogue:

If you now look at your dashboard, you'll see the processing status of your map: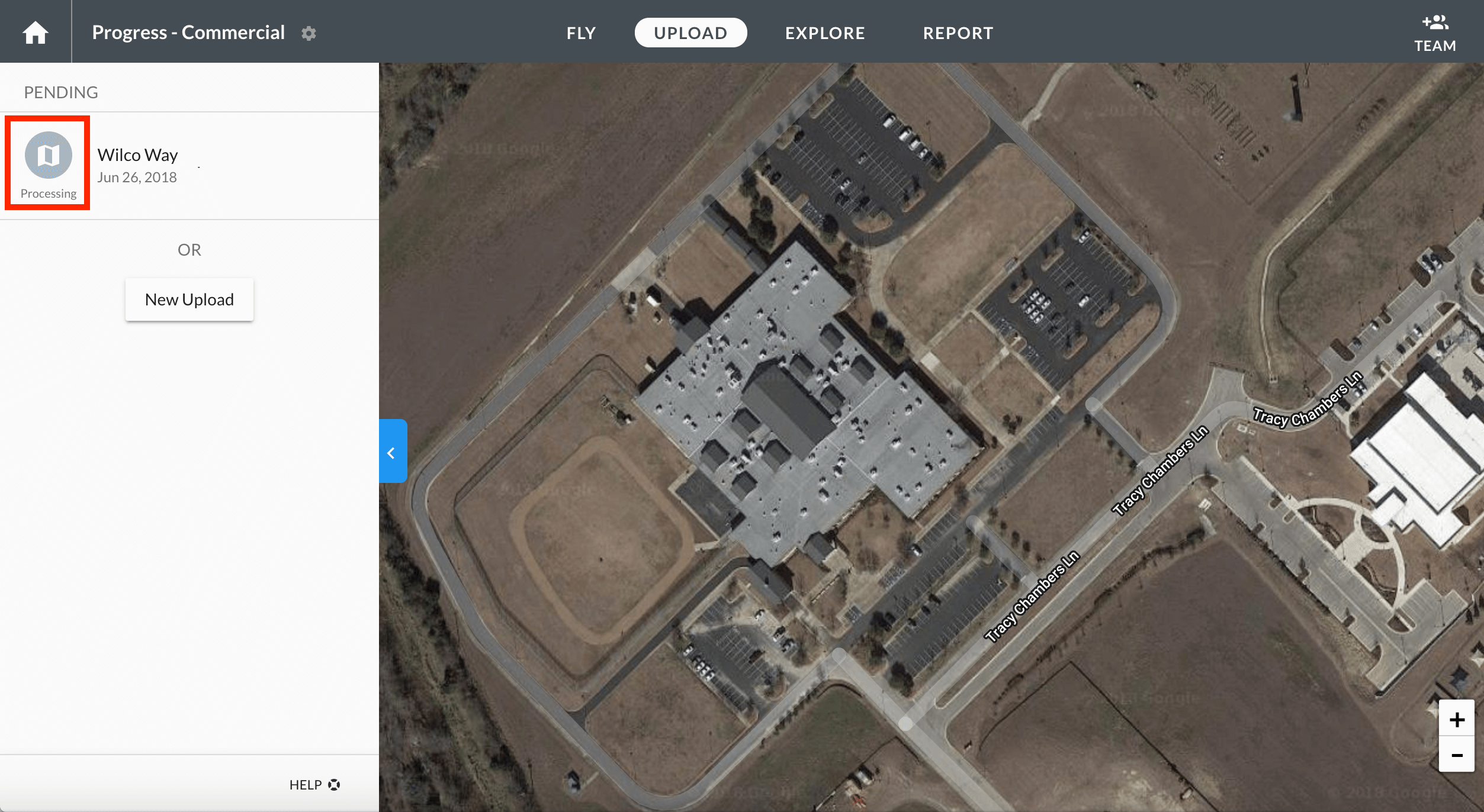 When we've completed the processing, you will be notified via email. Processing the high-quality data can take up to a few hours for a very large job with high-resolution imagery. On average, processing takes about one minute per image.
Step 6. Access Map Via Email
When your map is complete, you will receive an email notification with further instructions.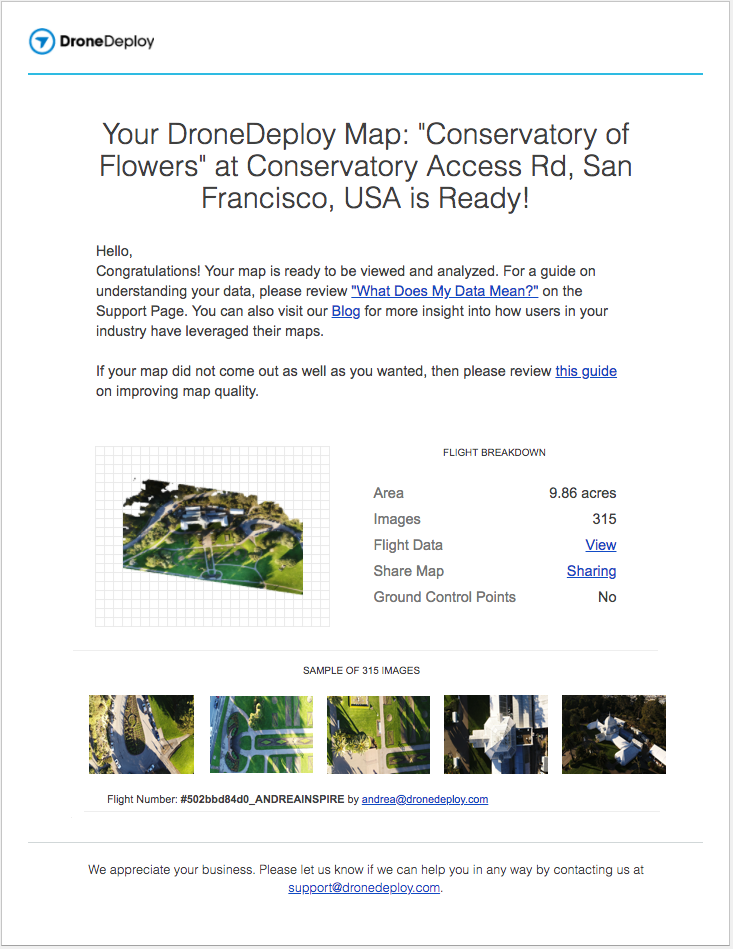 Where to from here?
Congratulations on your first map! Learn more about the data presented in each may layer here. Be sure to check out how to Crop, Annotate and Share your maps!