How to successfully capture Ground Control Points (GCPs) for drone mapping.
Check out our 6-minute overview video for a summary of this article:
Ground Control Processing Access
GCP processing is available to our Advanced, Teams, and Enterprise customers and it is also available to Individual users for $49 per map. If you are currently on a Lite or Individual plan and are interested in adding GCPs, please contact support@dronedeploy.com. We can help determine if GCPs are the best option for your mapping project.
Ground Control Points are an effective way to increase the absolute or global accuracy of a map (learn more about mapping accuracy here).
Need a Refresher on Projections, Reference Systems or Sea Level?
Check out this
guide
on the many intricacies related to global accuracy to help better understand and improve upon your map's accuracy.
This document will walk you through the best practices to capture GCPs and Checkpoints for your drone mapping projects. Are you ready? Let's begin!
Adding Checkpoints?
Now you can add checkpoints to your GCP process. Adding Checkpoints help you to validate the relative and absolute accuracy of your GCP maps. To learn more about it, please visit our
GCP Checkpoint
support documentation.
Capture Quality GCP Markers
Create at Least 4 Quality GCP Markers on the Ground:
The first step in processing GCPs is to evenly distribute the GCP markers around the area you are mapping.
An ideal GCP marker can be as simple as two intersecting lines. The goal is to create a visible feature on the area that is being flown. The GCP should be visible on the map at the given altitude that the mission was performed. Remember, if you cannot clearly see the center point of the GCP in your map photos, it cannot be accurately marked during processing.
If your GCP is obscured, poorly marked, or if you cannot confidently place your cursor on your photos within an inch of the point where the GCP was measured with GPS, it does not matter that your GPS took a centimeter or millimeter accurate reading, your GCP will only be as accurate as the center can be marked.
Adding a center mark to the GCP, as seen in the images below, can also eliminate confusion as to where the center point is located.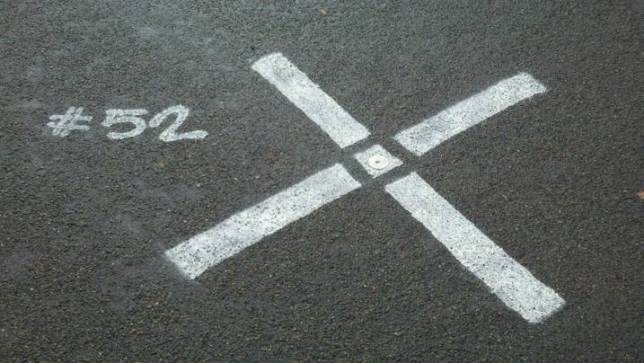 If you cannot mark your GCPs with paint there are a variety of low-cost ways to make excellent markers with items from the internet or home depot. These sheets of roofing rubber with these vinyl stickers ($1 per 6" x 12" sheet) can be used to make a simple checker pattern but they need to be staked into the ground if it's windy.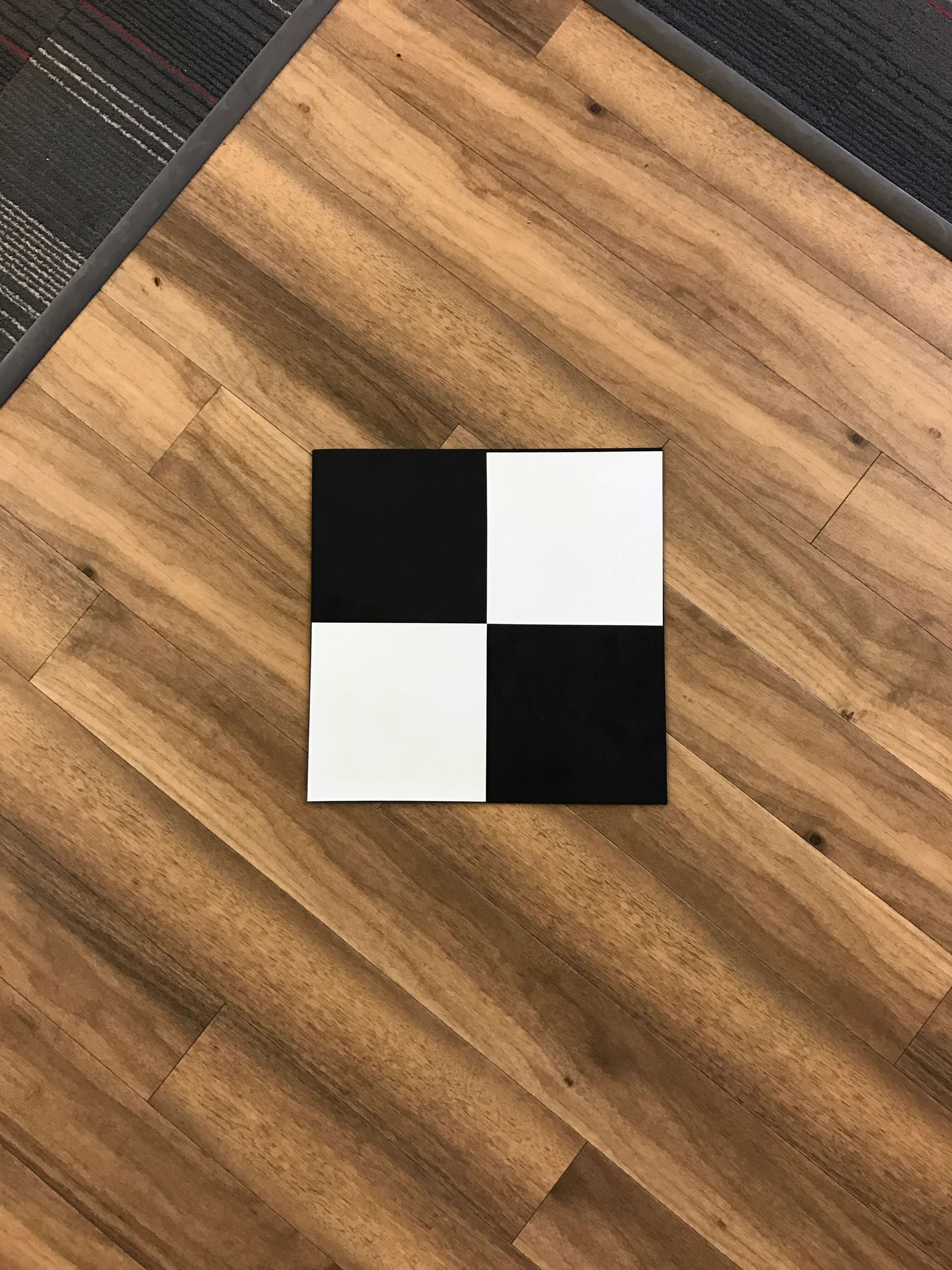 Placing the GCP Markers
The placement of GCP points should be scattered throughout the area of interest being mapped. If the area being mapped has noticeable elevation changes, make sure your GCP placement (hills, mines, valleys, etc.) accounts for this by placing them throughout the different elevations on a relatively flat surface. Ensure the region of interest (where you want the map accuracy to be highest) has GCP points surrounding it, as well as scattered throughout the region.
When placing GCPs around the perimeter DroneDeploy recommends a 50 ft buffer zone between the edge of the map and the GCPs location. This will ensure there is enough image coverage to carry out the processing.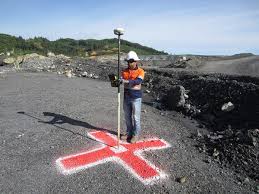 Tips:
Take the coordinate from the center of the intersecting lines.
Use an RTK or PPK GPS system for the most accurate reading.
Fly with a high-resolution (20MP or greater), mechanical shutter camera like the DJI Phantom 4 Pro.
Not using RTK or PPK GPS systems may cause issues with mapping accuracy.
How many GCPs and where to place them?
DroneDeploy requires a minimum of 4 GCPs and we suggest using 8 GCPs for maps up to 50 acres. For maps over 50 acres, we recommend adding at least 1 Checkpoint for every additional 10 acres. GCPs should be evenly distributed across the entire map area (see the standard example below). Again, make sure your GCPs are at least 50 ft from the boundary of your map.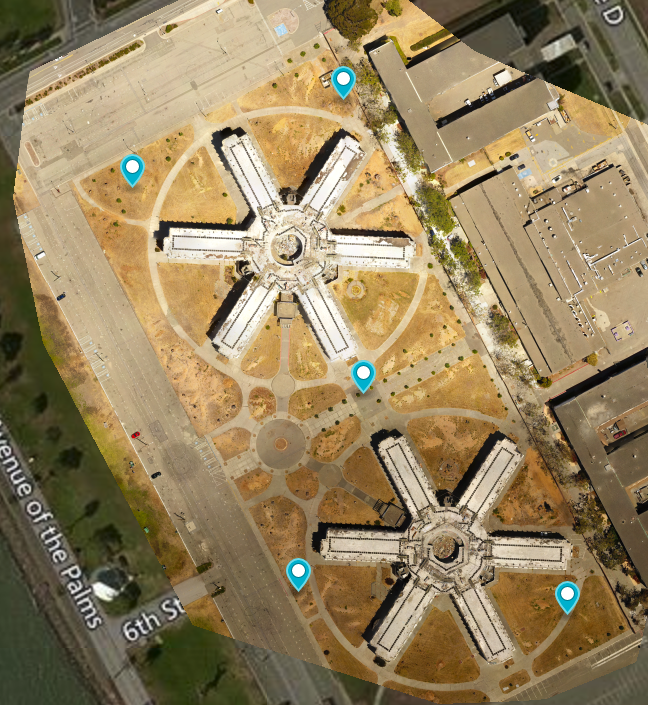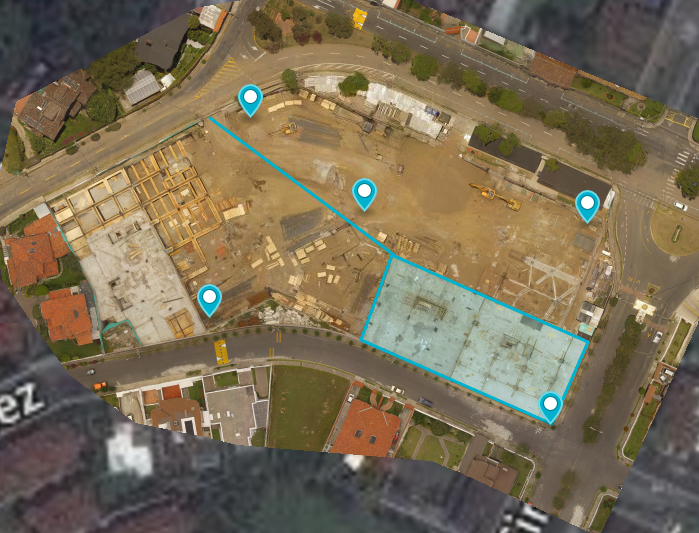 Conduct your Flight
GCP flights are flown just like any other flight. The only difference is you are now capturing GCP targets in your imagery that will later be used to increase the accuracy of your map.
Make sure your camera is in focus and set up correctly. If the GCP targets are not in focus, the process will not result in the same levels of accuracy. It is always a good idea to ensure you have good weather over the area you will be flying that day. High winds, low clouds, or precipitation can make flying and mapping difficult. For more information, please see this article: Making Successful Maps.
Upload your Images to DroneDeploy
Follow typical protocols in Uploading Images to DroneDeploy.
Process GCPs with DroneDeploy
Check out our walkthrough of the in-browser GCP tagging workflow for details on how GCPs are processed with DroneDeploy.