BETA AVAILABLE starting JULY 26th
How does it work?
New, native functionality that takes a user's complete set of aerial data and automatically sorts it into the appropriate plans for upload and processing in DroneDeploy. Virtually eliminates the need for users to manually sort their imagery into categories such as map plans, Panos, videos, photo plans, etc. before uploading and processing it in DroneDeploy.
This is the only Smart Uploader in the reality capture industry!
Automatic media sorting using the plan detection algorithm

All aerial data to be uploaded is sorted and summarized by plan type for easy visualization and user confirmation

Fly multiple plans and automatically upload all that are flown into a project
1. Drag and drop all the files and the Smart Uploader will sort them into the plans automatically. Supported plan types:
- Vertical plans
- Map Plans (and Map Plans with Ground Control Point files)
- Progress photo
- Progress video
- Panoramas
After the media is sorted, review the data and the user can select which media (plans) to upload.
*Note locations of the video are automatically selected as being at the center of the project. After the upload video markers will be placed according to the location
2. Click upload and continue. Working plans will be uploaded in a parallel thread.
Smart Uploader Demo Video:
Adding GCPs to Smart Uploader?
Users can create high-accuracy maps with the smart uploader.
Ground Control points (GCPs) and Auto GCP functionality are now available in Smart Uploader.
To add GCPs via Smart Uploader:
When uploading your imagery open the map image gallery
click the 'Add GCP' button and add your GCP .csv file
To learn more about the formatting of the .csv please visit the help page. You can also use and upload aeropoints data through Smart Uploader UI.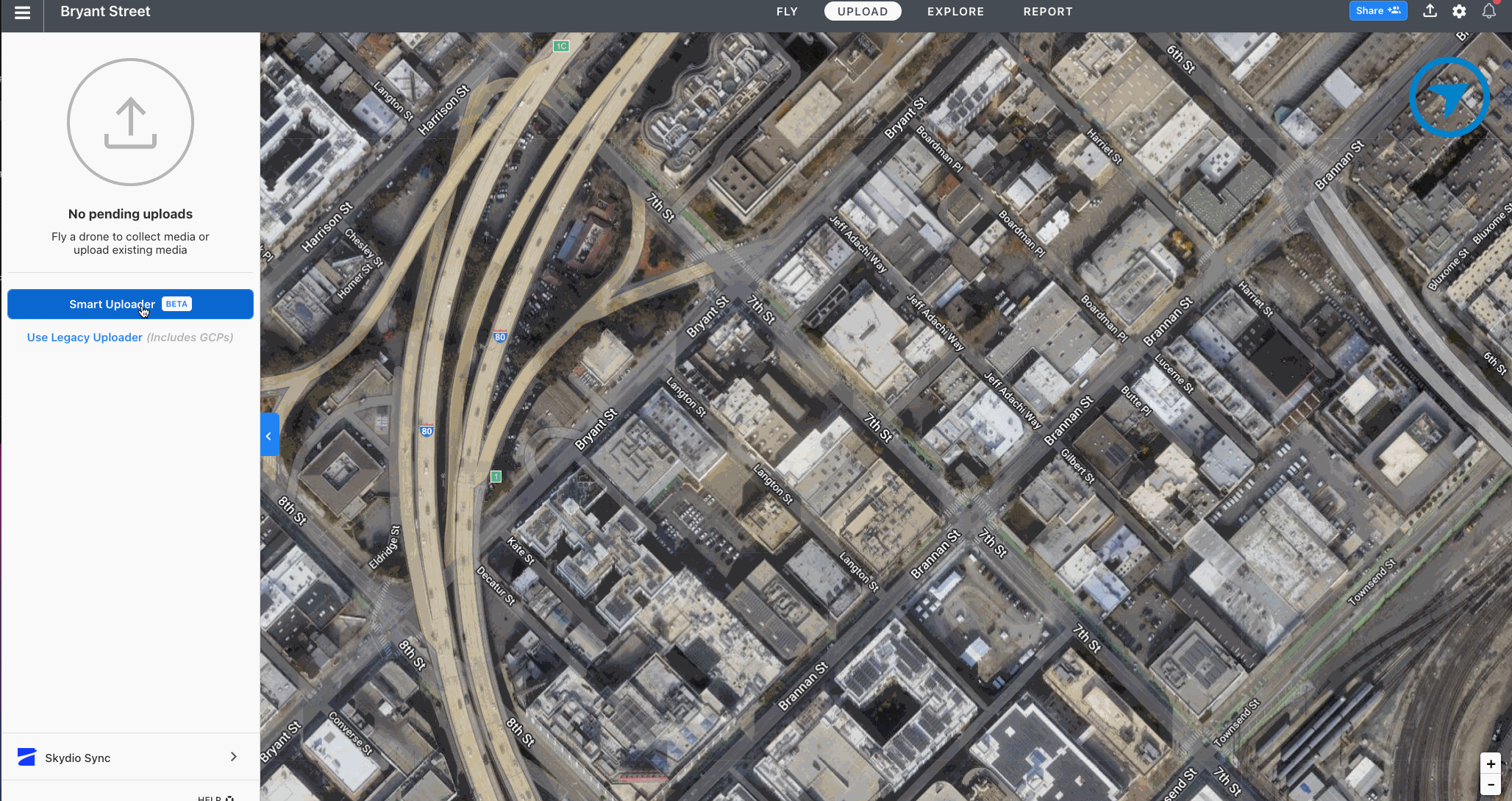 While adding the GCP through the Smart Uploader, you will be suggested the most likely coordinate reference system. However, be alert and check the CRS and EPSG code provided by the system.
As before, our advice is to have at least 4 GCPs within the map boundaries in order to produce a high quality map. To learn more about GCP requirements and best practices, visit our GCP checklist
After the GCP file has been uploaded you will get an email notification to start tagging your GCPs with our automated GCP detection tool.
Who gets access & when will it be released?
All customers on any subscription plan with upload capabilities will have access to Smart Uploader once released.
| | |
| --- | --- |
| | Availability: |
| Phase 1 | Please contact Support if you would like to be included in early adopters |
| Phase 2 | Released to a percentage of the DroneDeploy population that have upload capabilities |
| Phase 3 | Full rollout and high accuracy mapping GCP workflow rollout |
| Phase 4 | Full release |
How do I report a problem or provide feedback?
Feedback Form
Please use the Feedback form to report any issues or concerns when using Smart Uploader. The Feedback form is available at the top right of the uploader pop-out here: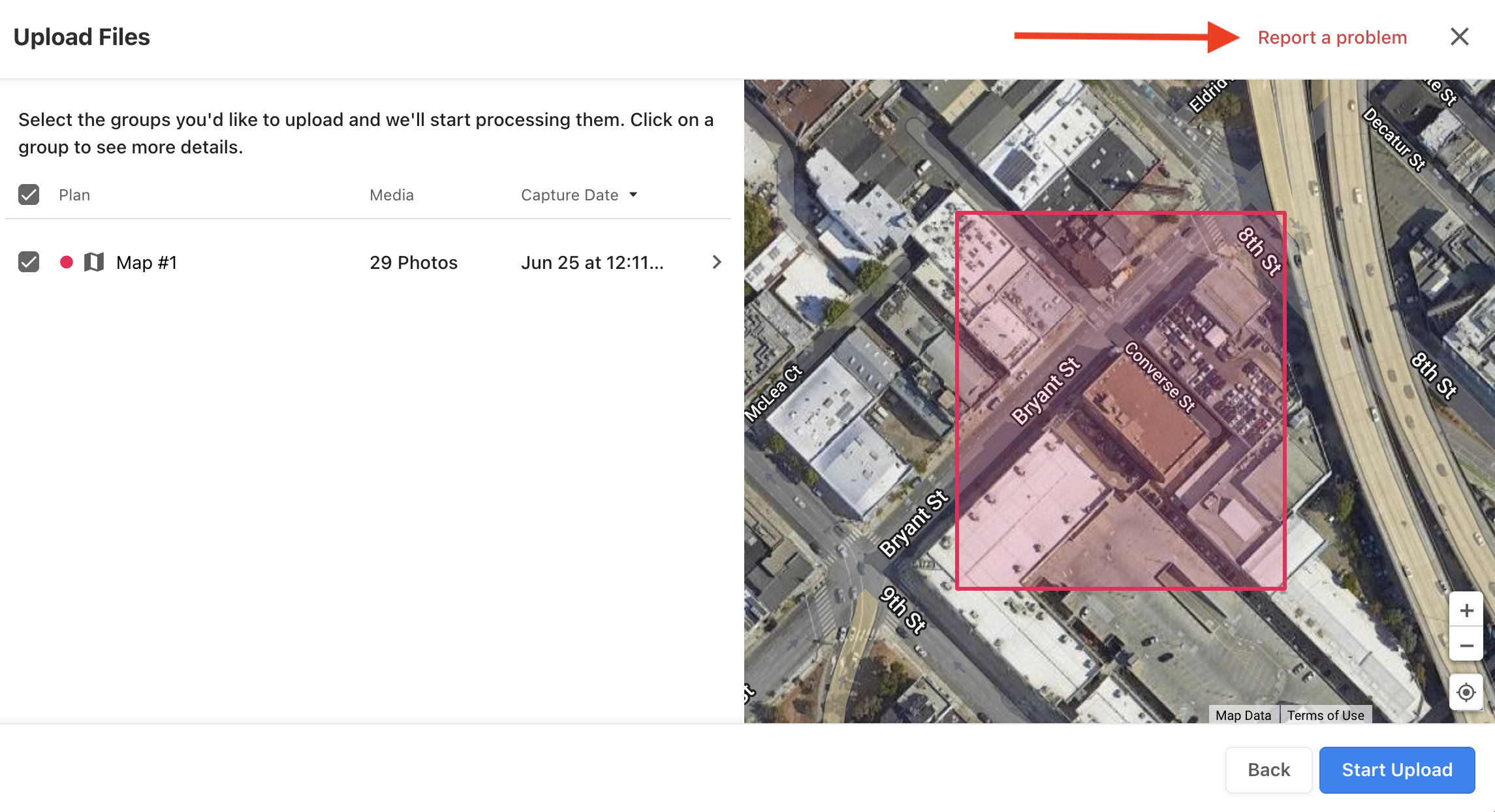 Contact Support@dronedeploy.com if you have any questions about Smart Uploader (check out our FAQ below!) and/or major bugs to report to the team.
Known Issues (Beta):
Videos will be placed at the center of the project.

Smart uploader is only compatible with Chrome (Firefox and Safari - pending support)

When plans are far away from each other they will show on one large map.
The number of plans uploaded in parallel will be proportional to the number of cores on a computer. E.G. if the computer has 4 cores, it will load four plans at a time, when the upload of one plan finishes, the fifth will be picked up, and so on.
When closing the smart uploader modal, the process will restart.
When uploading, the browser tab stays active, but if closed the upload will be interrupted. It is recommended to start uploading over in case you need to resume. Resuming it from the upload page could be a bit sketchy due to the fact that the initial images have been selected by the algorithm.
FAQ:
Are GCPs included in the Smart Uploader?
Yes! Ground Control Points are now available to upload via Smart Uploader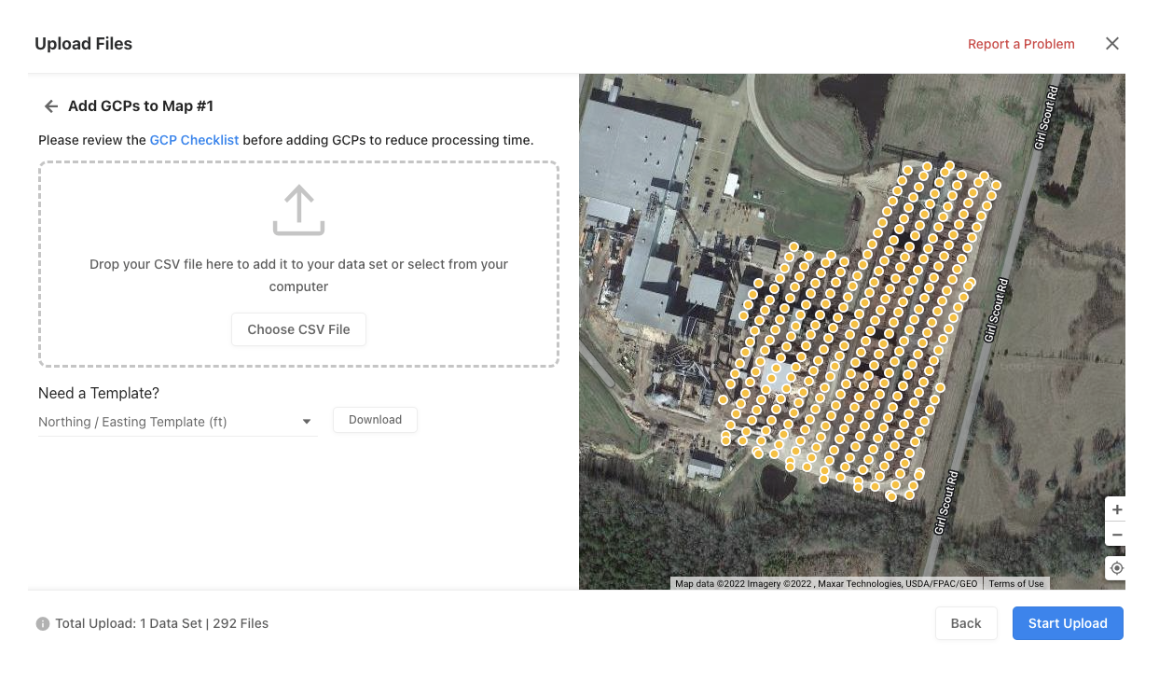 How many projects can you upload at a time?
Just one project at this time.
Will users still be able to use the legacy uploader?
Yes, users will be able to choose whether to use the Smart Uploader or the Legacy Uploader on the Upload tab
What happens if you have multiple photo plans in one upload? Does it create the breakout of folders?
If the plan is flown using DroneDeploy, yes. TBD on non-DroneDeploy flights
What is out of scope for v1?
1. Upload recovery- users must keep their tab alive for the duration of their upload
2. GCP - the initial version will require users to add GCPs to their maps post-upload initiation. GCP functionality will be included prior to GA.
3. Smart 360 Walkthrough detection - .mp4 files will be assumed to be individual Progress Video Plans. Walkthroughs are not included in v1. Please uploaded from the Walkthrough app or camera SD card.