Using this guide, easily sync your 3D and 2D Scan Imagery from Skydio to your DroneDeploy dashboard. This functionality allows you to leverage the best of the two systems; automated flight capture in Skydio and processing and modeling in DroneDeploy.
This functionality is available for our Teams and Enterprise subscribers.
To Enable Sync
To sync Skydio Scans, the organization administrator will be asked to enter the Skydio Sync API Token on the Upload page.




That key can be found in the

Skydio Customer Portal:





Having trouble finding this token? Check out this Article on Skydio's help guides.



Once the token is validated, the user will be able to click the "Sync Scans" button and choose which Skydio scans to be synced to the project.
Syncing Scans
Create a DroneDeploy project in the location of the Skydio scan, or navigate to an existing project you have Skydio data for.

Select "Explore" from the top of the screen.

If Skydio scans are available in a 10km vicinity, they will appear here. If no scans are available in this radius, the modal will be empty.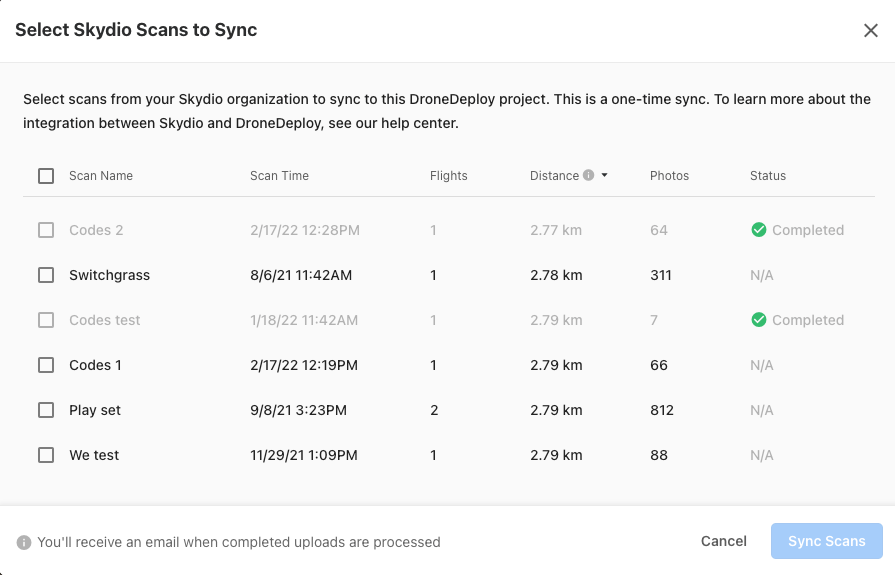 4. Select scans you want to sync to DroneDeploy and then select "Sync Scans".
5. Once images are available to DroneDeploy, the map will begin processing. An email will be sent to the project members when the map completes.
Demo Video: