Create roof report PDF from your DroneDeploy map
You can use DroneDeploy to quickly and safely inspect and measure roofs from your drone data by generating a roof report via the Roof Report app. This delivers a comprehensive roof report (PDF and DXF file) within 48 hours if there are no difficulties processing the data.
The Roof Report app is available to all paid customers.
Choosing the Right Report
Two categories of reports can be requested; Single Family Home or Multifamily/Commercial. You must choose this correctly, else your roof report will be delayed or canceled.
Report Types
Single Family Home
Multifamily/Commercial (e.g. Apartment building or warehouse)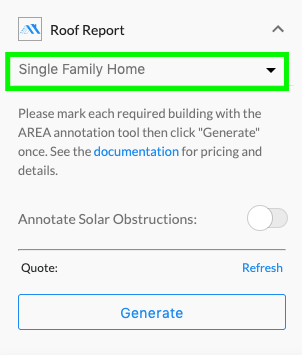 Solar Obstructions
Including solar obstructions means all objects on the roof that would obstruct the placement of solar panels will be annotated on the report. This does come with an additional cost.
Multiple Buildings
You can mark multiple buildings in one map. Add multiple area annotations to select multiple individual buildings. Each building comes back with a separate roof report. If you select incorrectly between Single Family and Commercial/Multifamily, we will still bill you at the price for the correct selection.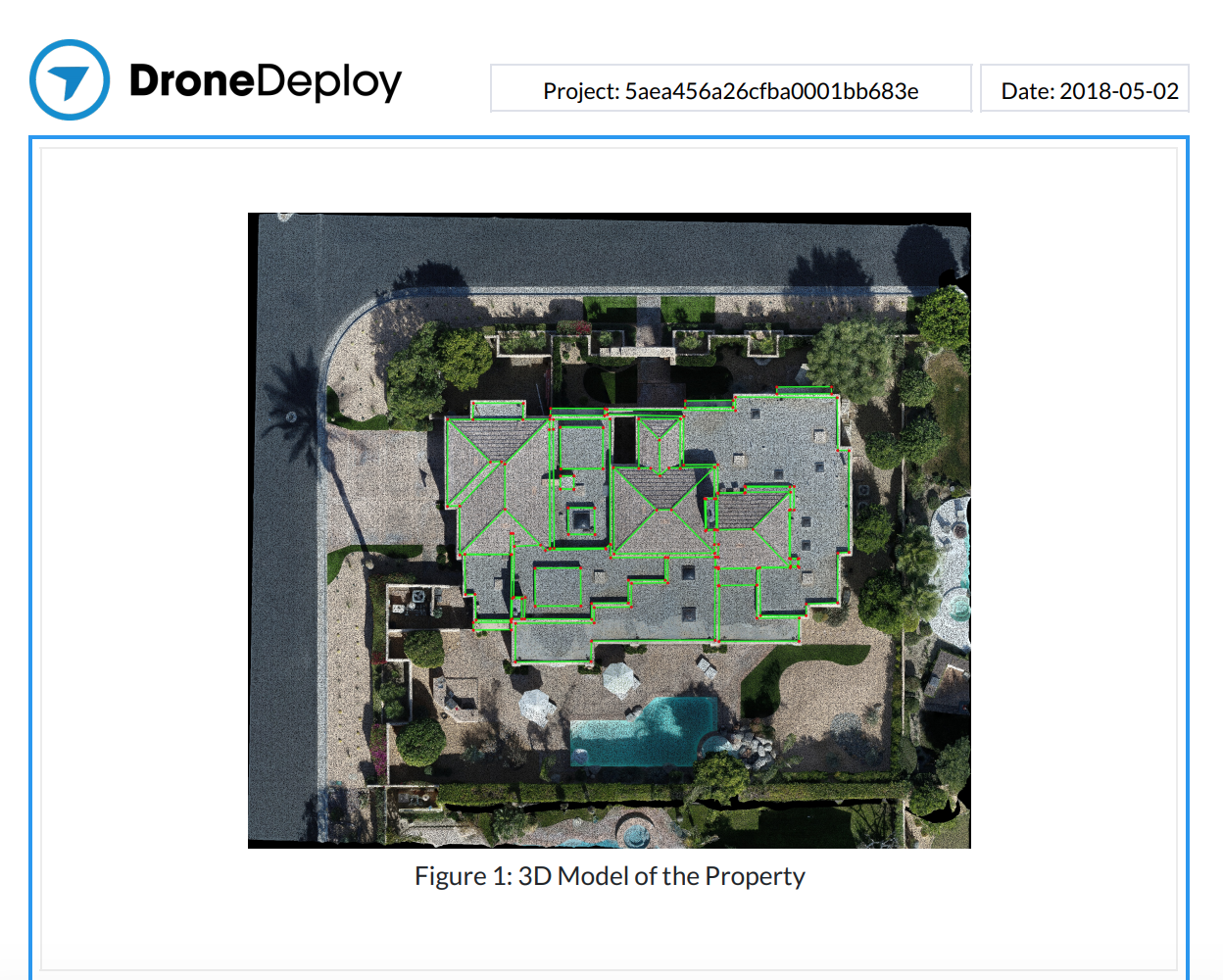 Roof Report Example
Each roof report provides accurate square footage, roof features, pitch, surface area, and slope. Click on the following hyperlink to check an example of a commercial
Roof Report PDF
. Click this link for an example of a residential
Roof Report PDF
.
Report Contents:
Property Overview
Surfaces
Perimeter, Pitch, and Surface Area
Edge Measurements
Edge Type
Generating a roof report
Once you have captured aerial images, creating a roof report is just a few clicks away.
Recommended Settings - 3D Processing and Obliques Required for Quality Data
To obtain accurate results please fly your map using either the
House and & Roof, Precision 3D
app or Enhanced 3D mode. Roof Reports generated using nadir-only data will usually not work well.
Step 1 - Install the Roof Report app to your DroneDeploy account
Click here to install the Roof Report app to your DroneDeploy account.
Or, when logged into your DroneDeploy account, visit the App Market on the left side of your dashboard. You can then search for the Roof Report app in the 'All Apps' section.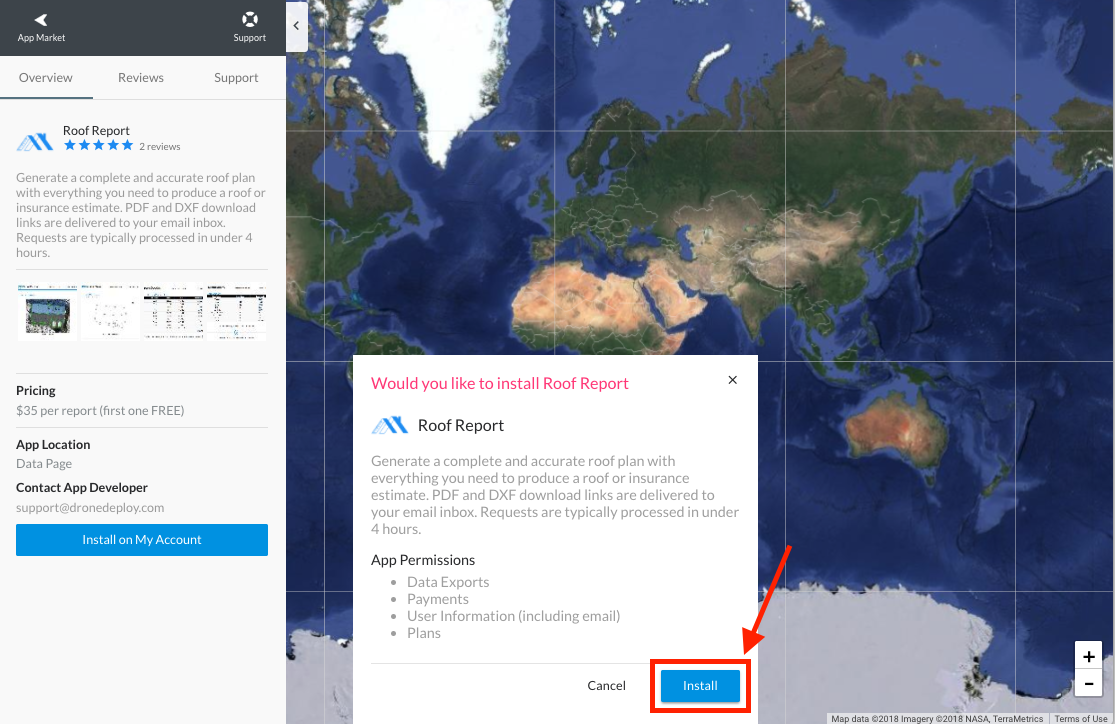 Step 2 - Locate and open the Roof Report app on your DroneDeploy data page
Click on the completed map that you want to use to generate the report to open it. The Roof Report app will be located at the bottom of your side-panel. Click on the little arrow to expand it.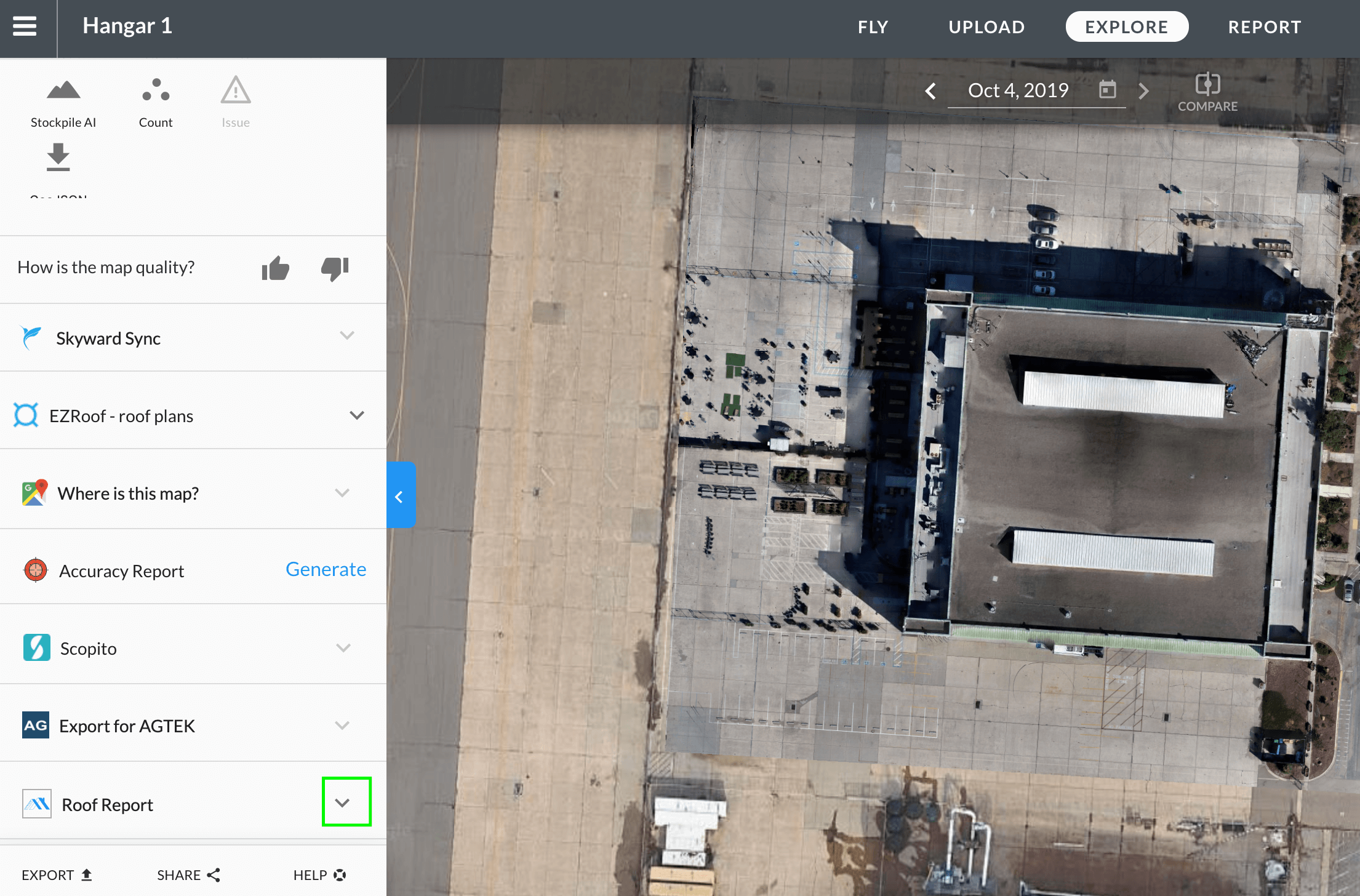 Step 3 - Select the buildings of interest
To select the buildings of interest, please use the Area Annotation tool to mark each building that you want to use to generate the report. Please do not delete these annotations until you have received the report.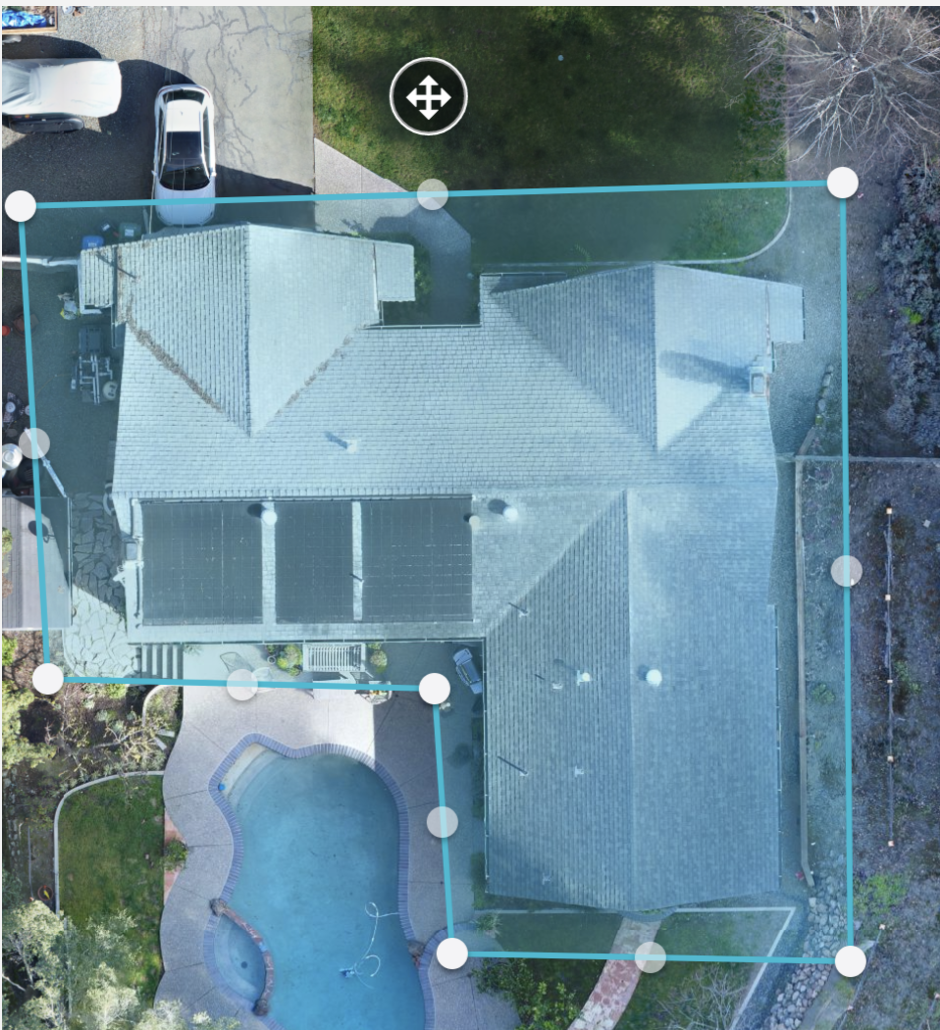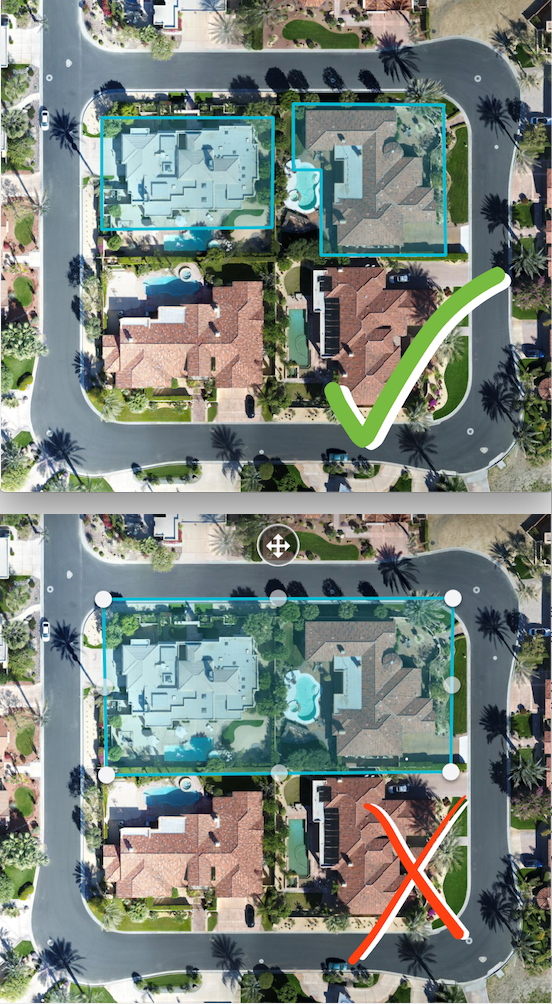 Step 4 - Request the Roof Report
Select between Single Family Home and Commercial/Multifamily
Incorrect Building Selection
If you select incorrectly between Single Family and Commercial/Multifamily, we will still bill you at the price for the correct selection. This means that if you select Single Family on a Commercial map, you will likely receive a charge higher than what is initially indicated.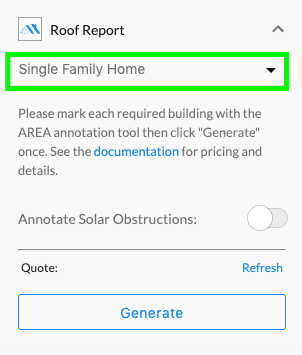 Step 4 - Generate the report
If you'd like obstructions marked, please be sure to toggle 'Annotate Solar Obstructions' on.
Once you're satisfied with your area of interest and your parameters, please click on 'Generate' to initiate the processing of your Roof Report.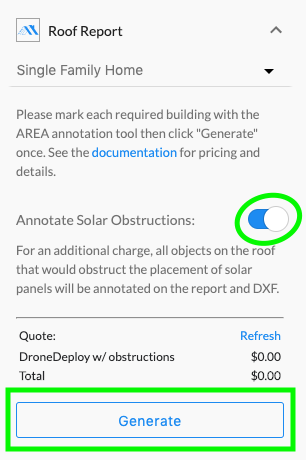 You will receive a confirmation email with a link to download the PDF Roof Report (please check your spam if you don't see it).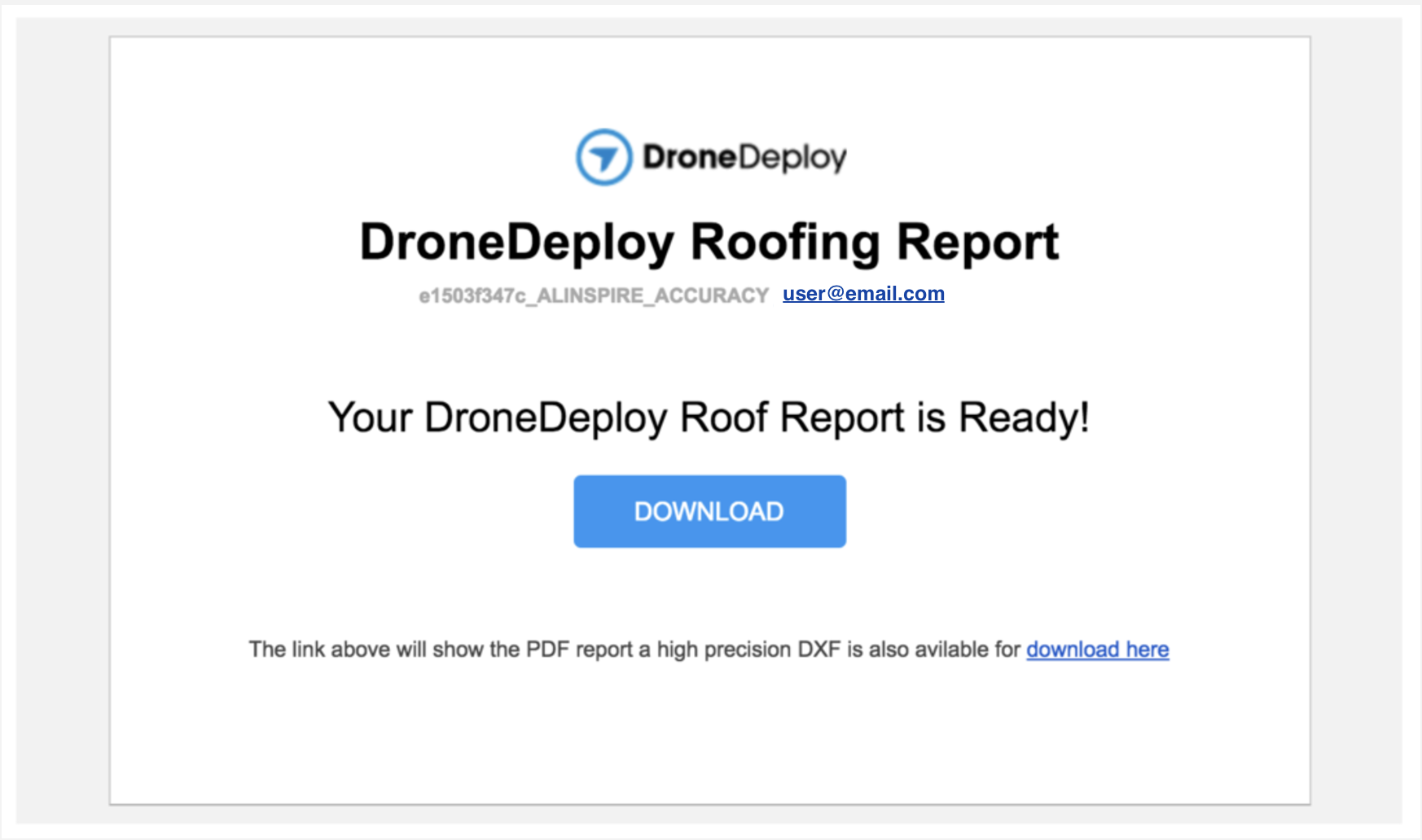 You can also download the result in the Roof Report app interface when it's finished processing.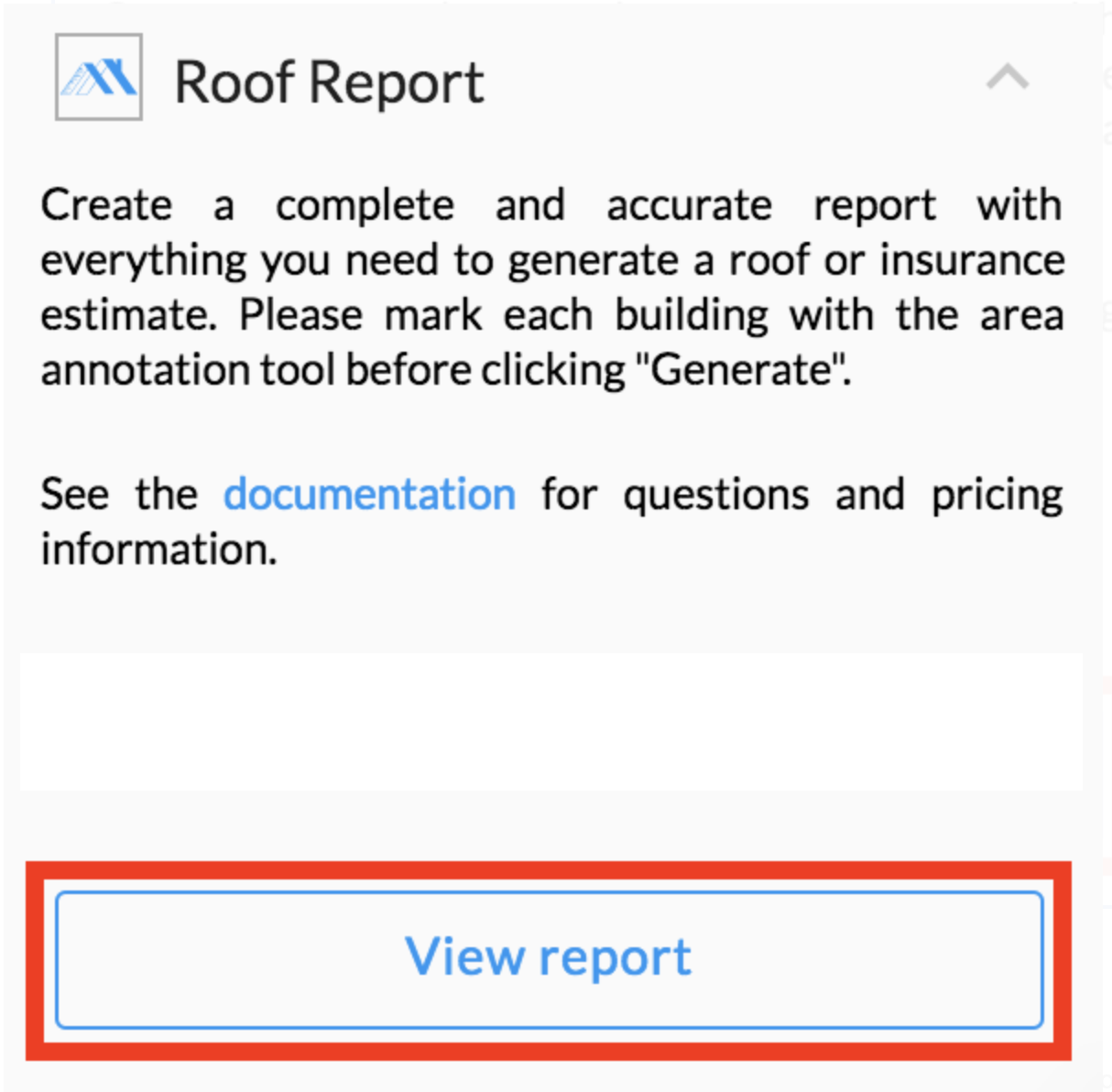 Frequently Asked Questions
How long does the processing take?
Generating the Roof Report typically takes less than 48 hours. It can often come within hours.
Can I do multi-building / multi-roof reports?
The roof report is billed per-roof, but all buildings in the map can be processed if you marked them in the region of interest. They will come as separate reports.
How do I change the units the report is in?
The report will use the same units as your DroneDeploy account settings. If your DroneDeploy account is set to "Imperial" the roof report will be in FFI (feet fractional inches). Whereas if your DroneDeploy account is set to "Metric" the roof report will be in "Meters". You can change this in settings.
Can I process existing images into a roof report?
Yes. Make sure that you have a complete, overlapping aerial dataset of a roof and then simply upload it to DroneDeploy. Once it has completed processing you can use the Roof Report app as normal.
How do I share roof reports?
The simplest way to share a roof report is to forward the email to the person you should like to share the report with. This will give them access to the link to the report.
How accurate is the roof report app?
Using the above recommendations on flight the roof report measurements are 99.4% accurate. Typically both more accurate and more consistent than a manual survey.