DroneDeploy makes it easy to quickly export your data from cloud to your desktop for integration with third-party software. Here's how...
We want to make it easy to incorporate your DroneDeploy data with your existing workflows. To help with this, we've built a fantastic export tool to get the data that you need. This document will walk you through the different ways you can export data from DroneDeploy.
A quick note before we start:
You can't export maps which have been shared with you unless you have created an Organization
We have restricted the ability to export data that someone has shared with you, this means the owner of the map have full control of the data when sharing. **Note: Customers within an Organization can export data from shared maps.** If you want to share the exports with a colleague or client, add their email address in the share popup. Learn more about our Data Sharing capabilities
here
.
See our FAQ section for more common answers to questions.
How Do I Export my Data?
Our Lite, Individual, Advanced, Teams, and Enterprise customers can export all DroneDeploy layers in a few different formats. All exports are accessed in the same way but please note that some layers are more customizable than others:
Press the Export option located on the bottom of your side data panel: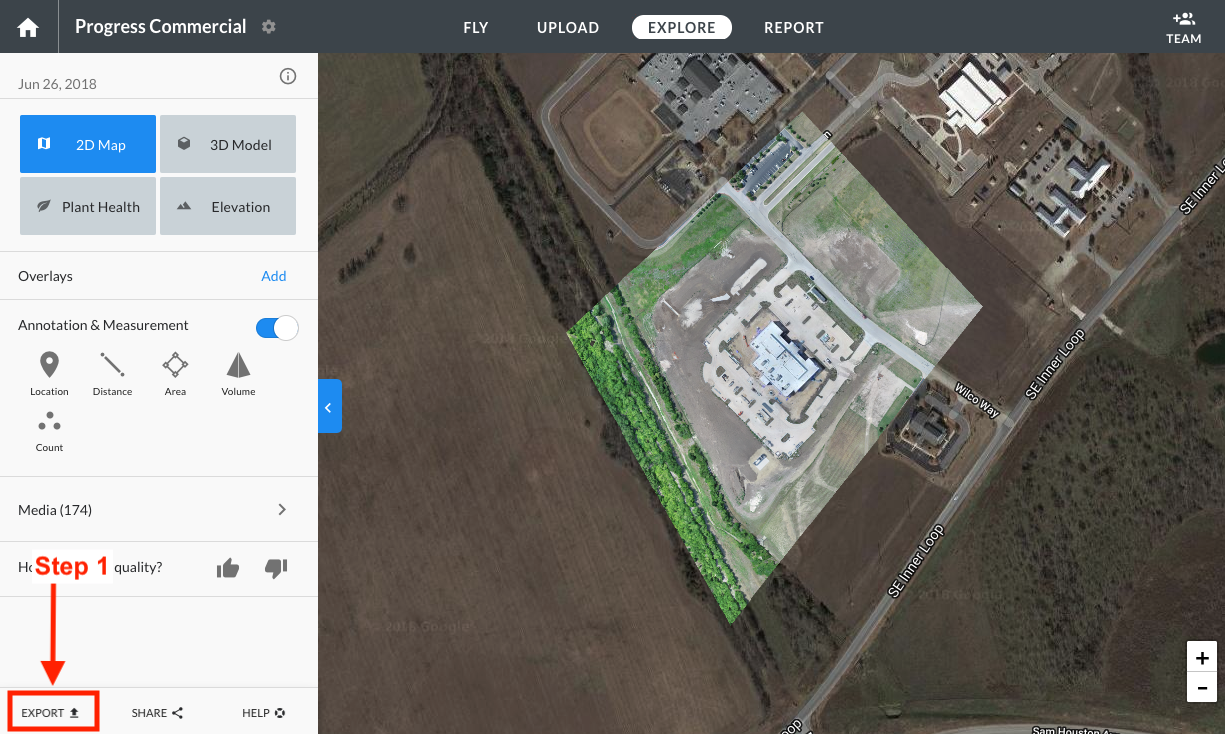 Input the email address(es) to receive the downloadable link
Note: If you're sending data to a client, you may want to specify your email as well so that you have a record of what data they've received.
Select the Layer you want to export
Select the correct File Type
If customizable, select the export options
Once you're happy with your selections, press Export. You'll see a confirmation message at the bottom of the screen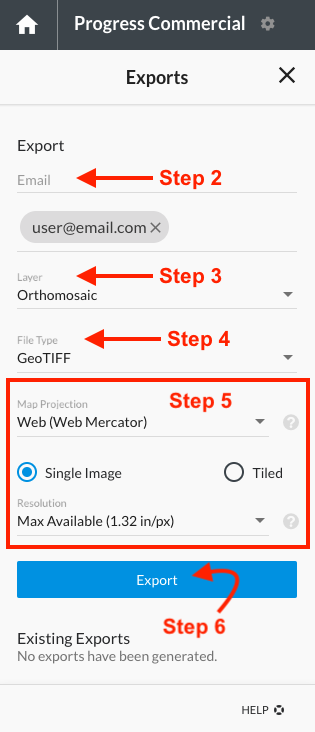 Once we've generated the export layers, an email will arrive in your inbox with a secure link to download your data. The export process is usually complete within a few minutes, but may be longer for very large maps.
Now, let's walk you through the different type of exports and the customizable options to successfully export your DroneDeploy data and get a feel for what you can expect from each.
Have you recently upgraded your DroneDeploy subscription?
If you have recently upgraded your DroneDeploy subscription, your maps will likely not have the export formats available to your new subscription tier automatically. Please reach out to support@dronedeploy.com for reprocessing any maps that need upgraded export file formats.
What File Formats are Available to Export?
You can export all the layers of your map: 2D Map, Plant Health, Elevation, and 3D Model. The type of format available to export is dependent on your DroneDeploy plan. Please review our Data Export Formats list to learn more about the different file formats that can be exported from your paid DroneDeploy account.
How Can I Customize my Exports?
For layers that have in-browser tools, such as the 2D, Elevation, and Plant Health maps, you have the ability to customize the exports according to your specifications. The custom exports allow you to:
Reduce map resolution
Specify a different map coordinate/projection system
Manipulate the data (e.g. cropping the map or changing the histogram values)
Since these exports require some processing, they tend to take a bit longer. But generally, for smaller maps, you can expect the export within a few minutes.
Let's explore the different options that you can use to customize your export files:
Resolution
Based on your account settings, you can export the maps at different resolution levels. The higher the resolution, the longer the export email will take and the larger the final download.
If you're concerned about final file size or processing/download time, it may make sense to reduce resolution to 50cm/pixel.
Map Projection
You could export your maps/models using different coordinate systems or map projections. These projections determine how your data is "projected" from the 3D earth to a flat surface.
World Geodetic System, WGS84 (EPSG: 4326): The most common coordinate system and the standard for all satellite navigation system. It is useful if your third-party software is expecting Latitude/Longitude and Elevation in meters.

Web Mercator (EPSG: 3857): This coordinate system is used by Google Earth, MapBox, Bing Maps, etc. It represents coordinates in meters from Earth's center, rather than Latitude/Longitude's. If you want to import your images into Google Earth or another web viewer, use this setting! When exporting in this setting, you will also receive the .KML file to easily view your data in Google Earth.

Individual, Advanced, Teams, and Enterprise customers can export their data using a Custom Projection Systems. That allows them to export the maps using other EPSG codes for almost any projection. Check on the Spatial Reference Organization's website to learn more about the EPSG codes.
Importing your Export in Third-Party Software
Be mindful of the EPSG code selected when you export from DroneDeploy. The EPSG code selected will affect the projection and units of the export in other software such as AutoCAD.
Single Image?
By default, this box is checked, and it will ensure you receive one image for the entire map.
If you're concerned the map will be too large to process as a single image on your computer, please check the "Tiled" box, and you will receive the data as a set of tiles. That way, you can load the tiles selectively in a way that is manageable for your setup.
Exports Arrive in your Inbox
Once your export has been processed, you will receive an email from DroneDeploy Exporter: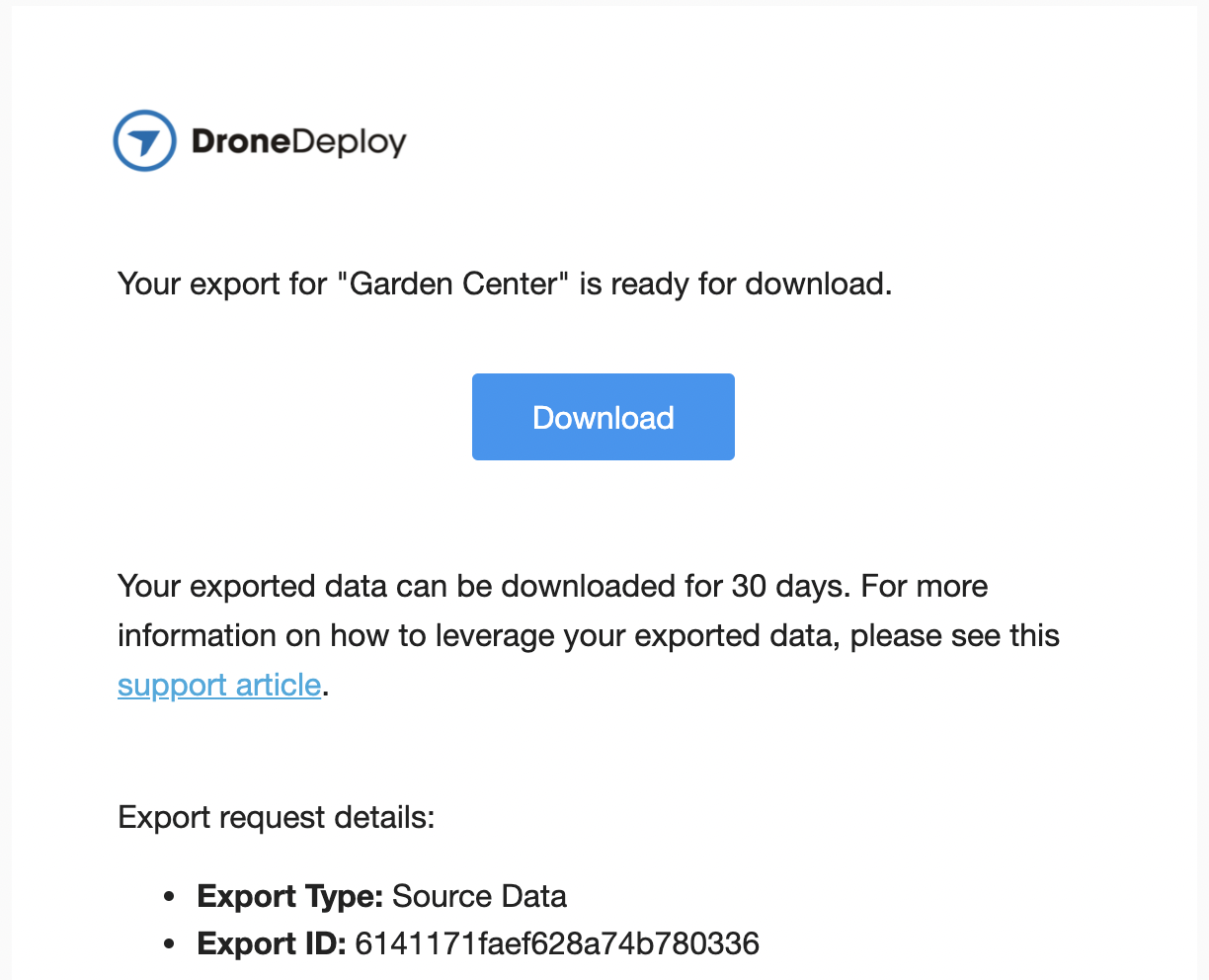 Clicking the "download here" link will automatically launch the download of your export to your machine. Additionally, there is a link to start a conversation with support if something doesn't look right with your map.
Links will expire after 30 days
These links will be valid for 30 days and then will expire. You can generate new links by going through the same process.
Frequently Asked Questions
Q: Can people I share my map with export data?
A: No. Only the owner of the map can generate exports for that map. If you want to share an export, just add their email address in the export popup.
Q. I didn't get an email with my export?
A: Sometimes these end up in spam folders, double-check those. Also, please make sure your email will allow you to receive emails from exports@dronedeploy.com, or you will not be able to access your data. This is particularly relevant for customers with custom email domains.
Q. Can I create an automatic export of my data?
A: Yes! Auto Exports can be set up on a project-level basis to save your entire team from having to manually request standard exports after each and every map completes processing.
Where to from here?
Now that you have your data, learn more about Importing Data from DroneDeploy