A description on how to get started with the Plant Health layers on DroneDeploy.
Plant Health is a tool specifically targeted towards agriculture users. The main purpose of the Plant Health layer is to allow you to explore your agricultural data even more deeply. You can adjust the contrast to highlight variability within a field. Once you have identified the relevant plant health ranges, the thresholding tool lets you quantify damage and predict yields by showing the area ​within a specific range.
For an explanation of the different algorithms and filter types, please visit our Understanding NDVI Data and Camera Filters for NDVI mapping support documentation.
We also have a Part 1 and Part 2 blog post which discusses the value of NDVI data in agriculture.
How can I access it?
The Plant Health Toolbox is available to all paid customers in our Pro, Business, and Enterprise plans. However, the standard plant health layer for all customers only reflects the [VARI algorithm](https://support.dronedeploy.com/docs/understanding-ndvi-data#section-visible-atmospherically-resistant-index-vari), which is designed for data captured with standard Red, Green, Blue cameras. With the [Precision Ag Package](https://www.dronedeploy.com/solutions/agriculture/), customers will have access to our advanced Plant Health tools designed specifically for cameras containing the Near Infrared band, or Slantrange's multi-spectral camera.
Plant Health
To get started, select make sure you are on the Map View rather than the Model View, then click onto the Plant Health button on the side panel on the map page. This will update the panel on the left to show a histogram of the data and the data itself.
Please note that the following information is catered for customers on the Precision Agriculture Package, which includes advanced plant health features.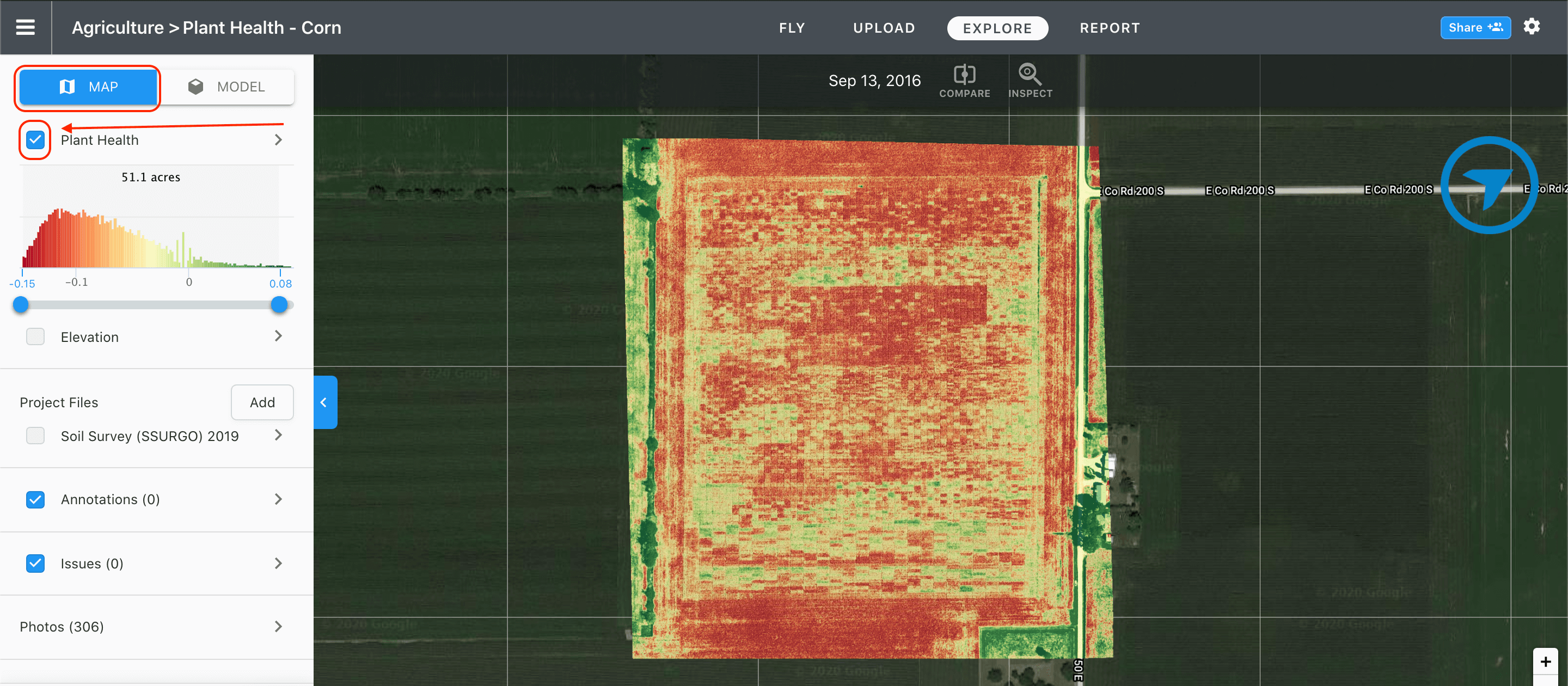 If you click the arrow next to plant health you you can explore the plant health tool box.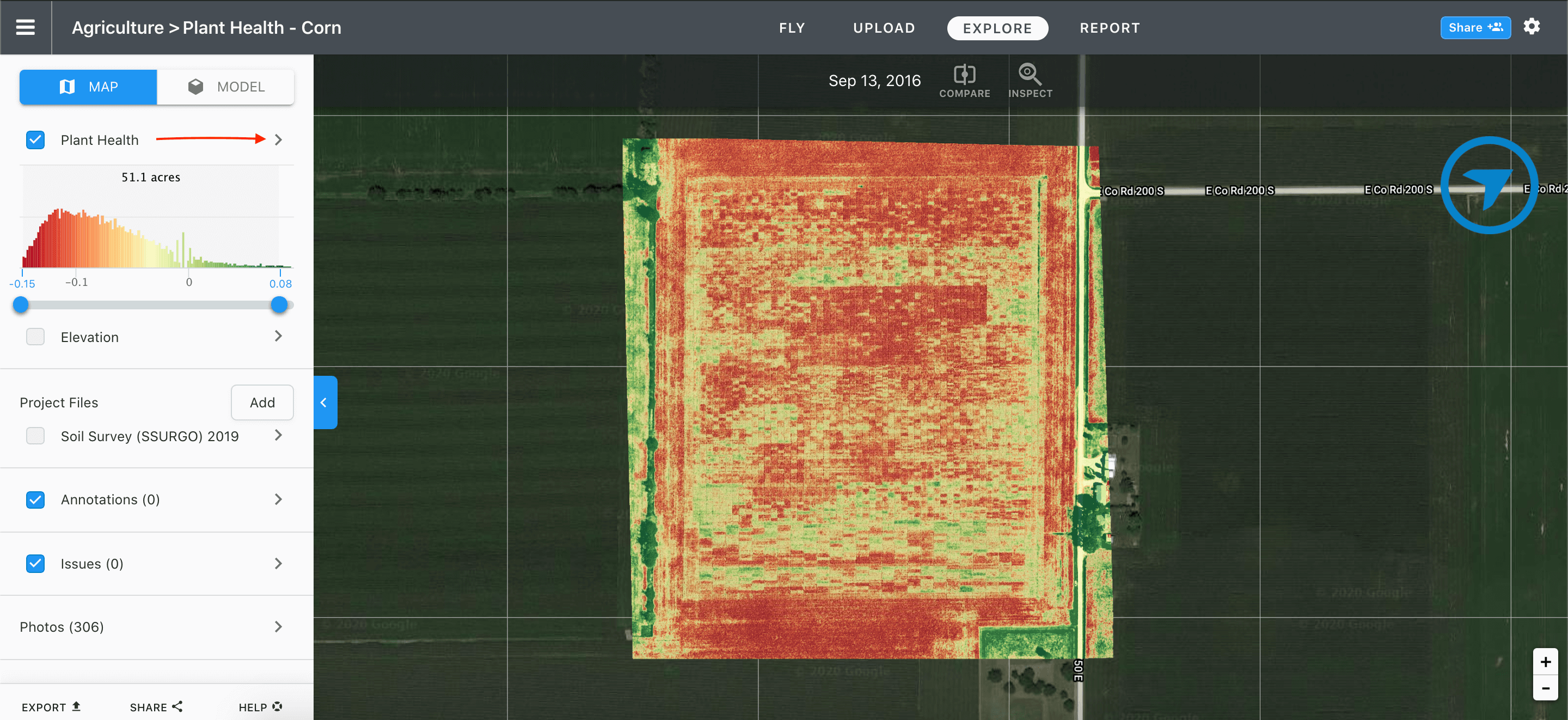 In opening the Plant Health toolbar, the panel on left side becomes populated with an adjustable histogram and other plant health options.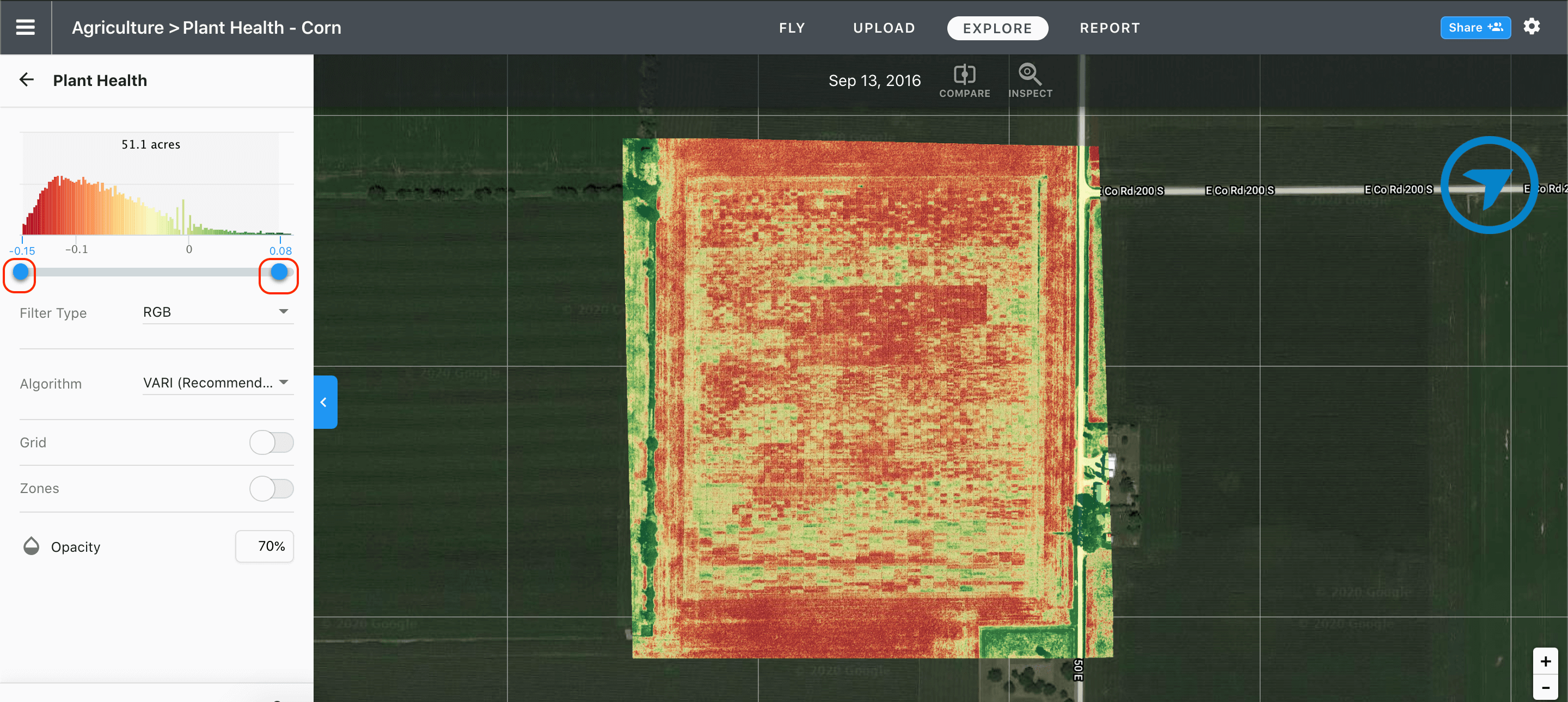 You can also choose the appropriate color band order that is specific to your camera filter. For more information, see our article on Filter Type.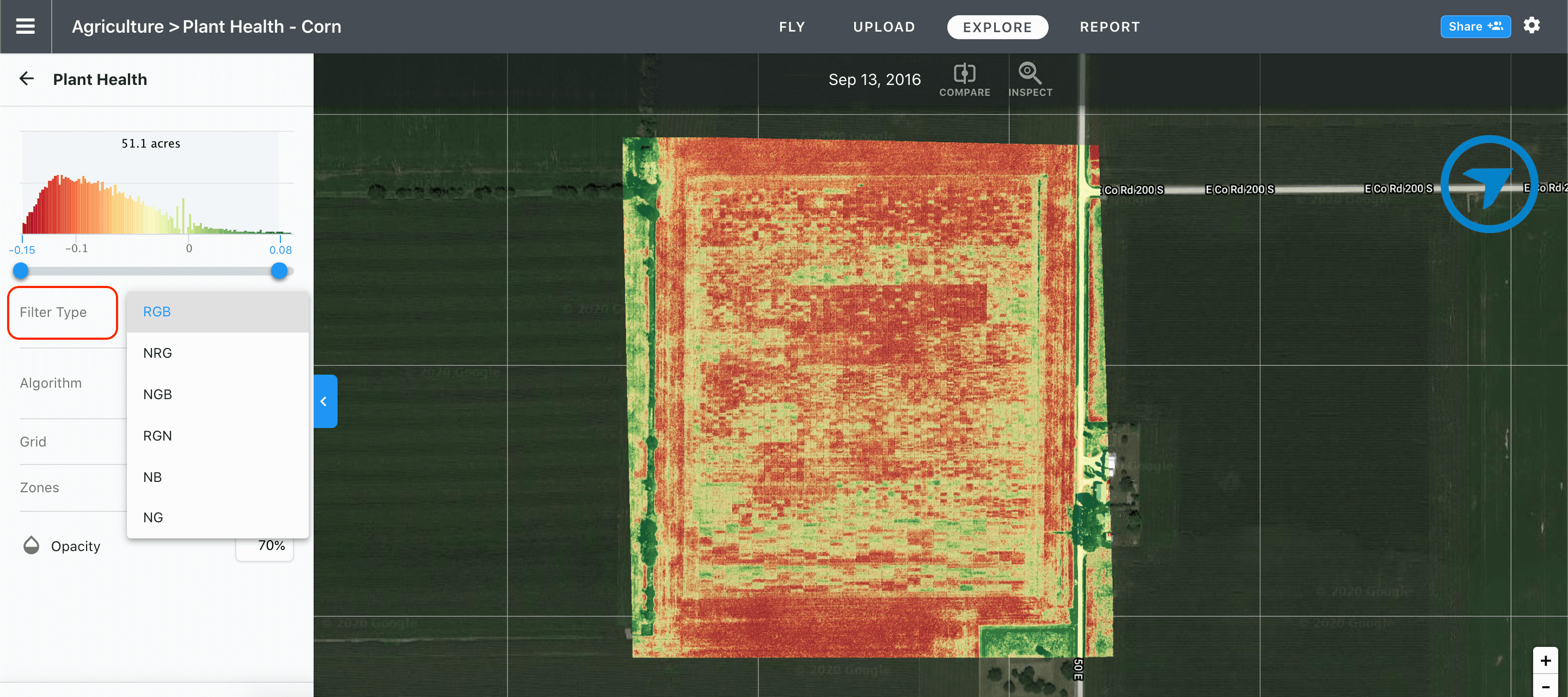 We can also select a different algorithm (better suited to different crop varietals) by clicking the dropdown in the top left: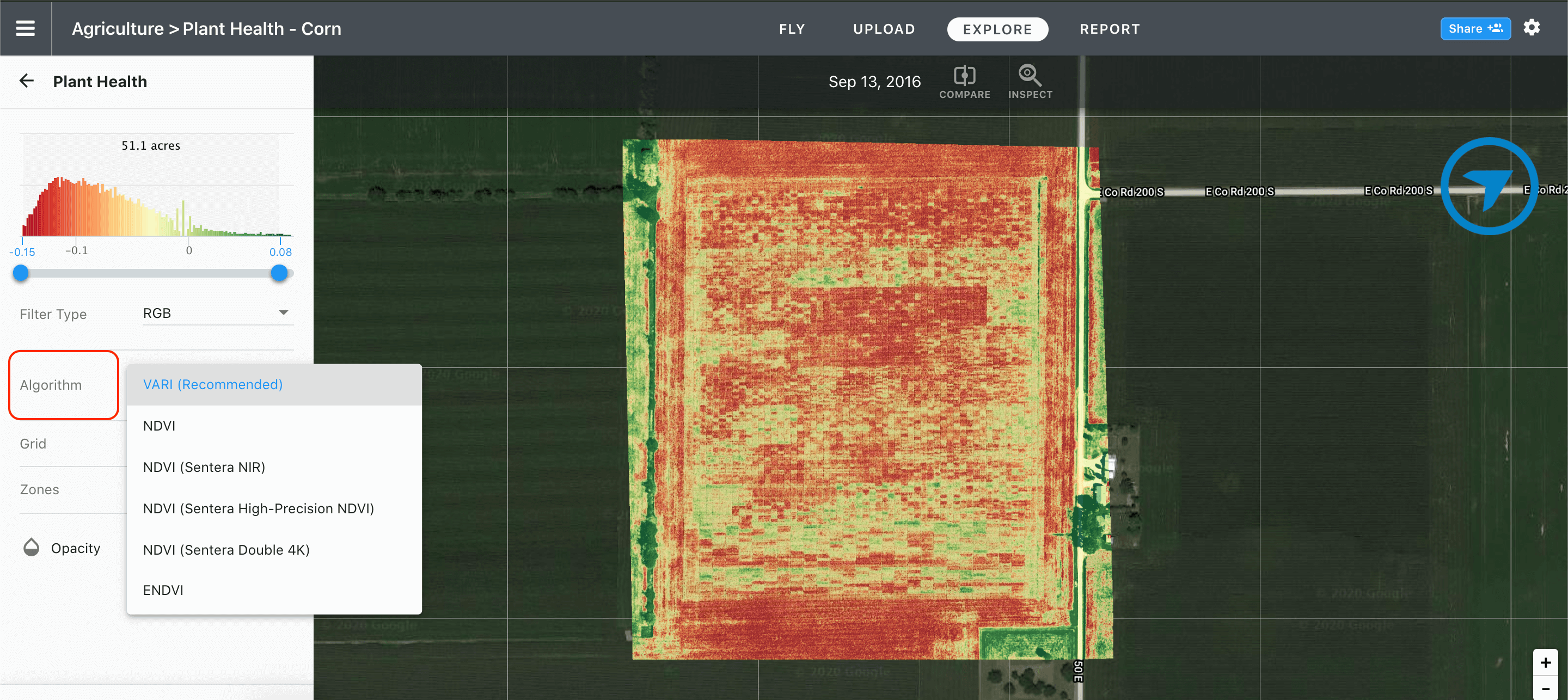 If you are interested in learning what these different maps mean, check out our help page on Understanding NDVI Data and our Identifying Crop Variability with Drones blog post.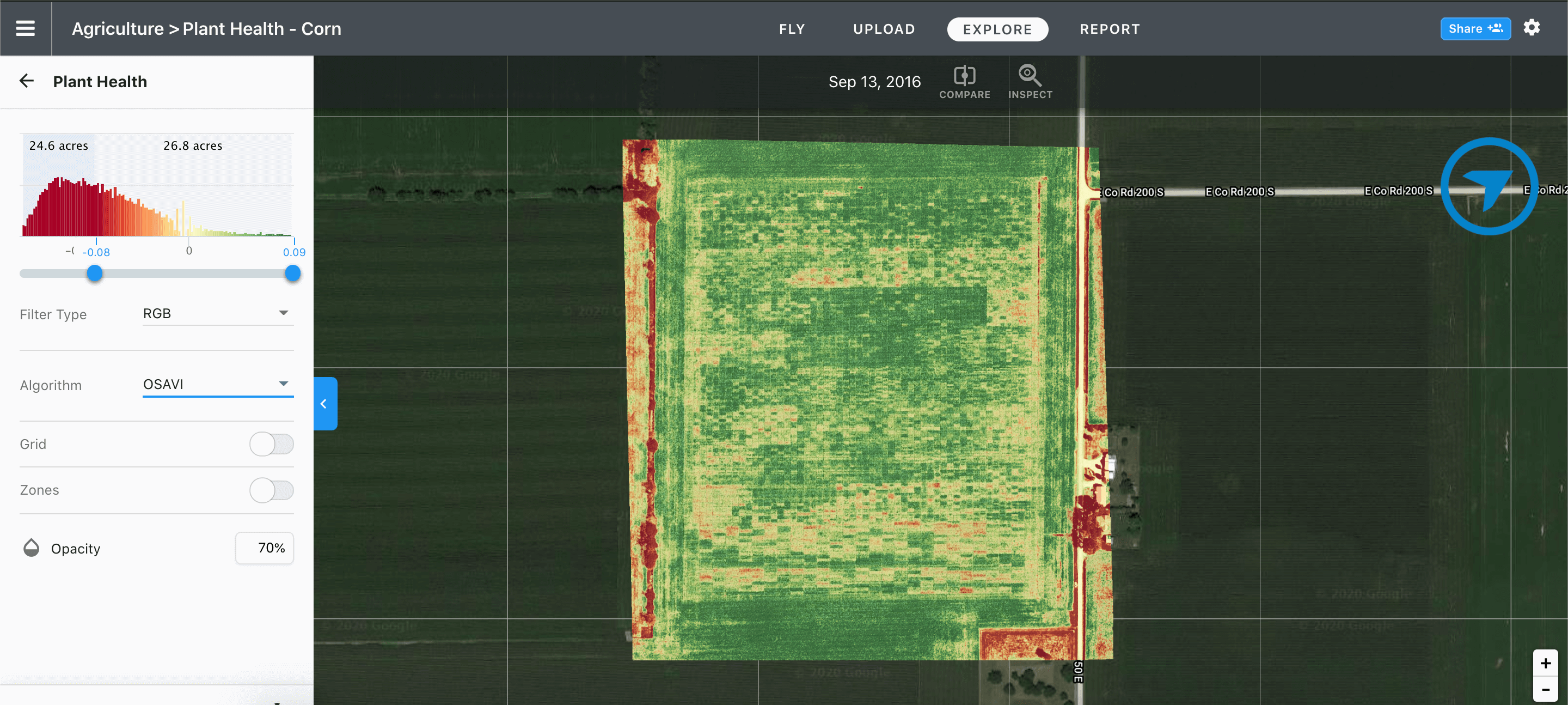 Here we have selected the OSAVI view - Notice how it shows a different view of the same data (although strongly correlated to NDVI), as well as a different histogram.
Zone Management
Grid and Zone tool under Plant Health provides the ability to create higher level management zones from NDVI maps. NDVI management zones in agriculture help make the highly detailed and large NDVI map into a more manageable dataset by grouping similar regions (either geographically or visually) within a field.
For more information, see our article on Zone Management.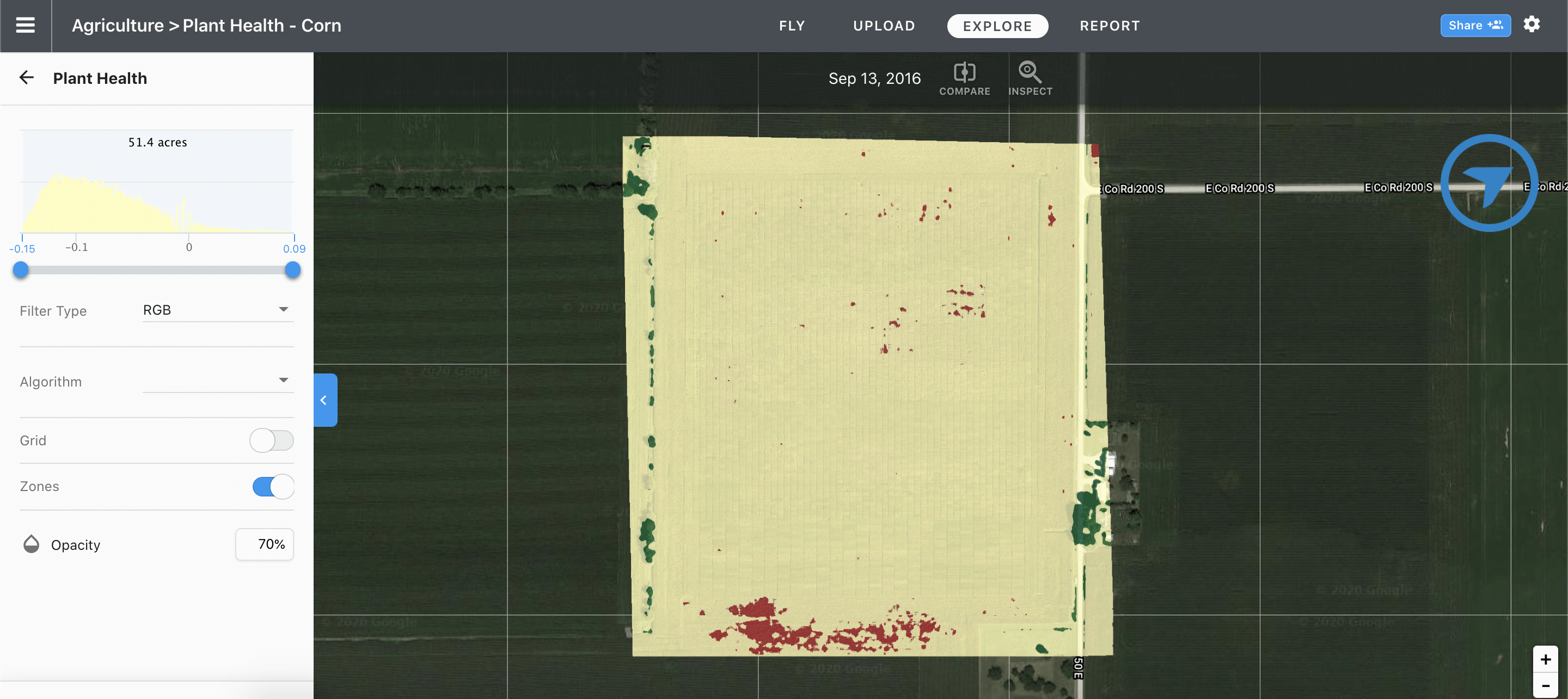 Opacity
If you scroll further down, you'll notice that you also have the ability to change the transparency of your Plant Health Layer using the opacity tool. This can allow you the ability to visualize your plants and any other objects within your map.
What next?
Check out the Ag-specific apps we offer on our App Market!
Popular Apps:
...and more!