Below are instructions to plan flights larger than the endurance of one battery when capturing imagery using the DroneDeploy mobile app.
Sometimes, you may need to map an area so large it cannot be done with a single battery. Below are instructions on how to conduct a mission using multiple batteries.
We recommend reading this best practices guide as well. This case study details how one customer mapped 450 acres (about 180 hectares) in an efficient and effective manner.
1. Create a plan of the entire area you wish to map.
When planning, there's no need to create lots of small plans to join up at a later stage. You should create the plan as you normally would but make the boundary large enough that it covers the entire area you are planning to map.
Review Satellite & Sectional Maps to Identify Barriers
Scan the satellite maps for potential barriers to LOS. Check your local VFR Sectional charts for towers and the like. Take this opportunity to get a good sense of the roads and landscape and start thinking about places to set up, take off, land for battery swaps and post up for flight observations.
To divide or not to divide?
Some operators prefer to draw one large mission in DroneDeploy. Although this is a useful way to get an overall estimate of flight time, some prefer to create multiple flight missions that divide the AOI down into manageable chunks. This can allow one to more easily maintain LOS, plan battery swaps and maintain simple boundaries and limit the number of tight corners.
2. Begin your flight as usual.
Start your flight as usual, but make sure to monitor the battery level. You can see the current battery level in the graphic below.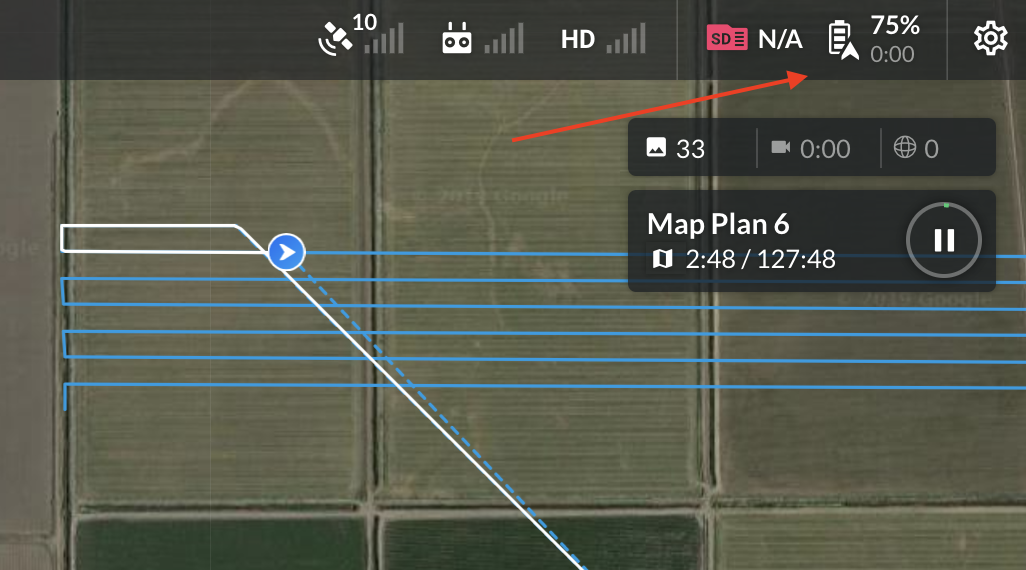 When the battery begins to get low, the remote control will start to beep to warn you, and the battery icon will turn red. You can press/click the red "Home" button in the bottom right of the screen, or press and hold the Home button on the remote control to bring the drone back to its takeoff location.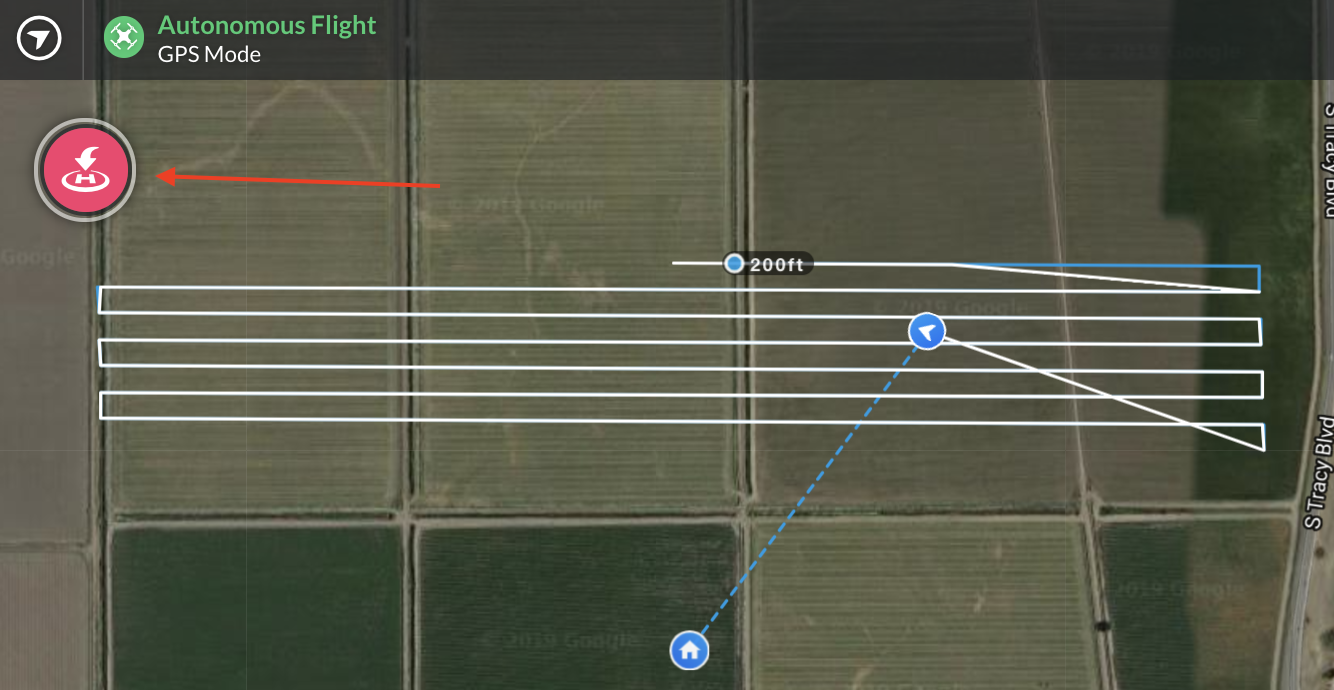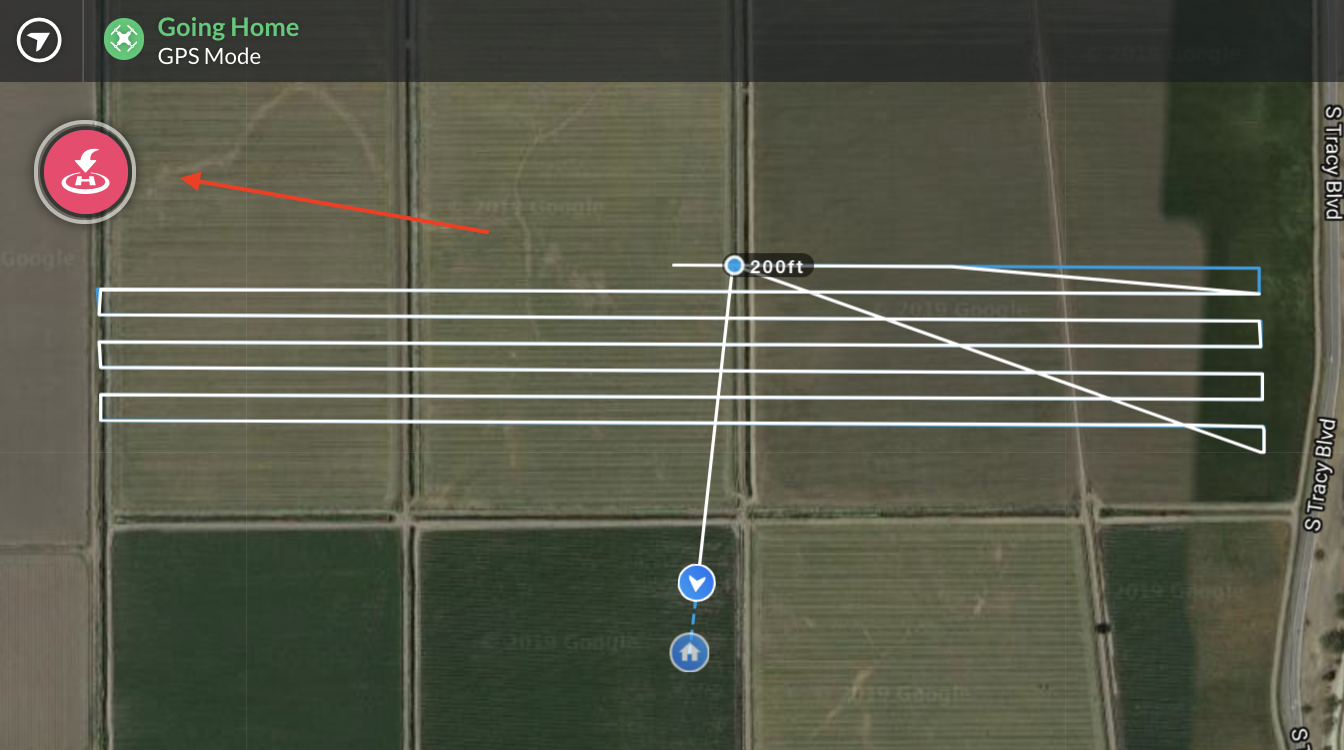 3. Switch out the batteries.
Turn off your battery. Swap the flat battery with a fresh one to carry on mapping.
4. Continue the mission by selecting the same plan
Open up your flight plans and select the one that you need to complete.
5. Review Your Remaining Flight Plan
The remaining part of your flight plan will populate your screen as will your checklist. Once the user passes their checklist, the user can then just press the "Start Flight" button to have the drone to start up again.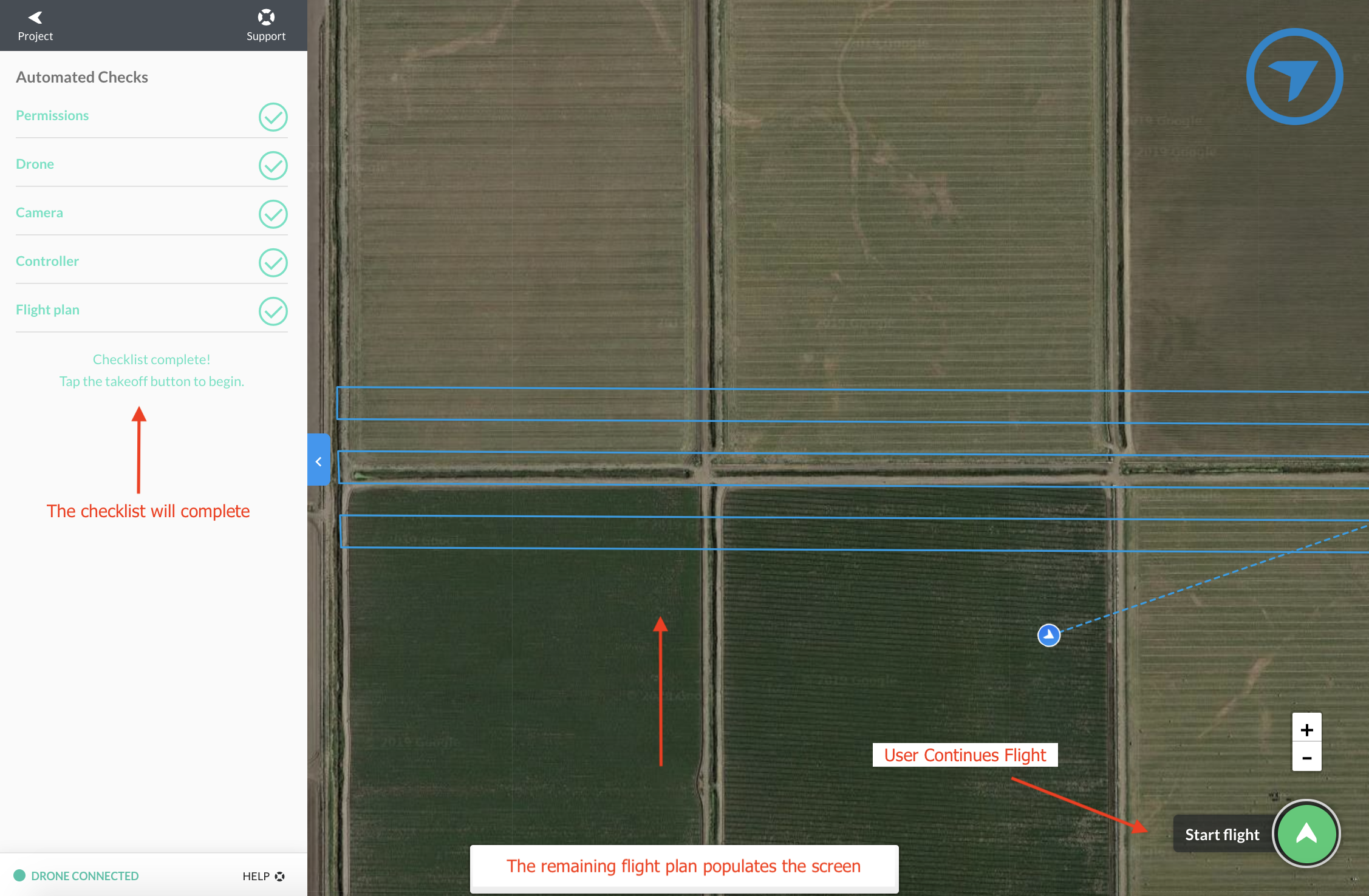 6. Takeoff and Continue your Flight right where you left off
Once you restart the flight, your drone will head back to right where you last left off and will continue capturing imagery.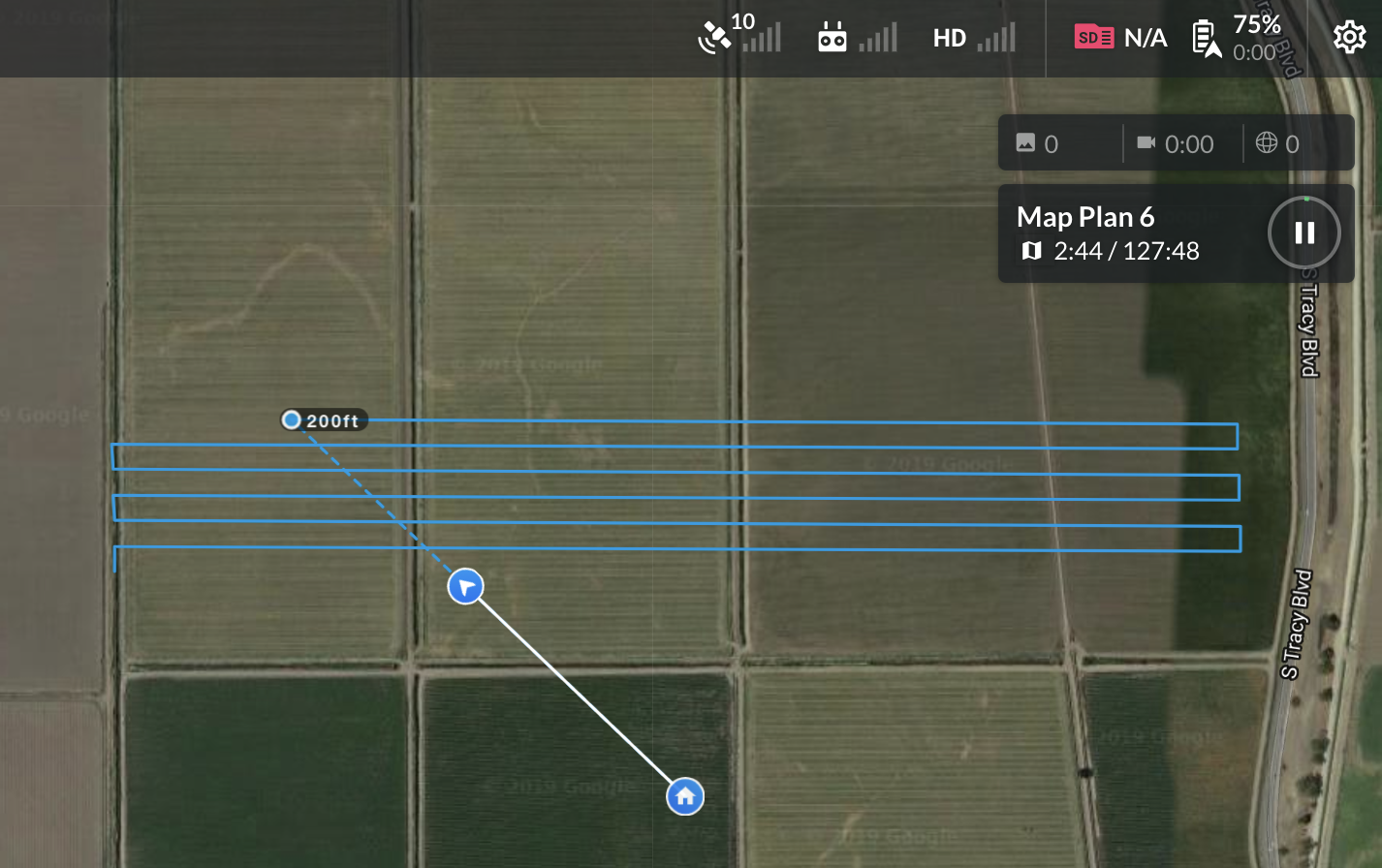 Rinse and repeat until the entire area is mapped!
All of the flight data should be saved to the plan you were working on previously. The upload process will not change for these types of missions.
Check Data in Field
Despite the best preparations, data quality issues do still occur. Cameras malfunction and fail to take pictures, GPS doesn't geotag images correctly or photos end up overexposed. To check data in the field, bring multiple micro SD cards to a site and swap them out after each section has been flown. If you have a WIFI hotspot and laptop, it is a good idea to begin upload in the field just to check that all images were captured in the areas you intended.
Packing
Forgotten or unprepared equipment can waste lots of time or, depending on how far you've traveled, may even cause the day to be postponed entirely. Maintain a master packing list to be used for all large missions. For each new mission, consult the master list and add or delete items as needed. The night before, make sure you've packed, double checked your list and charged all batteries and equipment.
Sample Packing List (based on 450 acre flight):
DJI Phantom 4 Pro x2 (because "two is one, and one is none")
64GB Micro SD card x2
Micro SD to USB reader x2 (one in each case and an extra in each vehicle)
Phantom 4 Pro battery x5
Fully charged laptop & charger (for reviewing captured images in the field)
400w inverter (hardwired to the truck battery, we plan on upgrading to 1000w)
DJI Phantom 4 Pro battery charger
3 battery, parallel charger
LiPo guard battery bag x2 (to safely charge batteries within)
2 gallon cooler (to cool batteries after each flight and get them onto the charger faster)
Stay-dry Ice pack x2 (goes into cooler and doesn't sweat)
ND lens filters (to prevent whitewash on sunny days)