Data on Demand Availability
Flight Services offered through DroneDeploy, also known as Data on Demand, are available to our Teams and Enterprise level user tiers. At this time, mission commitment is required to access Data on Demand. Interested in learning more?
Contact our Sales Team today! 
Step-by-Step Instructions
Data on Demand access must be provided by your subscriptions accounts team. Once access is provided, the option to "Request Flights" will become available. 
Order Processing & Turnaround Time
Orders placed through Data on Demand are processed Monday - Friday 9:00 am EST - 5:00 pm EST. Orders placed outside of this time will be processed the next business day. The typical turnaround time for orders located in the United States is 1 week. 
1. Create your DroneDeploy project. 
2. Plan your map(s), photos, videos, panos, etc. all within the same DroneDeploy project.
3. When all plans have been created, select "Request Flights" from the left-hand panel. This is where the ordering process will begin.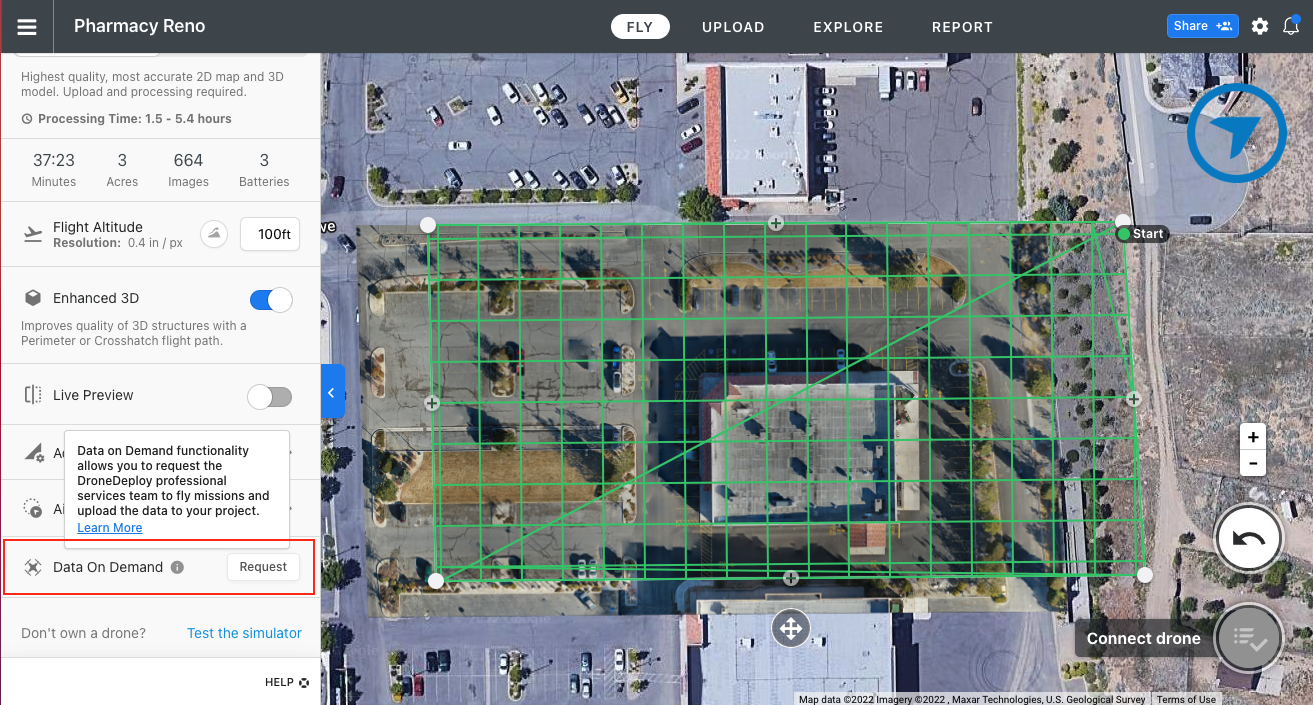 4. Enter additional information that is relevant to the site in the 'Special Instructions' field. You can also add a Purchase Order Number if applicable. Remember our pilots are instructed to follow the flight plans explicitly unless safety or FAA compliance is a concern or directed otherwise on-site. 
Double-Check Flight Plans
We will fly all flight plans in the project, so if there are any that you do not want to be flown, delete them or tell us here you don't need them captured.
If entering a long piece of information in the 'Special Instructions' field, it is easiest to type that out in a separate document or note, and then paste it in the text field. Typical things to include might be: obstacles to watch out for on-site, launching or takeoff areas, job site trailers, relevant check-in information, other contact information. 
Mission Due Date
Does your mission have a due date? Let us know by inputting that into the 'Special Instructions' field. Our team will do our best to accommodate any due date on your project as long as your request is made with enough time in advance.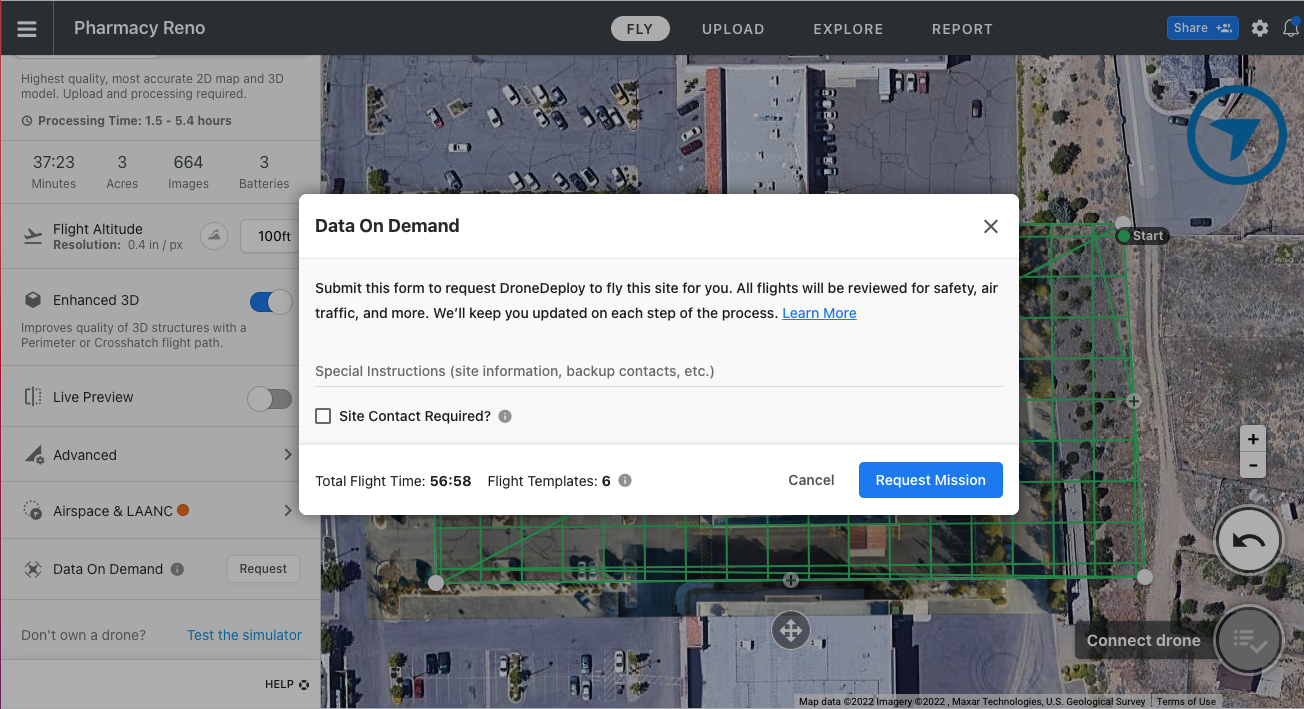 5. Enter site contact information (name and phone number). If you are the main contact,
enter your information.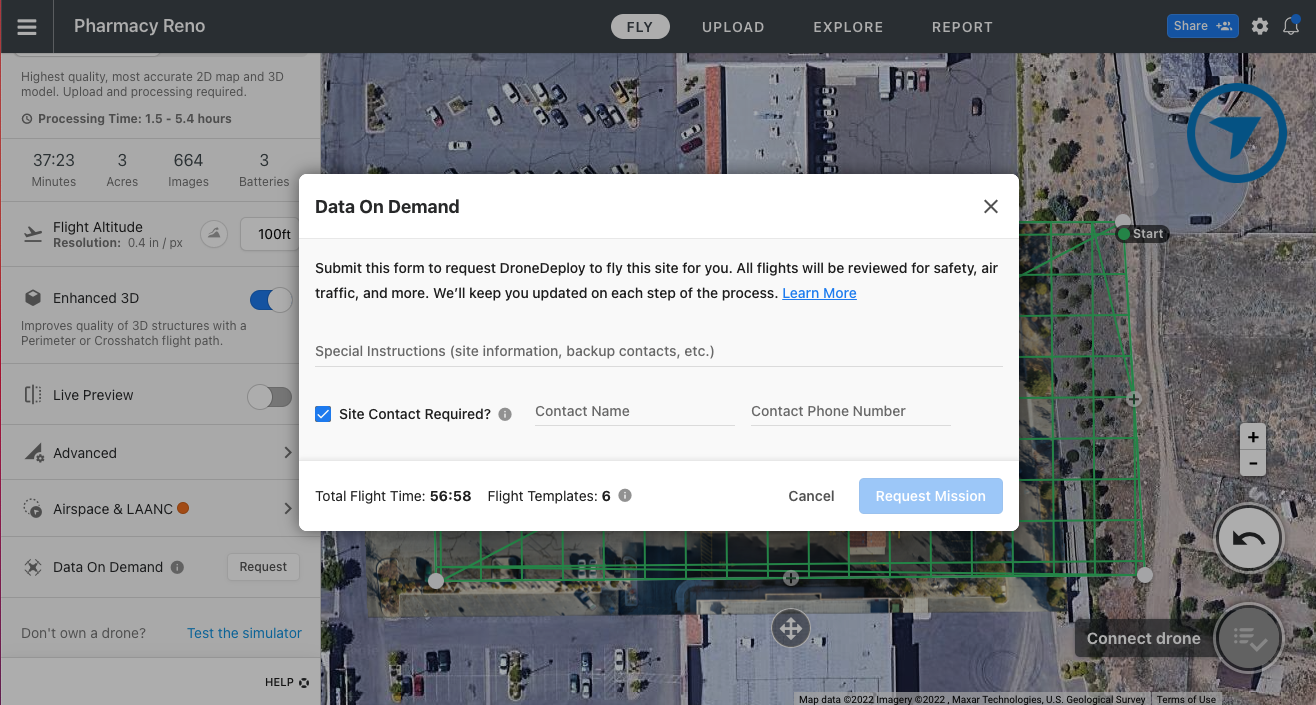 6. Once you submit your flight, your information is sent directly to the DroneDeploy Services Team to dispatch and schedule.
7. You will get an email (within 24-48 hours) notifying you of the scheduled date.
8. If any delays or changes in the flight date happen, the DroneDeploy Services Team will respond to that email with the updated information.
9. After the flight is completed, the data will be uploaded directly to your project.
10. DroneDeploy will send you and anyone shared on the project an email when each map/media file is processed.