DJI Restricts Flying in Some Locations!
In order to protect our airports, military bases, national parks, airspace, and critical infrastructure, the DJI GEO Zone System prevents your drone from taking off in designated areas.
The DroneDeploy app does not restrict flying in any location. However, if the DroneDeploy app tries to take off in a location that is restricted by DJI, the DJI mobile SDK will not allow DroneDeploy to take off. The DJI Mobile SDK determines locations where flying is restricted based on the DJI fly safe database inside the DJI App. The fly-safe database is based on the DJI GEO System.
Before you fly, check for up-to-date flight restrictions
Find your location on
DJI's GEO Zone Map
.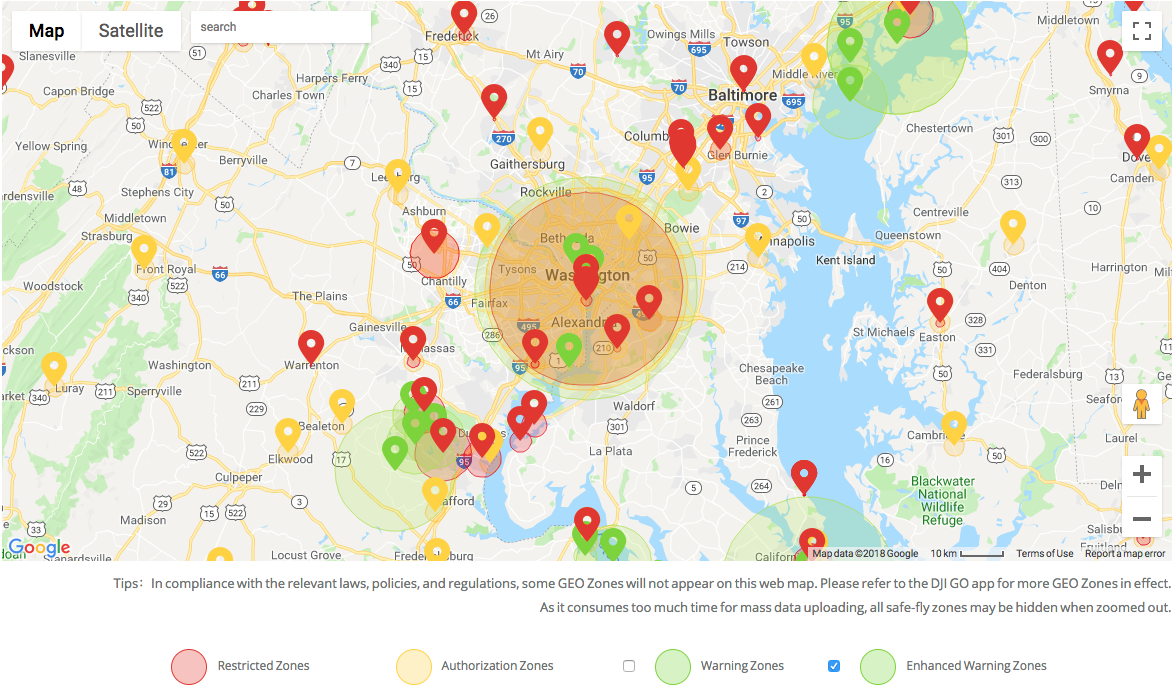 There are four different zone types on the GEO Zone Map to be aware of. They are listed here:
Restricted Zones (red) - Unable to unlock without manual approval from DJI (contact flysafe@dji.com)
Authorization Zones (yellow) - Can be unlocked by a verified user if you use a drone that uses the DJI app Fly/GO4 (not possible with the original DJI Go app)
Enhanced Warning Zones (green) - Okay to fly with caution, may require unlocking upon takeoff but no pre-authorization is required
Warning Zones (green or not shown on map) - Okay to fly with caution
Unlocking Authorization Zones is not possible on older drones AND on Android
Drones that use the original DJI Go app cannot unlock Authorization Zones. These include the Phantom 3 series, Inspire 1/Pro, and Matrice 100 & 600. Additionally, the Android platform does not work for unlocking Authorization Zones.
Flying in "Restricted Zones" is not possible without manual approval from DJI
In a Restricted Zone, DJI's SDK does not allow automatic unlocking for verified users. If you believe you have the authorization to operate in a Restricted Zone, please contact flysafe@dji.com
Unfortunately, we cannot guarantee that you will be able to fly with the DroneDeploy app in NFZs due to technical limitations with DJI's Software Development Kit (SDK), which DroneDeploy is built on. As a result, we may not be able to execute the flight. We have had a few customers follow some instructions that have worked for some(hasn't worked for all) to unlock the DJI Go app. You must have the approval to go through the following steps.
You will need to complete the following steps in your DJI account, and make sure to read this documentation on the DJI website: https://www.dji.com/flysafe/self-unlock
Open the DJI app.
A GEO popup will appear.
Log into your DJI account.
Press the I agree to GEO terms and tick the boxes for I have permission to fly.
Verify with a text message.
You should get confirmation.
Close the DJI app.
Plan your flight on DD.
Press take-off in DD.
For more detailed instructions, click here: NFZ DJI Unlock Procedures
If you are unable to fly with the DroneDeploy app after completing these DJI steps, we recommend using the DJI GS Pro app (free for iOS users) to plan and fly your waypoint mission.
If you're flying a mission that will take multiple batteries, the Authorization Zone will need to be unlocked after each battery swap. Below are the steps that we recommend to do this: 
Fly in DroneDeploy  App

RTH and do battery swap step

Open DJI App

Authorize

Return to DroneDeploy App

Wait for the drone connection

Take off
Please always check your local regulations and fly safely!