For information on RTK mapping with the Mavic 3 Enterprise, please see

t

his page

.
In October 2018, DJI announced its latest quadcopter for the industry: the Phantom 4 RTK. This product marks a major investment by DJI in the future of aerial mapping, and a popular drone of choice for our customers with high accuracy requirements.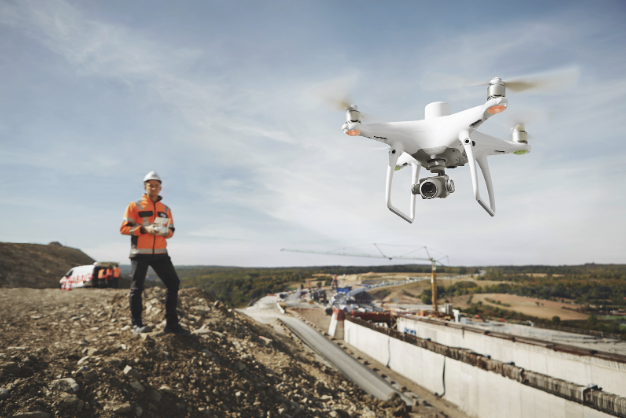 The Phantom 4 RTK produces high-resolution drone maps and 3D measurements that are accurate to within a few centimeters, without using ground control points (GCPs). We were able to test the Phantom 4 RTK in advance of its release, and our preliminary testing produced accurate measurements within 1–3 centimeters in X&Y, and 5 centimeters in Z.
RTK stands for Real-Time Kinematic and is a technique that uses carrier-based ranging and provides ranges (and therefore positions) that are orders of magnitude more precise than those available through code-based positioning. RTK techniques are complicated. The basic concept is to reduce and remove errors common to a base station and rover (P4R). RTK is used for applications that require higher accuracies, such as centimetre-level positioning, up to 1 cm + 1 ppm accuracy.
Check out our white paper on the Measurement Accuracy of the DJI Phantom 4 RTK with Photogrammetry to better understand relative accuracy of the drone.
Enhanced Phantom 4 RTK Support
Faster Processing - The drone includes "lens calibration" information that is captured at the factory. This mean map processing with the Phantom 4 RTK is up to 25% faster, and measurements will be even more accurate.
Relative Elevations - Elevations will be automatically calibrated to the WGS84 ellipsoid vertical datum
Improved Accuracy - Accuracy across the entire map should be less than 10cm RMSE, often 2cm RMSE when evaluated with checkpoints.
Known Limitations:
You must use the DJI GS RTK App that comes pre-installed on the RTK controller today for flight planning. Once capture is complete, you can still upload to DroneDeploy for processing (We are actively looking at supporting the native DroneDeploy Flight Planning App in the near future)
DroneDeploy does not currently offer PPK processing. If you choose to process the data as PPK imagery, you must use another 3rd party processing software to correct the imagery, then upload to DroneDeploy for processing.
In order to successfully process RTK images with DroneDeploy, be sure to follow the steps below.
1. Setup your Phantom 4 RTK, Controller, and Network
Read through the Phantom 4 RTK Quick Start Guide to learn how to setup your P4R and the Controller before flight.
You will need a network dongle with a compatible simcard to use the Phantom 4 RTK controller.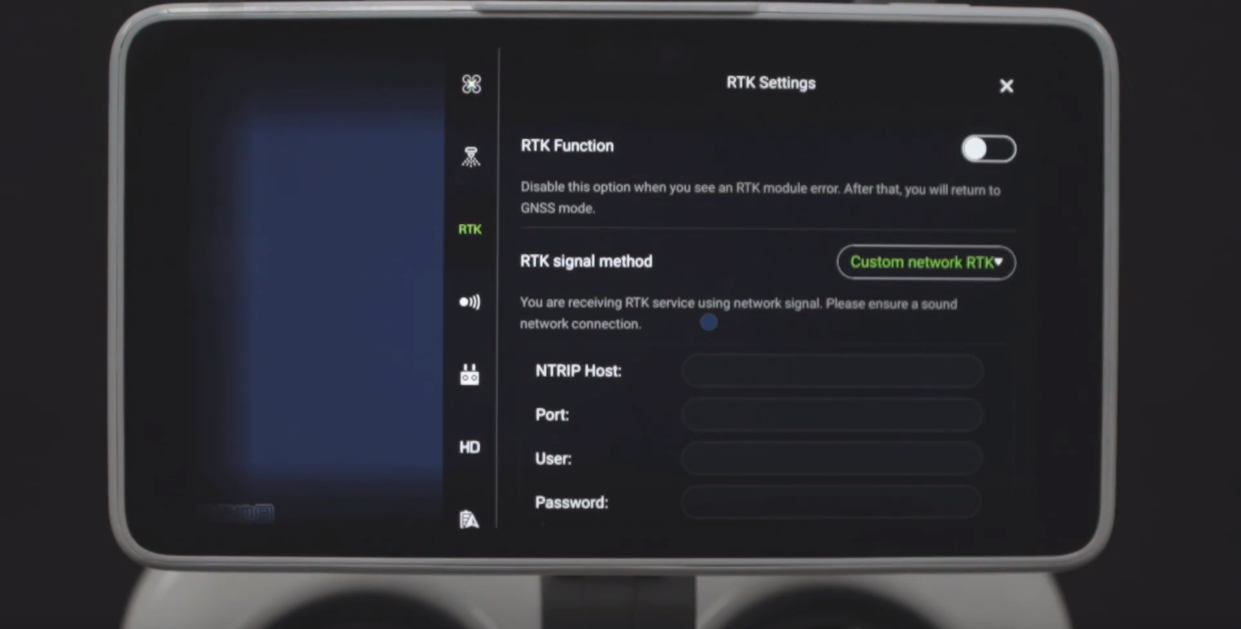 2. Picking your Reference Station
The position accuracy achievable by the P4R depends on, among other things, its distance from the base station (referred to as the "baseline") and the accuracy of the differential corrections. Corrections are as accurate as the known location of the base station and the quality of the base station's satellite observations. As such, you will need to select a reference station to base your corrections off of.
When picking your corrections network, you have the option to use either the DJI D-RTK 2 Base Station or a custom reference network. You can select the option in the RTK menu within the GS RTK Mobile app. For our testing, we purchased a SmartNet corrections network subscription.
If you are using a third party base station, be sure to properly reference the positioning data from the Phantom 4 RTK. You have the following options:
Connect locally via OcuSync to your D-RTK 2 Mobile Station. (RTCM3.2)
Connect remotely via a 4G Dongle to a custom RTK network using a NTRIP account.(RTCM3.2)
Connect remotely via a WiFi hotspot to a custom RTK network using a NTRIP account. Not available in Europe.(RTCM3.0/RTCM3.1/RTCM3.2)
You will also want to ensure your base station supports the following frequencies:
GPS:L1/L2
GLONASS:L1/L2
BeiDou:B1/B2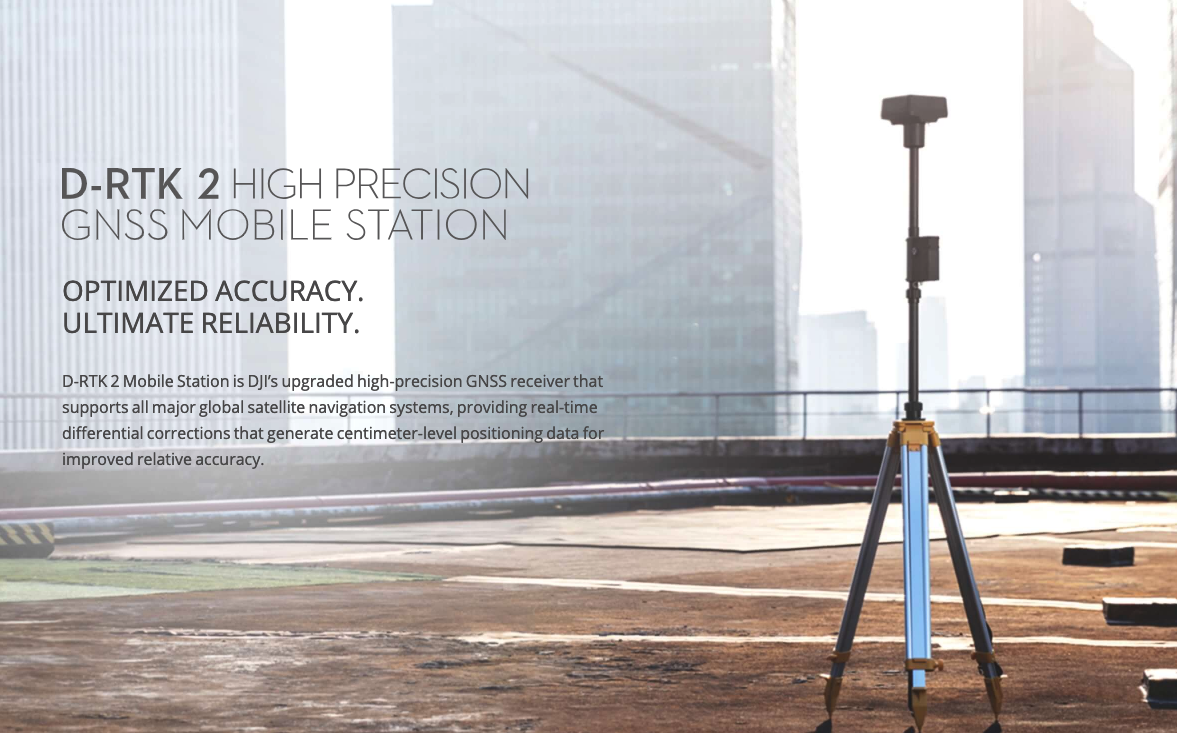 2. Plan and launch your flight using the DJI RTK App
To plan your RTK flight, open the DJI GS Pro App on the controller. Here is a great video that walks you through planning your first flight within the application:
Guidelines for Producing Accurate Aerial Maps with the Phantom 4 RTK
Our prior study showed, as expected, that flying lower produces higher quality maps, and that the higher resolution camera onboard the Phantom 4 series of drones provides better maps than its predecessors. We will follow those same guidelines for flying maps using the P4 RTK to provide consistency between the RTK maps and the P4 Pro maps.
3. Once complete, upload images to DroneDeploy
Once you've completed your flight. You can upload your corrected images directly to DroneDeploy. Select "Upload Images" images to immediately create a new map with your RTK imagery. You have the option of uploading to an existing Project, or converting it to a project after upload.
Select your RTK imagery, select Structures or Terrain mode, based on the map you've flown, and upload as normal.
Using GCPs?
You may also utilize GCPs with your RTK map for additional accuracy. Simply upload your GCP file as usual during upload. We recommend utilizing checkpoints as well, as this would give you a much better understanding of the relative accuracy of your completed map.
Frequently Asked Questions (FAQs)
What are the differences between PPK and RTK mode? How do I use them?
RTK and PPK are two different kinematics technologies that reference data in different ways. Although PPK generally has slightly higher positioning accuracy than RTK, both achieve centimeter-level precision. RTK is recommended for users flying in environments that allow for real-time connection via OcuSync or 4G and prefer convenience and efficiency. For users who have no demand on timeliness and/or need to operate in conditions without connectivity, PPK is a better option.
Can I fly with DroneDeploy using my existing controller?
Within North America, DJI currently only ships the controller with the integrated display. At the moment, this display does not support third party applications. They are expected to release a mobile-compatible controller later this year. We will send out an update when we are able to support flight with the P4R.
How can I run the Phantom 4 RTK in PPK mode?
Today, neither DJI nor DroneDeploy currently supports PPK processing, but other customers have discovered methods to process PPK data. Check out https://www.aerotas.com/phantom-4-rtk-ppk-processing-workflow/ to find out more.