Organizations on the Enterprise plan of DroneDeploy can require members to sign in to DroneDeploy using Single Sign On (SSO).
What is SSO?
SSO makes it easier for administrators to securely manage user access to different software. If someone joins or leaves your organization, an administrator can add or remove them with your identity provider and they automatically gain or lose access to any software that requires SSO, rather than managing access across many different software platforms separately. Using SSO also benefits individual users because it means you don't need to remember a new password for your DroneDeploy account -- you can just log in using SSO as you would for other software you use within your organization.
Interested in implementing SSO for your organization?
To set up Single Sign-On for your organization, please contact your Account Manager or email us at support@dronedeploy.com.
How to set up SSO for DroneDeploy
DroneDeploy supports Single Sign-On with most identity providers, including Google, Active Directory, LDAP, and SAML, and many others. Each of these connections creates a different workflow, some more complicated than others. Depending on these factors, SSO can take some time to implement. Please connect with your account manager and/or our support team to discuss your connection options.
How to sign in with SSO
Once you have implemented SSO for your organization, users in this account will now be asked to use Single Sign-On. Simply choose the Single Sign-On option at the bottom of the login screen: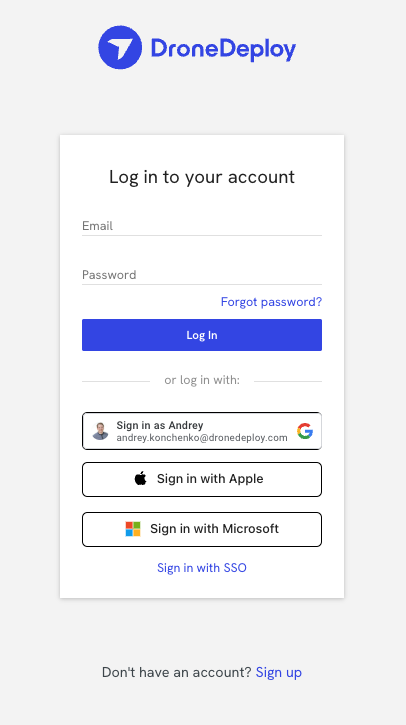 Then, enter your email address.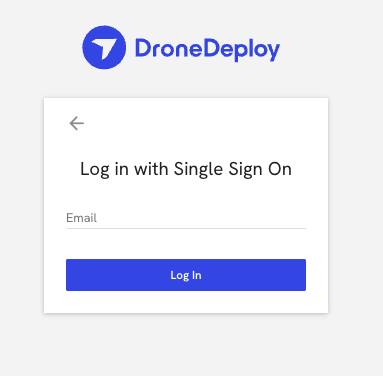 If you are already logged in via your organization's identity provider, you will be directed straight to DroneDeploy. If not, you will be directed to login with your identity provider to confirm your credentials.
Sign-up experience for new users for organizations using SSO
If a new user tries to sign up to DroneDeploy using an email domain that is associated with an organization that has enabled SSO, the new user will complete the sign-up form, and then be directed to sign in with SSO. This user will also automatically be associated with the organization and will have Member permissions and assigned Viewer license by default, unless the admin sets up different rules for all new SSO users in the security section.
If a new user has an account that is associated with an already active SSO domain, upon sign-up they will be redirected to the SSO landing page and prompted to enter their login credentials. They must use the same username/password for the associated SSO domain. (In this case, the password the user must enter upon sign-up is not relevant).