DroneDeploy's Stand Count removes the need for manual, time-consuming, inaccurate stand counts with a completely automated, field edge solution. This guide will walk you through what you need for successful counts and assessments of corn and soybean crops.
To review more on product availability see our solutions page here.

Deliverables
A stand assessment PDF report directly sharable over SMS, Email, and most messaging platforms

An interactive map that allows you to review results and overlay data like plant health and elevation

Detailed analysis for each image with populations, stands highlighted, and gaps detected

Data synced back to the web portal for easy viewing and sharing

Supported Crop Types
Corn | V2 or V3 emergence

Soybean
At this time, twin row crops are not supported with the current stand assessment algorithm.
BEFORE YOU FLY
You Will Need
A supported iOS device running the latest version of DroneDeploy Flight App from the iOS App Store

A crop field in a supported crop and stage of emergence

Your Industry Preference set to "Agriculture"
*Stand Count Requirements

Planning to do Stand Counts with DroneDeploy? Please note most supported drones can fly Stand Count missions, however,
we do not support this feature when flown by Skydio 2/2+, Mavic 2 Enterprise Dual, and XT2 (M210/M300)
. For a full guide to a successful stand count please
visit this page.
FLIGHT PLANNING
Performing an accurate stand assessment starts with great data collection via a flight plan from DroneDeploy. For supported accounts, you will find an autonomous flight mode named "Stand Count" within your Project on the Fly tab. Select this to continue.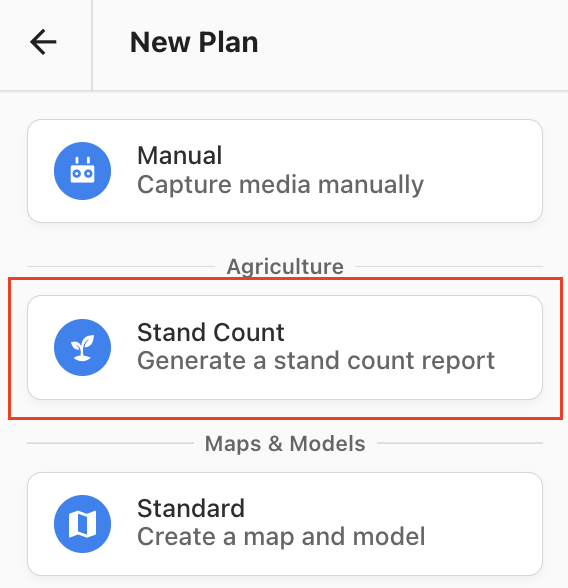 Don't see this option?
Ensure your Industry is set to 'Agriculture' in your DroneDeploy
preferences
.
Once you've created a Stand Count flight plan you will see several options to tune your flight prior to takeoff. You may do this from the web or from the mobile app. Your flight plan will sync between your supported devices.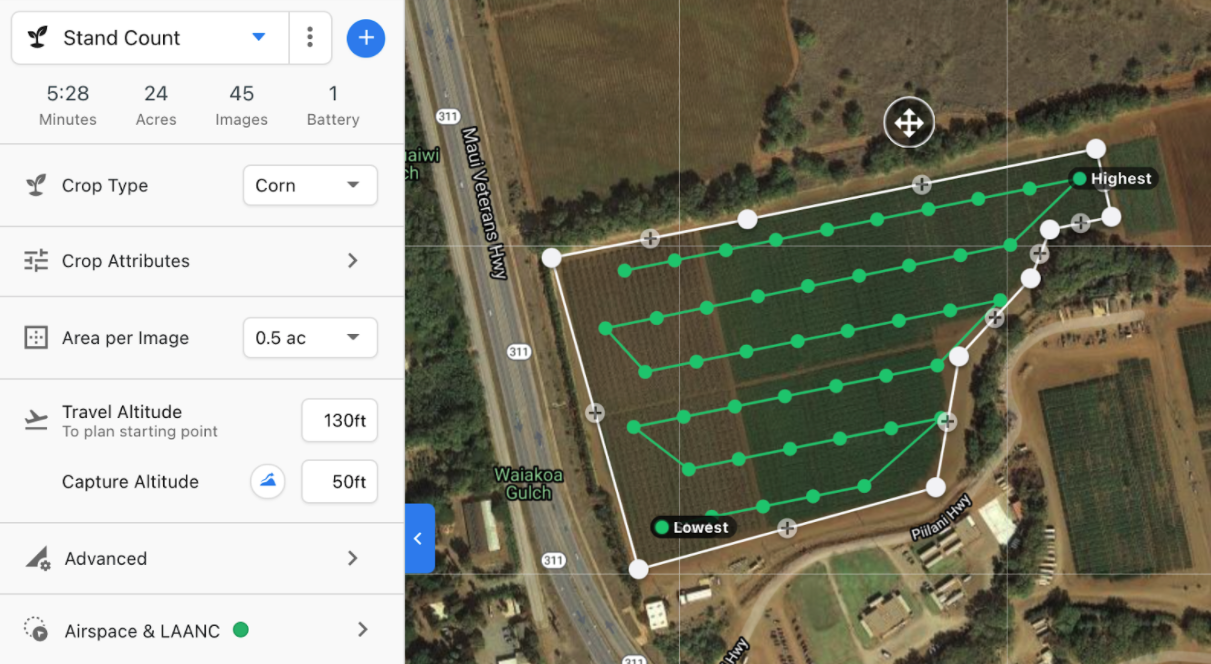 Defining Flight Geometry:
By dragging the white lines and tapping on "+" symbols you may outline the field you would like to capture

Each green dot reflects where an image will be taken. You may also modify green dot positions by using the 'Area per Image' control in the sidebar.
Noteworthy Options Include:
Crop Type - Select Corn or Soy

Crop Attributes - Here you may find settings like Gap Threshold, Row Spacing, and Male/Female row analysis

Area per Image - Select how densely to sample your field

Travel Altitude - Select a higher altitude used to commute to the start of the capture area before reducing altitude

Capture Altitude - The altitude at time of image capture. The blue icon controls Terrain Awareness functionality that contours the terrain for a steady above-ground-level (AGL) throughout the flight. We recommend reviewing the terrain data before every flight.

Airspace & LAANC - A built in way to secure LAANC approvals if needed.
Crop Attributes:
Gap Threshold - The maximum allowed spacing between plants before a gap is flagged.

Row Spacing - The expected distance between rows.

Row Ratio Analysis - The pattern for Male / Female rows if using Stand Assessment on a seed production field.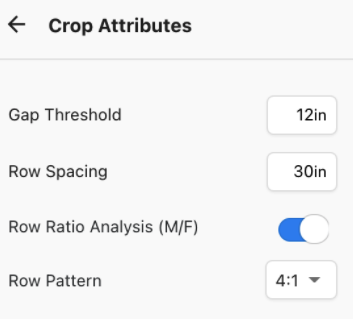 Offline Flight:
If you know you need to fly offline, go to Advanced settings and select "Make Available Offline" to download the map tiles for offline use
Once you are happy with your flight plan you are ready to fly.
After capturing offline, connect to the internet to upload the offline data. Do not sign out between capture and upload, or you may lose data.
Flight
DroneDeploy supports Stand Assessment in the existing Mission interface. This means you may add Stand Assessment flight plans to the queue along with other plan types for execution in a single flight.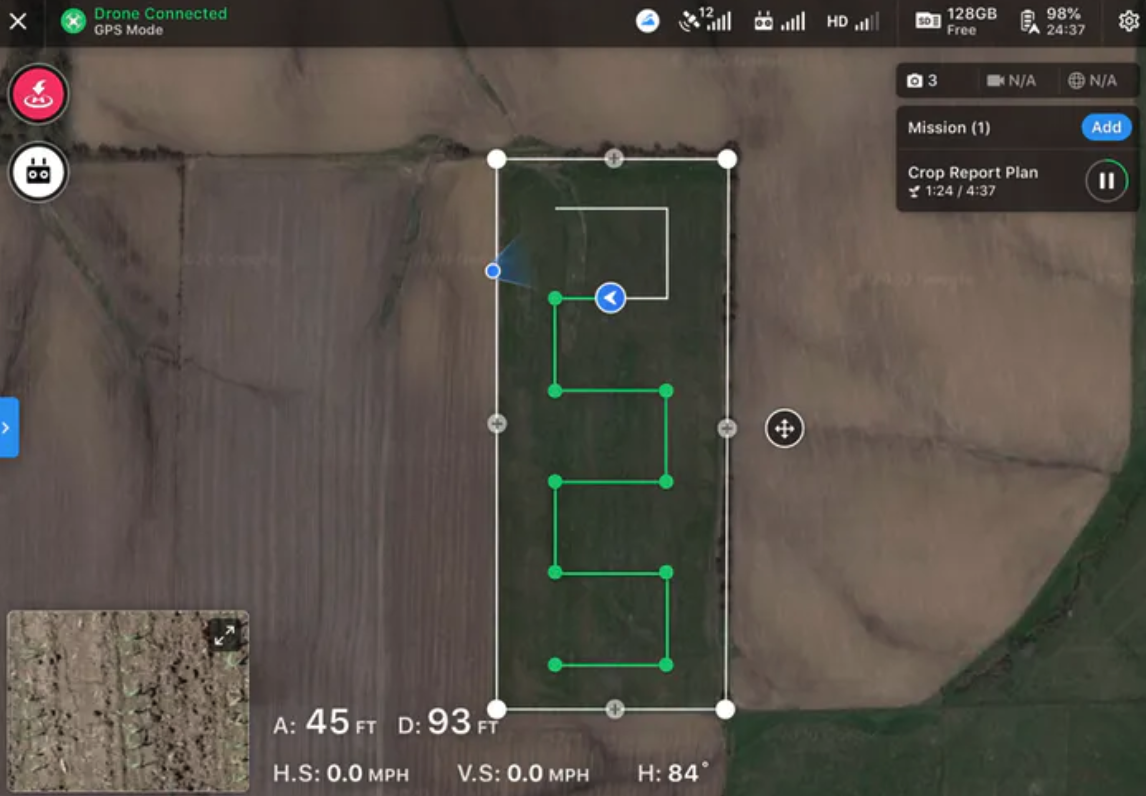 As described in the options for your flight plan, the drone will take off and fly to the plan area at the Travel Altitude before adjusting to the Capture Altitude. If Terrain Awareness is enabled you will see small adjustments in altitude throughout the flight to maintain a steady level above ground (AGL). Upon reaching each green dot the drone will take an image to be used for analysis.
Transfer
During flight, the drone will start to download and upload images as the drone flies. Once your drone lands after the flight, you will be prompted to complete transfer for any images remaining. Upon completion, you will be navigated to the Explore tab in the same project. Here you will see a summary of all Stand Assessment reports for that day and a processing status if any AI is still running on those images.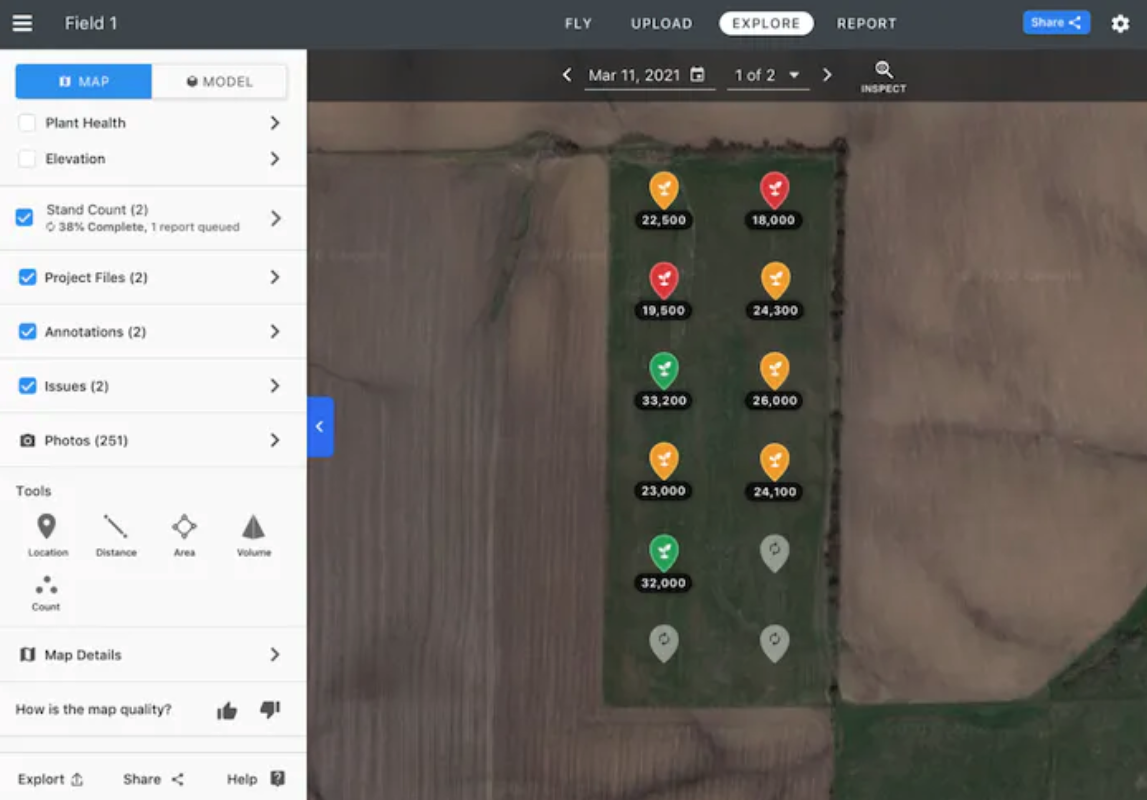 Viewing Images
You may tap on the colored markers on the Explore tab to see both the image taken from the drone as well as the analyzed result.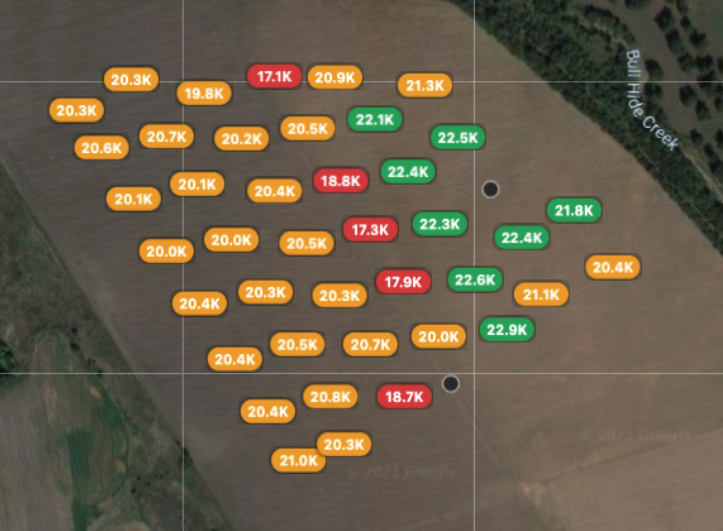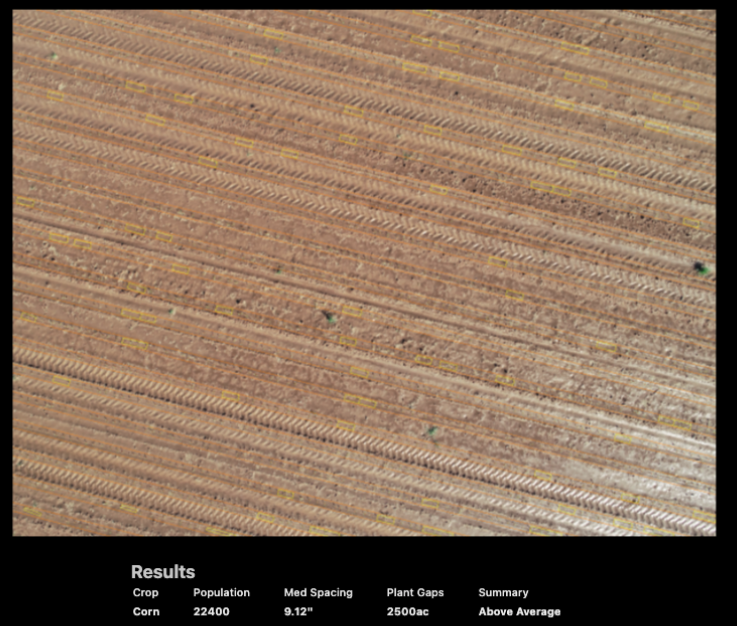 PDF Report and Sharing
By tapping on the Stand Count label in your sidebar you will see all reports generated for the selected day. From here you may select to generate a Report which will load a shareable PDF. You may also delete a stand count report using the three dots to the right.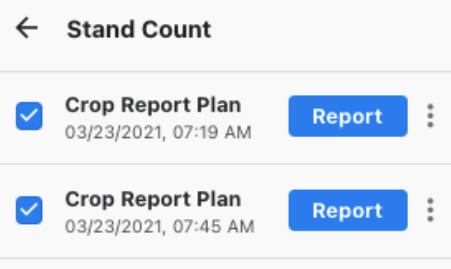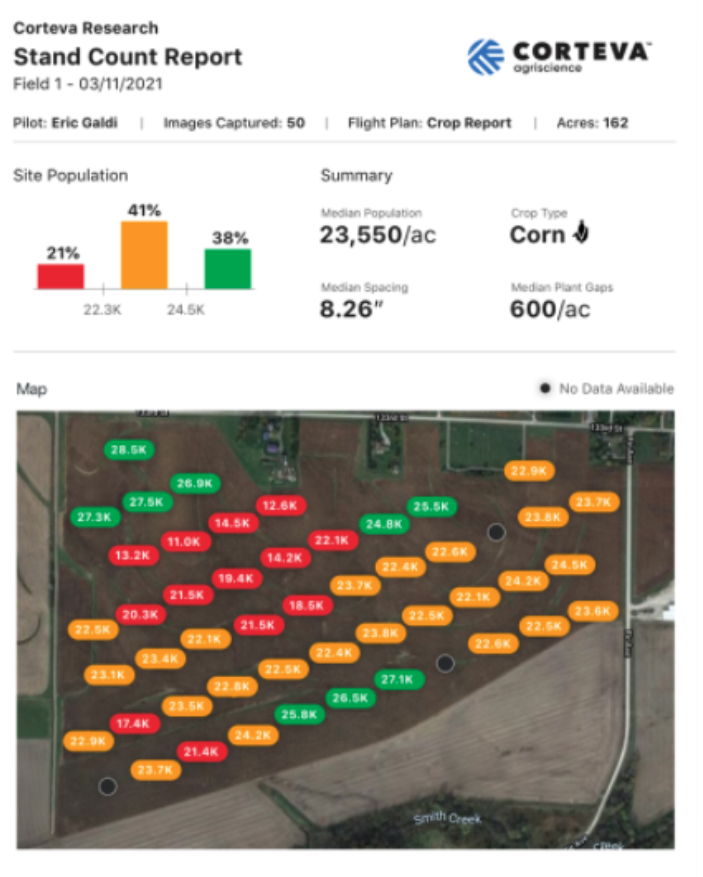 After generating the PDF report you can share with the native sharing functionality over SMS, Email, Slack or most other messaging platforms.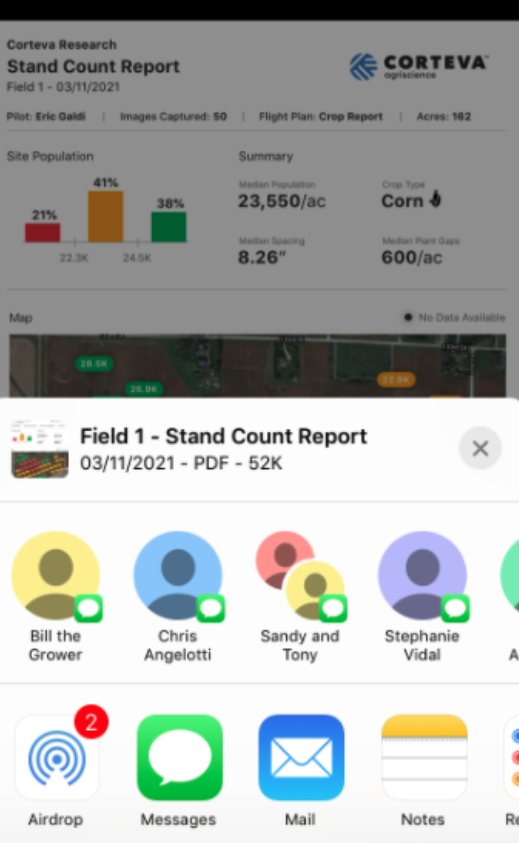 Web Access
DroneDeploy will sync your results to the DroneDeploy web experience where you will be able to review data, images, and generate your PDF report from the web. Cellular or WiFi data connection is used to upload from your mobile device. With synced data you may share the project to other users to review.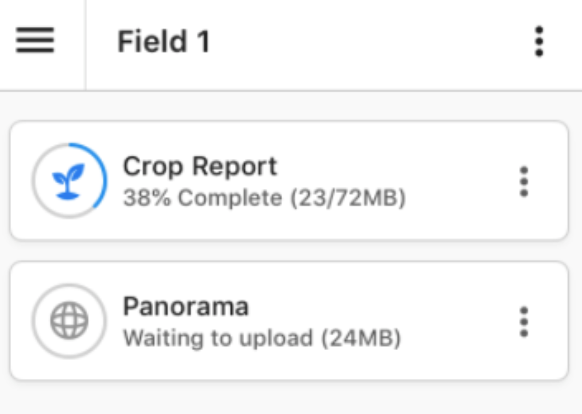 CLOSING
We hope this guide was helpful. If you have additional questions please reach out to our team for assistance. We are thrilled to be transforming stand assessments for the industry and thank you for being part of it.
DroneDeploy Team