The DJI Air 2S is the successor to the Mavic Air 2. Both drones are supported in the DroneDeploy flight app and function similarly. Under the hood, there are some differences and cross-functional capabilities we would like to point out here.
What's the difference?
Cameras
The Air 2S comes equipped with a 1-inch CMOS Sensor allowing more light to enter the lens and produce crisp 20-megapixel images and up to 5.4K 30 fps video. Better resolution equals better maps!
Its predecessor the Mavic Air 2 is equipped with a 1/2-inch sensor producing around 12 megapixels for most images and 4K UHD video. Though it states the Mavic Air 2 can produce 48-megapixel images. This is an up-conversion and not a true 48-megapixel capture.
Both are extremely capable of mapping, but if you're looking for a little better, camera quality to fall in line with the Mavic 2 Pro or other 20-megapixel cameras, the 2S might be the best option.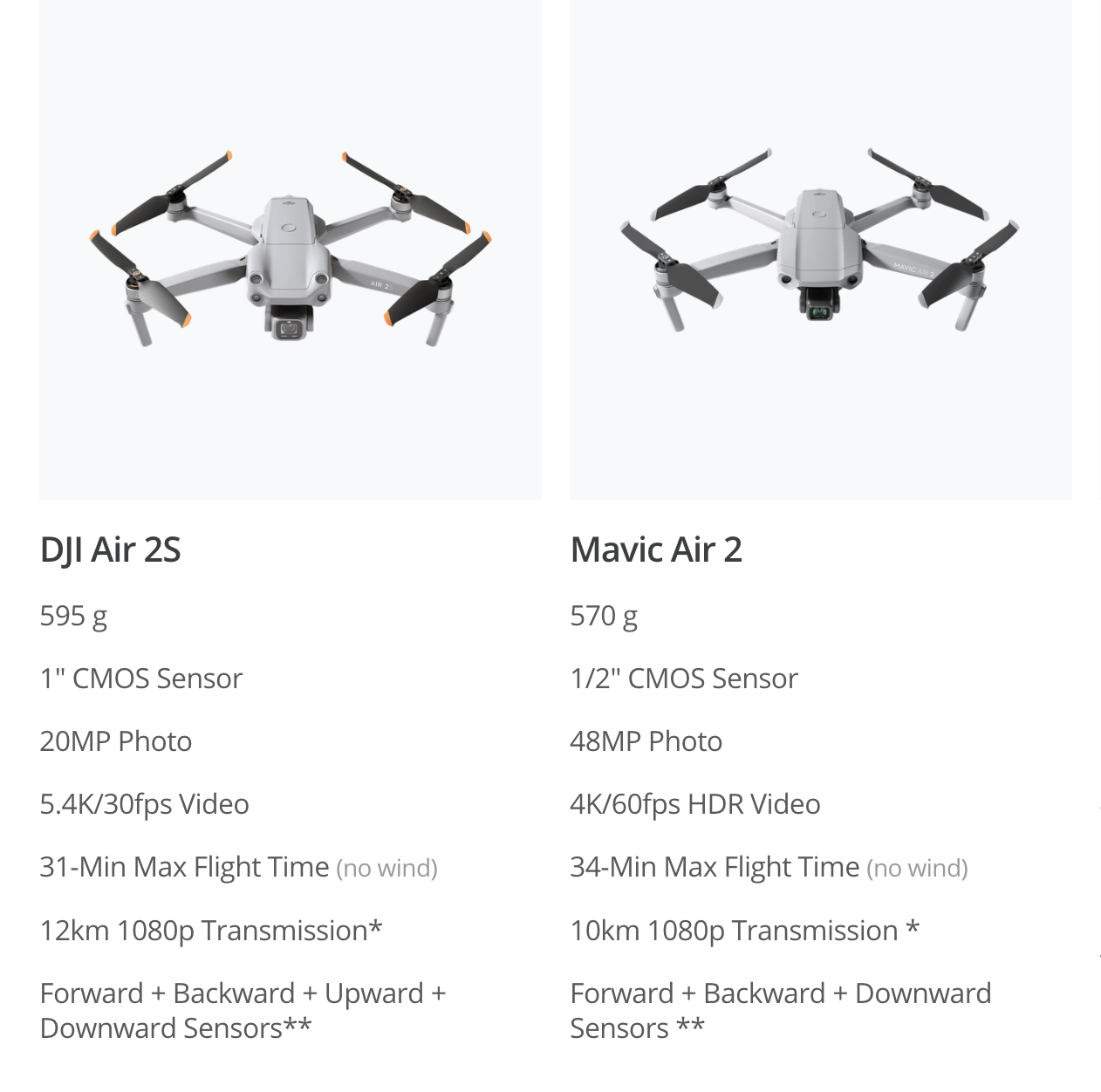 Battery Life
As you can see from the image above, you do sacrifice a little bit of flight time with the Air 2S. This is mainly because of the additional weight and technology under the hood. Operationally you can expect to get under 30 minutes with both of these platforms and around 27 minutes of flight time for both.
(If you previously owned or own a Mavic Air 2, DJI uses the same battery for both platforms)
Range
The Air 2S did improve the range in the connection between the controller and drone, allowing you to have a little more operational distance and connectivity. The video transmission system was upgraded from the OcuSync 2.0 to the OcuSync 3.0. This will allow for better connection at distance for your larger mapping areas.
Obstacle Avoidance
Crashing your drone is never fun! DJI made an upgrade to the 2S in the obstacle avoidance sensor area. Adding sensors in all directions of travel of the drone. Forward, backward, downward, and upward. This is an upgrade from the Mavic Air 2 which lacks upward-facing sensors.
The additional sensors allow for more peace of mind while conducting your mapping operations and increasing the safety of your project.
Conclusion
Both platforms are great drones and come in at a really good price for most all operations and are fully functional in the flight app on DroneDeploy. Supplementing equipment in your current drone program? Creating a new program from scratch? Either one of these drones or both would be great additions to your fleet.
Looking to purchase an Air 2S for your fleet? Check out the DroneDeploy exclusive bundles from our partners at Drone Nerds here!
Note: The capability to fly the DJI Mavic Air 2 and Air 2S is only available for all paid and trial subscriptions, and is currently only compatible with iOS devices.
(At this time there is no Android capability for this platform)
Additional Information:
Recommended and Supported Drones
For more information, you can compare the two drones in depth here!
If you do not have your question answered here, please reach out to support@dronedeploy.com.