Conducting Inspections with DroneDeploy
DroneDeploy offers a complete end-to-end solution to help you consistently detect issues before they become more costly, and to streamline coordination within your team so that you can minimize disputes and more quickly resolve the issues you find.
Capture the Complete Picture
First, capture a complete visual record of your job site or asset in minutes using safe and reliable automated flight modes. Especially if you are inspecting a building, tank or other structure, be sure to use structures mode to capture imagery of the sides of the structure.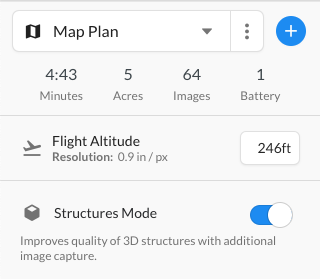 You can also fly in manual flight mode to capture any other imagery you need.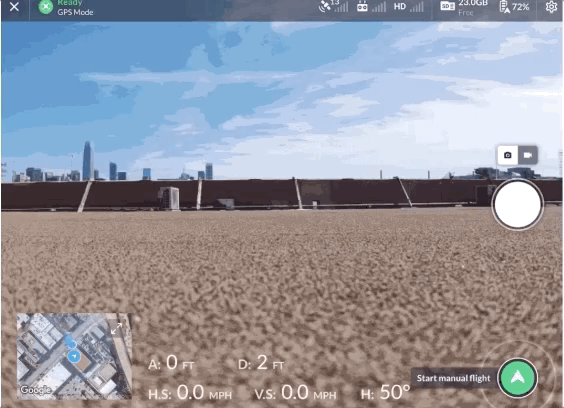 Inspections in 2D
With 2D inspections, you can pull up all of the processed imagery to review and tag any issues in high resolution.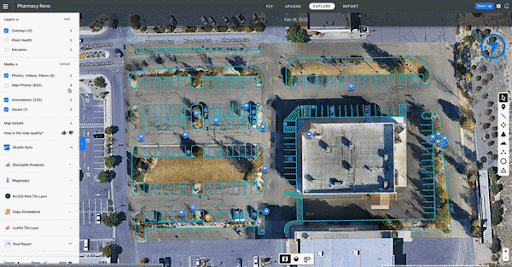 In order to inspect individual photos, click on "Map Photos" in the side panel and then click the dot that represents the position of the photo.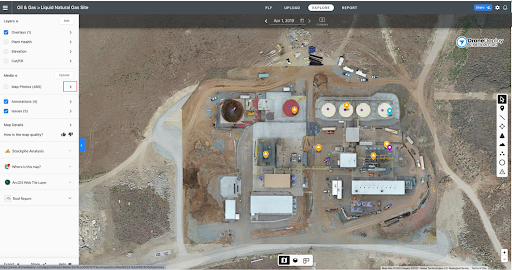 This will open up the photo viewer. You can select a photo from the left sidebar or via the blue photo location dots. Once you've selected a photo, you can navigate left and right using your keyboard arrow keys or using the left and right arrows in the top bar of the photo viewer.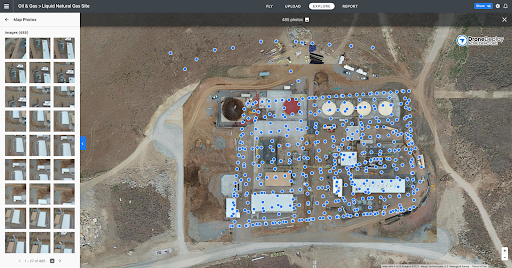 New issues can be created directly within the photo viewer. Once you've found a photo you would like to tag an issue on, you can select the "issue" icon on the right side of the image. Click and drag on the photo to draw a box around your issue and select the issue type and additional details.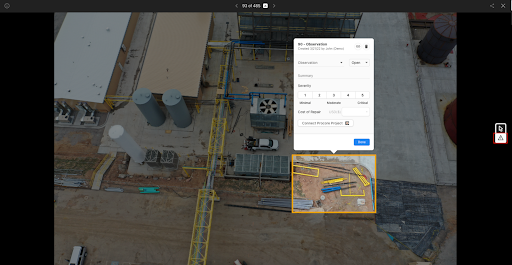 Once your issue has been created, you can add comments and @mention team members to resolve the problem quickly.
Inspections in 3D
Once your data has been uploaded and processed, conduct your immersive 3D inspection from the comfort of your office. First, view the 3D model and then click the "Inspect" button at the top of the model to switch into inspection mode.

When you are in inspection mode, you will be able to click on points within the 3D model to open high-resolution photos of that location. Then zoom and pan into the original source photo look for problems. To get out of an individual photo, either click the 'X' in the top right corner of the image or press the 'Esc' key.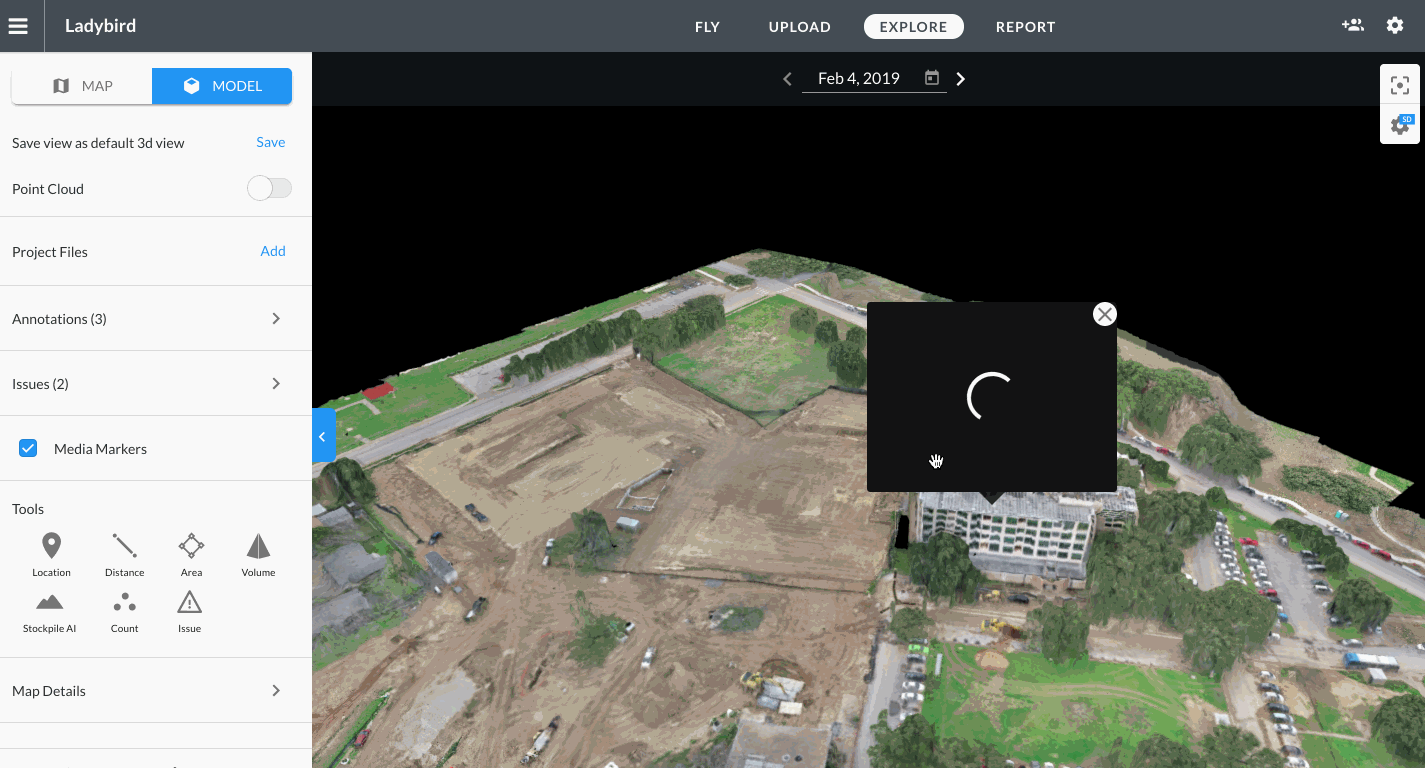 When you spot problems that need attention, select the issue tool from the sidebar.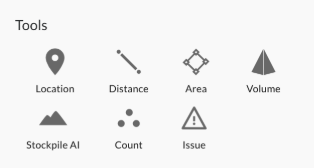 Then, click and drag to draw a box around the problem that needs attention. Label the issue and provide any additional information in the Summary section.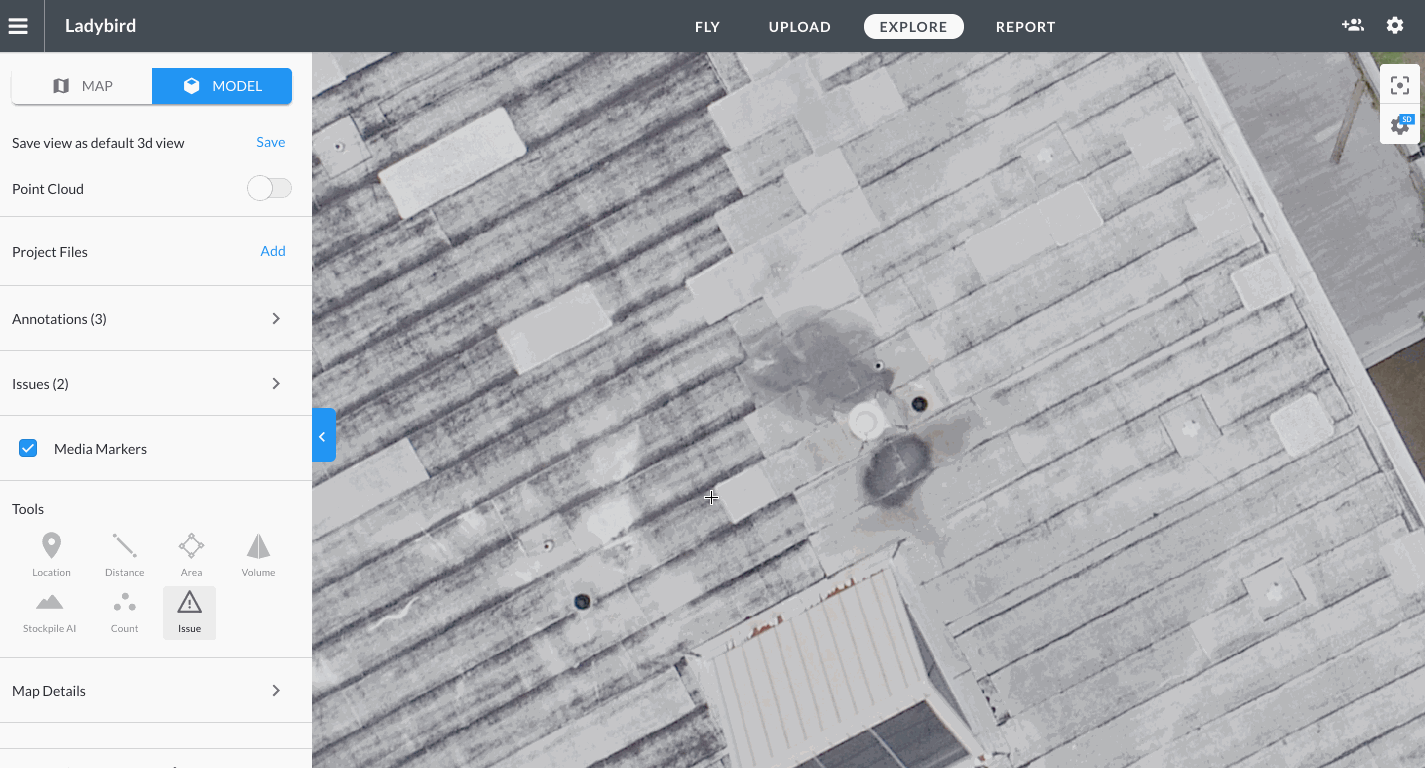 Current Issue Types Include:
Broken Part
Crack
Debris
Drainage Problem
Erosion
Hot Spot
Incomplete Work
Leak
Missing Part
Other
Plan Deviation
Rust
Safety Hazard
Stressed Vegetation
Vegetation Encroachment
Weather Damage
To exit inspection mode, just click the X in the top right corner of the date bar.
D-Pad Navigation
Navigate around your 3D model with ease using the new D-Pad Navigation feature. This can be controlled by the on-screen controls, or your keyboard, to move from image to image in the model and perform inspections efficiently.

Review Open Issues
Use the Issue List to review project issues, track progress towards issue resolution and identify trends in issues across you project. You can filter issues by type, status and date created to more easily find and review specific issues, and you can use the visibility checkmarks to hide and show issue markers on the map.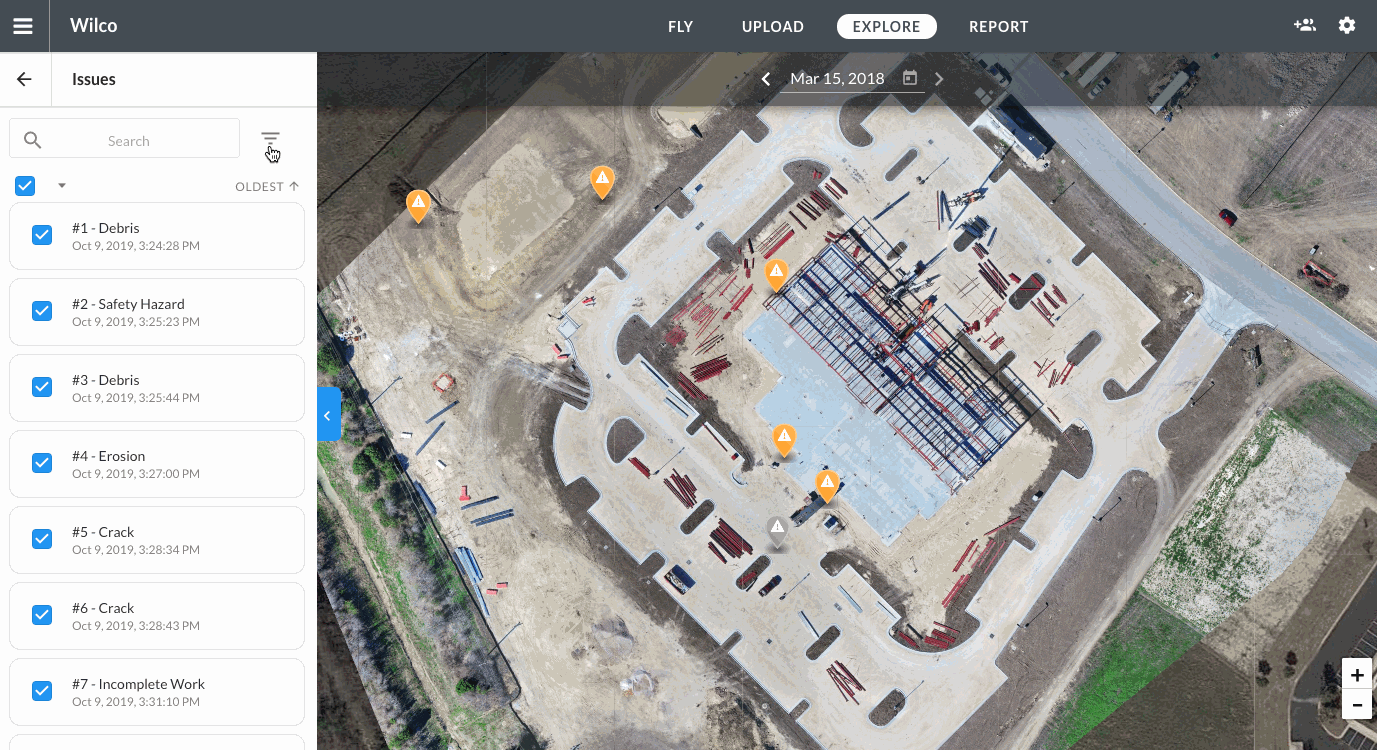 Issues will appear as open on all maps until they are closed
Issue markers do not appear only on the map on which they were created; they appear on all maps. This is because an issue may remain open for days or weeks, and it should not be lost or forgotten just because the project has been mapped again. However, if you want to see only those issues created on a particular map date, you can apply a filter in the issue list.
Clicking on any issue within the list will open more information about that issue. However, the information you see will depend upon the what viewing mode you are in and when the issues was created.
If you are in 3D mode viewing an issue created on that map date, you will see the issue information along with the original photo in 3D context
If you are in 3D mode viewing an issue created on a previous map date or if you are in 2D mode, you will see the issue information, including a photo preview of the original image
If you are on mobile, you will not be able to see issue detail information and will be prompted to go to desktop. (You can also view the issue report on mobile)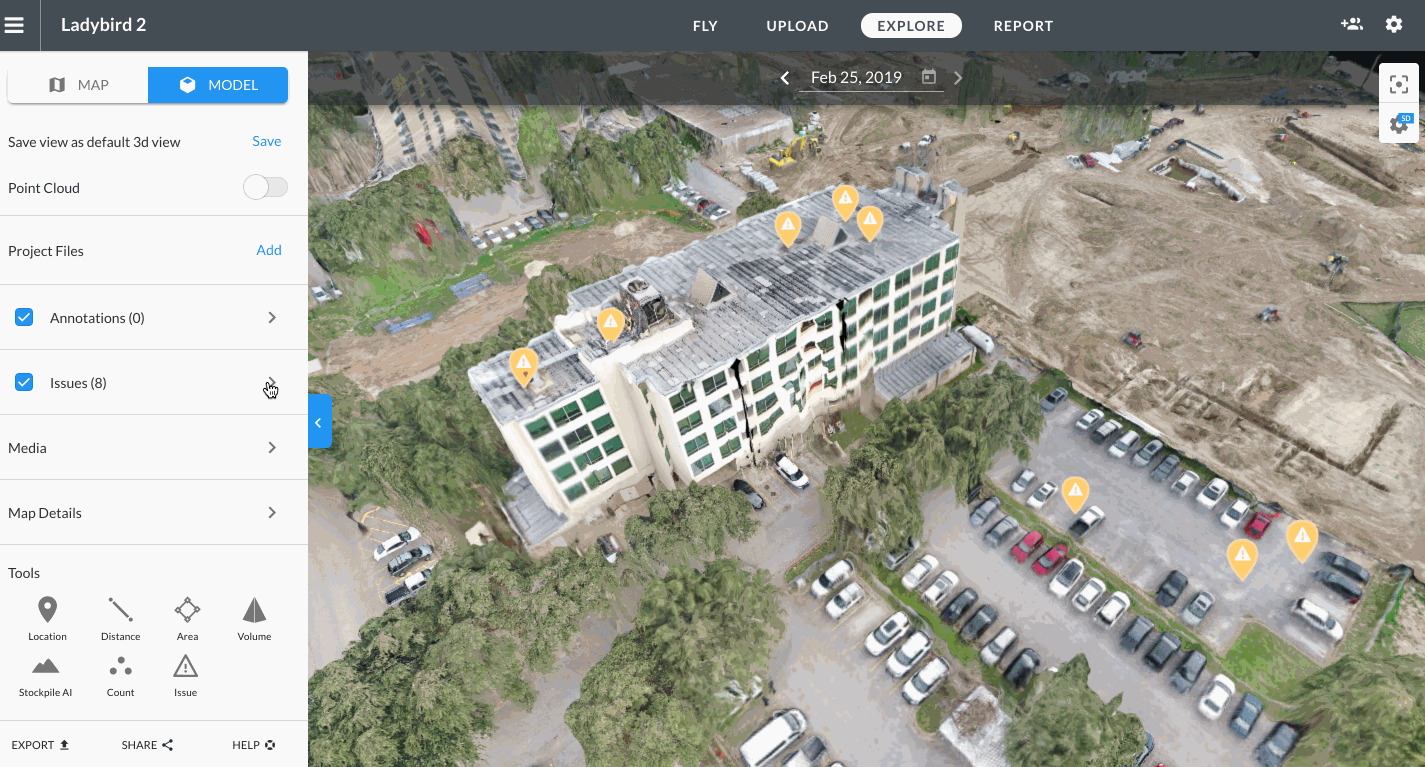 Once you've confirmed that an issue has been resolved, you can change its status from 'Open' to 'Closed'. This will cause the issue marker to appear gray on the map.
Automatically Generate an Inspection Report
Easily share the results of your inspection with your team by automatically generating an inspection report. The inspection report includes the map locations of all of the issues so that workers can easily find where each issue is, as well as close-up imagery and all of the issue details they need to address it.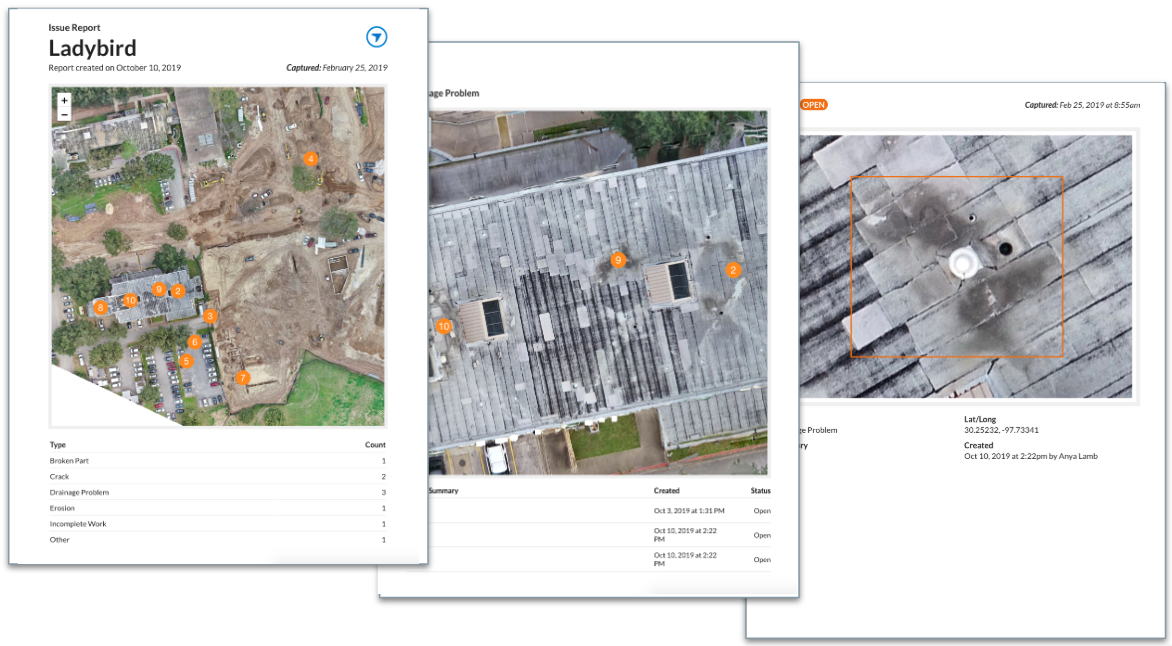 To view the inspection report, just go to the "Report" section and you'll see a printable report of all of the issues created for that project.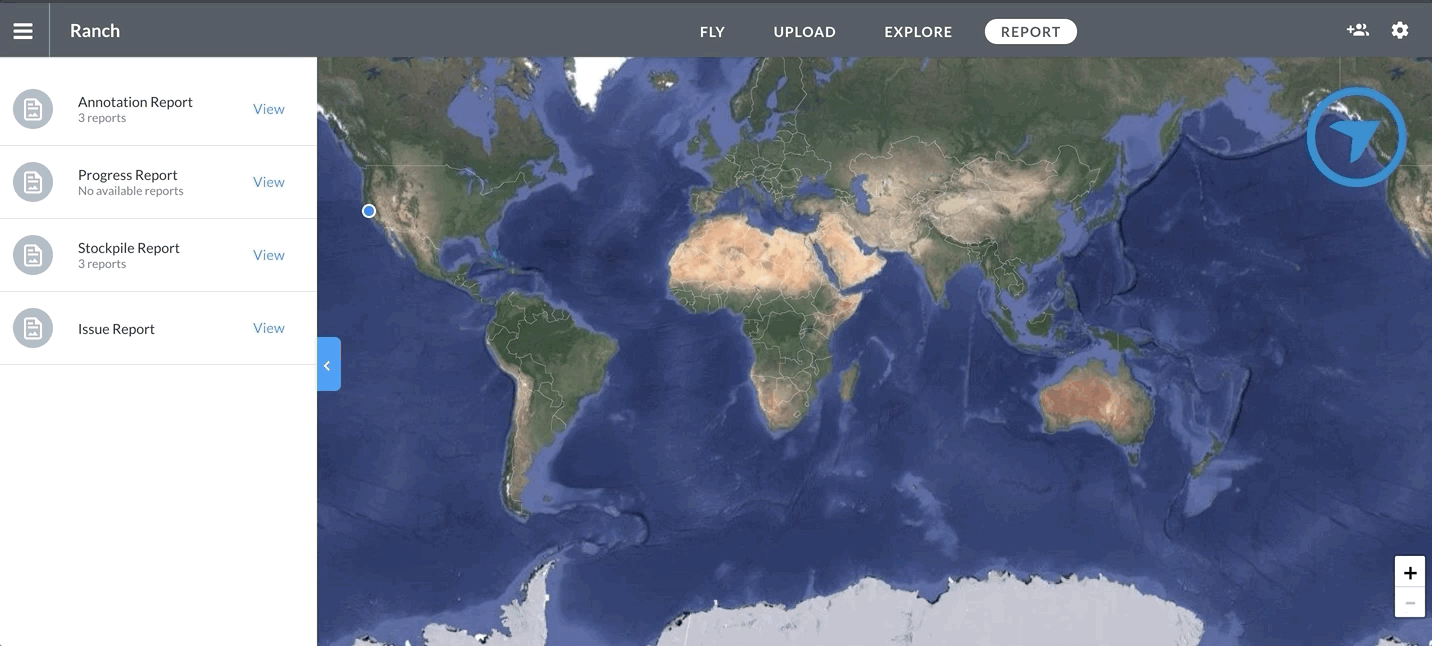 If you want to report only a subset of all issues -- for example, only open issues or issues of a particular type -- you can use the filters in the sidebar to customize your report.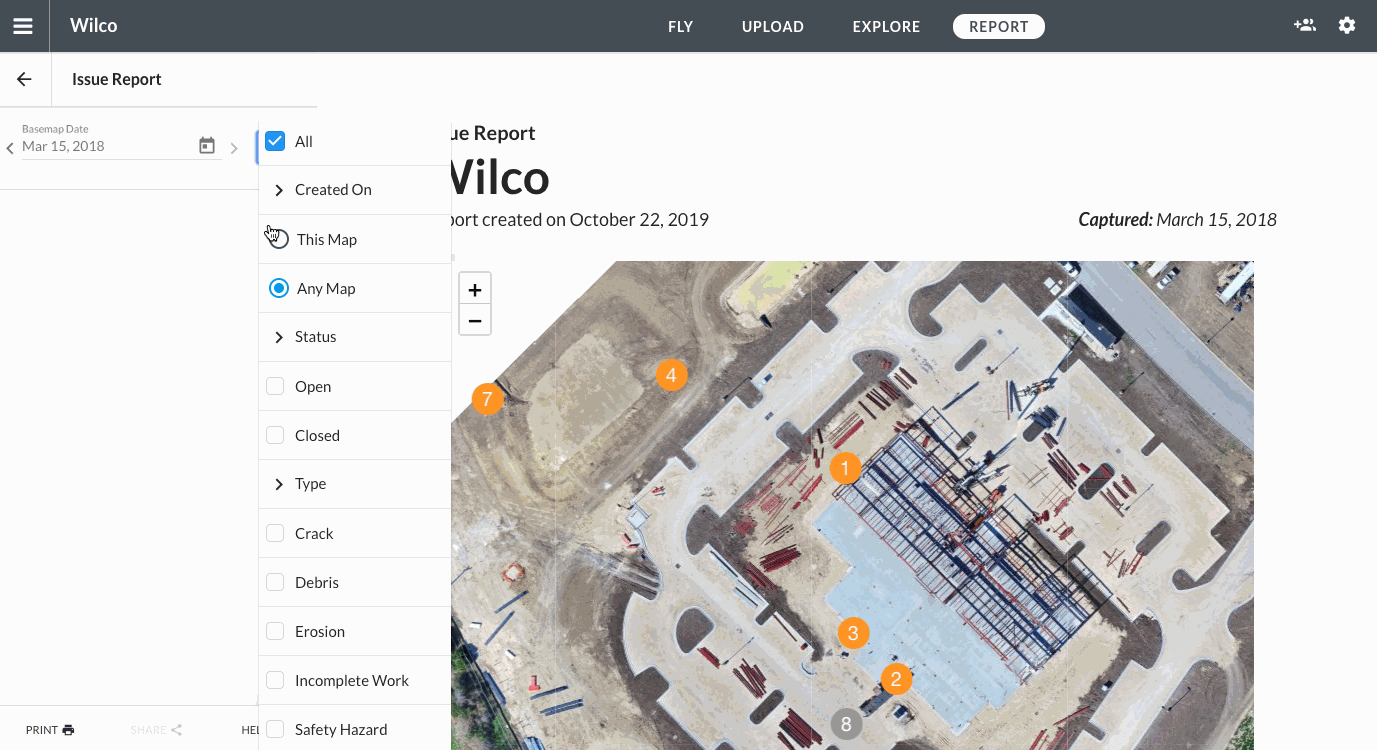 Have an integration with BIM 360 or Procore? Learn more about how you leverage drawing and issue syncing with these integrations.