DroneDeploy is excited to announce our new media features which will allow you to view the locations of your Video, Photo Progress Reports and Panoramic photos within the context of your map.
Panoramic Flight
Incompatible Drones/cameras: Phantom 3, Inspire 1, Mavic Air, All thermal cameras, All 3rd Party Cameras, DJI Zenmuse X7
Video Flight
Incompatible Drones/cameras: Inspire 1, Phantom 3 Line, Most drones are supported for video both at HD and 4K capture quality. Mavic 2 Pro video format must be set in DJI GO.
Progress Photos
DroneDeploy now supports the creation of Progress Photos using the Walkthrough app on mobile. Available to all trial users, or customers with a 360 walkthrough subscription. Learn more about Photo Reports & Mobile Capture here and our paid subscription plans or start your trial today.
Capture with the DroneDeploy iOS app
You can now plan two additional flight plans: Video and Panorama. iOS only.
Video
Video plans allow you to plan a loop to capture a smooth video of your site. The drone will take off with your preferred settings and execute the mission similarly to how mapping missions on DroneDeploy work today. The video will be stored on the SD card. If you would like to read more about creating a video flight please visit our support document on Video Planning.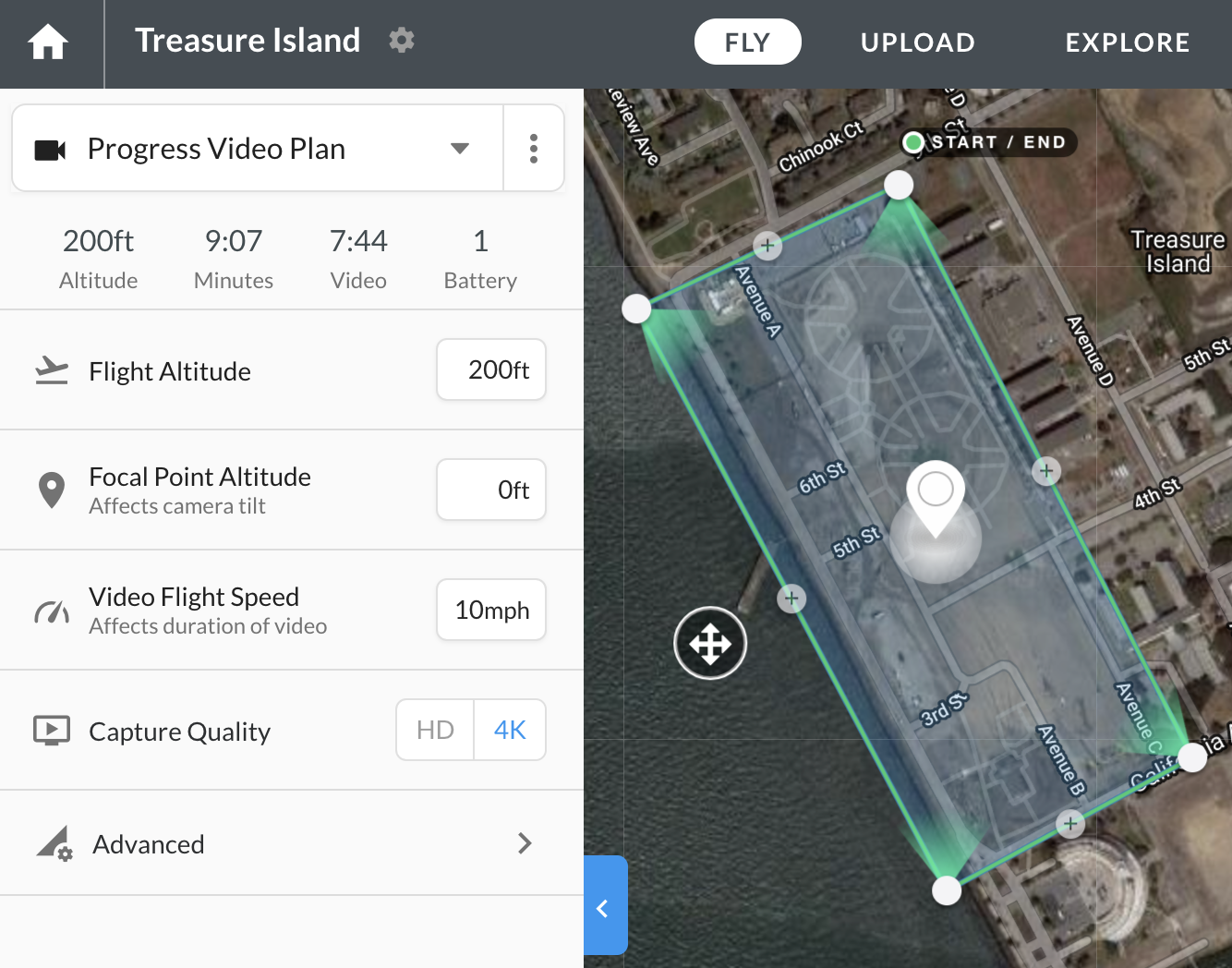 Panorama
Panorama plans allow you to automatically capture all required images to generate a high quality spherical panorama. Upon landing, you will have the option to mobile upload direct from your device, or to upload via desktop. DroneDeploy will then process the raw imagery into a single panorama. If you would like to read more about our panoramas please visit our Planning a Panorama Flight support page.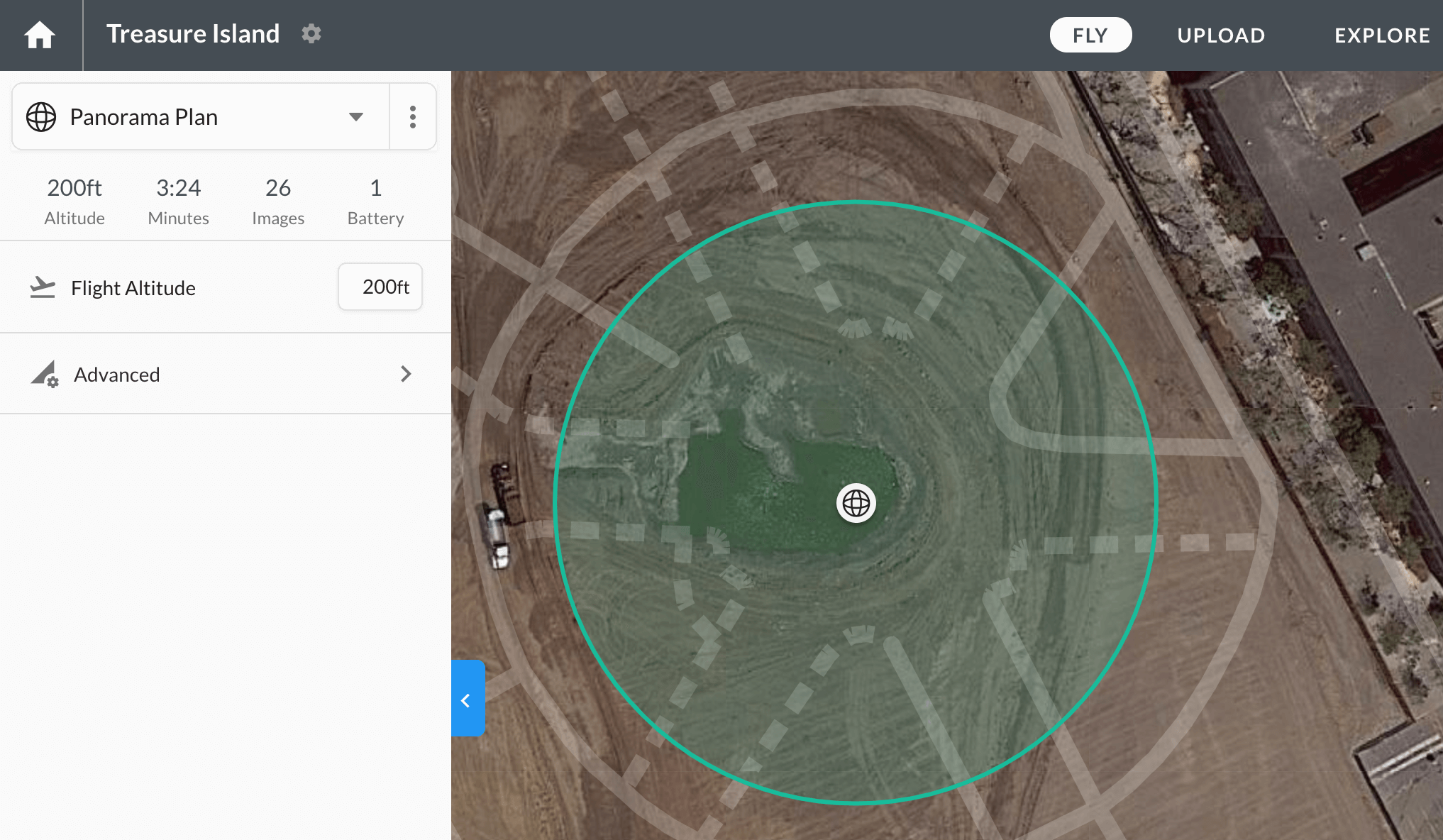 High-Resolution Panoramas
All Panos uploaded to DroneDeploy will be processed at over 130 Megapixels per pano so that you can immerse yourself in every detail. Fast loading speeds allow you to view and interact with 360 panoramas in full resolution on your mobile device.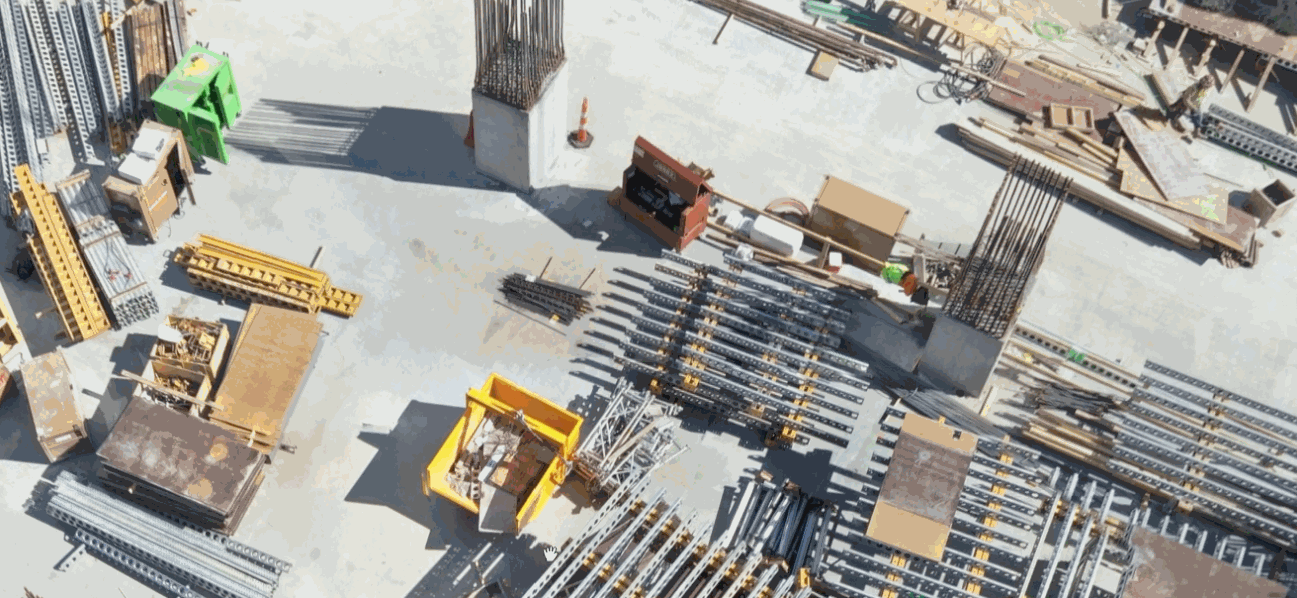 These features are available for all users for capture but uploading and hosting are reserved for our Individual, Advanced, Teams, and Enterprise Plan users.
Upload to DroneDeploy
In addition to Maps and Photos, you can now upload Videos and Panoramas to DroneDeploy. Videos should be uploaded on DroneDeploy.com and will be transcoded to several sizes for optimal streaming per device and internet connection strength. Panos can be uploaded via your mobile device or on DroneDeploy.com. Once the source images are uploaded, we will process the images into a completed panorama to view within DroneDeploy. We'll even add a surprise at the top of the panorama if you happen to look up!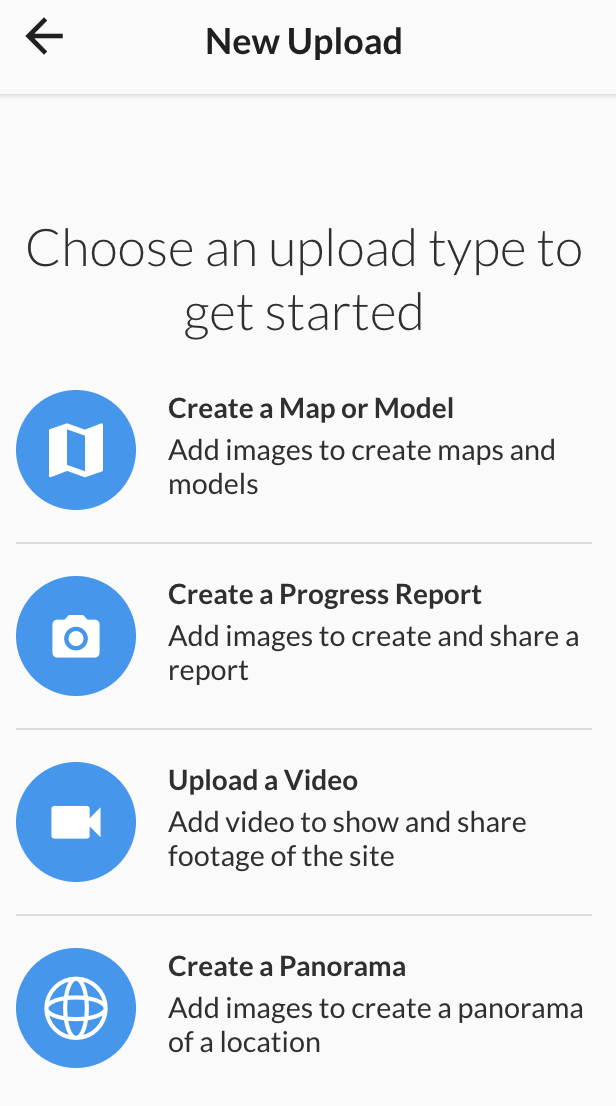 View the Latest Media
When you click to view your project from the dashboard, you'll see the latest drone data. Photos, panoramas, and videos will appear as icons on the map based on their locations.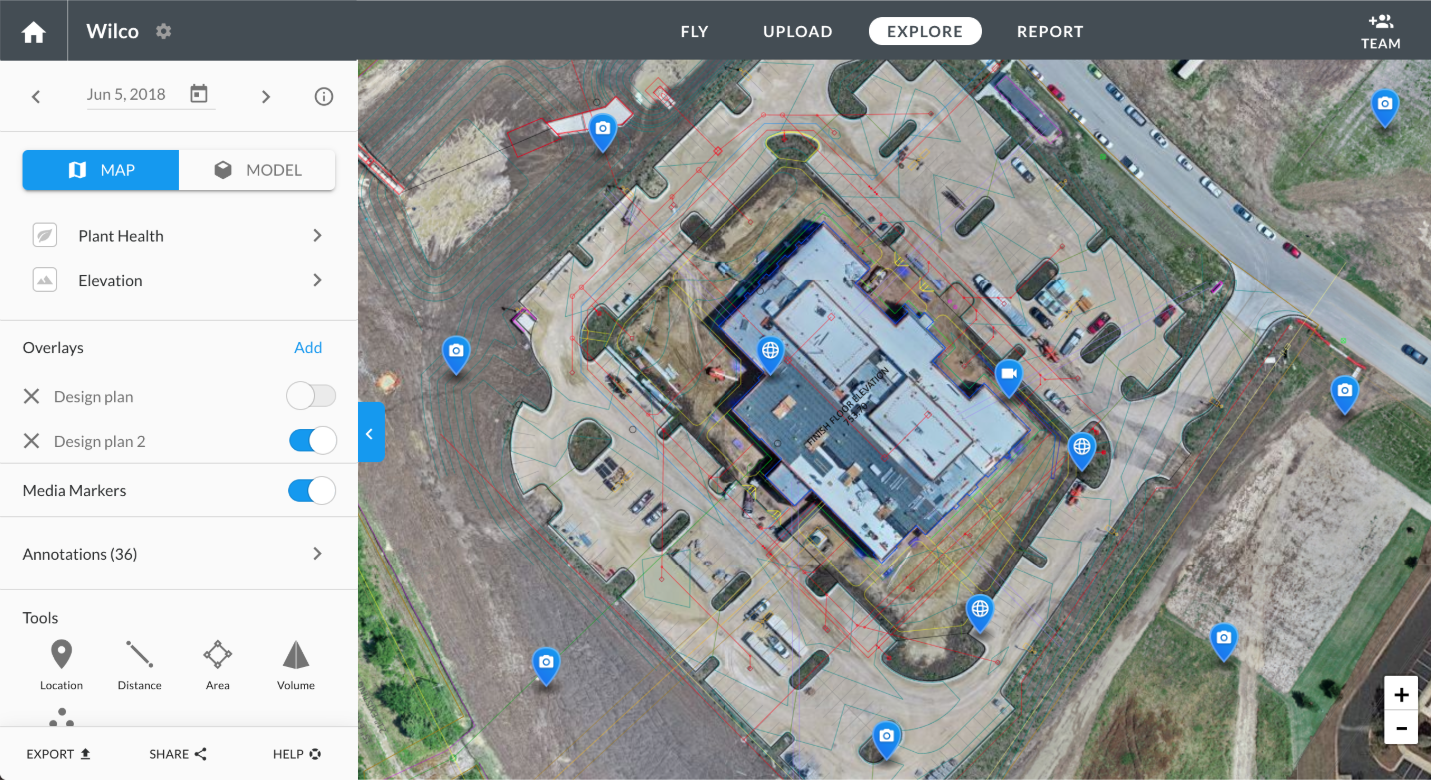 Click the icons to open and view a photo, panorama or video.

What if I don't see/want to delete my Media Marker?
If you have two or more Panoramas at the same location you may not see all the media markers on your map. Also, you may want to delete or move a media marker to a new location. If this is the case, please reach out to Support.
Support@dronedeploy.com.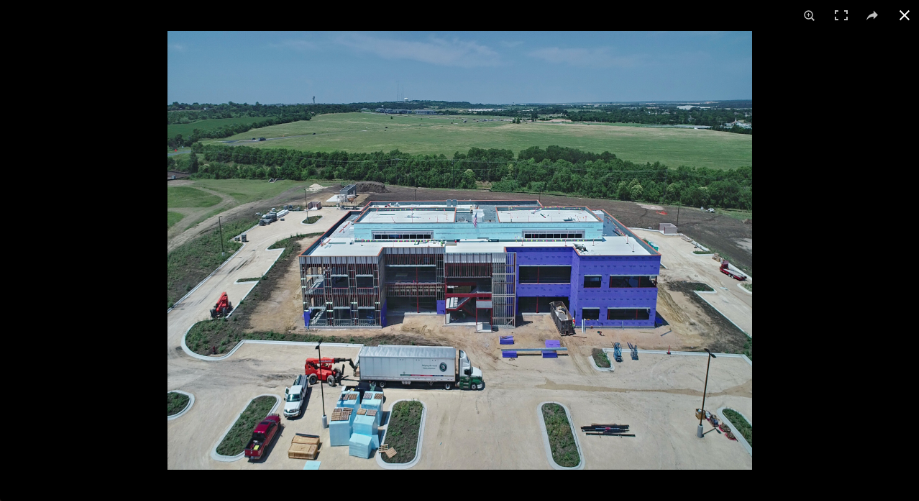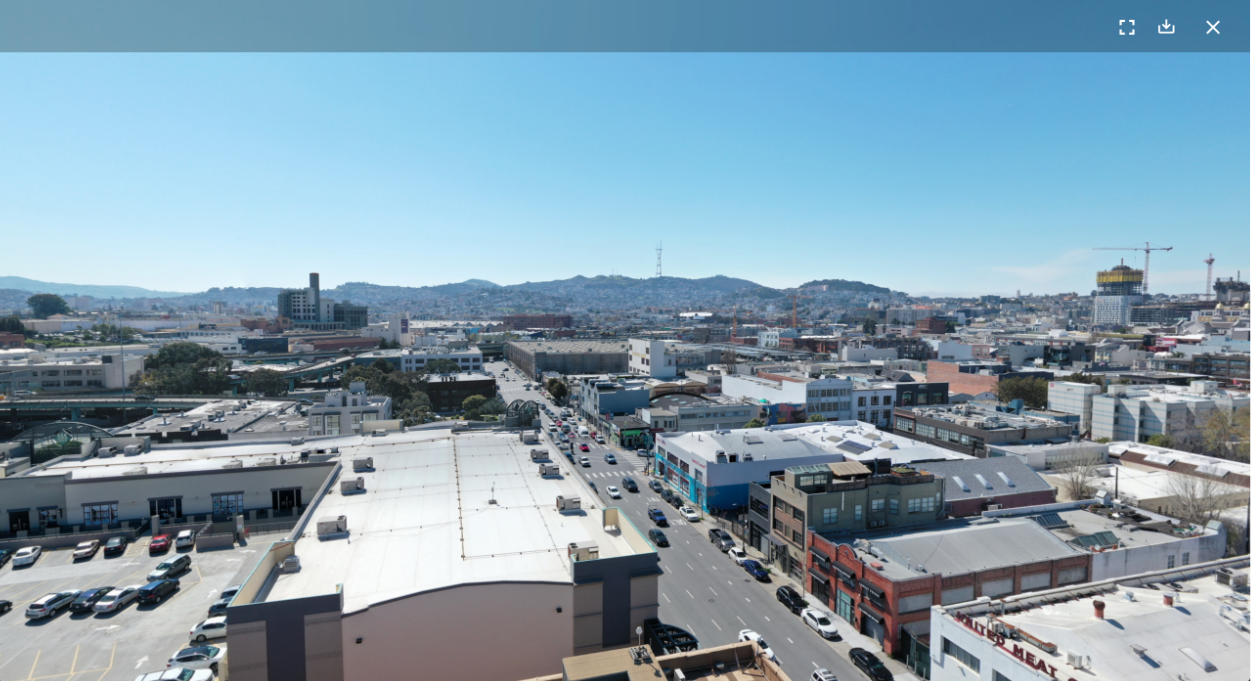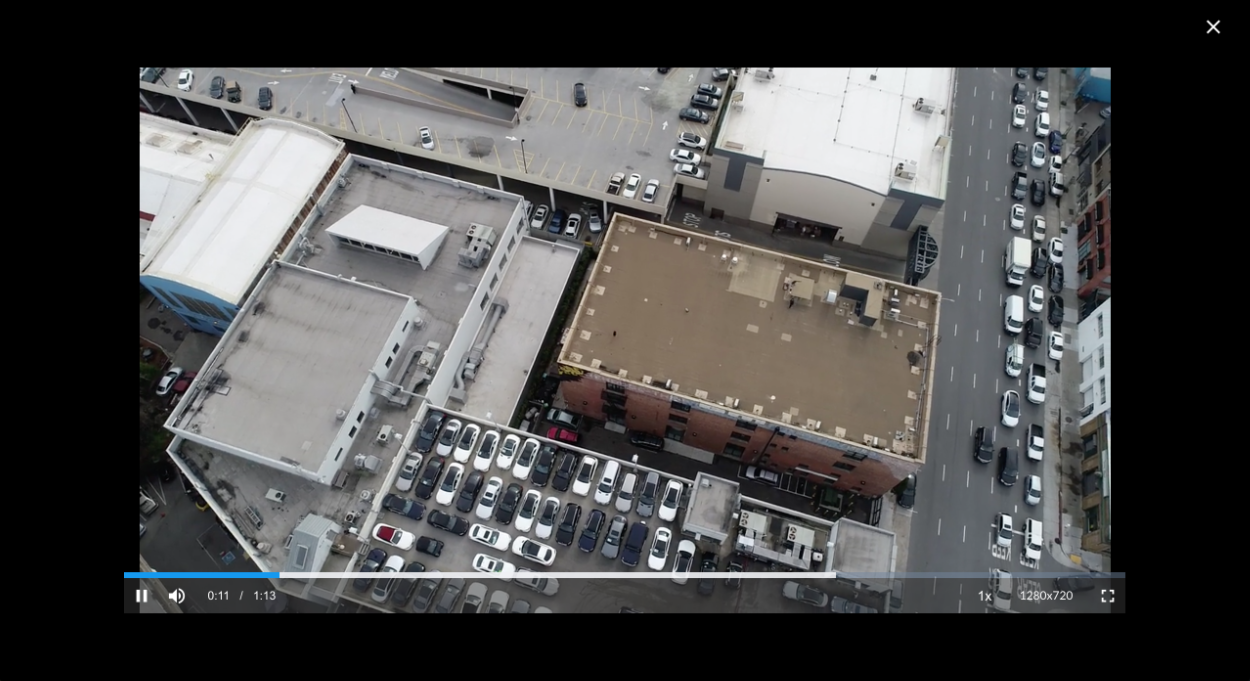 Use the calendar drop-down or the forward and next arrows to explore the visual history of your project.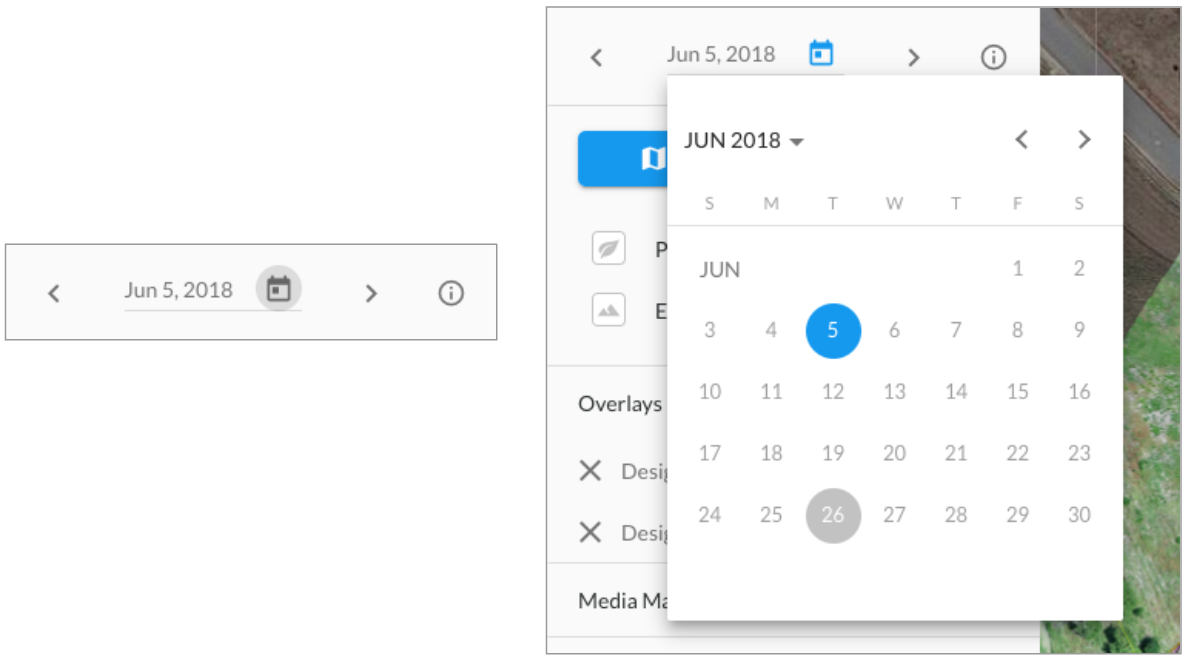 When you view a date where there are photos, panoramas or videos but no drone map, icons will appear on top of the satellite map.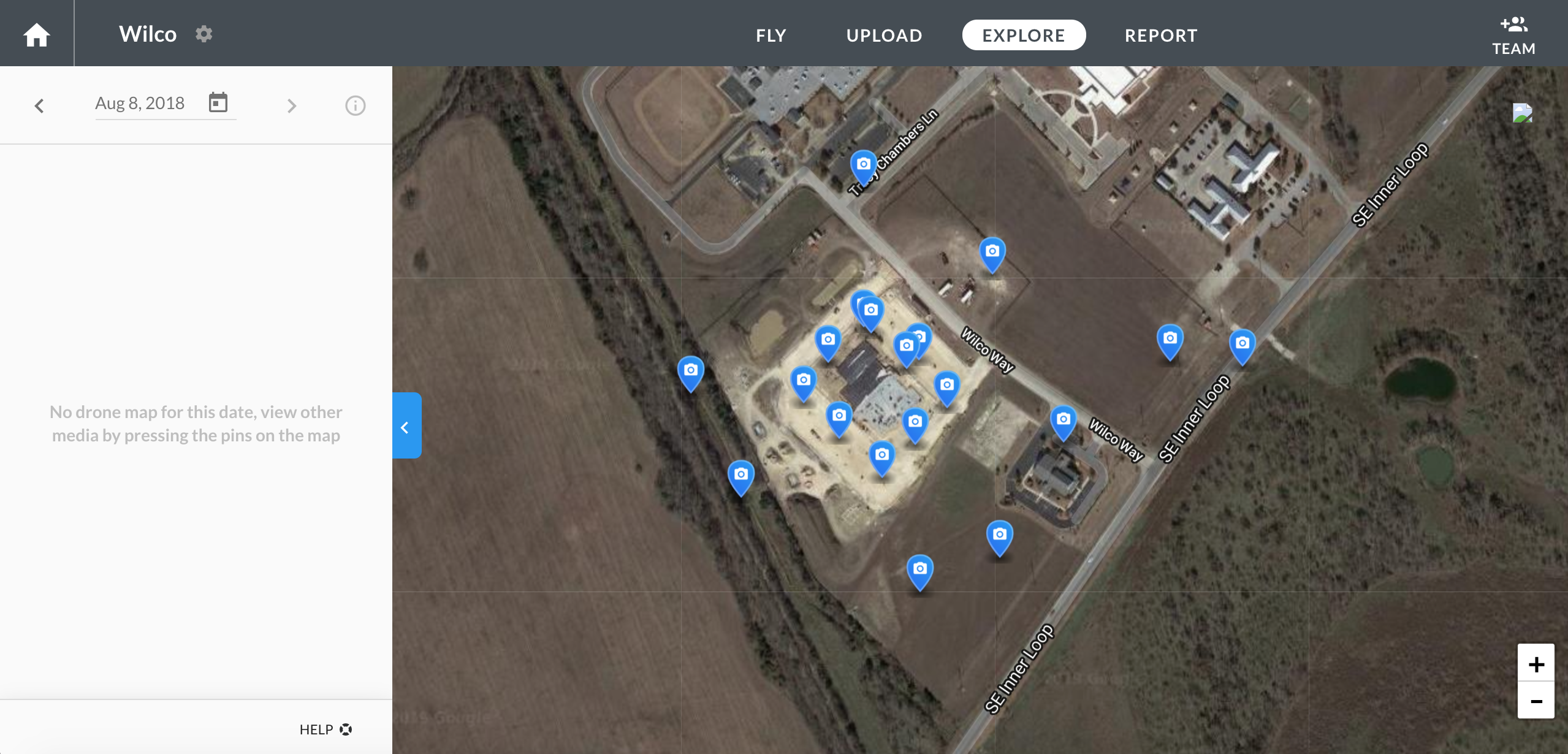 Share a Visual Record of Your Project
Share a visual record of your project to keep your team connected with the latest information to help reduce risk and keep your project on schedule.
While you can share a link to a progress photo report or share a link to an individual panorama (coming soon), the best way to share all of the latest maps and media for your project is to add members to your project team.

Enter the email address of the person you want to add to your project team. A new project team member will receive an email inviting them to the project.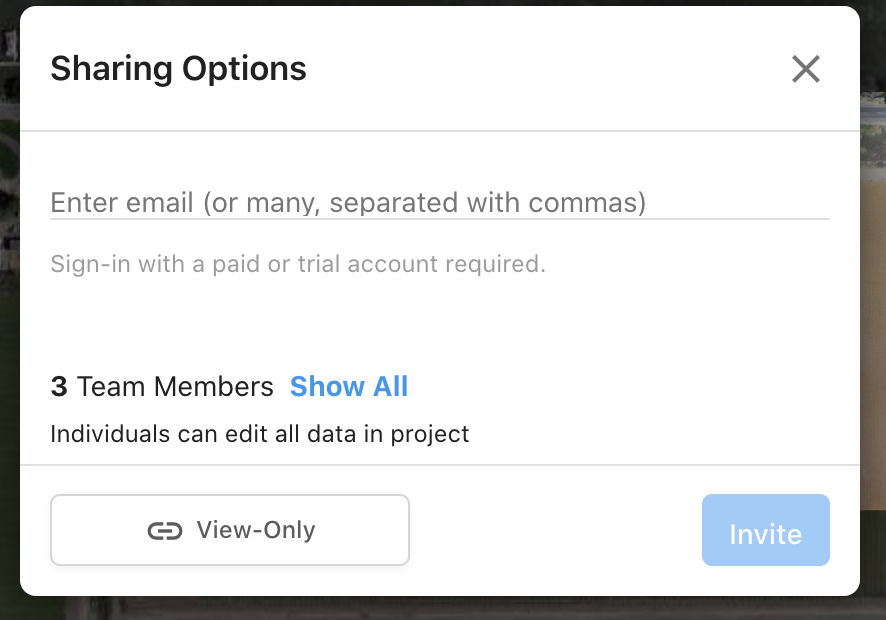 When they log in to DroneDeploy, they will be able to see the project on their dashboard and click on it to explore a complete visual history of the project, including all maps, photos, panoramas, and videos. They will also receive email notifications whenever there is a new map added to the project.
Share Individual Photos
DroneDeploy users can share a single progress photo, pano, or single WalkThrough frame. This gives users a simple way to share specific photos with clients, owners, and colleagues.
How to Share a Progress/Pano/WalkThrough Photo
1. Open the photo you want to share.
2. In the toolbar at the top right, click the Share icon.
3. You now have a shareable link. Users with the shared link can view the photo as well as the photo's location on a minimap.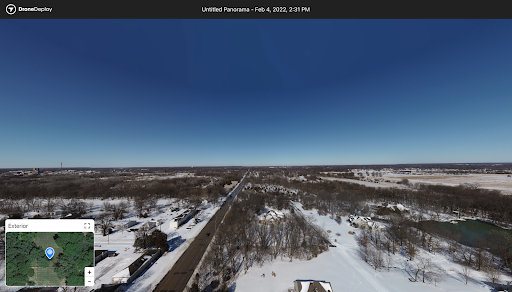 Share an Individual Panorama
You can share a link to an individual panorama that someone can view without needing to log in to DroneDeploy. To do this, open the panorama, click the share link in the top right corner to copy the link, and then share it with whomever you like.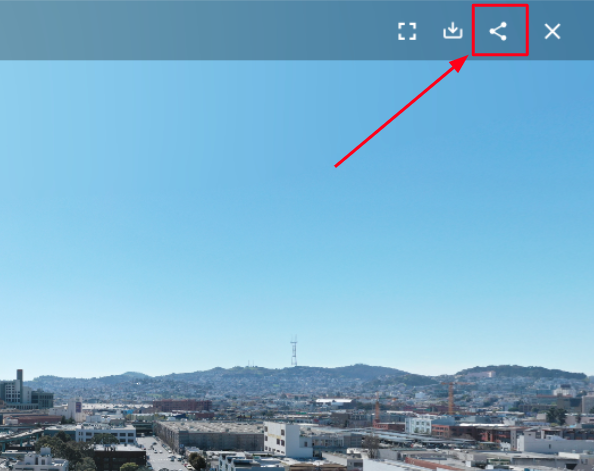 Delete Media
If you uploaded poor-quality imagery or uploaded to the wrong project, you may want to delete some of the photos, videos, or panoramas. You can do this by opening each asset you want to delete, clicking the trashcan icon, and confirming that you want to delete it. If you delete all photos from a progress photo report, the report will also be deleted. If you delete all assets from a particular date, that date will no longer appear in the date selector.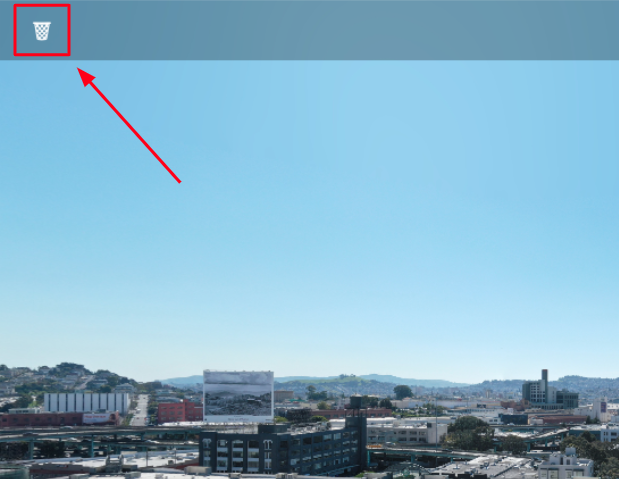 Only asset owners and administrators can delete items. If you are not the person who uploaded the asset and you are not an administrator, you will not see the option to delete it. If you see something that needs to be deleted, please reach out to your administrator for assistance.
Expandable Minimap
The new updated Expandable Minimap allows you to now expand and collapse the minimap on the media viewer pages in order to get more context out of your project and nearby media without leaving the viewer experience.

Expandable Minimap
Progress Media Minimap
The minimap has now been added to Progress Photos, Progress Videos, Preprocessed Panos, and Regular Panos on their respective media viewer and Progress Report viewer.
Navigable Media Markers on Minimap
With the minimap added to all progress media viewers, we've also added routable progress media markers to the minimap in order to allow you to move to nearby media points without leaving the media viewer and losing context.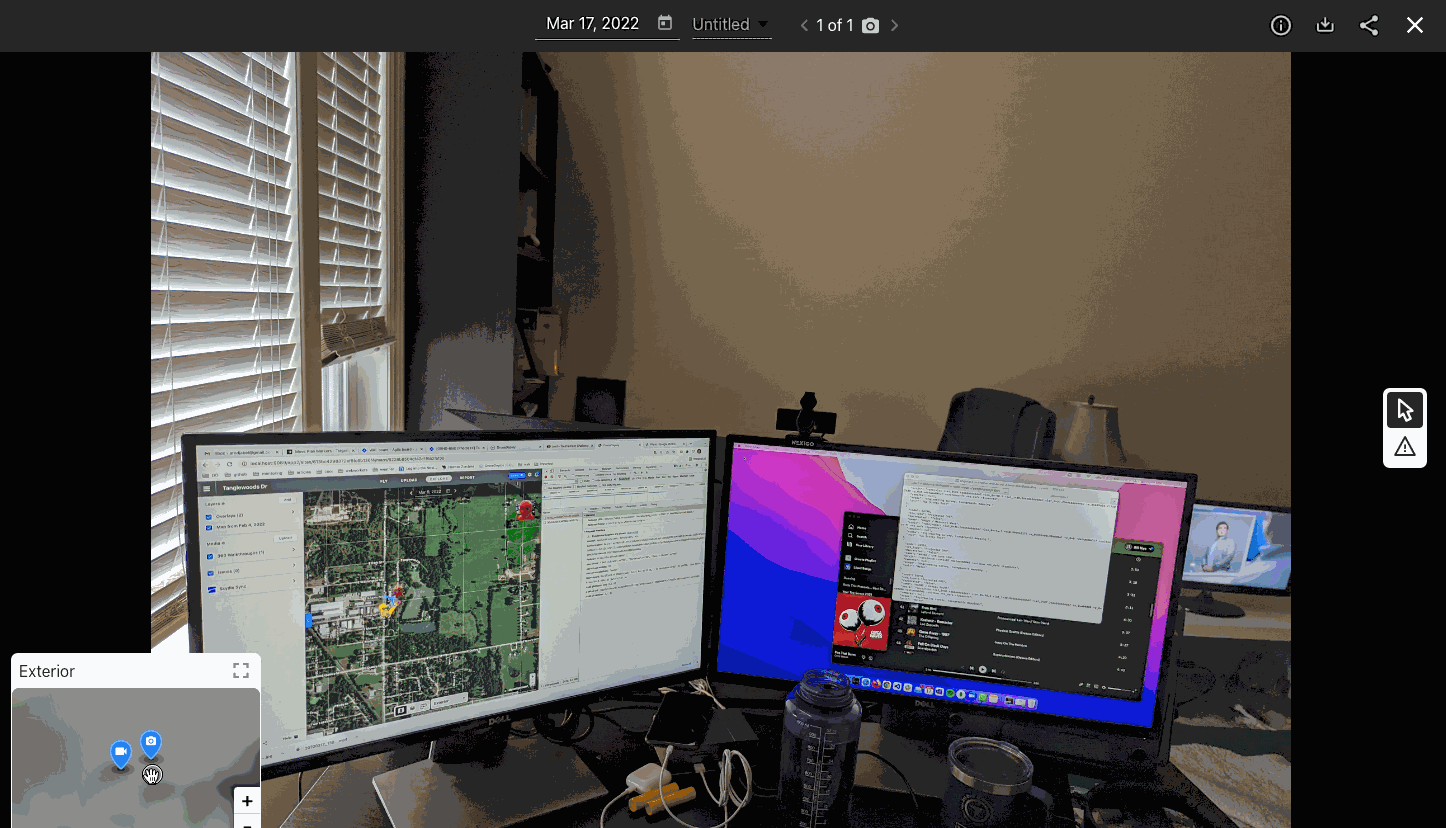 Navigable Media Markers on Minimap
Unified Media Viewer Top Bar
To make the media viewer experience more consistent, we've updated the top bar to have a more consistent layout and actions across all viewers.
We've also added the plan date to the top bar in order to retain context about the media that is currently being viewed.
Media Groups
With Media Groups, understanding where and what media has been captured on a floor plan becomes a seamless experience, enabling you to unlock the full potential of your aerial data.
What are Media Groups
Media Groups is an innovative addition to our Walkthrough platform that offers users an intuitive way to visualize clusters of captured media on a floor plan. When zoomed out, Media Groups automatically groups media in close proximity, creating clusters that represent locations where multiple images or data points were captured. By clicking on these media groups, users can effortlessly preview the images taken in that specific area, gaining valuable insights at a glance.
Streamlining your Workflow
With Media Groups, we have developed a powerful tool that enhances your aerial data analysis in several ways:
1. Historical Media Groups: The beauty of Media Groups lies in its ability to automatically group media in close proximity through time. This breakthrough feature facilitates a quicker and more intuitive way to find all captures associated with a specific location. For interior spaces, Media Groups clusters media with a proximity of 6 inches, while for exterior areas, the clustering range extends up to 10 feet.
2. Preview Historical Captures: Want to jump back to previous dates and explore historical captures? With Media Groups, this task is accomplished in a matter of seconds. Our scrolling panel of historical captures allows you to navigate through time, inspecting media from different dates and making comparisons with ease.
3. Enhanced Screen Readability: Media Groups significantly improve performance and screen readability by gathering media clusters when you are zoomed out on the floor plan. This ensures a clutter-free and efficient viewing experience, enabling you to focus on the big picture without losing sight of the details.
Empowering Walkthrough Customers
We are excited to announce that the Media Groups feature is available to all our Walkthrough customers. As part of our commitment to continuous improvement, we are rolling out early access to Media Groups for interior spaces in July, followed by exterior spaces in August.
How to Use Media Groups
Using Media Groups is simple and intuitive:
1. Zoom Out on the Floor Plan: When viewing your floor plan, zoom out to observe media clusters that represent grouped captures.
2. Click on a Media Group: Click on any media group to see a preview of the images captured in that specific location and time range.
3. Explore Historical Captures: Utilize the scrolling panel to access historical captures quickly and efficiently.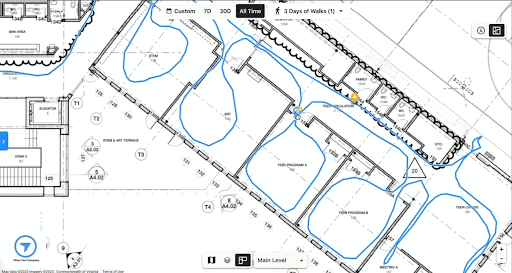 Media Gallery
This groundbreaking addition empowers you to efficiently preview and locate all media within a specific location, elevating your ability to find the exact content you're searching for.
What is the Media Gallery?
The Media Gallery is a game-changing enhancement to our platform, designed to streamline the process of finding and viewing photos associated with a media group, location, or asset. By seamlessly navigating through time, the Media Gallery enables you to compare images captured at different dates but in similar locations. This provides a holistic view of the evolution of your site, making it easier than ever to gain valuable insights from your aerial data.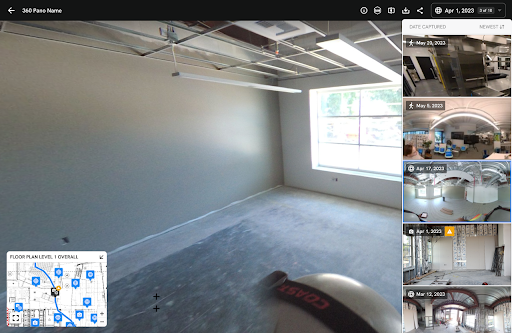 Empowering Your Aerial Data Exploration
The Media Gallery offers a wide array of benefits that optimize your aerial data exploration experience:
1. New Media Viewer Experience: The Media Gallery introduces an enhanced media viewer experience that allows you to quickly find and preview photos associated with specific media groups, locations, or assets. You can now travel back through time effortlessly, unlocking a treasure trove of historical data at your fingertips.
2. Efficient Issue Identification: With the Media Gallery, you can rapidly identify photos that have associated issues. This invaluable feature saves you time and effort, enabling you to promptly spot potential problems and address them proactively.
3. Seamless Accessibility: Whether you are an interior or exterior user, we have you covered! Early Access to the Media Gallery is rolling out in July for interior spaces and in August for exterior spaces. Our commitment to inclusivity ensures that all our Walkthrough customers can harness the power of the Media Gallery to its fullest potential.
How to Utilize the Media Gallery
Using the Media Gallery to explore captured media is a breeze:
1. Access the Floor Plan View: Navigate to the floor plan view in your DroneDeploy account to access the Media Gallery feature.
2. Explore Media Groups and Locations: In the Media Gallery, you can easily locate and preview photos associated with media groups, locations, or specific assets.
3. Travel Back in Time: The Media Gallery empowers you to travel back through time, allowing you to view images captured on different dates within the same location.
4. Identify Issues with Ease: Utilize the Media Gallery's efficient issue identification to quickly pinpoint photos with associated issues, streamlining your site inspection process.
Date Ranges
We understand that efficiently navigating through large volumes of media is crucial for our users, which is why we are excited to introduce the "Date Ranges" feature in DroneDeploy Walkthroughs. This new feature allows users to filter media by date, providing enhanced convenience and flexibility.
The Limitations Before
Previously, users encountered certain limitations when it came to viewing and filtering media in DroneDeploy Walkthroughs. These limitations included:
1. Viewing Media One Day at a Time: Users were restricted to viewing media one day at a time. This approach often proved time-consuming, especially when dealing with extensive datasets covering extended periods.
2. Defaulting to Current Date: Whenever users accessed the media in DroneDeploy Walkthroughs, the default view would always display the media for the current date. This meant that users had to manually adjust the date range every time they wanted to explore media from a different period.
Empowering Users with Date Ranges
We're thrilled to announce that with the addition of the "Date Ranges" feature, we have addressed the limitations mentioned above and brought a host of new functionalities to our users:
1. One-Click Buttons for Quick Filtering: The "Date Ranges" feature now provides users with one-click buttons to effortlessly filter media by specific timeframes. Whether you need to see all media at once, focus on the past 7 days, or delve into the past 30 days, our intuitive one-click buttons make it easy to access the desired media.
2. Custom Date Filter Option: We understand that users often need to examine media from precise date ranges that may not fall within the predefined options. With the new custom date filter, users can now hand-pick their desired start and end dates, enabling them to fine-tune their media exploration process.
3. New Default View: Our default view has been updated to "All Time," giving users immediate access to all their media content. No more repetitive manual adjustments – simply log in and explore your entire media history seamlessly.
How to Utilize Date Ranges
Utilizing Date Ranges in DroneDeploy Walkthroughs is simple and user-friendly:
1. One-Click Buttons: Upon accessing the Walkthroughs media gallery, you will find the one-click buttons right at the top. Click on "All Time," "Past 7 Days," or "Past 30 Days" to quickly filter the media as per your requirement.
2. Custom Date Filter: To access the custom date filter, click on the "Custom Date" option, and a calendar will appear. Select your desired start and end dates, and the media gallery will automatically update to display content from the specified range.
3. New Default: Now, whenever you access DroneDeploy Walkthroughs, you will see the media from "All Time" by default, saving you time and effort in filtering manually.