Easily import, overlay, and view design plans against your orthomosaic maps in DroneDeploy using our Overlay layering tool. Upload CAD design surfaces to utilize cut and fill functionality. Import data from your integrations such as ProCore and BIM360. Upload shapefiles, DXFs, GeoTIFFs, and other imagery to aid in planning and analyzing your maps in DroneDeploy.

Supported Overlay Formats
| | | |
| --- | --- | --- |
| File Type | Use-Case | Tier |
| PNG | Design plan, site maps | Individual, Enterprise |
| PDF | Design plan, site maps | Individual, Enterprise |
| Shapefile | Design plan, site maps, contours | Individual, Enterprise |
| GeoTIFF | Cut, Fill and Volume Analysis | Enterprise |
| DXF | Cut, Fill and Volume Analysis | Enterprise |
| XML | Cut, Fill and Volume Analysis | Enterprise |
| Web Layer | Feature, Map, and Tile Layers | Enterprise |
How to Add and Overlay to Your Map
1) From the Explore Tab, choose the "Add" option in the Overlays section:

2) For local files, choose the file type from the pop-up window. For an ESRI Web Layer, choose "Web Layer" in the left panel, or choose one of your integrations to import from. If you're interested in integrating with DroneDeploy through one of our many apps, let us know!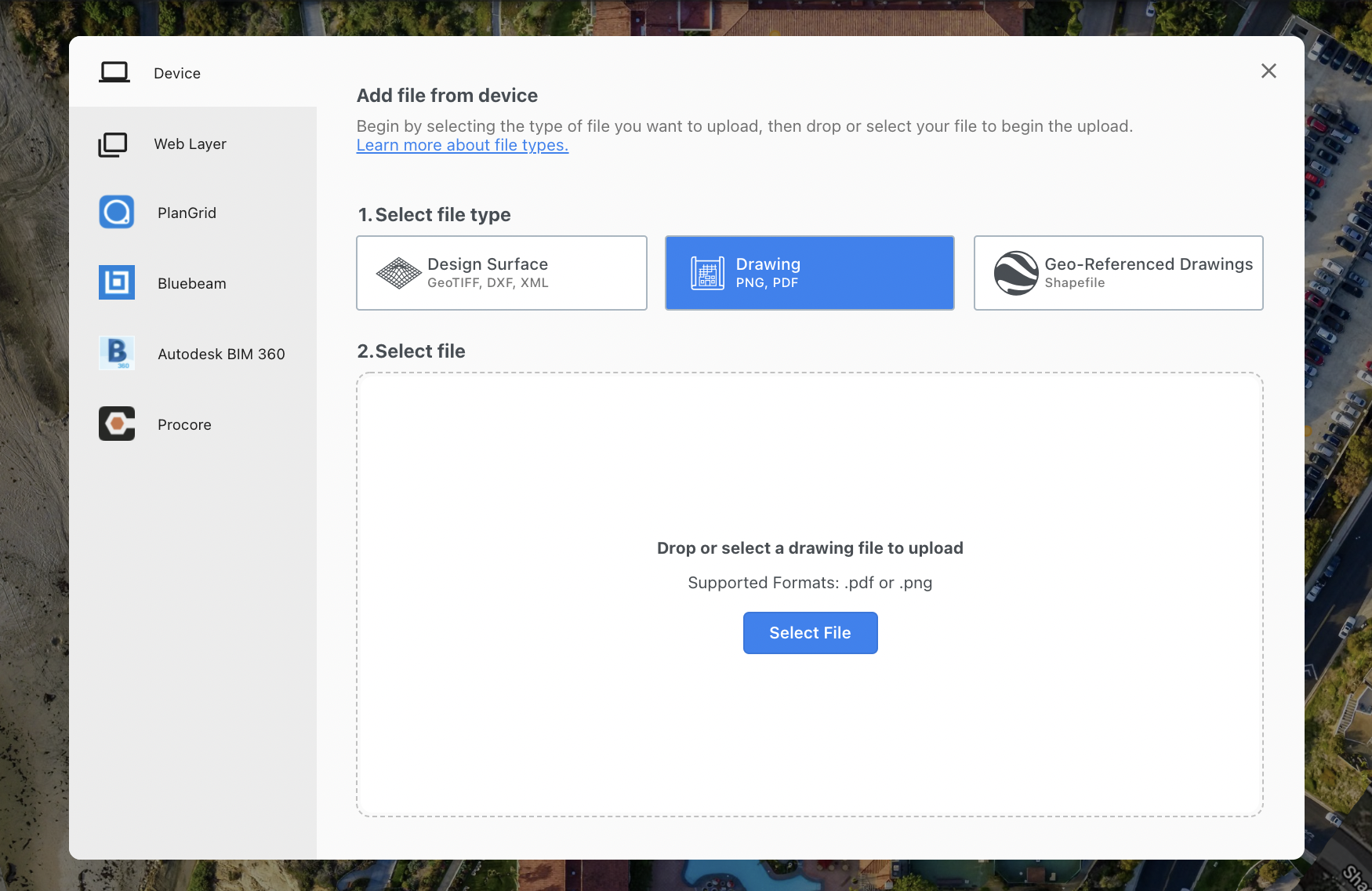 3) Align and process. For non-georeferenced files, you will have the opportunity to align the file to your site. Use our PNG/PDF document below for more detailed instructions on alignment. For georeferenced files, the file will begin processing automatically.
All files will organize in the Overlays tab in the left panel. This is where you can toggle them on and off, rename and change the color of your layers.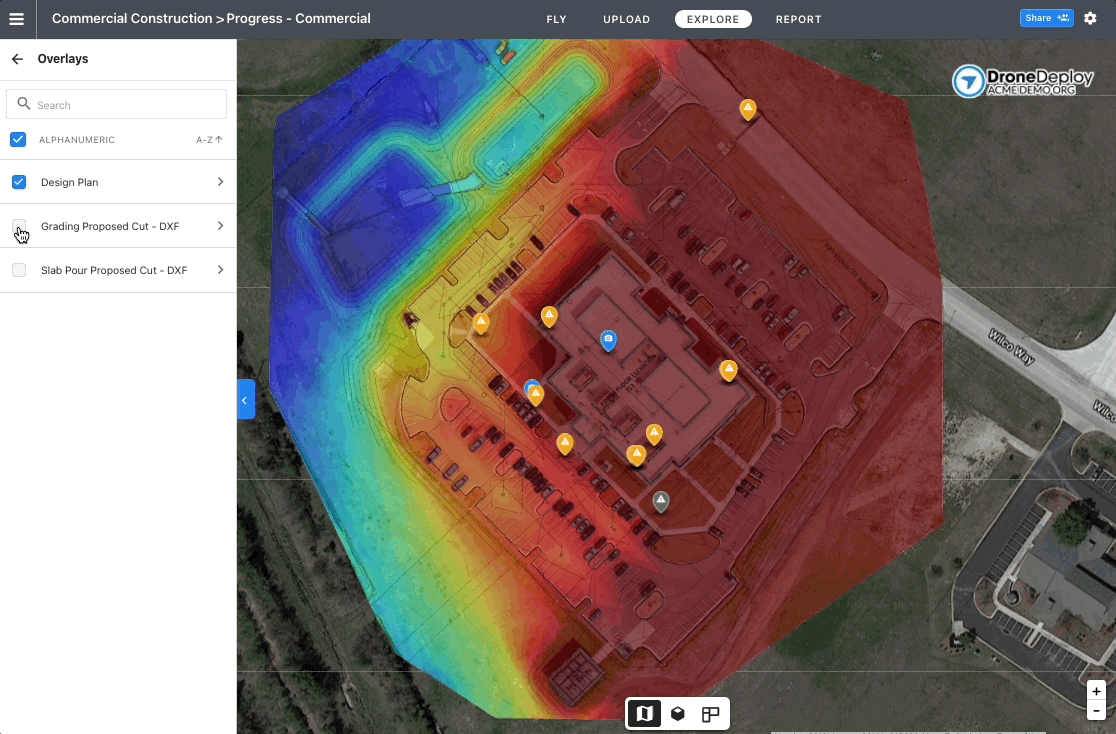 EPSG Code Selection
There's a new way to set the EPSG code for uploaded design files (including DXF, GeoTIFF, and LandXML) in DroneDeploy, to ensure accurate alignment with the map!
Set the desired coordinate system for the project and all future uploaded design files in Project Settings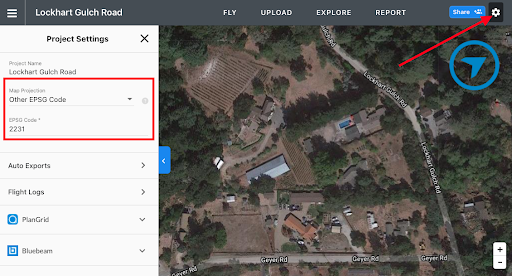 Upload a design file from the add overlays menu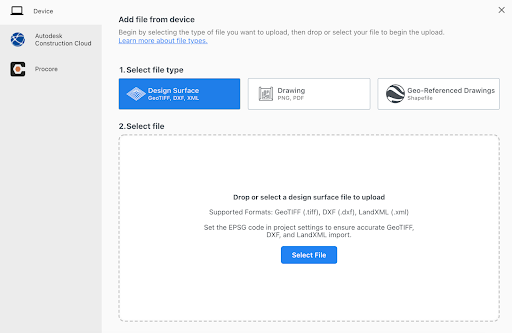 If Project EPSG Code is already set, it will be reflected during Design Surface Upload as shown below.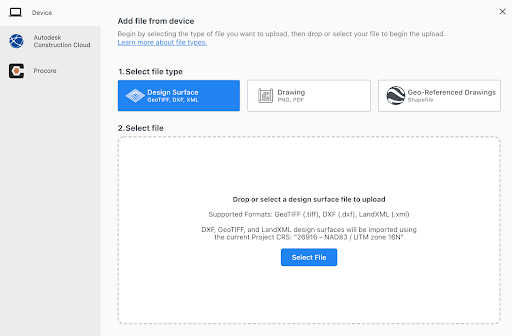 Uploaded design surfaces will inherit the EPSG code in Project Settings, if specified. This differs from the past behavior, where we either 1. Used the native coordinate system for the file (for TIFF), or 2. Tried to infer the best coordinate system given the project's location. If no EPSG code is set in Project settings, we will fall back to this prior logic.
For more in-depth support on overlays, check out the articles below.