The Issue Report on DroneDeploy lets you create printable or sharable PDF documents of your issues, including the type of issue, status, and the summary associated with the issue.
Easily share the results of your inspection with your team by automatically generating an inspection report. The inspection report includes the map locations of all of the issues so that workers can easily find where each issue is, as well as close-up imagery and all of the issue details they need to address it.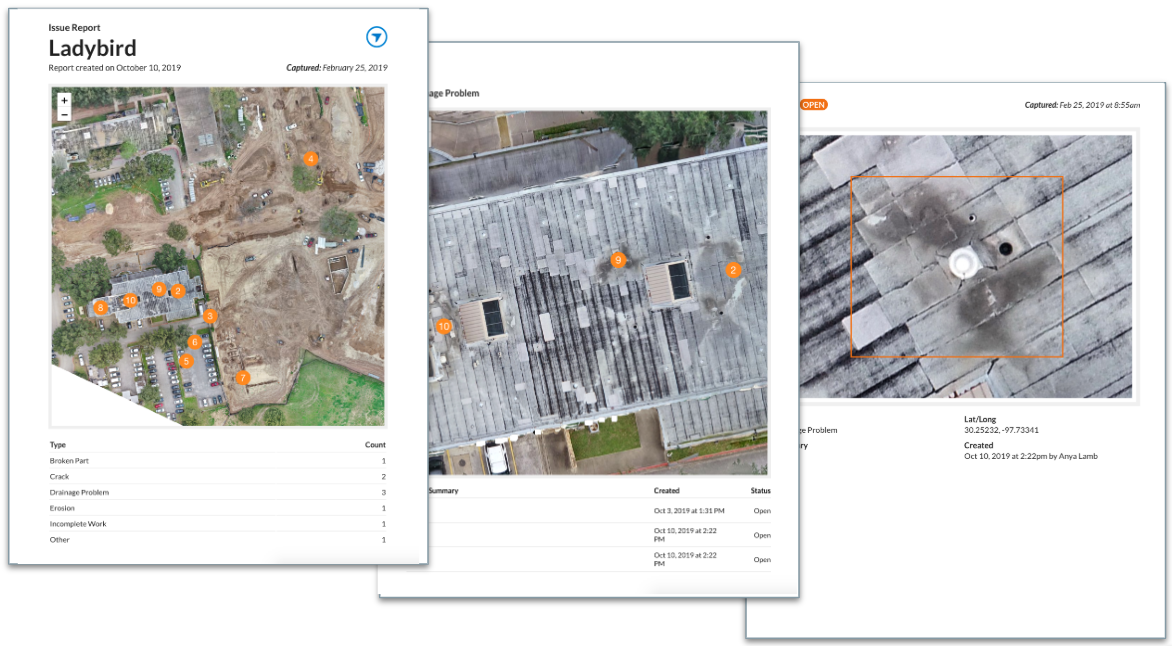 To view the inspection report, just go to the "Report" section and you'll see a printable report of all of the issues created for that project.
How Can I Access It?
Inspections are available on Individual, Advanced, Teams, and
Enterprise plans
at no additional charge.
The Issues Report is available in the Report section within a Project or in the Reports section of your Exports tab for single maps, and includes a PDF file of your map, table of issues, sharing, co-branding and more.
Create Issues
On your 3D model, conduct inspections and create an issue using the issue tool. As the raw image of your site appears, drag and drop a box around the issue. From the drop-down, select the issue type and create a summary.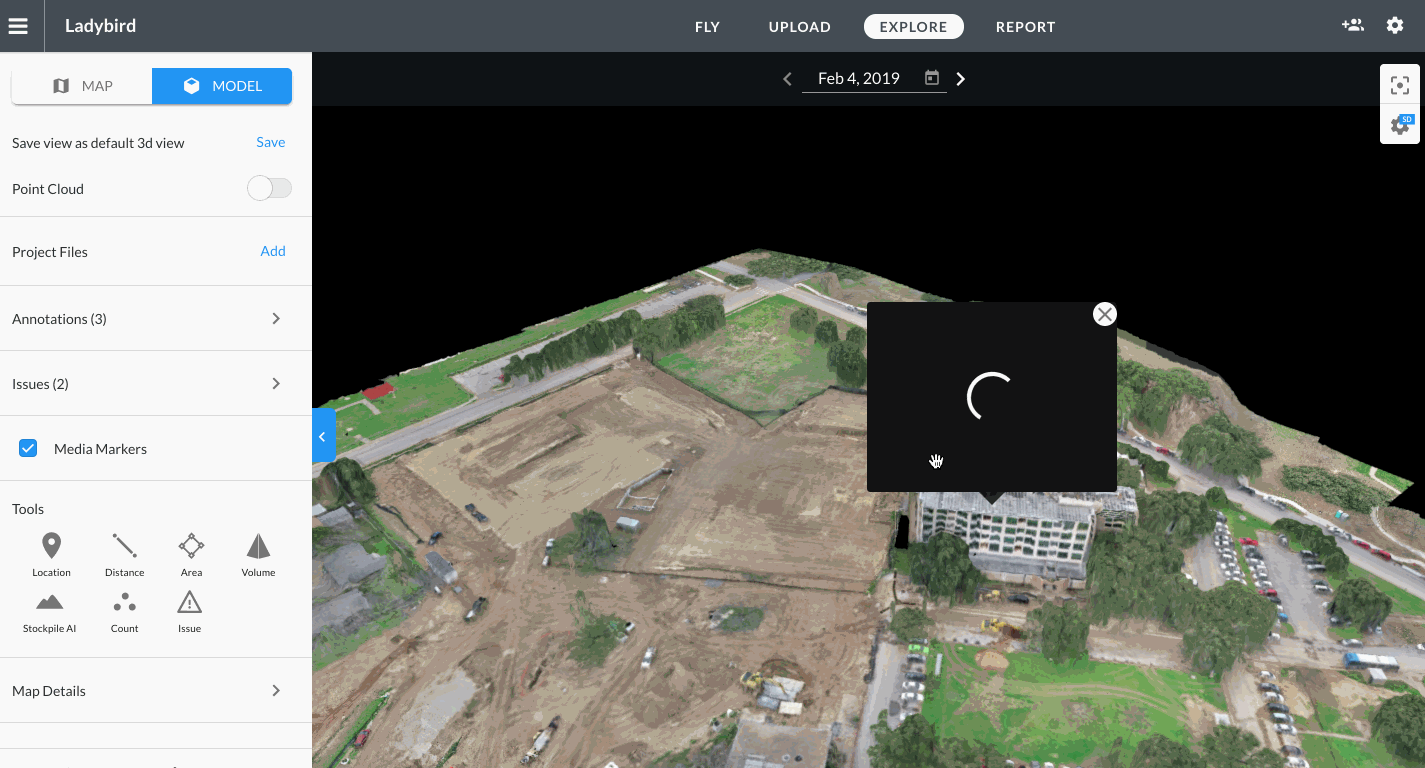 3D Model Selection
Issues are to be created using the 3D model at this time. To create a new issue, toggle to the 3D version of your map, and double-click anywhere to locate the source imagery.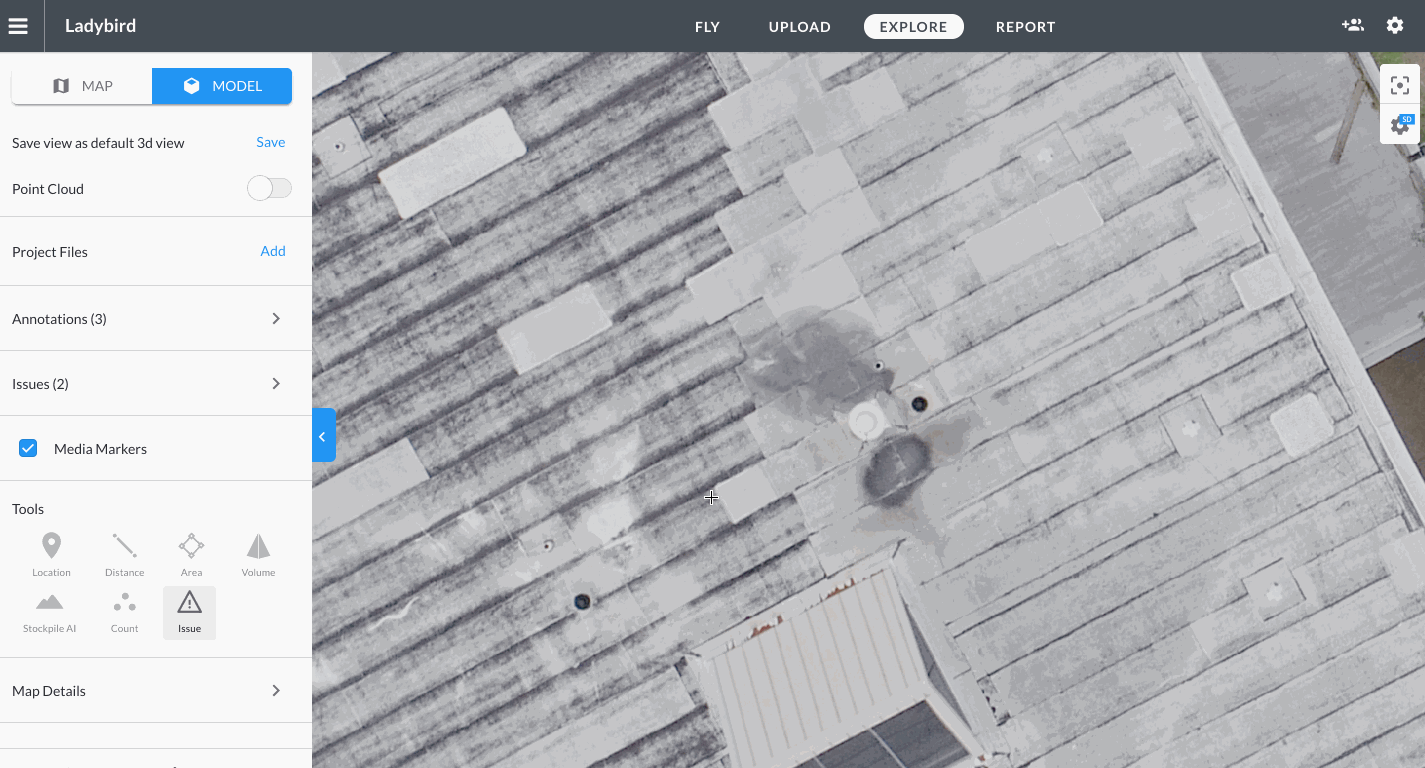 When complete, each issue will be itemized in a list view that can be generated as a report.
Generate a Report
Reports are Customizable!
Remember, all our reports can be edited! Click on the data point you would like to edit, make your changes, and it will save on your report.
From the Reports tab, select Issue Report to generate the report of your site.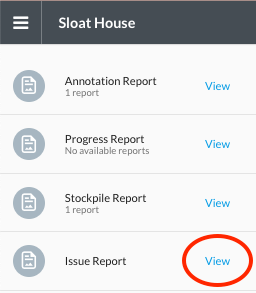 The report will include an overview of the total number of issues reported, and then organize them by type. Each issue will display the type, summary, date created and the status of that issue.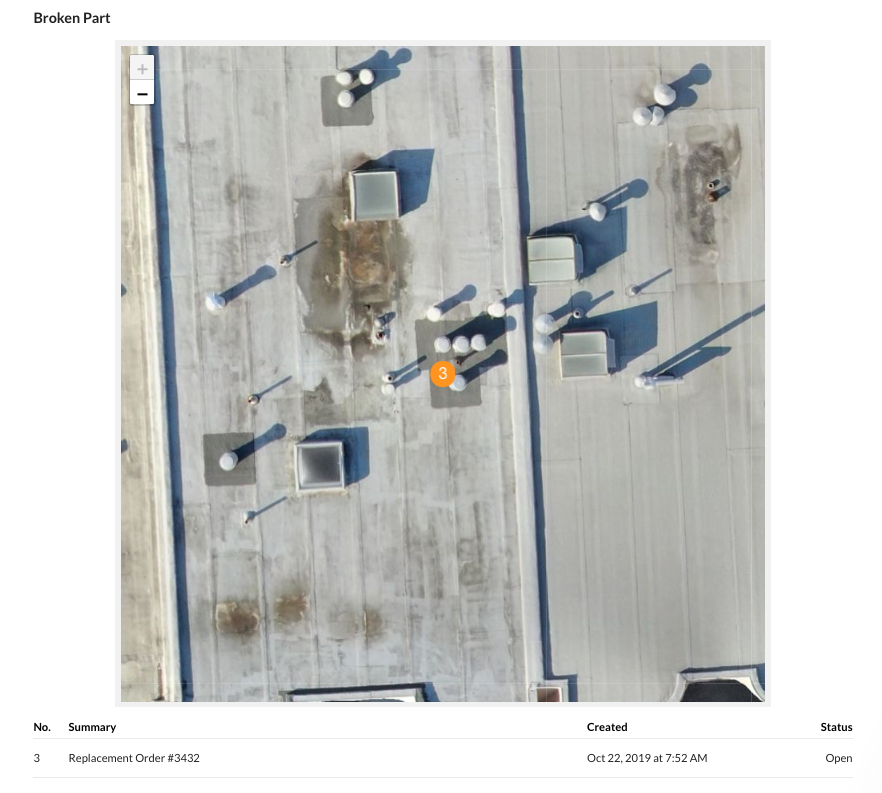 A magnified image of the Issue is below, providing the type, summary, location and date captured.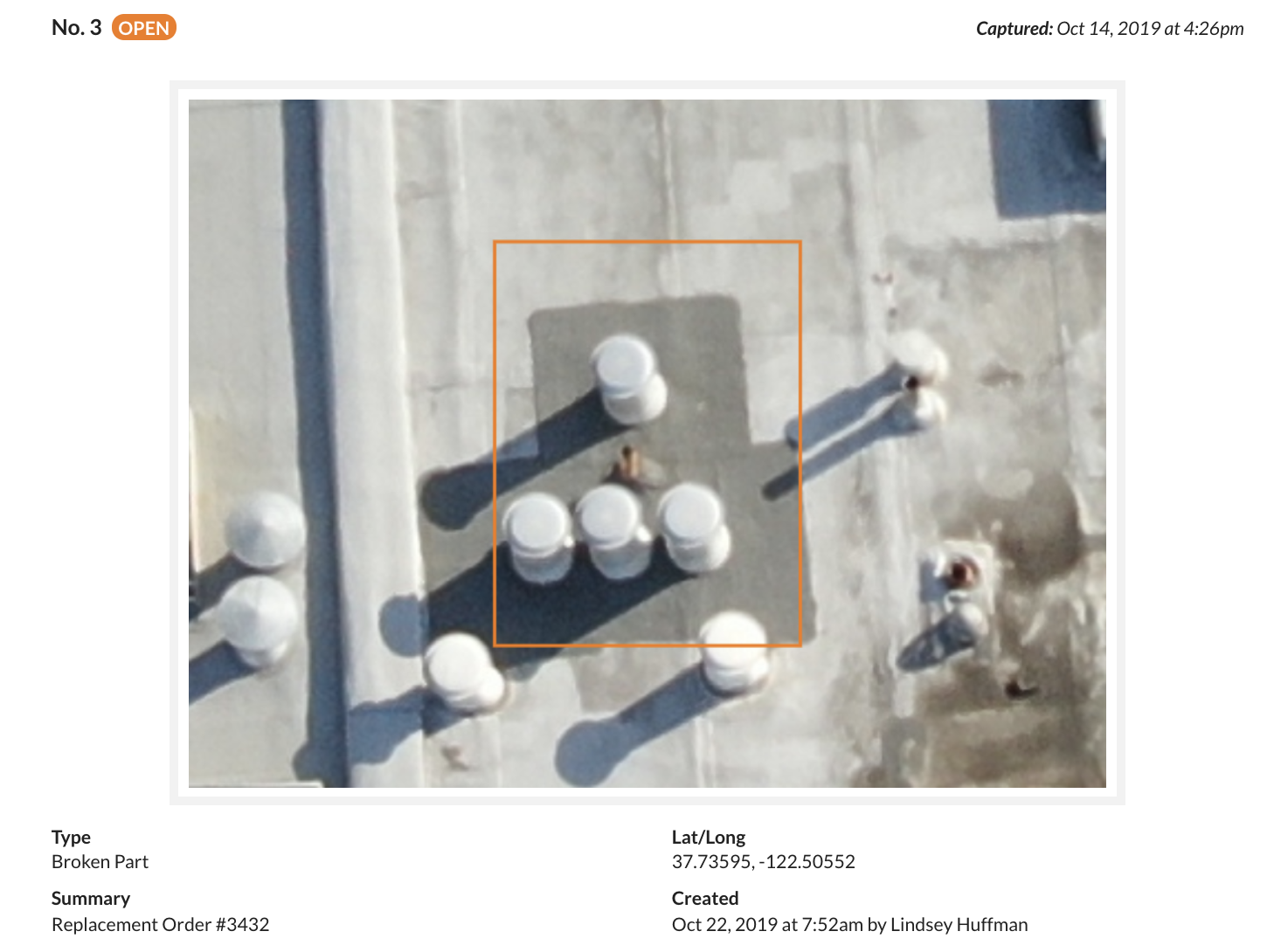 If you want to report only a subset of all issues -- for example, only open issues or issues of a particular type -- you can use the filters in the sidebar to customize your report.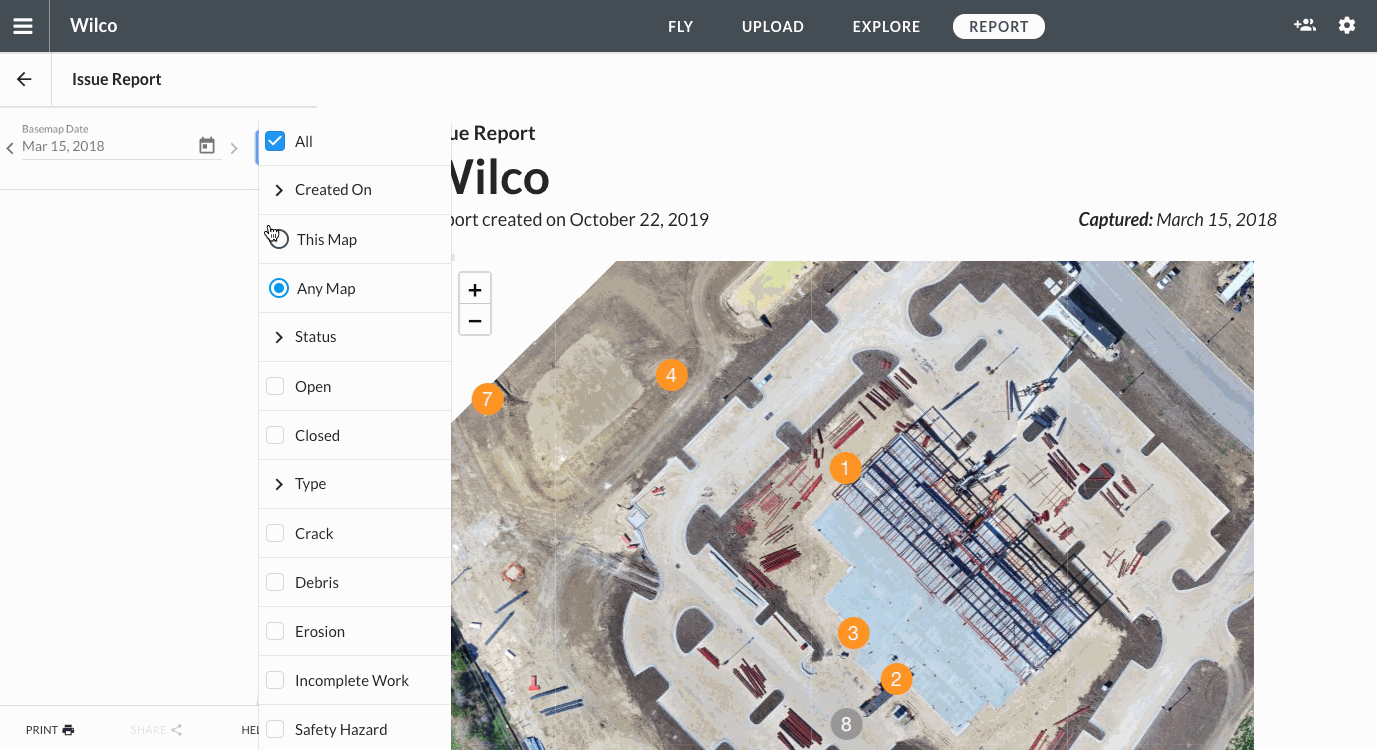 Print Your Report, Or Save As A PDF
At the bottom left of the screen, you'll have the option to Print, Share, or Contact Support for help!

To print or save as a PDF: select Print, then choose the destination. Even upload to your Google Drive!