3D Visualization is available during Open Beta for Advanced, Teams, and Enterprise subscriptions.
In this article, we will explore:
How to add a 3D DXF layer to your project for:
What is a DXF and how can it apply to my DroneDeploy project?
A DXF is a commonly used file type for the exchange of CAD information. They can contain both vector polylines and/or triangle mesh surfaces. DXFs can be geo-referenced for automatic alignment.
Additionally, they often contain rich layer metadata surfacing even more valuable context within the platform (such as system and construction element names, i.e. "high voltage electrical", "gas supply").
During the open beta you can now visualize underground utilities, 3D design and grading files layered on top of your 3D aerial data in DroneDeploy.
How to add the 3D DXF as a Layer in a Project:
Navigate to the relevant project, in the Layers pane select

Add
Select Model/Design Surface


Select DXF for upload.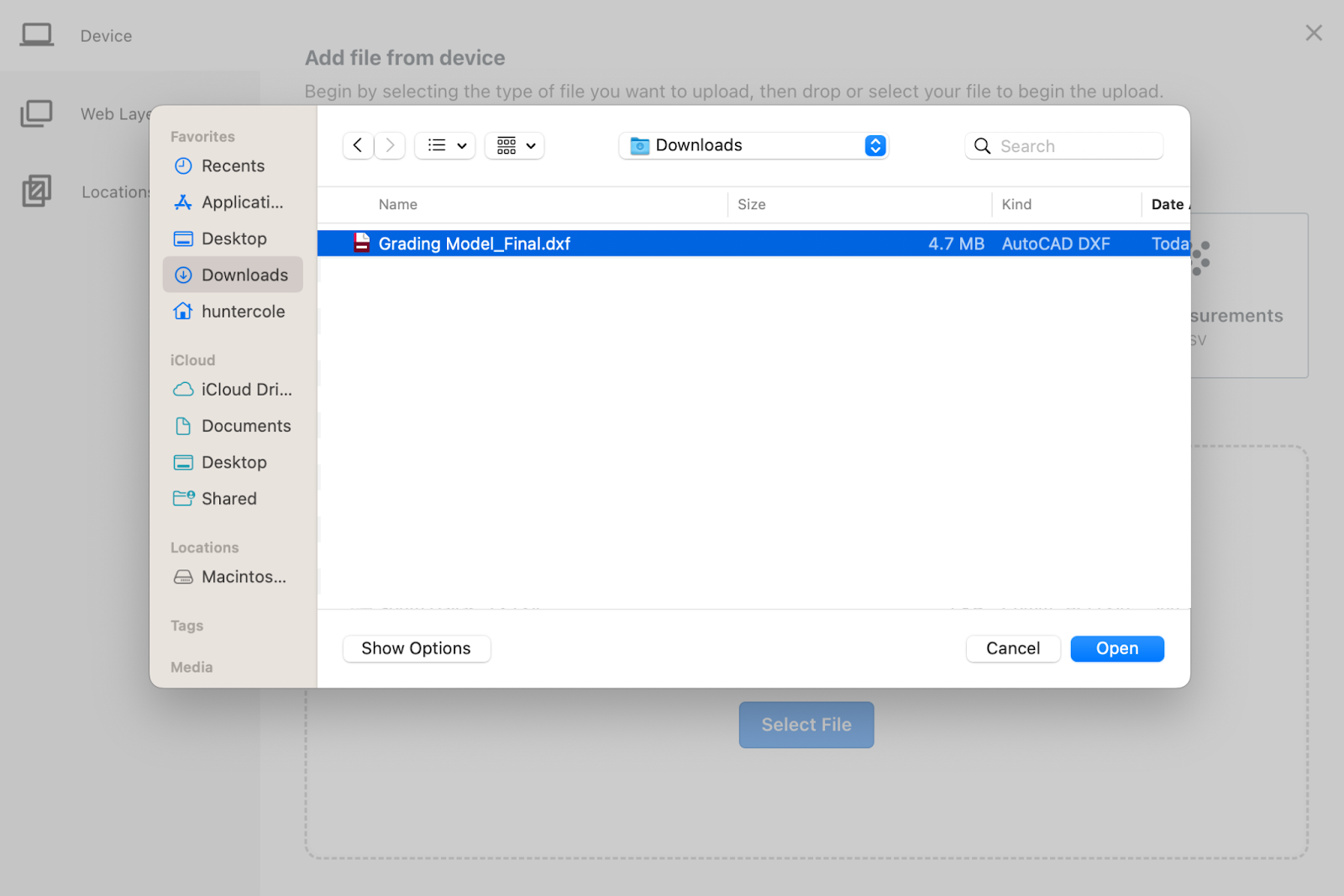 Select whether or not you would like this DXF to be processed to be made available for Cut/Fill comparison (see limitations section below for greater detail).
Select

Upload

(DroneDeploy will attempt to infer CRS and automatically align the 3D overlay.
Navigate to

3D

view
Under overlays, toggle on the desired DXF to be viewed.
From the Layer detail view, toggle on/off the individual layers of the overlay to get the precise visualization you seek.
Select a line or surface by clicking on it to display useful layer metadata.
FAQs/Known Limitations
The DXF file must be geo-referenced, please export DXFs from your CAD application in the same coordinate system as your project.
Today, DXF visualization is only supported in the 3D view.
Occasionally, if a DXF contains a surface mesh higher in elevation than the DEM, it can block the view of DEM.

We have applied a default light opacity to all DXF triangle meshes to limit occlusion of the DEM.
The user must designate whether or not the DXF is intended for Cut/Fill comparison.

Not all DXF files can be converted into a design surface that is suitable for cut/fill comparison
DroneDeploy has

supported DXF format for Cut/Fill comparison

for some time.
In the case of a DXF file that contains elevated contour polylines, but no surface, DroneDeploy can often process that file into a surface model suitable for Cut/Fill comparison against the DEM.
As an alternative example, a DXF containing polylines of as-built underground utilities has great value as a coordination and visualization tool, but cannot feasibly be converted into a surface suitable for Cut/Fill comparison.
Have any Feedback for the DroneDeploy team?