Real-Time mapping is here! Live Map is a tool for creating maps while your drone is still flying so you can take action immediately.
Live Map is only available to paid or trial customers.
Live Plant Health Map is only available to Precision Agriculture customers.
Live Plant Health map is an ag-specific feature only available to customers on our Precision Agriculture package. For more information, please visit our Agriculture page.
What is Live Map?
Live Map is a real-time mapping product available as part of DroneDeploy's mobile iOS app. With Live Map, you can produce a low-resolution 2D map on your iOS device as the drone is flying -- even without a cellular or data connection. Your entire workflow is on your mobile device. This feature is available to all paid customers.
LiveMap Updates
As of 2021, the new generation of LiveMap is 3x more powerful. Enabling higher accuracy, faster results, and greater reliability. It also allows for faster flight speeds and less overlap - enabling you to map over 200 acres in one 15 minute flight on a single battery. 
How to use Live Map with Image Capture
Paid and trial customers will see a "Live Preview" toggle on the flight planning screen as shown below.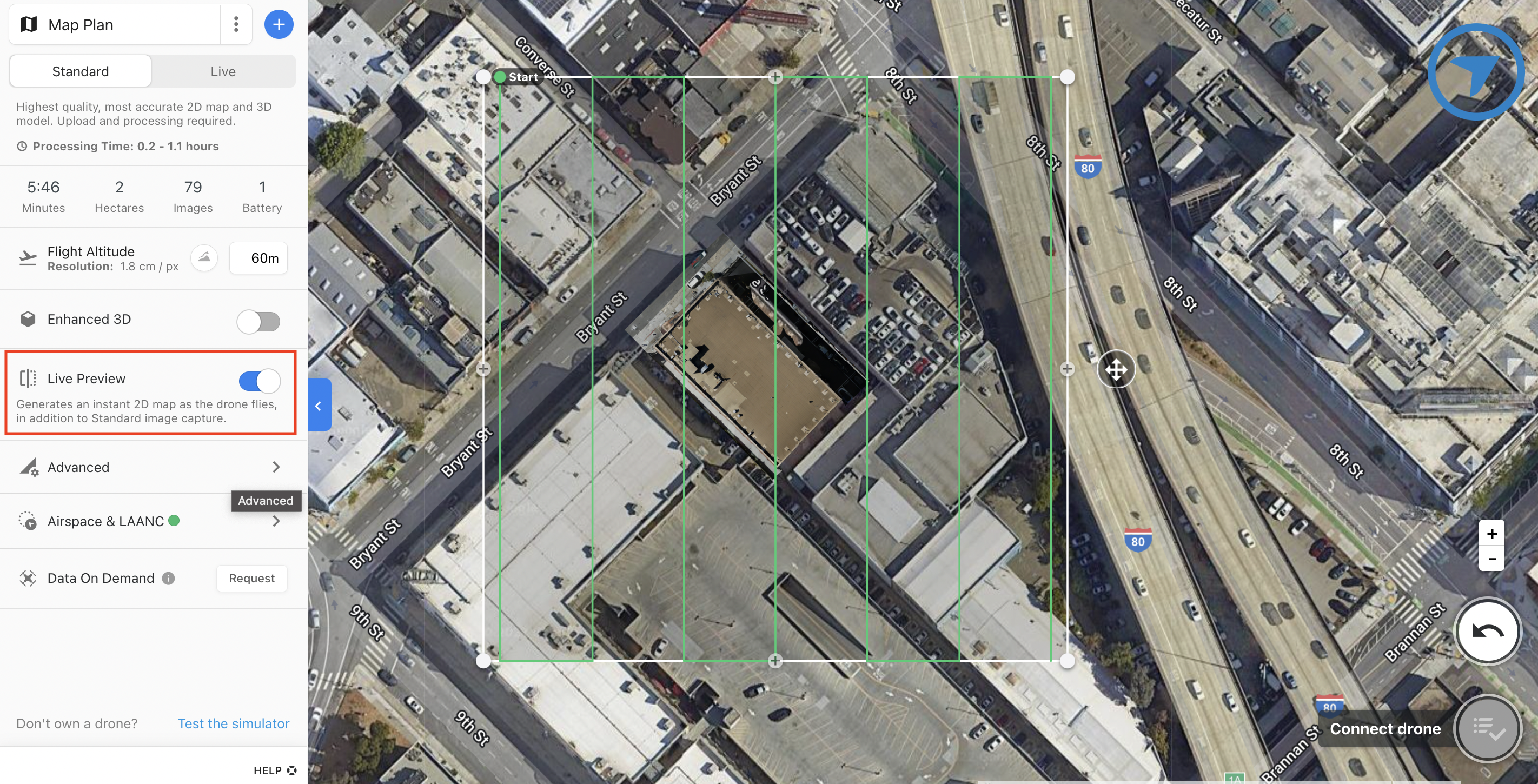 Click the toggle next to Live Preview to activate this feature and start mapping in real time!
During the mission, Live Map will use the live video feed from your drone to populate a map as the drone flies each leg of the mission.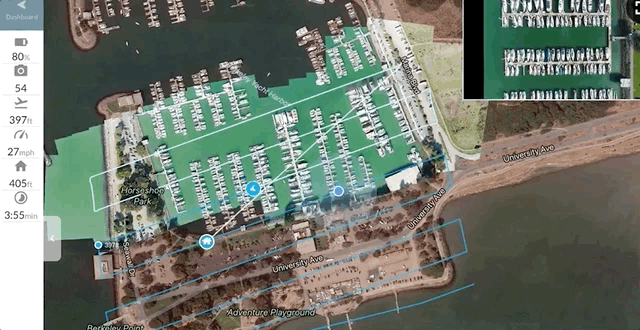 Once the flight is completed, you will be able to see the Live Map icon on your dashboard, while offline, and review the 2D map layers.

Live vs Standard
Selecting the "Live" feature on the top of the Flight sidebar will create a 2D map without Photo Capture.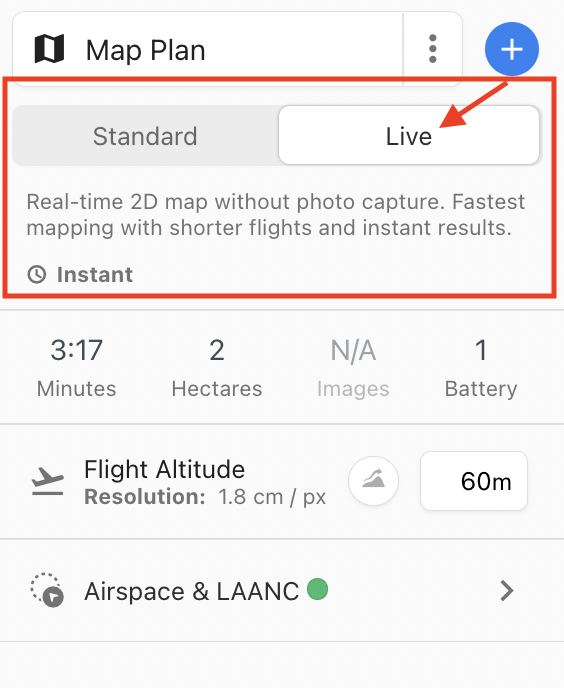 What about annotations and measurements?
Once you are online, the Live Map will sync to your DroneDeploy account. While the Live Map is syncing, you will still be able to view the map layer. Once the sync is complete, after about 5-10 minutes, you will be able to use the annotations, measurements, and sharing options on your Live Map.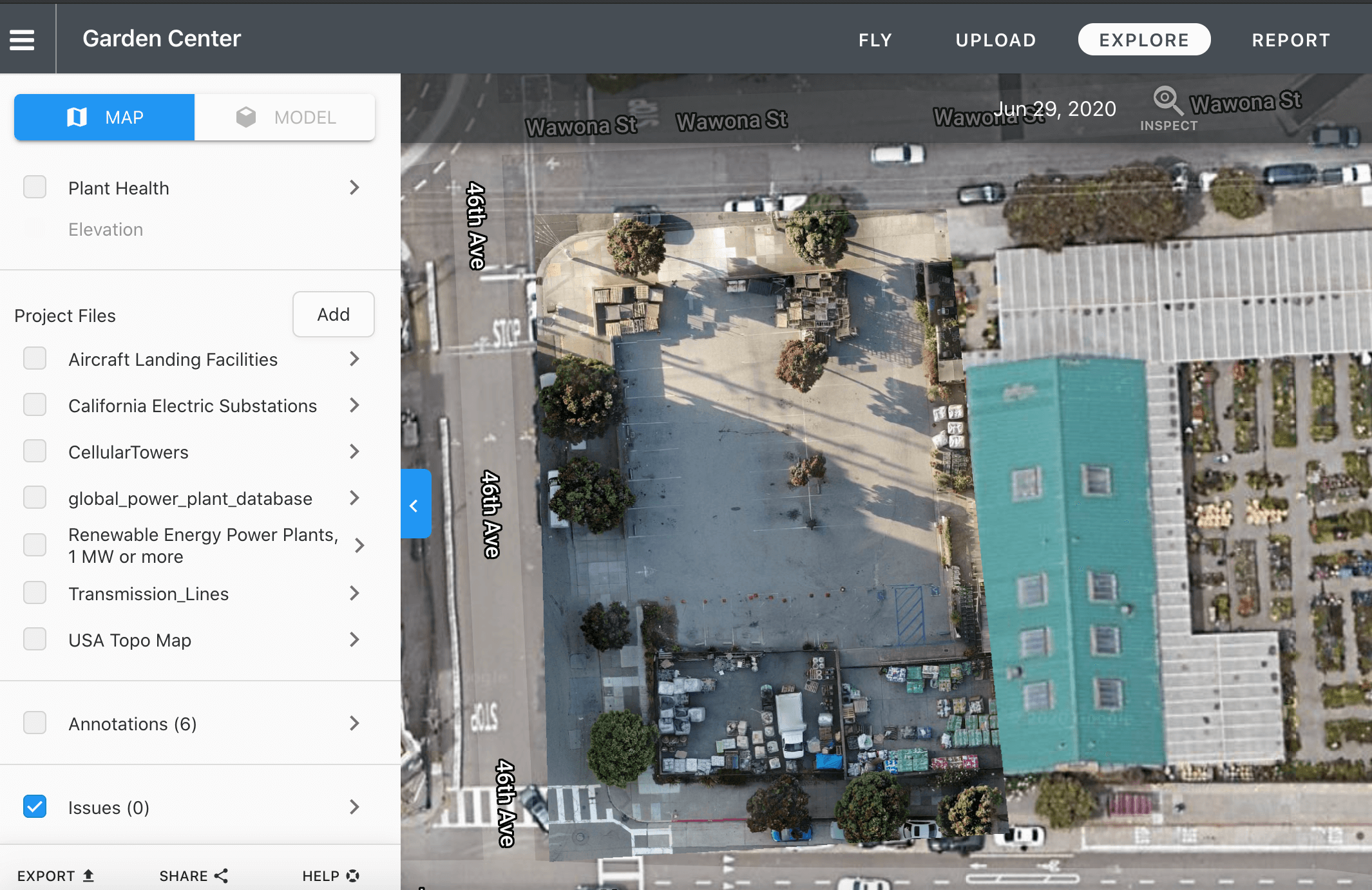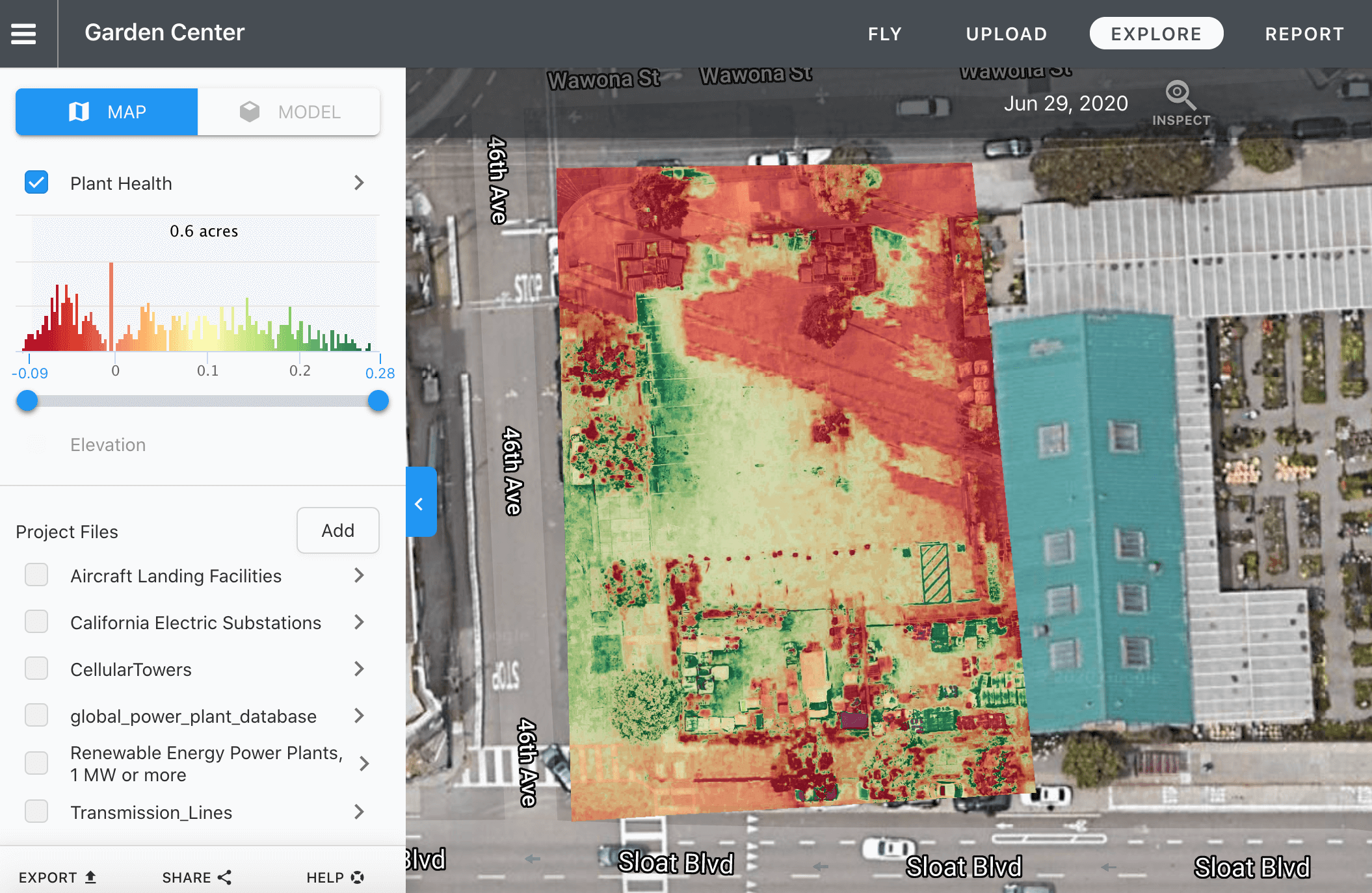 Creating a 2D Ortho map and 3D model with your Live Map imagery:
Please note that the Upload icon in the Live Map sidebar is clickable. Use this icon to upload the full images from your SD Card.

This action will REMOVE your Live Map from your project. If you need to restore the original Live Map please reach out to Support@dronedeploy.com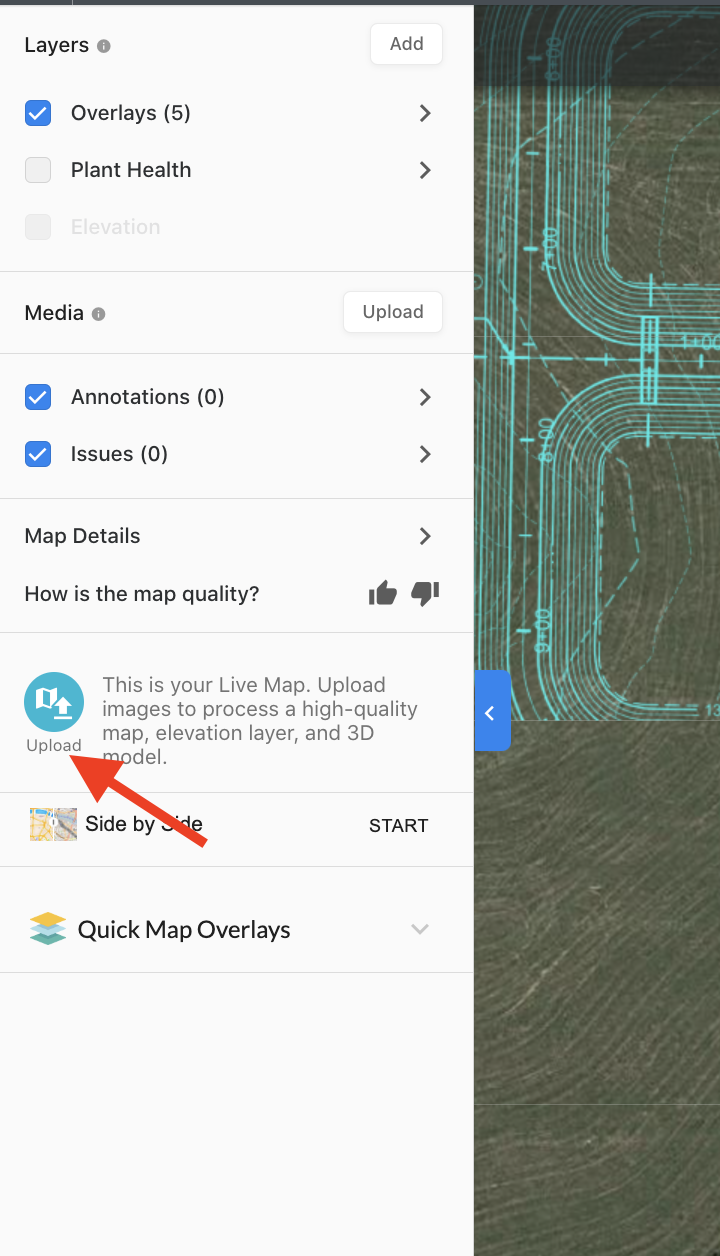 Frequently Asked Questions
What drones and mobile devices are compatible with Live Map?
At this time, Live Map is compatible with most DJI drones including Phantom 4 and above and newer iOS devices. Live Map is very computationally intensive.  A fast device is needed to operate Live Map to the best of its ability.
Live Map is a program that requires a powerful processor and ample RAM to work properly. Device suggestions are:
iPhones: iPhone 7 or newer (Sept 2016)
iPad: iPad Air 2 or newer (Oct 2014)
Officially Supported Drones:
P4
P4P/P4P-V2
Mavic Pro, & Platinum,
Mavic 2 Pro, & Zoom,
Inspire 2 (Zenmuse X4S only)
M200/M210/M210-RTK (Zenmuse X4S, XT1, XT2)
*modified cameras are not supported
When should I use Live Map?
Live Map works best when:
Mapping a level terrain
Flying at higher altitudes (250+ ft)
Mapping larger areas (10 to 300 acres)
Using newer iOS devices (including iPhone 8, X, and iPad Pro)
Using newer DJI drones (Mavic Pro, P4 Pro, Inspire 2, Matrice 200/210)
What resolution are Live Maps?
The resolution (also called ground sampling distance) of a Live Map depends on your flight altitude and is generally 1/5 of the resolution of an equivalent fully processed DroneDeploy map. Here are some resolution examples for different Live Map altitudes.
150ft: 2.5 in/pixel (6 cm/pixel)
250ft: 4 in/pixel (10.5 cm/pixel)
350ft: 6 in/pixel (15 cm/pixel)
400ft: 6.5 in/pixel (17 cm/pixel)
Any suggestions for getting the best results?
The default flight settings will work well for Live Map. We also recommend avoiding areas that vary more than 75ft (25m) in elevation. Areas with small hills and buildings shouldn't be a problem, but buildings or terrain taller than 5 stories (50ft or 15m) may cause stitching problems in the Live Map. Ensure you have good GPS, by calibrating the drone ahead of time, especially if you have multiple batteries planned to fly. View a complete set of Live Map Tips & Tricks to ensure high-quality.
How stable is Live Map if I don't have an internet connection?
Live Map is meant to work without an internet connection and both, flight and map viewing are available offline. However, if you want to use the Plant Health Toolbox, add annotations, share or export your map, you will need internet connectivity.
What happens if I lose live video signal?
Live Map will stop working properly if the live video feed between the drone and your device is interrupted. You should see a warning pop-up when this happens. We will try our best to resume, but this may cause some holes in Live Map maps. To minimize the likelihood of this happening, please avoid using Live Map in areas with high electrical interference.
What should I do if I'm flying the mission and I receive a message saying "Bad signal, reconnecting to drone..."?
If you receive a "Bad signal, reconnecting to drone..." pop-up message every few seconds while using Live Map, we suggest checking the connectivity of the USB cable. A bad USB cable can cause cutting out the video feed and therefore interrupt the Live Map map.
Can I do a battery swap while using Live Map?
You can swap batteries normally. During each additional flight, Live Map will generate the data and these can all be combined when you sync your flight data.
Will I need to refly my mission to process a high-resolution map or capture a full 3D Model?
No, Live Map will not interrupt your existing workflow. Plan flights as you normally would. Toggle on Live Map to generate a map in real-time. DroneDeploy will capture the images you need to create a full-resolution map and 3D model in parallel. You can upload these images for processing after the flight.
Can I have access to the Live Map map on my dashboard once the mission is completed?
Yes, your Live Map map is accessible on your Dashboard even when you are offline.
What analysis tools can be used with Live Map?
Once the Live Map has synced with the cloud, you can make measurements and add annotations.
How accurate is the Live Map map?
Live Map is designed to create and view a low-resolution map with enough accuracy for basic crop scouting or monitoring. For tasks requiring greater precision, upload drone imagery to www.dronedeploy.com to generate a high-resolution 3D map.
When is this coming to Android?
Live Map is a one-of-a-kind technology that is under continuous development. Currently, iOS devices provide the best experience with Live Map. The computing limits of mobile processors and a wide range of Android devices on the market make it difficult to optimize Live Map for Android at this time. Engineering Live Map to deliver the highest quality maps—while also being efficient enough to run in real-time—is an ongoing challenge our team is working to solve. Starting with iOS has allowed us to deliver this solution to customers much faster. We'll continue to evaluate making Live Map available to our Android customers, but no specific date has been set at this time.
Do I need to be a paid customer to try Live Map?
No, Live Map is available with your 14-Day DroneDeploy Trial. After that, paid subscription customers have access to Live Map. It is not available in the Explorer Plan (free) after your Pro trial expires.
Why can't I zoom in closer on my Live Map?
Live Maps are taken at a lower resolution than orthomosaic maps, so they won't have as many zoom levels. If you are looking to view your Live Map in a higher resolution, please upload your data set to the project to complete an orthomosaic map!