Learn how to plan a flight using the DroneDeploy app on iOS and Android!
Below are the instructions for planning a flight in the DroneDeploy mobile app. See the Initial Setup for Flying and the Making Successful Maps guides prior to leaving home to map!
What is a Project?
A Project is a location-based organization that centralizes your relevant drone data into one place that makes tracking change over time easy and time-efficient.
The 4 tabs of a Project
Reusable flight templates can found on the 'Fly' tab. A flight template is similar to what used to be known as a flight plan. The difference is that you can fly a template as many times as you'd like to without copying it. This helps to remove variability when you're tracking change over time.
The 'Upload' tab is ready to accept images for flights we've detected as flown and can also receive any uploads that that fit our processing requirements for our paid users.
The maps in the 'Explore' tab are each distinct entity within the entire Project. They are automatically aligned to each other, so overlays and annotations will only need to be made on one map to see the change over time. Deleting a completed map will delete that single map and will not delete the entire project.
The 'Report' tab currently hosts all your reports on that project including ones like the Annotation Report and the Progress Report.
Create a Project on Mobile
Open the DroneDeploy app on your compatible mobile device. This will take you to your dashboard. From here, navigate to the 'New Project' button at the top of your dashboard.

Your initial project location will be based on the given location of your device. If you would like to change the location, click inside the search bar to search for a location. You can also drag the target around the map. 

Use the blue + sign to create a new project.
Search by address, name, and zip code, in the search bar at the top. Select 'Create project here' in the middle of your screen when you've found the area you'd like to map.

Note: For the best experience, always choose a geolocation that represents your planned flight or walk location. This cannot be changed after creation.
| | |
| --- | --- |
| Choose your project name and click 'Continue'. | |
Once you've created your project, you can choose the type of flight you want to conduct. 
For standard orthomosaics and 3D models, you'll choose "Standard".
Other options include Facade, Corridor, Panorama, Video and Photo flights as well as Stand Count for our agriculture pilots.
| | |
| --- | --- |
| Choose your flight type: |  The Standard map plan will look like this: |
Use the white arrow to close the flight panel and edit the plan boundary.

You can edit the boundary by tap-and-drag to move the white points. A single tap on the white dot will delete it. Use the grey dots indicating a + to add angles to your plan.

At any time you can stop editing your boundary and your flight template will automatically save. You can also select the white 'Undo' button to undo your last change.

We always recommend 'overflying' - meaning any important part of your subject you need capturing should not be close to the selected boundary.
Add Additional Flight Plans in your Project
| | |
| --- | --- |
| DroneDeploy Projects allow you to create multiple types of flight plans within your project. This can be a combination of standard map plans, or you can add other media within your project such as panoramic shots, videos, and more. | To do this choose the blue "+" next to your plan name: |
From here you'll return to the flight plan list we saw earlier in this article. Choose any flight plan to add to your project. Once you select the flight type you'll see an editable view of that plan.

Similarly, you can edit the boundary and location of that flight plan.

Easily move between your plans in the project by using the drop-down.
Flight Settings
The instructions below are primarily for the "Standard" Map Plan type.
Below the template selector, you can set the custom parameters for your flight.
Flight Settings are important for the safety and success of your flight.
Understanding and adjusting these parameters along with the Advanced Settings is paramount to successfully mapping across varied conditions and subjects. Altitude and overlap settings are the two most crucial parameters to consider changing for each flight.
When you aren't connected to a drone, the time, area, image count, and battery count estimator calculates conservative estimates based upon a Mavic 2 Pro. Estimations will recalculate for your drone type when the drone is connected to the app.

Flight altitude sets the distance above the takeoff point that the drone captures photos. Flying higher makes the images easier to stitch at some expense of resolution. If you're mapping a difficult subject such as vegetation, a desert, or water, flying high increases the chance for a successful map. If you do have to fly lower, increase your overlap to make the photos easier to stitch.


Enhanced 3D Mode combines Perimeter 3D mode with Crosshatch mode in order to capture angled shots from the perimeter of your mission plan (Perimeter 3D), and oblique imagery above your subject in a crosshatch formation to create higher quality 3D models. Enhanced 3D maps are best kept under 1000 images. Enhanced 3D mode does have device requirements.

Live Map is a real-time mapping product available as part of DroneDeploy's mobile iOS app. With Live Map, you can produce a low-resolution 2D map on your iOS device as the drone is flying -- even without a cellular or data connection. Live Map has device requirements as well.
Advanced Flight Settings
You have a handful of important options to select in the Advanced Settings, which can be shown by selecting 'Advanced':
Obstacle Avoidance is enabled by default to use the built-in obstacle avoidance sensors that your drone may have to help avoid a collision. Sometimes, a low, bright sun can cause the drone to stop mid-flight because it's detected as a nearby object. Turn off Obstacle Avoidance if you think this may be the case and you're confident that the drone will not run into any real obstacles along its flight path.
Make Available Offline allows you save your template as one of 10 saved on your device for offline flying. Select the toggle the begin downloading the basemap and wait for it to say 'Available Offline'. Deselect 'Make Available Offline' before deleting a template to ensure the offline map is deleted from your cached limit of 10. When you're back online, allow the device to sync to its servers for 10 minutes before quitting the app.
Turning off Automatic Settings reveals more in-depth options:
Sidelap: the percentage of overlap between the sides of the images.

Frontlap: the percentage of overlap between the top and bottom of your images.
Increasing overlap (sidelap + frontlap) generally makes it easier to stitch a more difficult subject. More views are captured of each feature. The default 75/65 overlap setting will work for most maps, but if you are flying low or your subject is very homogenous (everything looks the same, like a field or a treeline), increase overlap between 5%-15%. Increasing overlap has two main negative effects. First, image count and time is increased. Second, if your subject has a lot of movement (people + cars), more movement will be captured and that can cause additional stitching issues.
Flight Direction: Changes the orientation of the flight lines 360 degrees around. This can also be used to change the starting waypoint of the plan.

Capture Flight Speed: Changes the maximum allowed flight speed that the drone can map at. The drone will not necessarily reach this speed because a lower speed may be required for sharp image capture considering your hardware and the altitude and overlap settings.

Starting Waypoint: The first waypoint that will be flown on your mission. This skips all previous waypoints.

Gimbal Angle: Controls the angle of the camera as it flies the plan. 90° will have your camera pointing straight down.
Crosshatch mode will allow you to take oblique imagery directly above your subject with a 65° angle. Instead of a single pass, the crosshatch mode will double your plan lines and fly the drone in both directions for more image density and coverage.
Perimeter 3D mode will add a flight path on the boundary of your flight template using oblique imagery (65° angle) facing towards the inside of your subject.
Offline Planning
Store plans for offline mapping in the Advanced Settings tab. Users can store up to 10 maps on their mobile devices. Offline planning is only available for standard map plans. The following steps must be done on the mobile device you plan to fly with:
How to plan an offline flight:
When connected to the internet, select the plan you'd to make available offline using our DroneDeploy app
Turn off Automatic Settings
Select the toggle for Make Available Offline
Allow the plan to fully sync before closing the DroneDeploy app
Before heading to the field, ensure you're logged into DroneDeploy, and that the plan now states Available Offline:

Can I access Offline Flight planning on my Desktop/Laptop?
No, you can only access Offline Flight planning on your Mobile Device. 
Do not sign out of DroneDeploy if you have Offline Plans.
The expected behavior is that all map plans marked as "Available Offline" will be deleted upon sign-out of DroneDeploy. Please ensure you stay signed into DroneDeploy if you have plans to be flown offline. If you're finished with all offline missions, feel free to sign out.
Dashboard Navigation
When you're viewing a project, click on the home button in the top left of your screen to view all of your projects and folder in a list.
By clicking on the 3-dotted drop down to the right of the project name, you have to option to view the flight page for the map, move it a folder, share it, or upload captured images to process into a map. Processing images is a feature reserved for our paid users.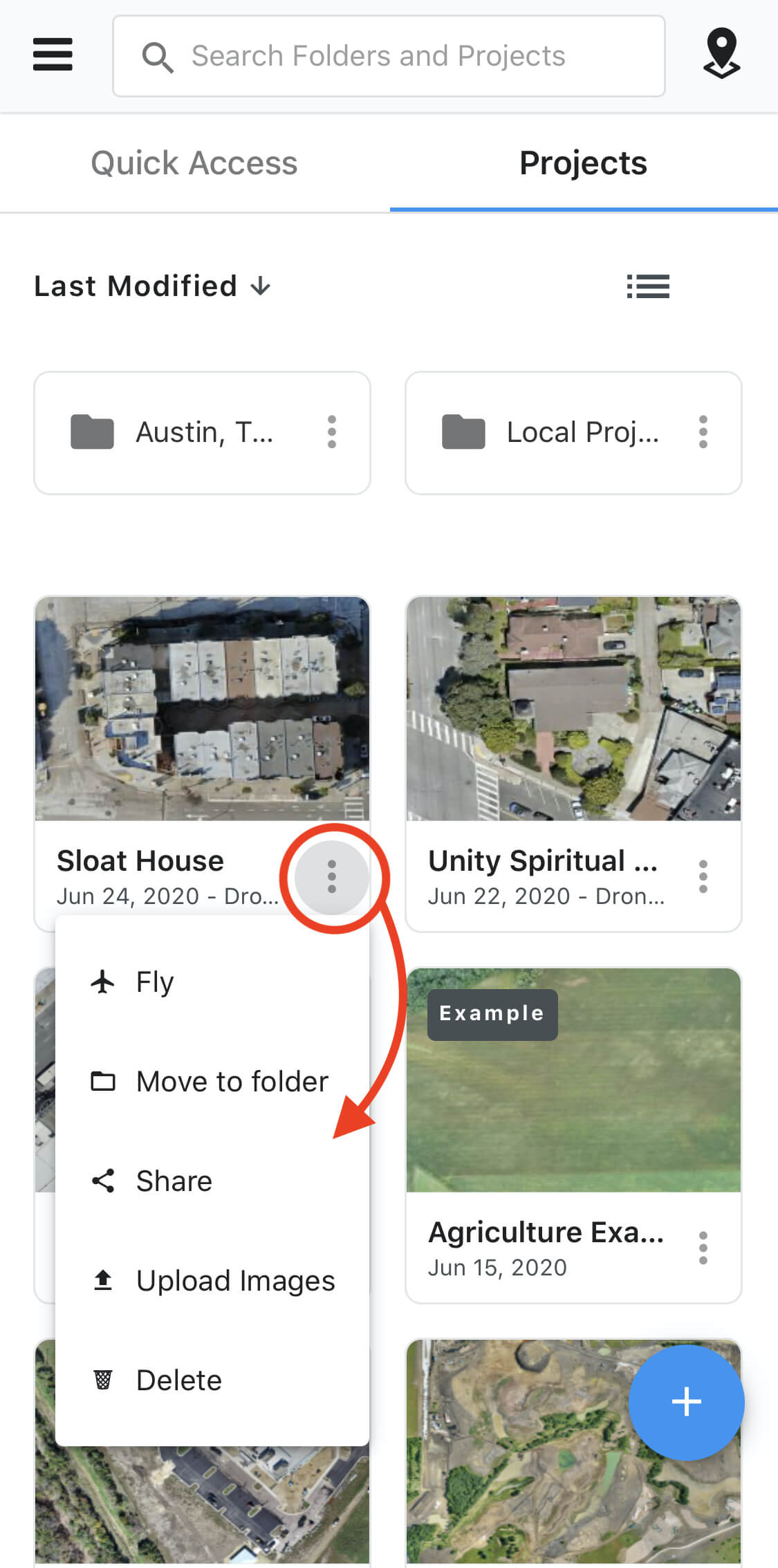 Click the location icon in the top right to see your projects in map view: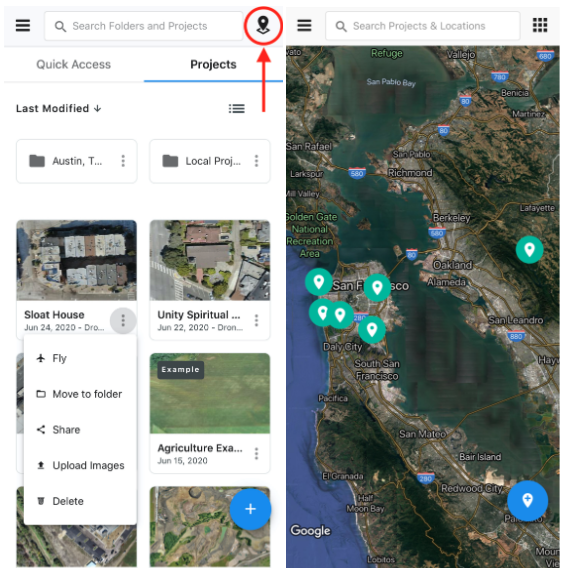 After you've read the Initial Setup for Flying Guide, head out to the field, check your drone in DJI Go and quit, navigate to your template in the DroneDeploy mobile app, and connect to fly!
After you fly
If your captured images do not automatically upload using
Mobile Uploads
, follow the
How to Process Datasets
 guide to learn about how you can upload the image set to be processed into a beautiful, complete map!