Learn how to plan a flight on DroneDeploy.com using your computer
Below are the instructions to plan a project on DroneDeploy.com on your desktop computer prior to flight. See the Initial Setup for Flying and the Making Successful Maps guides before you leave home to map!
What is a Project?
A Project is a location-based organization that centralizes your relevant drone data into one place that makes tracking change over time easy and time-efficient.

Reusable flight templates can found on the 'Fly' tab. A flight template is similar to what used to be known as a flight plan. The difference is that you can fly a template as many times as you'd like to without copying it. This helps to remove variability when you're tracking change over time.
The 'Upload' tab is ready to accept images for flights we've detected as flown and can also receive any uploads that that fit our processing requirements.
The maps in the 'Explore' tab are each distinct entities within the entire Project. They are automatically aligned to each other, so overlays and annotations will only need to be made on one map to see the change over time. Deleting a completed map will delete that single map and will not delete the entire project.
The 'Report' tab currently hosts the Annotation Report and the Progress Report, with more to come.
Create a Project
Open DroneDeploy.com in your browser and log in. This will take you to your dashboard. Navigate to 'New Project' in the top left hand corner of your screen to create a new project.

Your initial project location will be based upon the given location of your device. If you would like to change the location, click inside the search bar to search for a location. You can also drag the target around the map.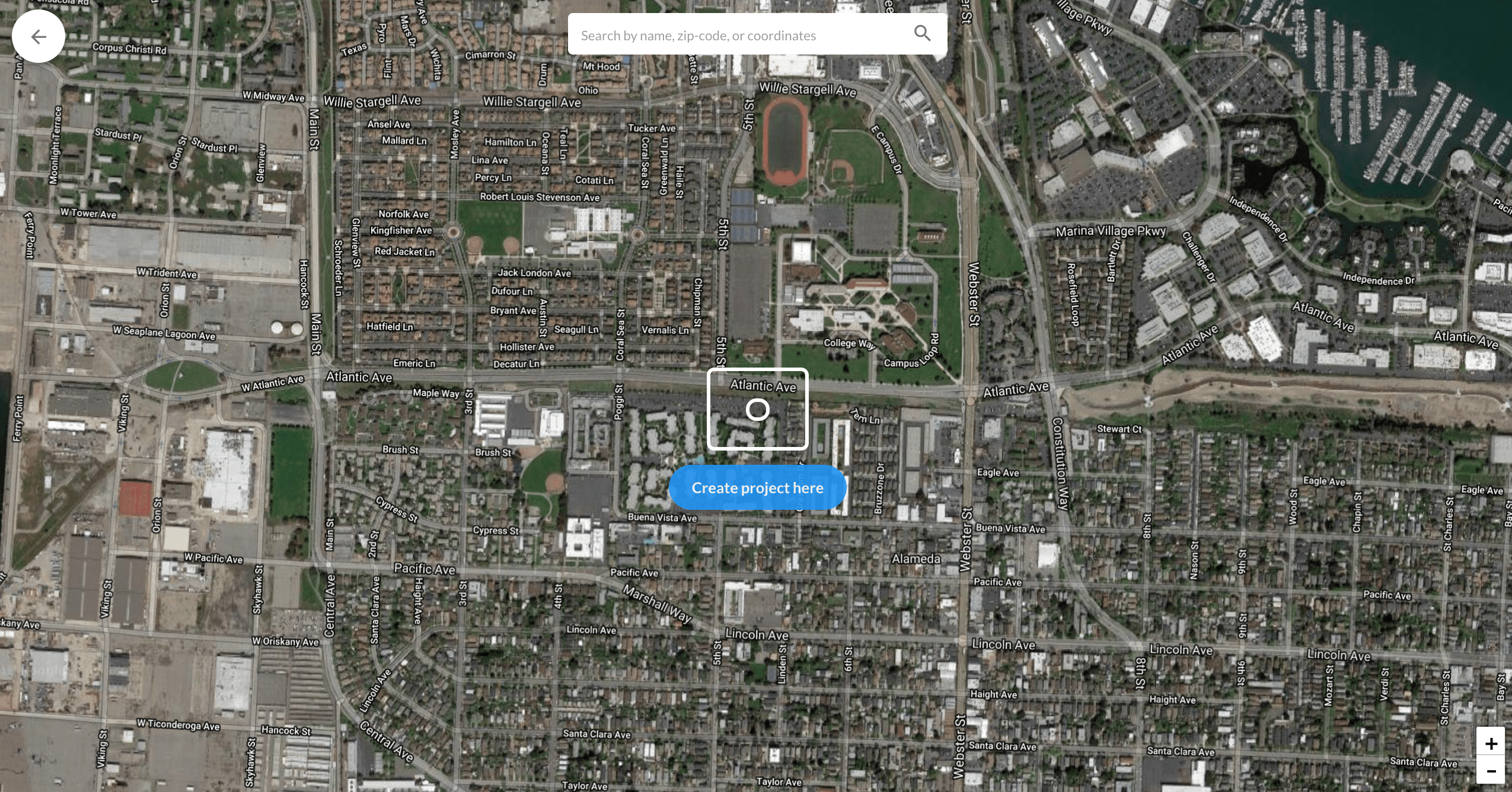 Search by address, name, or zip code, in the search bar at the top. Select 'Create project here' in the middle of your screen when you've found the area you'd like to map.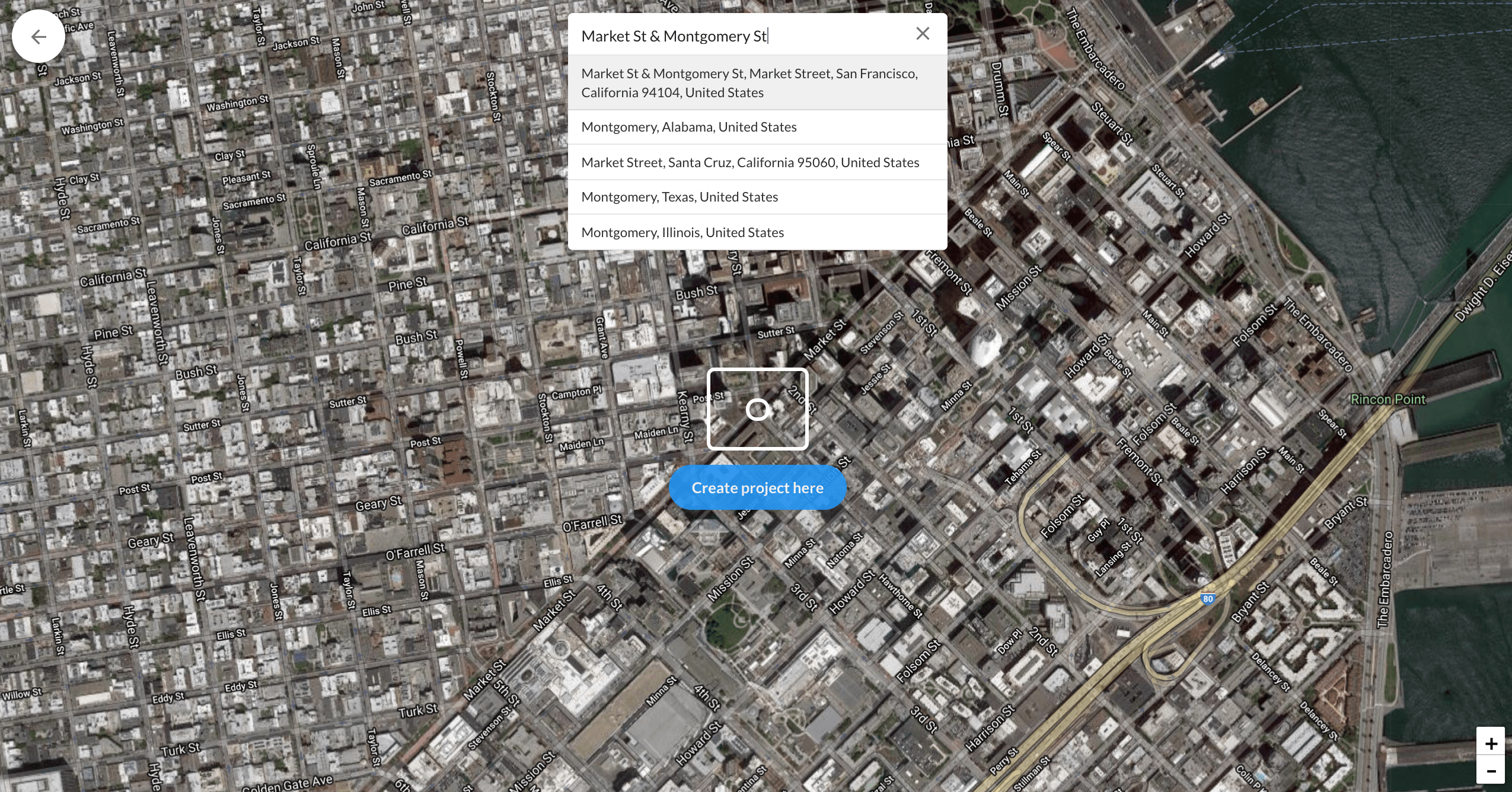 Browser compatibility
Please note that full functionality for DroneDeploy is best on Google Chrome. Safari works but can sometimes cause issues. Internet Explorer and Microsoft Edge are the most inconsistent. They are not recommended for use with DroneDeploy. If you run into webpage loading issues and use Chrome, make sure your browser version is fully up-to-date with no ad blockers or pop up blockers (look at extensions) blocking web elements. Try clearing your cache and restarting your browser and computer as well.
Choose your project name and click 'Continue'.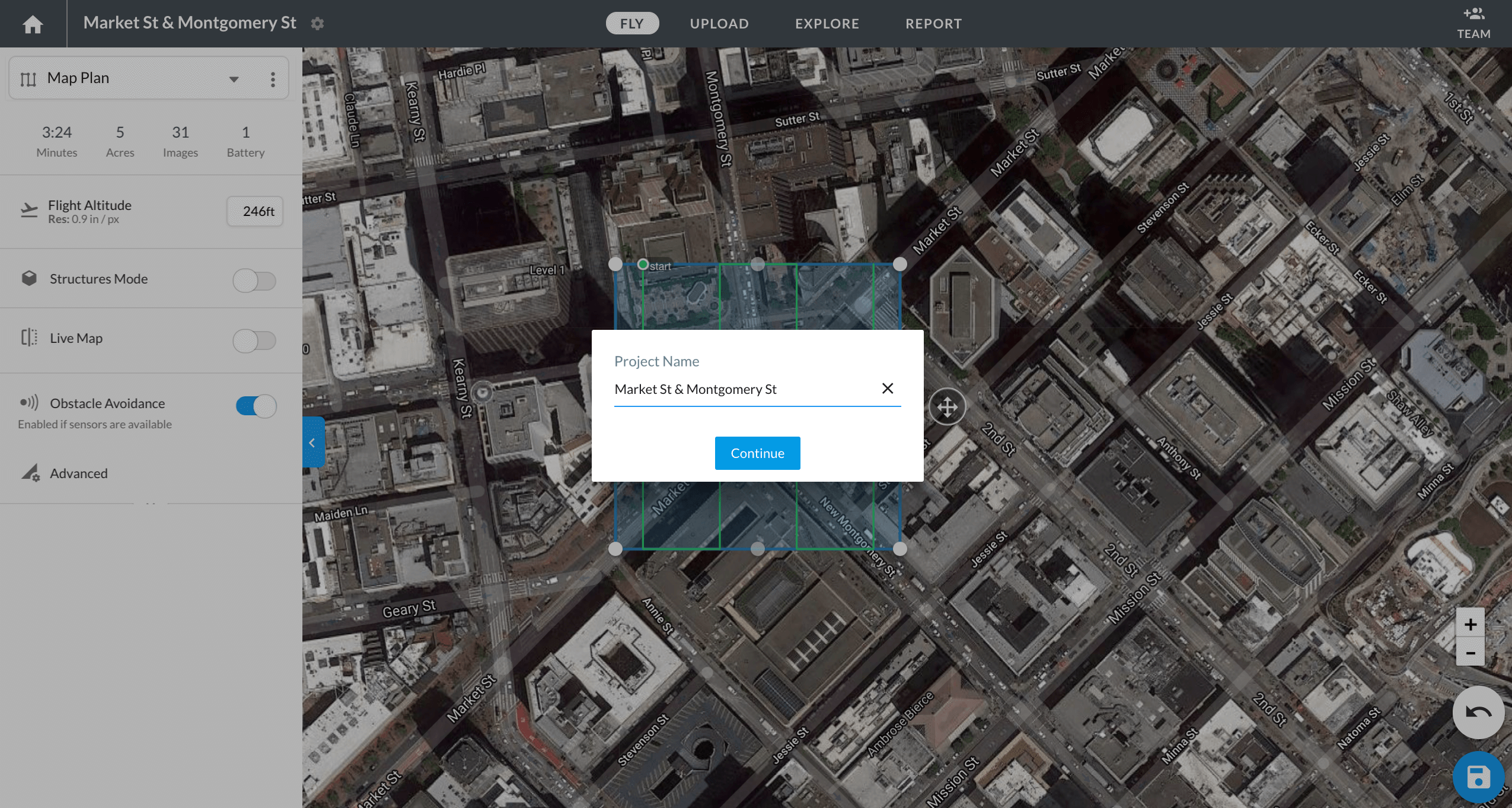 KML and Shapefile Planning
These instructions will guide you through planning based on an address or a location's name. If you would like to plan a mission based off a KML or shapefile instead, please see
shapefile planning
.
Now you can edit the boundaries and the parameters for your first Map Plan that automatically loads after choosing the project name. You can edit the boundaries by clicking on the white dots along the perimeter of the selected blue area on the map. The greyed-out dots are ready to be clicked to create more points.
We always recommend 'overflying' - meaning any important part of your subject you need to be captured should not be close to the selected boundary.
At any time you can choose the blue 'Save' button in the lower right. You can also select the white 'Undo' arrow to undo your last change.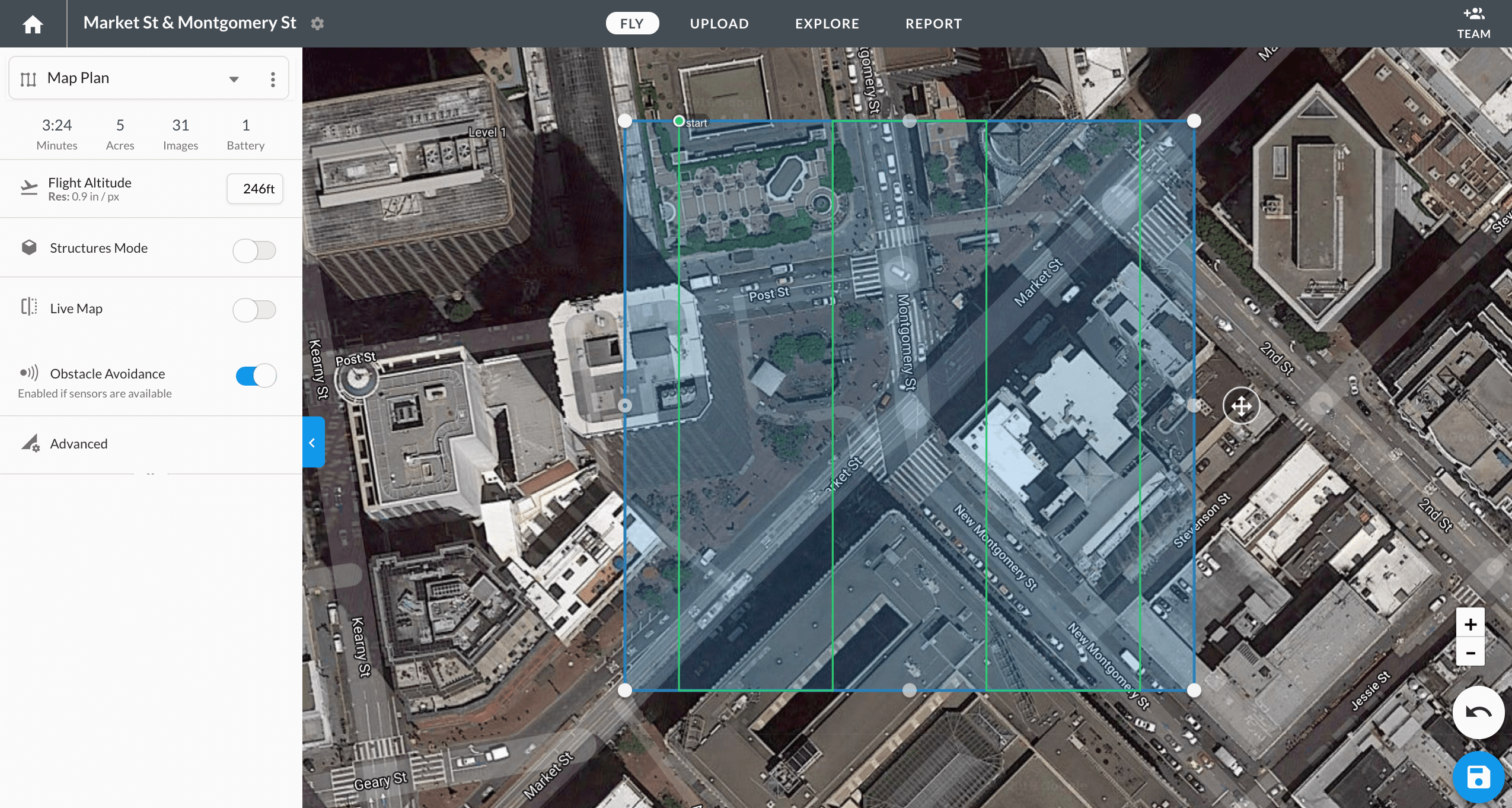 Show Existing Map: In the left panel, there is a toggle to show the existing map while you're flight planning. This feature will show the latest orthomosaic in that region in order to help you plan the flight boundary of your next flight.
Note; The "existing map" will display the most recently completed orthomosaic in that region. This means if you have a neighboring project that was completed more recently, it will show in this feature.
If you click on the gear immediately to the right of the name of the map, you'll enter the 'Project Settings'. You can rename the project and you can also access the Flight Logs.
If no flight logs exist, try leaving the app open for 10 minutes while connected to a strong Wifi connection to try to trigger a sync. If they aren't available, you can always grab them manually using a USB cable.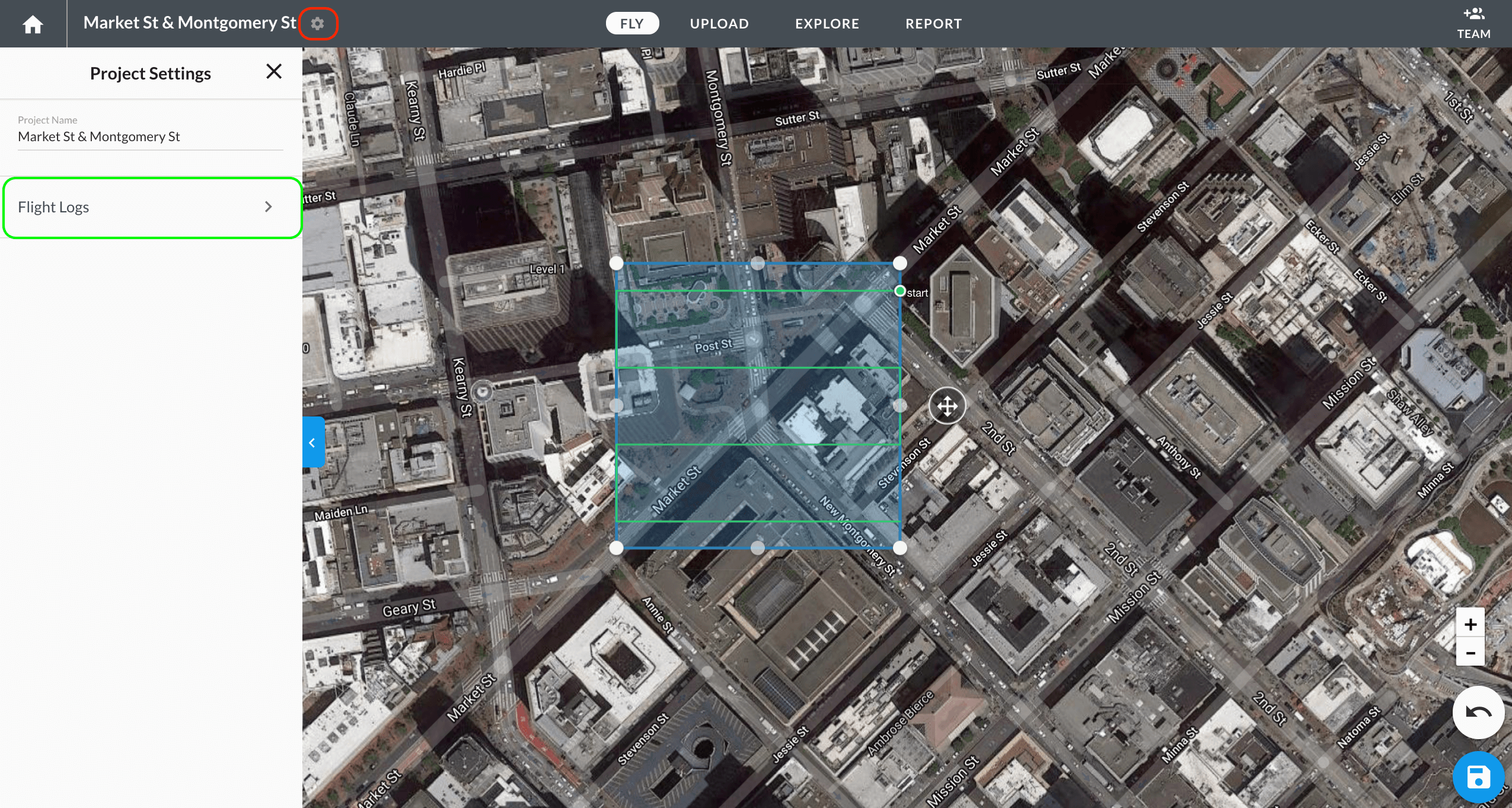 Add Additional Flight Templates
You might, for example, want one Progress Photo template, one Map template, and one Video template for a single location that you can refly at any time.
To create additional flight templates for your project, click on the template selector in the top left of your screen and select 'New Flight Template'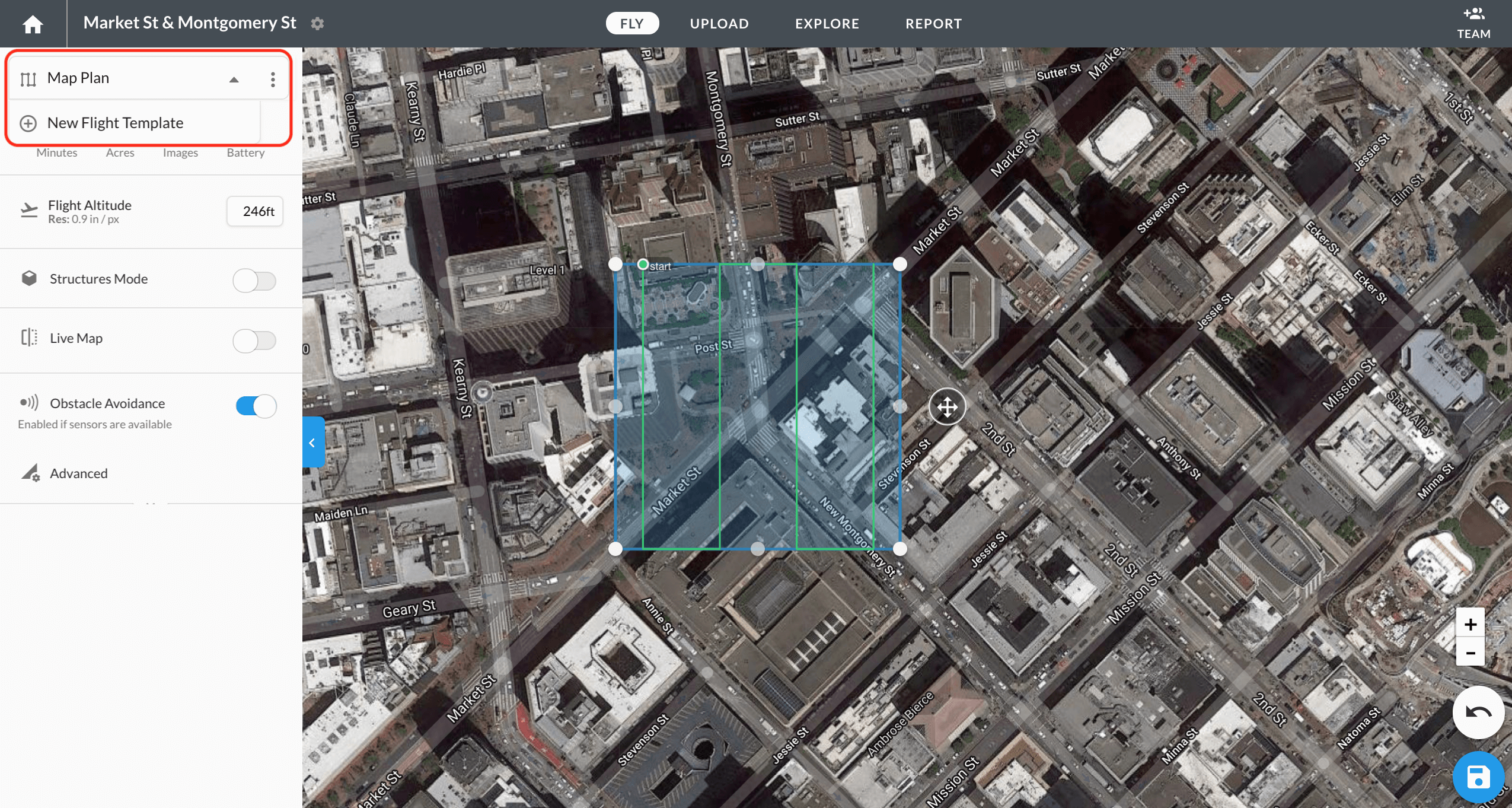 After selecting 'New Flight Template' you have the option to choose between adding Map Plans or Progress Reports. Click on one of these options to load a new template of that flight type.
This article will cover settings for a 'Maps & Models' flight. To learn about setting up a Progress Report flight, please click here.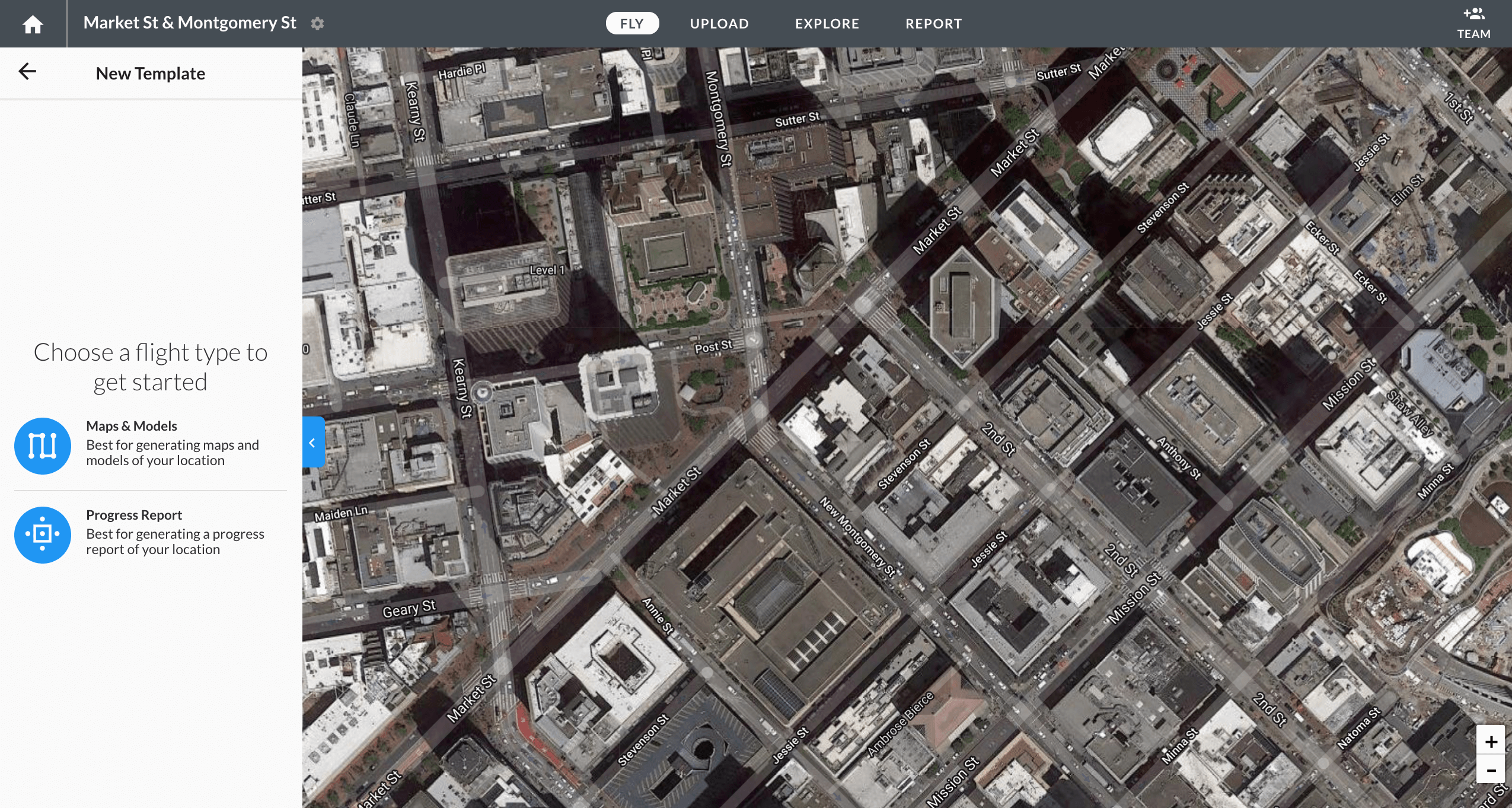 Once you select the flight type you'll see an editable view of that plan.
You can also select a different plan to edit or fly by clicking on the template selector again and choosing a different flight template. You can delete a map plan by clicking on the 3-dotted menu to the right of the name of the plan.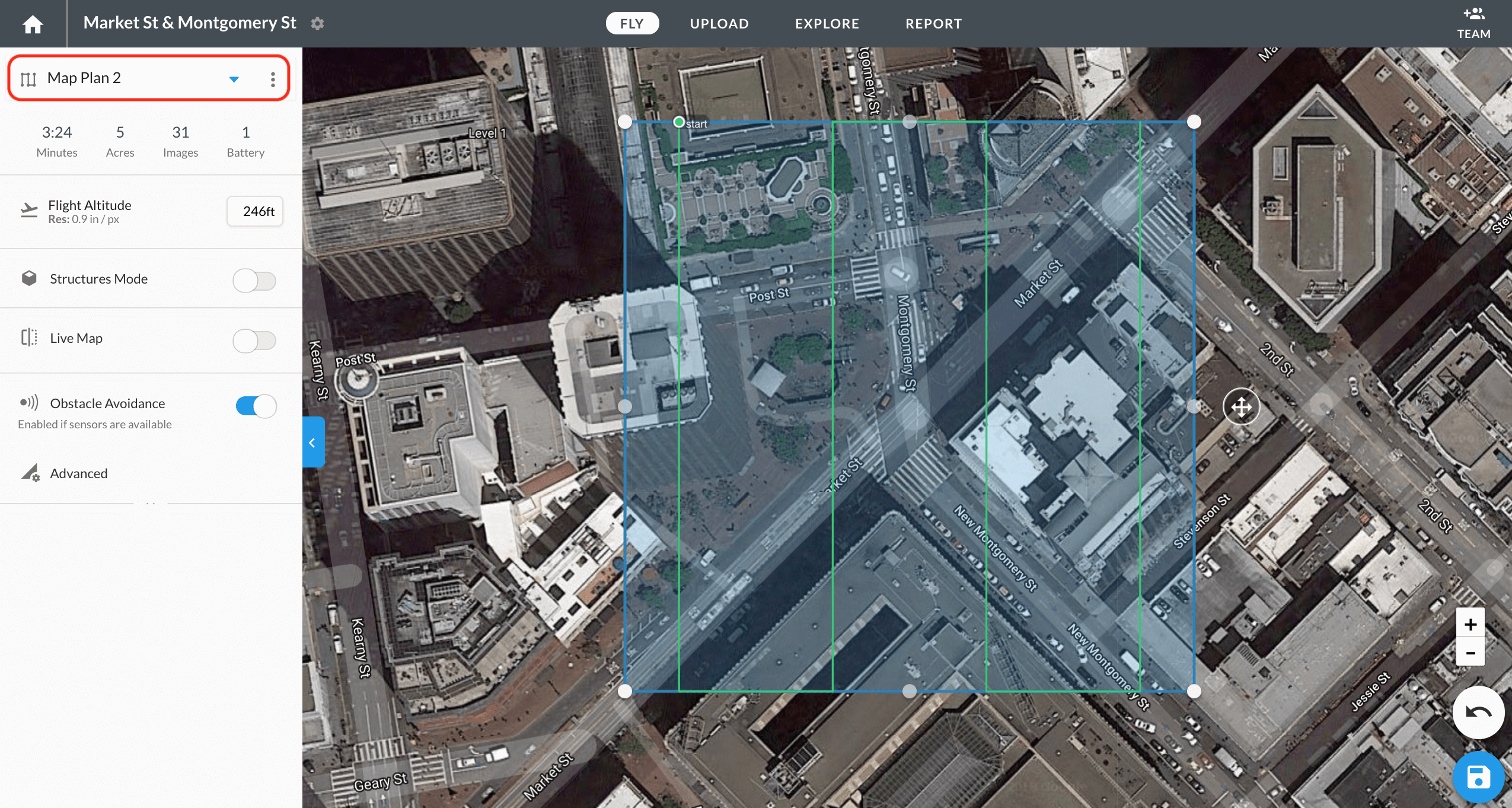 Flight Settings
Below the template selector, you can set the custom parameters for your flight.
Flight Settings Are Very Important to Learn
Understanding and adjusting these parameters along with the Advanced Settings is paramount to successfully mapping across varied conditions and subjects. **Altitude and overlap** settings are the two most crucial parameters to think about changing for each flight.
When you aren't connected to a drone, the time, area, image count, and battery count estimator calculates conservative estimates based upon a Phantom 4 Pro by default. You can change the drone by which the estimate is based in advanced settings. Likewise, calculations for your specific drone on the mobile app will update once you've connected your drone.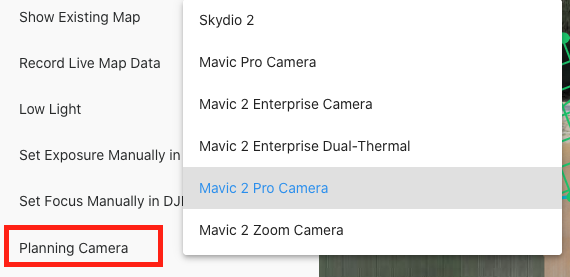 Flight altitude sets the distance above the takeoff point that the drone captures photos. Flying higher makes the images easier to stitch at some expense of resolution. If you're mapping a difficult subject such as vegetation, a desert, or water, flying high increases the chance for a successful map. If you do have to fly lower, increase your overlap to make the photos easier to stitch.

Enhanced 3D captures additional angled shots from the perimeter of your mission plan, facing towards the center of your subject for higher quality 3D models, and combines this with crosshatch photo capture. Enhanced 3D mode maps are best kept under 1000 images. Enhanced 3D mode does have device requirements.

Live Map is a real-time mapping product available as part of DroneDeploy's mobile iOS app. With Live Map, you can produce a low-resolution 2D map on your iOS device as the drone is flying -- even without a cellular or data connection. Live Map has device requirements as well.

Obstacle Avoidance is enabled by default to use the built-in obstacle avoidance sensors that your drone may have to help avoid a collision. Sometimes, a low, bright sun can cause the drone to stop mid-flight because it's detected as a nearby object. Turn off Obstacle Avoidance if you think this may be the case and you're confident that the drone will not run into any real obstacles along its flight path.
Plan on mobile
To plan a flight offline, please plan a flight within the
DroneDeploy mobile app
. It's a toggle on a template dashboard.
Advanced Flight Settings
You have a handful of important options to select in the Advanced Settings, which can be shown by selecting 'Advanced' on your dashboard below 'Obstacle Avoidance':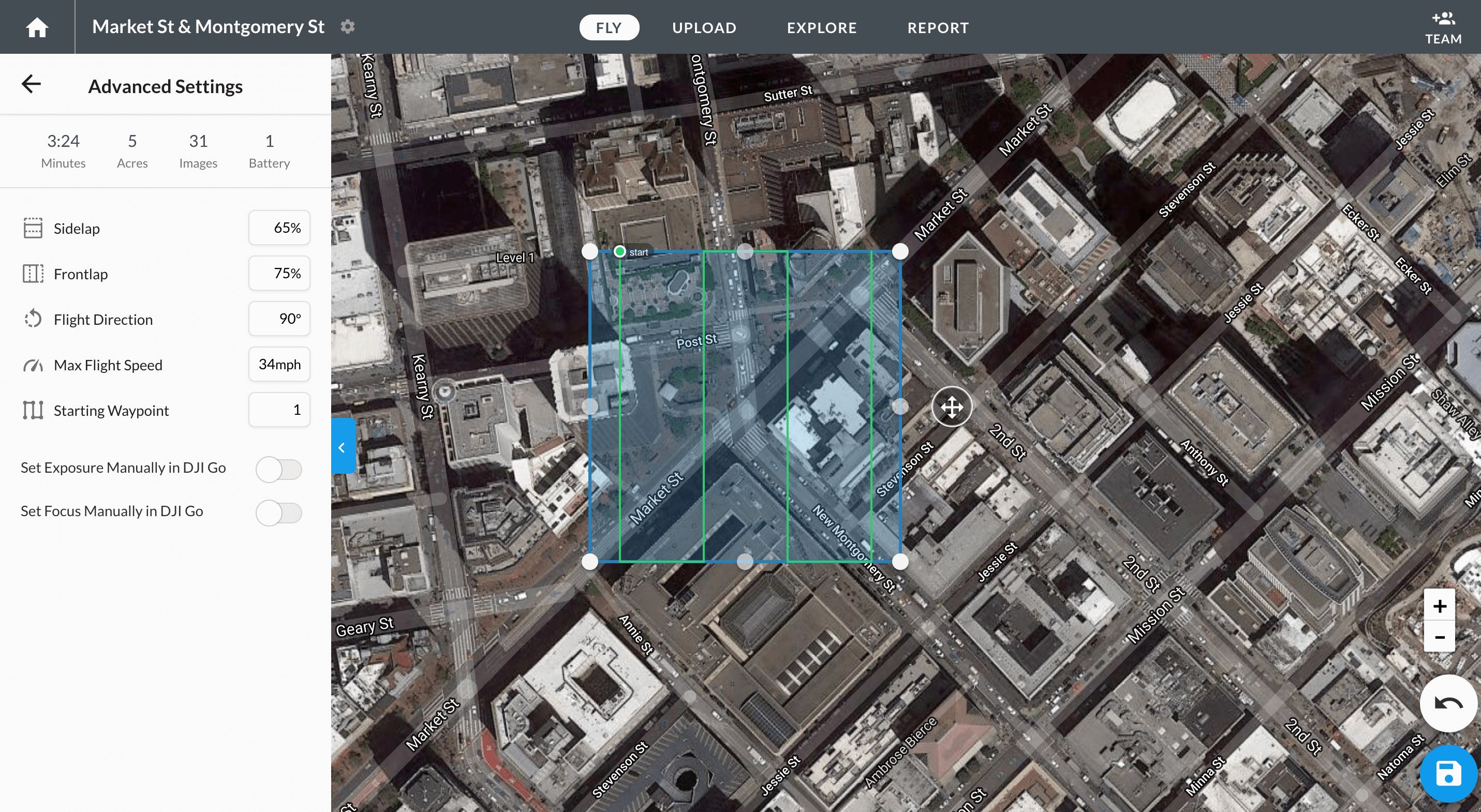 Sidelap: the percentage of overlap between the sides of the images.

Frontlap: the percentage of overlap between the top and bottom of your images.
Increasing overlap (sidelap + frontlap) generally makes it easier to stitch a more difficult subject. More views are captured of each feature. The default 75/65 overlap setting will work for most maps, but if you are flying low or your subject is very homogenous (everything looks the same, like a field or a treeline), increase overlap between 5%-15%. Increasing overlap has two main negative effects. First, image count and time is increased. Second, if your subject has a lot of movement (people + cars), more movement will be captured and that can cause additional stitching issues.
Flight Direction: Changes the orientation of the flight lines 360 degrees around. This can also be used to change the starting waypoint of the plan.

Max Flight Speed: Changes the maximum allowed flight speed that the drone can map at. The drone will not necessarily reach this speed because a lower speed may be required for sharp image capture considering your hardware and the altitude and overlap settings.

Starting Waypoint: The first waypoint that will be flown on your mission. This skips all previous waypoints.

Manual Camera Settings: Unless otherwise specified, the automatic settings from DJI GO will be retained in the DroneDeploy app. If you choose to shoot manually, fly up to your mapping altitude using DJI Go 4 and select your camera settings before mapping with DroneDeploy.
Altitude and overlap are the most important settings.
Dashboard Navigation
When you're viewing a project, click on the home button in the top left of your screen to view all of your projects and folders in a list.
By clicking on the 3-dotted drop down to the right of the project name, you have to option to view the flight page for the map, move it to a folder, share, or upload images.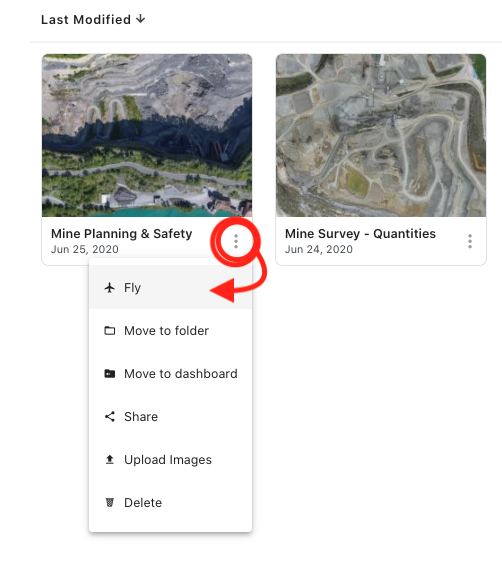 After you've read the Initial Setup for Flying Guide, head out to the field, check your drone in DJI Go and quit, navigate to your template in the DroneDeploy mobile app, and connect to fly!
After you fly
If your captured images do not automatically upload using
Mobile Uploads
, follow the
How to Process Datasets
guide to learn about how you can upload the image set to be processed into a beautiful, complete map!